November 13, 2017
Contrary to the past two years that had very warm patterns leading up to December and lack of a defining extended snow season, 2017 should set up with an early winter starting Thanksgiving week. But will it hold? One of the many factors I look at for my winter outlooks is history. The statistics of raw snow data can sometimes reveal patterns, or at least give us odds on what we can expect for the next few months.
'Normal' Winter
While this article focuses on the weather history in Baltimore, we can extrapolate across the state of Maryland for places that usually get more or less snow.  I will have more explaining these differences in my next report. I should also note that the word 'normal' is the common reference for average. That is all of the winters (snowy and mild) calculated for what it would be if spread evenly each year.
This Past Decade:
We tend to have short term memories, but to be honest, more than half of the past decade has had snowfall above average. Three of the past four years has been above the 231 inch average.  Thanks to our record 77 inch season in 2010, this decade average (so far) is above the recent 30 year averages (base mark used by NWS)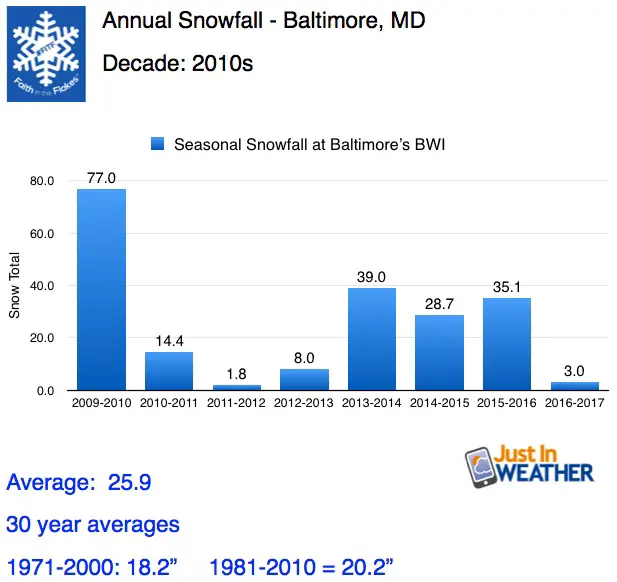 Low Snow
I defined 'Low Snow' as a full season in Baltimore under 10 inches of total accumulation. Considering that an average season brings 21 inches, this would be less than half of the snow measured in an average winter. I found 26 years that fit this group.
I dug through the 133 years of winter records history in Baltimore and plotted out the results below. The findings might surprise you as it has happened quite often throughout history. Extreme weather of this sort has been displayed evenly and documented since the 1800s. Before we get started and fellow snow lovers possible get scared, I want to remind you of the article I wrote about snowless Decembers. The remainder of winter was near or above normal snow about 50% of the time. There is still reason to keep your Faith in the Flakes*
Lowest Snow Winters
0.7″ in the winter of 1949-1950. The only time a full winter resulted in less than a single inch.
1.2″ in 1972-1973
1.8″ in 2011-2012
2.3″ in 2001-2002
3.0″ in 2016-2017 (last winter)
I broke down the low snow winters into two categories: Under 5 inches, and between 5 and 10 inches. Consider that an average winter brings 21 inches of snow to Baltimore, this covers the years with less than half of what we might expect. The list is below with some additional stats, included four times Baltimore measured less than 10 inches of snow for two winters in a row.
Under 5 inches of snow
12 out of 133 years had extremely low snow.  Notice the winters fitting this category are evenly scattered throughout the record period since 1883.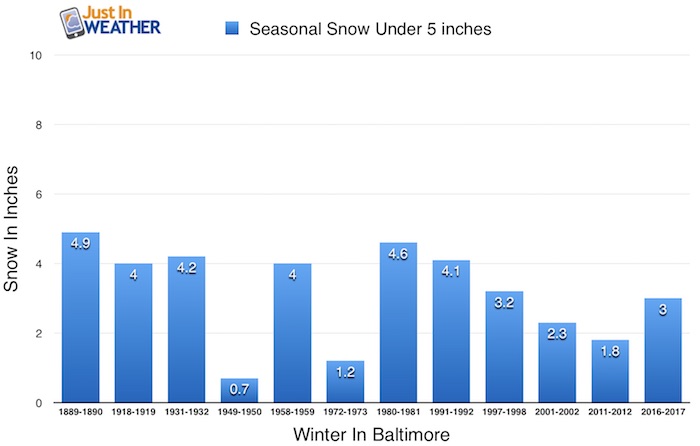 Between 5 and 10 inches of snow
14 years out of 133 fit this category. 
7 years on or prior to 1951
7 years on or after 1988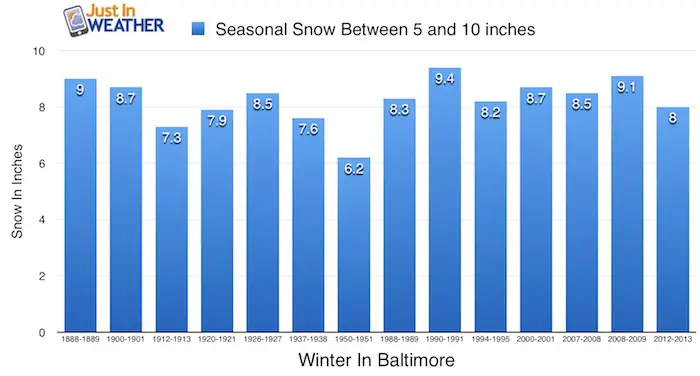 Can last year repeat itself?
Pairs of years under 10 inches of snow
Only four times since 1883 has there been two years in a row with low snow occurring. Two times out of those pairs the following winter was followed by one of the top snow winters
1888-1889: 9.0″
1889-1890: 4.9″
1949-1950: 0.7″ *Lowest on record
1951-1951: 6.2″
2000-2001: 8.7″
2001-2002: 2.3″
2002-2003 = 58.1″ snow. That was 3rd highest on record in Baltimore.
2007-2008: 8.5″
2008-2009: 9.1″
2009-2010 = 77.0″ snow. The all time most snow in one season for Baltimore.
Conclusion:
Based on statistics alone, there is strong support to get over 10 inches of snow this 2017-2018 winter. That only qualifies not repeating the 'low snow' group. As for how much more,  I will have my full 2017-2018 Winter Outlook this week. FITF
Keep In Touch All Winter: Sign up for email updates on new posts
Since you may miss some posts via social media, click here for email alerts as a way to make sure you don't miss any.  *You may have to refresh that page once for your browser to clear out the images.
Snowstix- Ready For Delivery
We are giving 10% of each sale to programs that benefit pediatric oncology patients.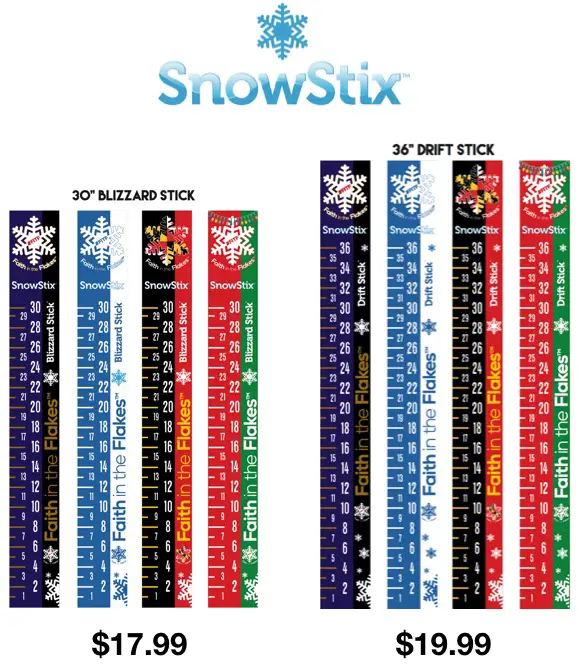 Faith in the Flakes Online Store Is Back Open By Popular Demand
PJ bottoms still inside out- They have to be to help bring on the snow.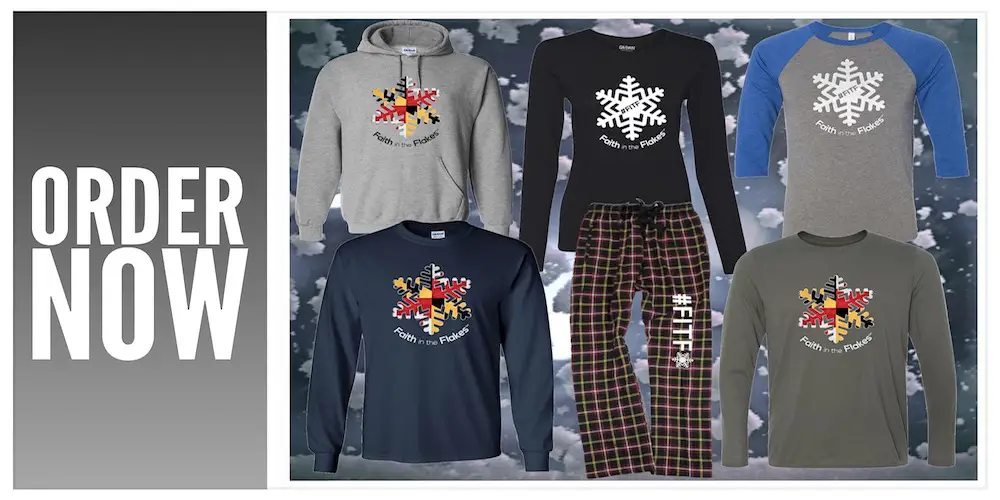 Get the award winning Kid Weather App I made with my oldest son and support our love for science, weather, and technology. Our 3 year anniversary of the release and our contribution to STEM education is this November. It has been downloaded in 60 countries, and works in both temperature scales. With your support we can expand on the fun introduction to science and real weather.
Please share your thoughts, best weather pics/video, or just keep in touch via social media
Winter Stuff
NOAA Winter Outlook: Not The Best But Not The Worst For Snow
Two Farmers Almanacs Winter 2018 Outlooks
My Preliminary Winter Outlook Notes
First Frost and Freeze Dates For Maryland (southern PA and northern VA)