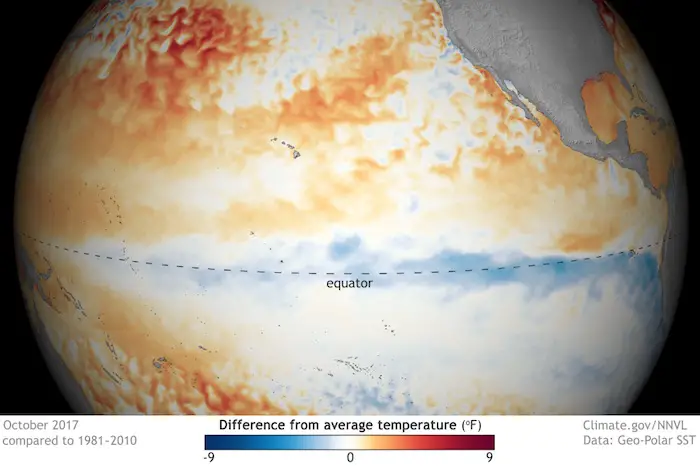 November 9 2017
The tropical waters in the Pacific Ocean have cooled enough so that today NOAA officially declared that a La Nina has formed. This tends to shift the jet stream farther to the north as seen in this first graphic. It can have an impact on our winters, but read carefully. Here is a look at La Nina winters based on Baltimore records. Please note that this is only one of many global patterns that can influence our weather. In fact, the breakdown below will show that more years were colder than average, but the warm years were very warm, throwing off the balance. That is what happened last winter for us.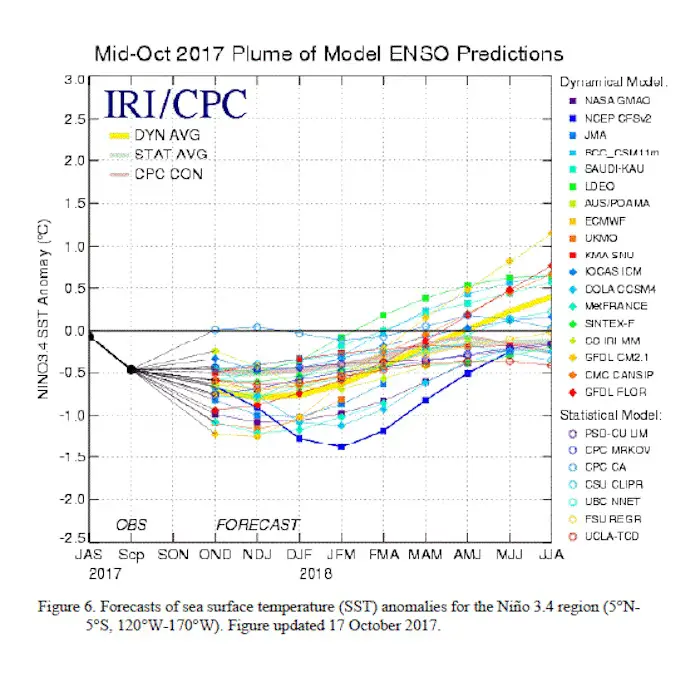 What does that mean for us?  We can not promise what this will bring, especially since this is weak to moderate and other global patterns contribute to what we can see. The intensity will determine if this is good for snow lovers. But the numbers are contrary to what you might think. A slightly colder tropical pacific can lead to a warmer and less snowy winter. CAN? 
Note: I am working to have my winter outlook completed to share with you by this Sunday. The Faith in the Flakes stores are open for Apparel and Snowstix. New gear is on the way soon for fellow snow lovers. FITF
According to today's report from NOAA:
"La Niña is underway, with a 65-75% chance that it will continue at least through the winter. Similar to last winter, the event is predicted to be relatively weak."
Unlike last winter (which was the 5th lowest in Baltimore history), not all weak La Ninas are alike. But from a statistical standpoint, snow lovers would prefer to have a moderate intensity.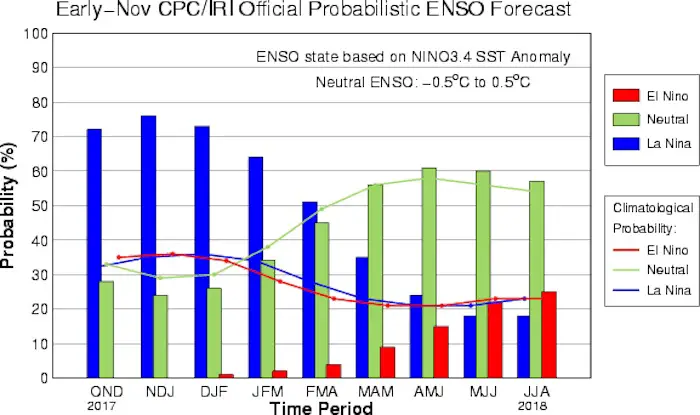 Keep In Touch All Winter: Sign up for email updates on new posts
Since you may miss some posts via social media, click here for email alerts as a way to make sure you don't miss any.  *You may have to refresh that page once for your browser to clear out the images.
Short Term Temperature Outlook
An early winter is what I have been saying for the past month and recently showed data to support it. Now NOAA is showing that colder pattern for our Thanksgiving week.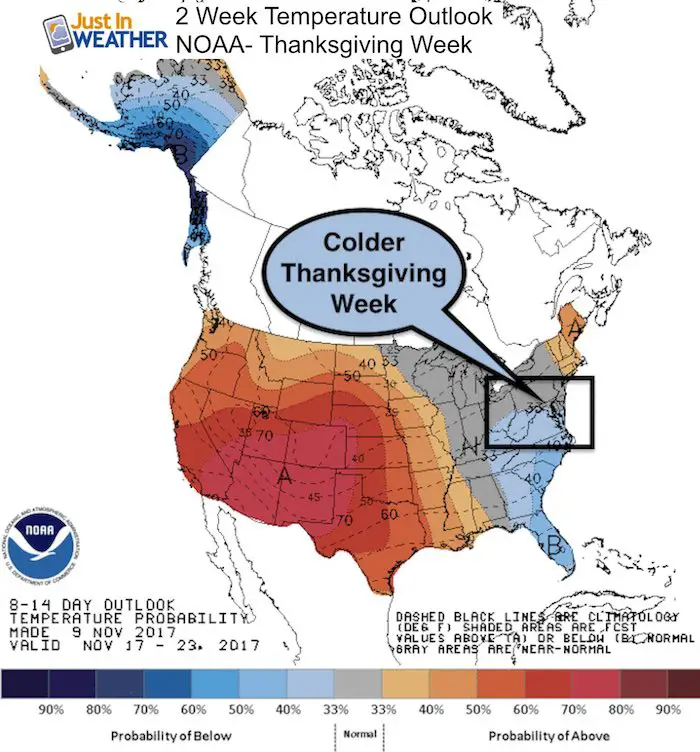 The Jet Stream is very important here… If the Greenland Block sets up as shown, it could be a more dominant feature through the winter. Something to consider as you read the chars below.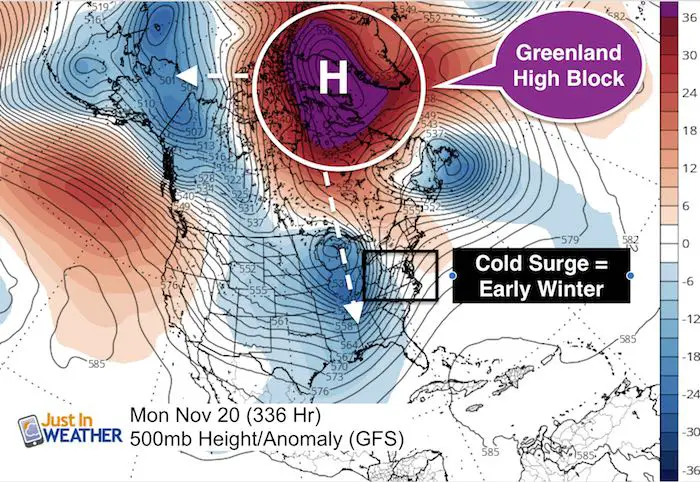 Looking Closer
The strength and duration of the La Nina is important because that would play a role in the location and identity of the jet stream. The National Weather Service records for Baltimore at BWI may look colder and more wet, but that does not always translate to a lot of snow.  In fact a weak La Nina often leads to below average snowfall. A moderate La Nino would bring a typical winter. Again- there are other facts. This post is just isolating this one element.
Temperatures:
This chart shows a weak La Nina would lead to slightly above average temperatures, but there were more colder seasons (5 of 9). This means that warmer ones are quite warm, like last year. But again, more years were actually below average.
Precipitation
This chart does show a slightly drier weather pattern, but many more wet years (6 of 9) when there is a weak La Nino. So the dry years are very dry to slant this chart. That is like what we had last year. When wet, it that does not guarantee that all events will be snow. In fact it is possible to have colder air with warm ups ahead of the storms making them more wet than white. That all depends on the precise pattern and track of those storms.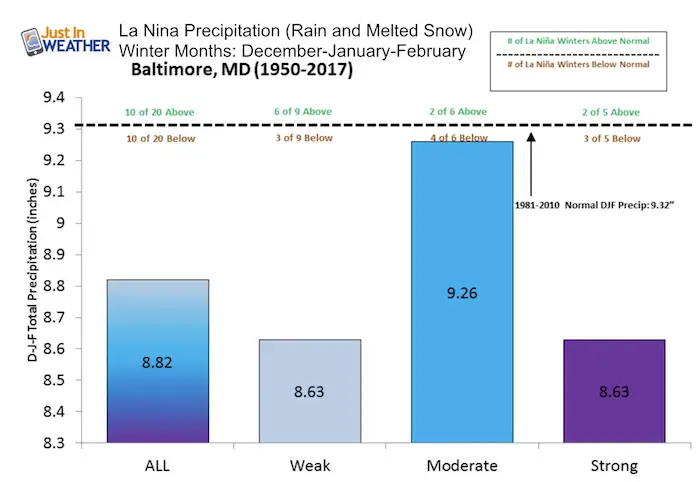 Snowfall
Again, if you love snow and have Faith in the Flakes, you would want La Nina to intensify and become more moderate. Because a weak La Nina has produced below average snowfall 8 of 9 times since 1950. A moderate La Nina would be more likely to result in a near average winter.
Again, this is just one of many factors that will contribute to the overall pattern. Now you can see why NOAA's Winter Outlook was pretty vague.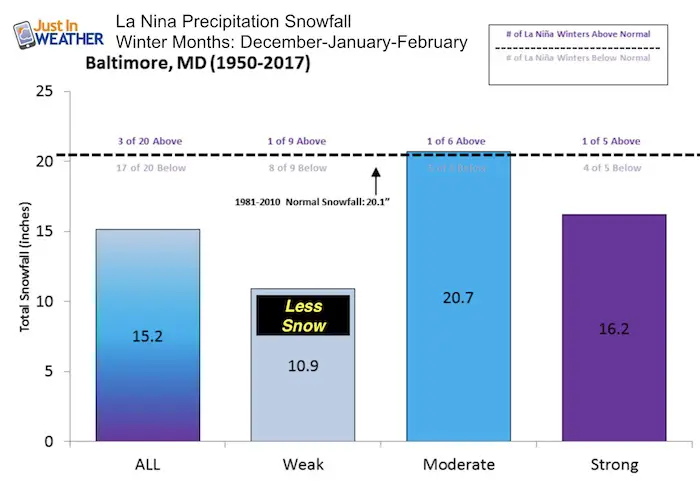 Snowstix- Ready For Delivery
We are giving 10% of each sale to programs that benefit pediatric oncology patients.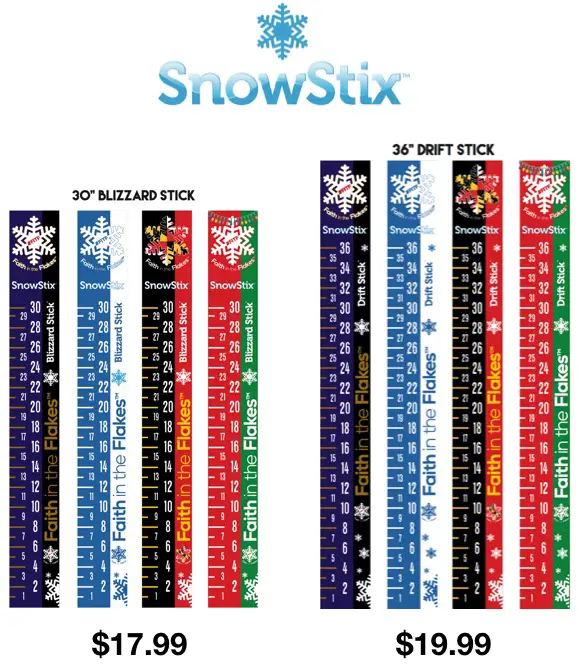 Faith in the Flakes Online Store Is Back Open By Popular Demand
PJ bottoms still inside out- They have to be to help bring on the snow.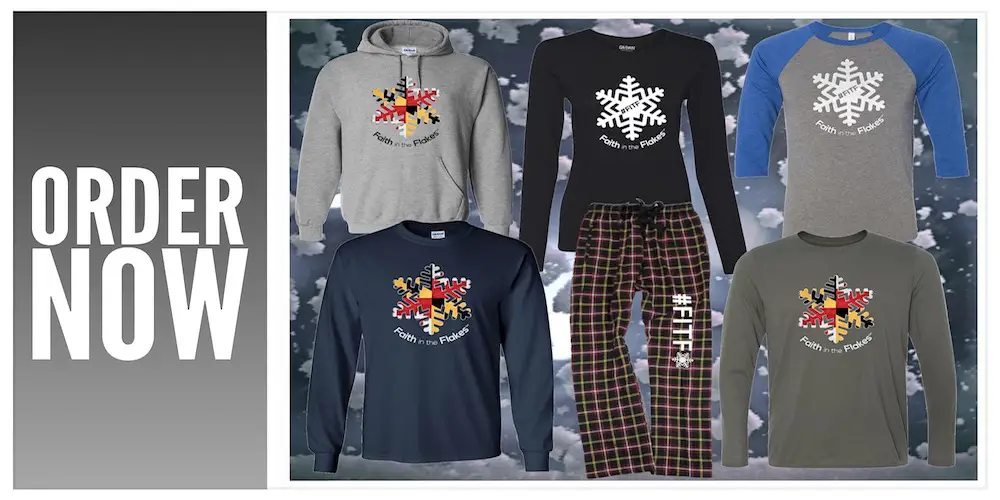 Get the award winning Kid Weather App I made with my oldest son and support our love for science, weather, and technology. Our 3 year anniversary of the release and our contribution to STEM education is this November. It has been downloaded in 60 countries, and works in both temperature scales. With your support we can expand on the fun introduction to science and real weather.
Please share your thoughts, best weather pics/video, or just keep in touch via social media
Winter Stuff
NOAA Winter Outlook: Not The Best But Not The Worst For Snow
Two Farmers Almanacs Winter 2018 Outlooks
My Preliminary Winter Outlook Notes
First Frost and Freeze Dates For Maryland (southern PA and northern VA)
NOAA Ranks Blizzard 2016 4th Worst Snowstorm On Record
Extreme Weather of 2015 balanced out on both ends