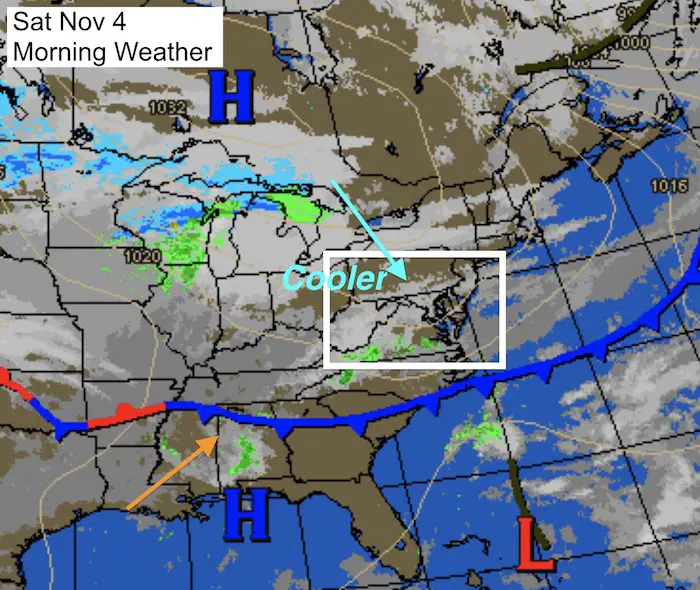 Saturday November 4
Baltimore hit 77ºF on Friday and Seattle had their earliest snowfall on record. There is an imbalance but we are trending to the other side of normal. A cold front came through and you will definitely notice it when you step outside today. Temperatures have dropped and will struggle to reach the upper 50s later today. While there is rain on the way this evening, the daylight hours will stay dry for most of us. Drizzle and showers may end the weekend with a warm up, and then we set the stage for more rain early next week. The maps below break down the details, even a chance for flurries next week. But first, I must share the obligatory reminder about the end of Daylight Saving Time.
Clocks back AND change batteries in your smoke/CO2 detectors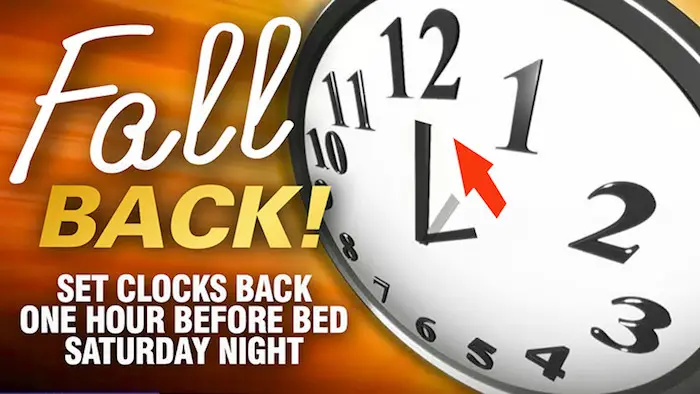 Here's the brief Stats and Graphical Weather View:
Stats For November 4
Normal High:  61ºF
Record High:  83ºF in 1974
Normal Low: 40ºF
Record Low: 22ºF in 1951
Sunrise: 7:38 AM
Sunset 6:02 PM
*We lose 2 min 10 sec of daylight from yesterday 
Keep In Touch All Winter: Sign up for email updates on new posts
Since you may miss some posts via social media, click here for email alerts as a way to make sure you don't miss any.  *You may have to refresh that page once for your browser to clear out the images.
Chilly Morning

Cool Afternoon High Temps
Dry Today But Showers Tonight
Light rain may arrive by 8 PM.

Overnight into Sunday Morning: Light Rain

Sunday: Lingering Drizzle but warmer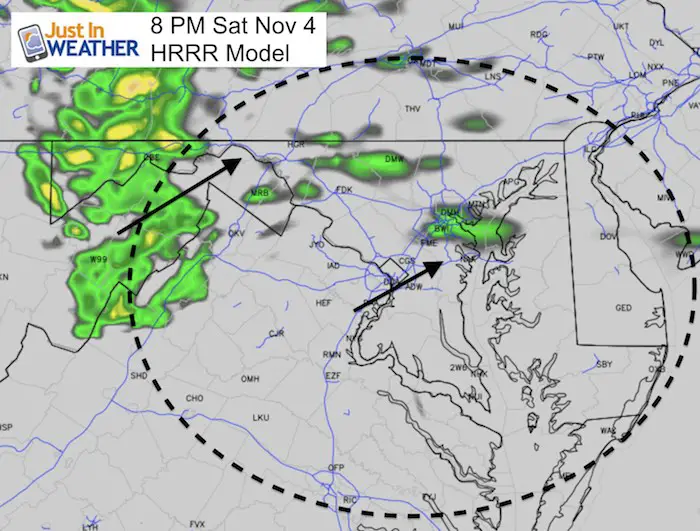 [metaslider id=54340]
Rain Animation
Monday Evening: Rain

Tuesday Evening into Wednesday: Rain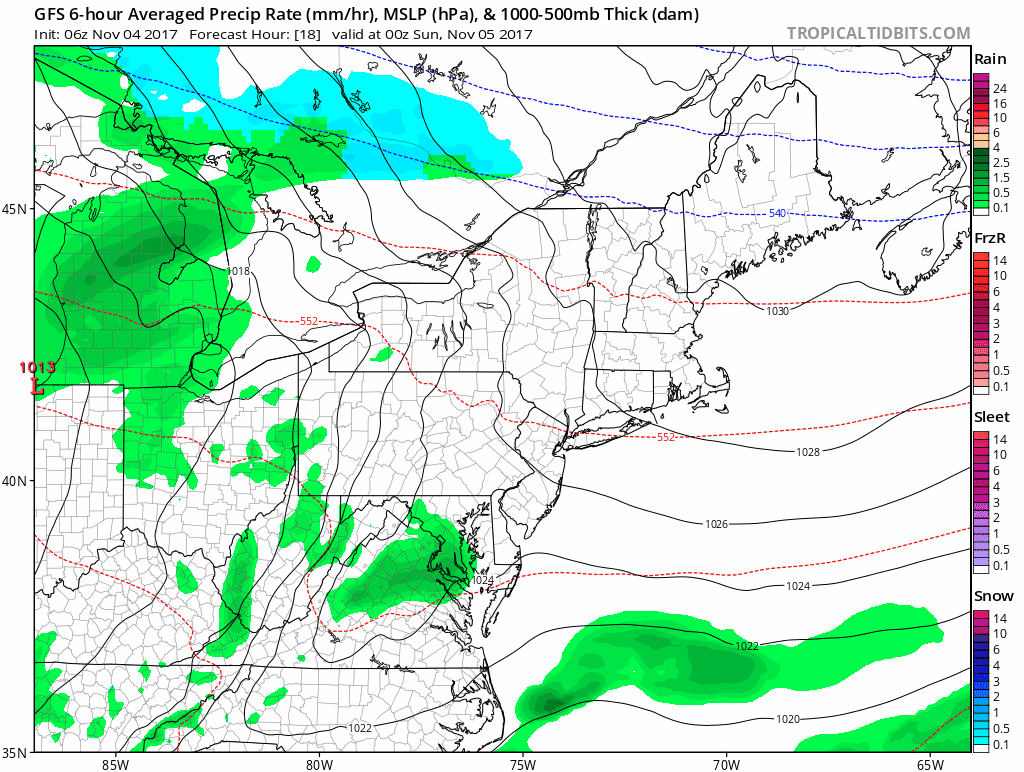 Wednesday Afternoon may have some snowflakes or flurries mixed in on the north side at the end.
This is only a big deal if you love snow and just want to see something fall. No stickage expected, but the atmosphere will be cold enough to support some frozen stuff. That is represented here by the 1000mb to 500mb thickens below 540 dm
Faith in the Flakes Online Store Is Back Open By Popular Demand
PJ bottoms still inside out- They have to be to help bring on the snow.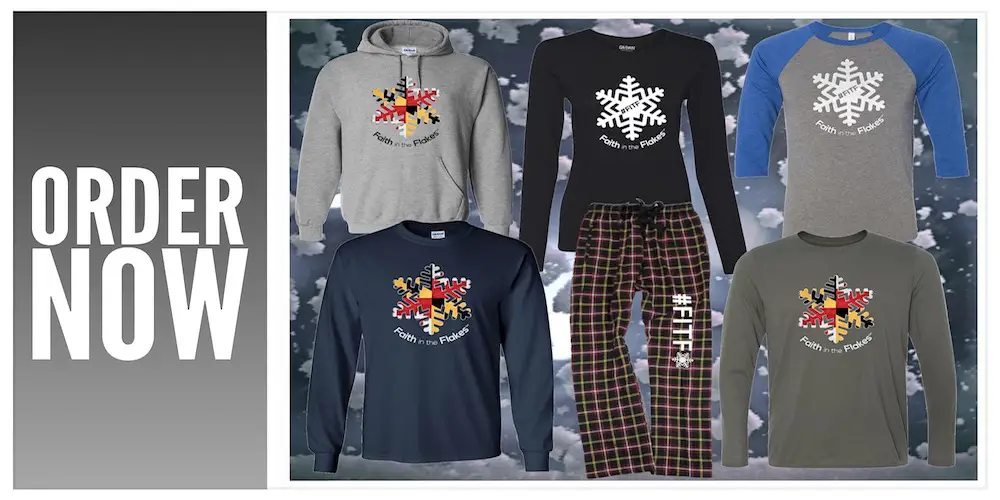 Outlook Colder To End November
You might say this is just the calendar proving itself, but the jet steam is supporting the cold surge to flow in and sustain itself for our region by Nov 20 and late coast Thanksgiving.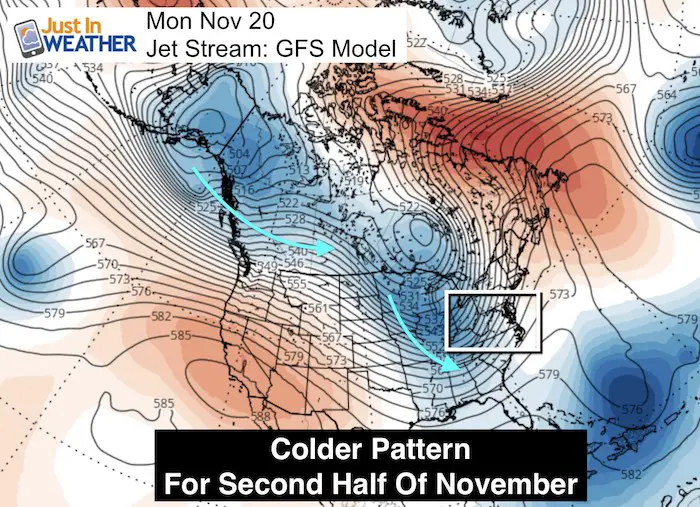 Temperature Outlook
Note that this forecast does not reach out as far as that jet stream map above. It will get colder Thanksgiving Week.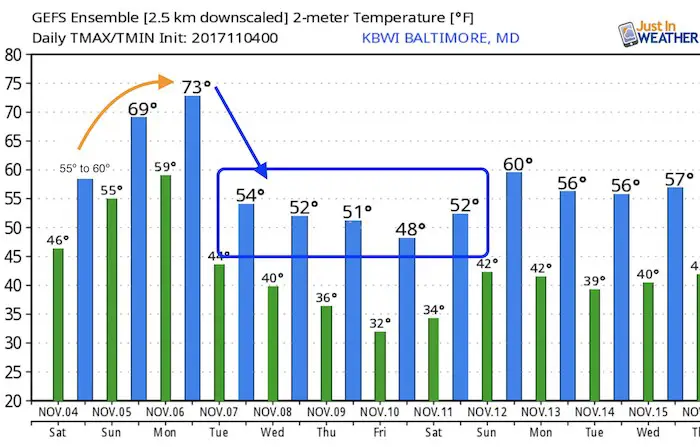 Snowstix
These Snowstix are available now for early orders and delivery.   To order now, click on the image below and send your request to mailto:[email protected].
We are giving 10% of each sale to programs that benefit pediatric oncology patients.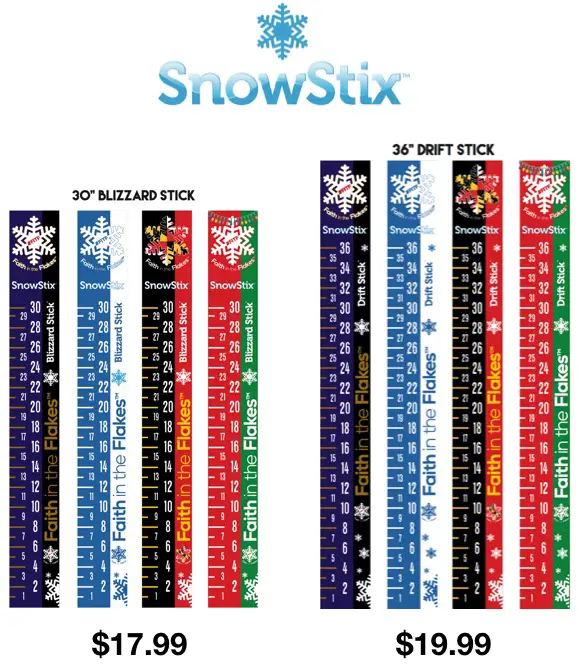 Winter Stuff
NOAA Winter Outlook: Not The Best But Not The Worst For Snow
Two Farmers Almanacs Winter 2018 Outlooks
My Preliminary Winter Outlook Notes
First Frost and Freeze Dates For Maryland (southern PA and northern VA)
NOAA Ranks Blizzard 2016 4th Worst Snowstorm On Record
Extreme Weather of 2015 balanced out on both ends
Get the award winning Kid Weather App I made with my oldest son and support our love for science, weather, and technology. Our 3 year anniversary of the release and our contribution to STEM education is this November. It has been downloaded in 60 countries, and works in both temperature scales. With your support we can expand on the fun introduction to science and real weather.
Please share your thoughts, best weather pics/video, or just keep in touch via social media