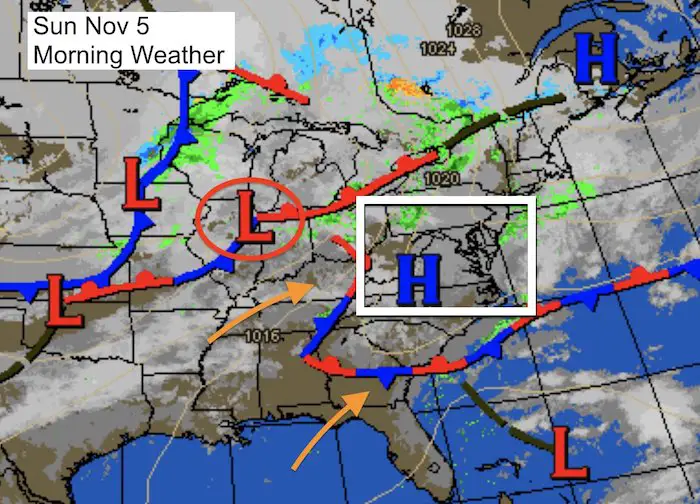 Sunday November 5 2017
Now that the clocks are back to Standard Time, the weather appears to be settling in on a standard November pattern. while we will warm up for two days, most of the week ahead wil be chilly and shows more rain. Today will see a damp feel around, and there may be some drizzle or light showers that don't show up on radar. This is the warm air trying to return. Monday will be the one day that it feels warm, but that will be chased by rain and the drop of temps into the 50s for the rest of the week.
I want to keep this as simple as possible, so lets look at the maps below. Please read the notes associated.
Stats For November 5
Normal High:  61ºF
Record High:  30ºF in 1961
Normal Low: 39ºF
Record Low: 24ºF in 1998
Sunrise: 6:39 AM
Sunset 5:01 PM
*Remember to change the clock on your car dashboard before work on Monday
Keep In Touch All Winter: Sign up for email updates on new posts
Since you may miss some posts via social media, click here for email alerts as a way to make sure you don't miss any.  *You may have to refresh that page once for your browser to clear out the images.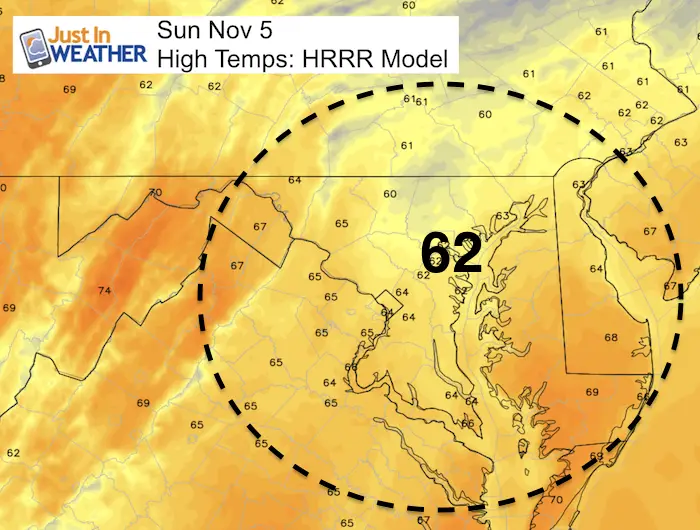 More Rain Tonight:
Again, there will be some drizzle and light showers today and this evening that will not show up on radar. The main band will stay in the mountains tonight and slowly head east for us on Monday.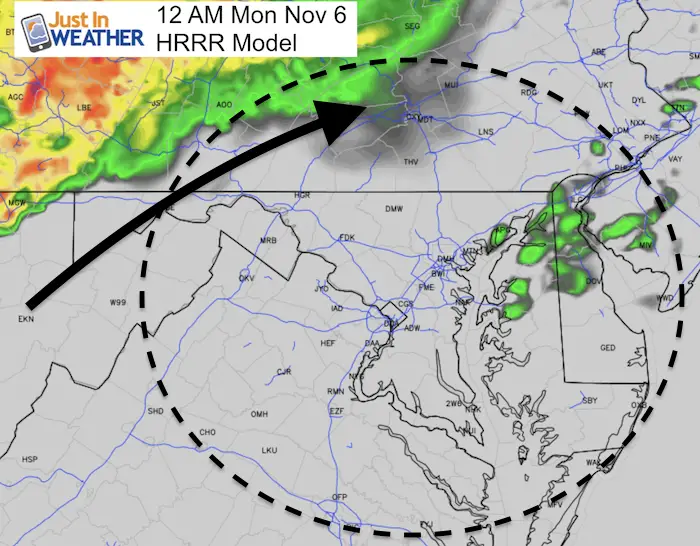 Rain Animation
While we should warm up close to 70ºF on Monday, it will come with rain and the cold front. As you watch this below, you will see another storm on Thursday into Friday. That is a solution the Canadian GEM Model was first to come up with but I did not show on here. I mention that for three reasons:
The new storm prevents the cold air from settling in on Wednesday and diminishes our chance of flurries.
The Canadian model is still showing some snow in south central PA Wednesday… That image is posted below.
The GFS Model is showing another storm next week. I DO NOT trust this model that far away. I am showing it because it is showing snow into Maryland. I will be referring back to this post and model if we see as expect a change as we get to next week.  That will help to quell the likely hype this model will insight as we head into winter. Any mention of snow more than a week away is more likely to not come true. If I am wrong, I will gladly be the first to admit it. But I need to help keep perspective here.
Snapshots:
The Canadian GEM Model is still showing snow showers for 7 Springs to State College PA on Wednesday morning. I will keep track of the accuracy of this because it does stand alone.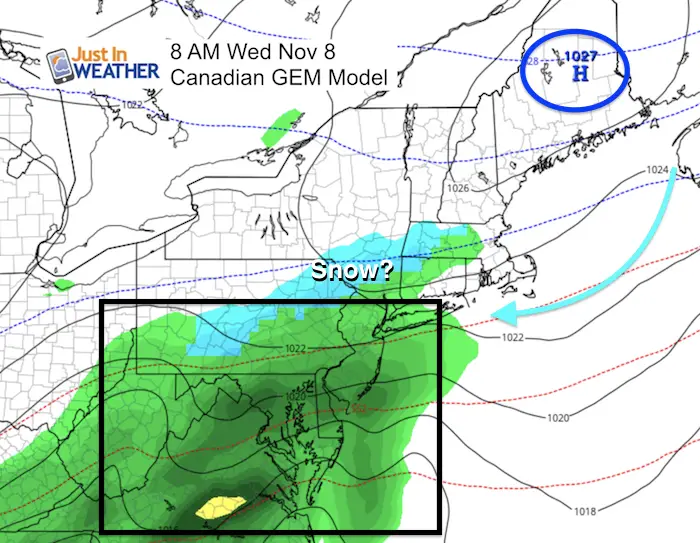 Faith in the Flakes Online Store Is Back Open By Popular Demand
PJ bottoms still inside out- They have to be to help bring on the snow.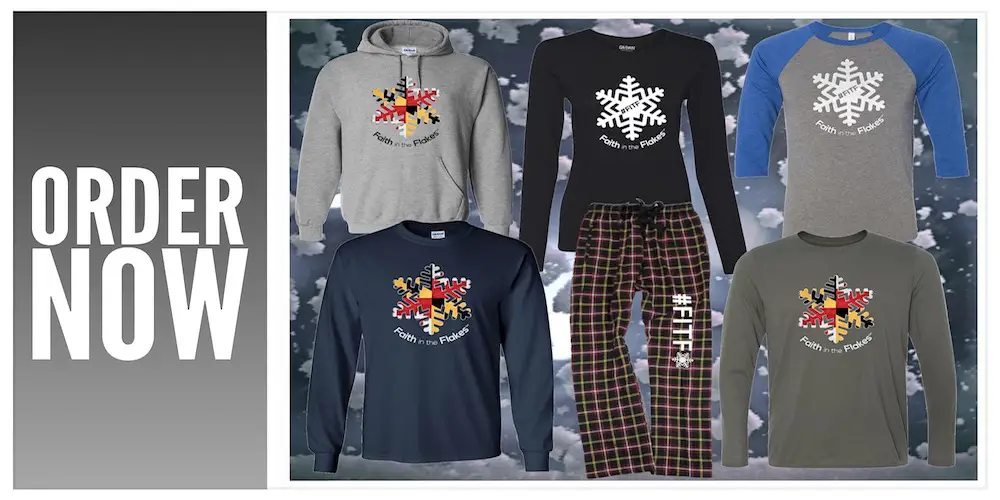 Friday Coastal Storm?
The trend is to develop a new storm along the stalled front and bring us rain Thursday into Friday.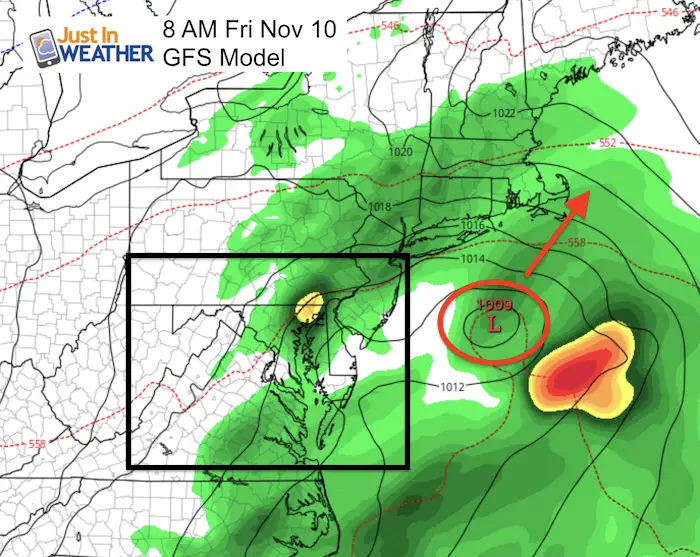 Cooler Temperature Outlook
Jet Stream Animation- This is the 500 mb (18,000 Ft) Height Anomalies
Notice the colder trend shown in blue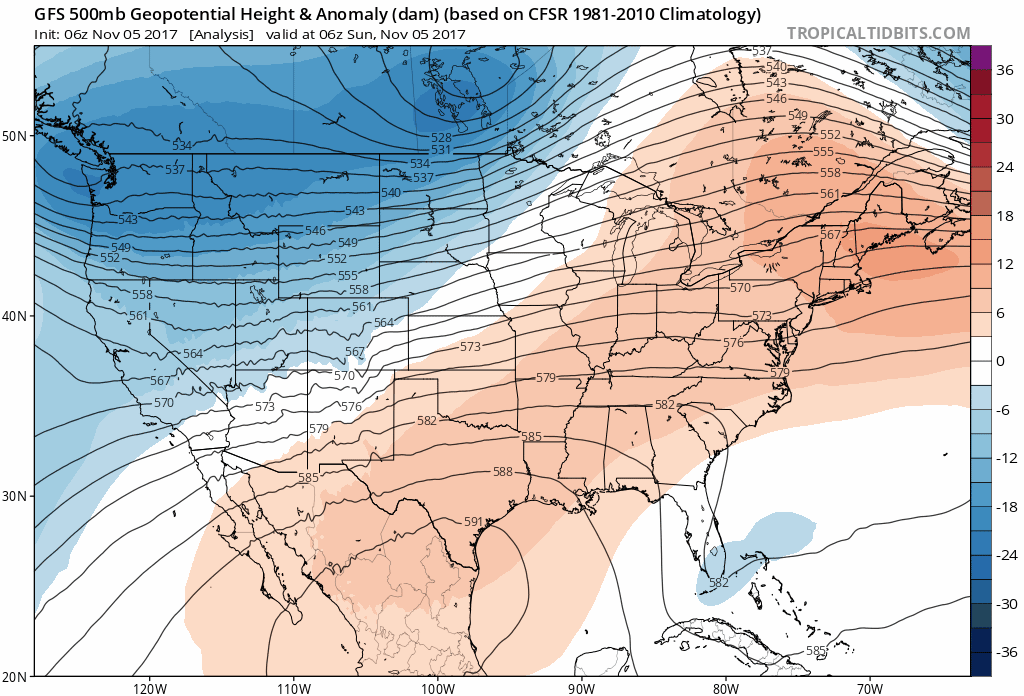 Snowstix
These Snowstix are available now for early orders and delivery.   To order now, click on the image below and send your request to mailto:[email protected].
We are giving 10% of each sale to programs that benefit pediatric oncology patients.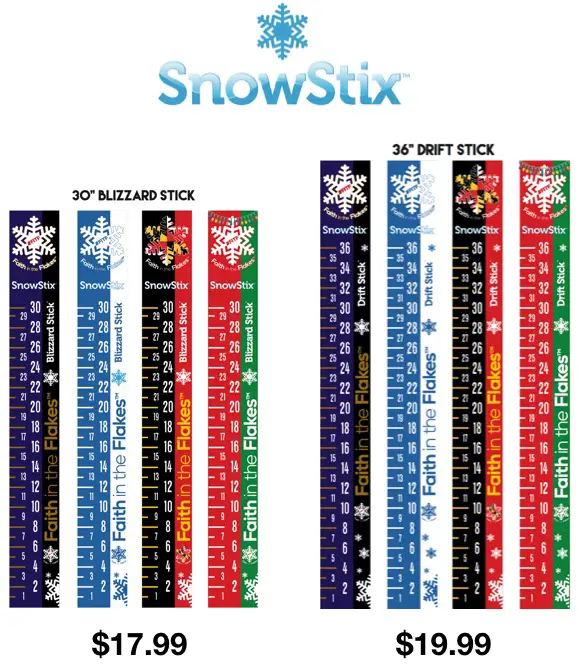 Winter Stuff
NOAA Winter Outlook: Not The Best But Not The Worst For Snow
Two Farmers Almanacs Winter 2018 Outlooks
My Preliminary Winter Outlook Notes
First Frost and Freeze Dates For Maryland (southern PA and northern VA)
NOAA Ranks Blizzard 2016 4th Worst Snowstorm On Record
Extreme Weather of 2015 balanced out on both ends
Get the award winning Kid Weather App I made with my oldest son and support our love for science, weather, and technology. Our 3 year anniversary of the release and our contribution to STEM education is this November. It has been downloaded in 60 countries, and works in both temperature scales. With your support we can expand on the fun introduction to science and real weather.
Please share your thoughts, best weather pics/video, or just keep in touch via social media