Saturday October 28
There is a distinct line of rain this morning from the Great Lakes to the Gulf Coast. The back side shows a band of snow around Indianapolis highlighting the cold air waiting to move in.  The way this storm is set up is like a slow moving wall. It will take much longer to reach us than it might appear thanks to strong southerly winds that will get us to near 70ºF this later today. The rain will push into the mountains this afternoon and then appear to stop. So western Maryland will get wet this afternoon, but warm winds and dry weather for metro areas and the Eastern Shore most of today.  Tonight that wall will break down and allow the rain to reach us in showers, then the heavier stuff Sunday morning.
As I see it, the heaviest rain locally will be Sunday morning and then a lull as the coastal Low develops mid day. The radar simulation below shows the afternoon will have showers then steady rain as the wind gradually pick up.  Another heavy push of rain will arrive by Sunday evening just as we watch it turn to snow above 2,000 Ft elevation in Garrett County.
The snow in Garrett County is expected Sunday evening and will last into Monday morning. It will be cold enough for stickage and accumulation and I plan to be there to show it to you with a big smile. FITF
Stats For October 28
Check out the record temperatures only 1 year apart.
Normal High:  63ºF
Record High:  87ºF in 1919
Normal Low: 41ºF
Record Low: 27ºF in 1976
Sunrise: 7:30 AM
Sunset 6:10 PM
Keep In Touch All Winter: Sign up for email updates on new posts
Since you may miss some posts via social media, click here for email alerts as a way to make sure you don't miss any.  *You may have to refresh that page once for your browser to clear out the images.
 Today (Saturday)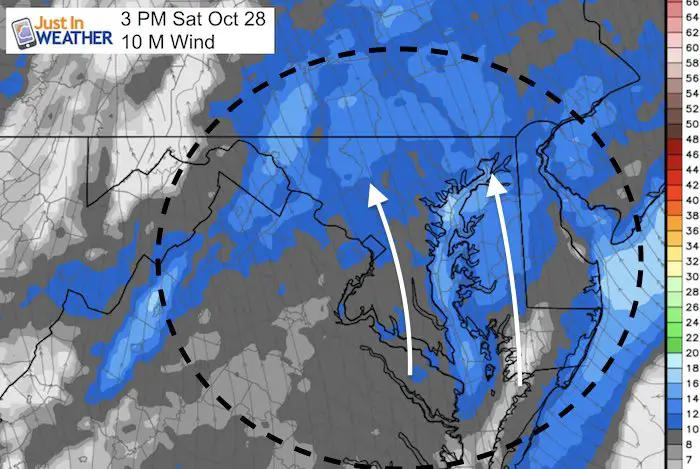 —> SLIDER
[metaslider id=54144]
Coastal Storm Developing Sunday
This will be interesting to watch for the track of the Low for hints of future events. The trend has been for verification farther east than the GFS Model shows here. But the colder air will surely bring snow to the western Maryland mountains Sunday night.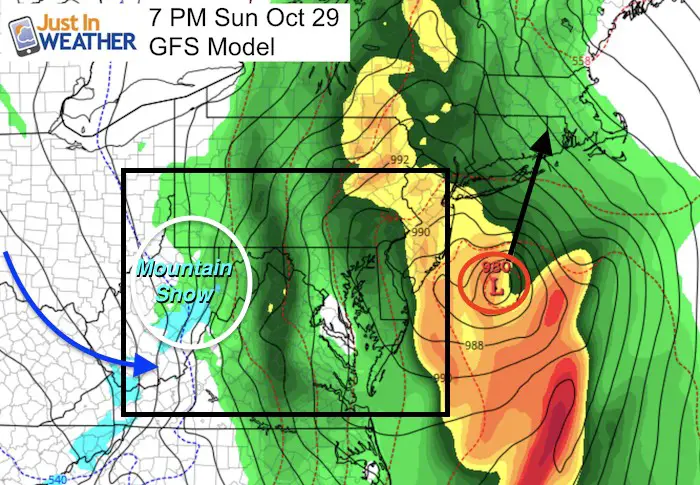 Sunday Rain And Mountain Snow
This is a long slider. Watch the heavy rain in the morning break to showers, then steady rain redevelops in the afternoon thanks to the coastal storm. Another heavy push of rain Sunday night as the cold air and strong winds arrive.
Expect a wet day, but the heavy rain will be in the morning and again later in the day. The strongest winds will likely be towards evening and at night.
—> SLIDER
[metaslider id=54165]
Rainfall Expectation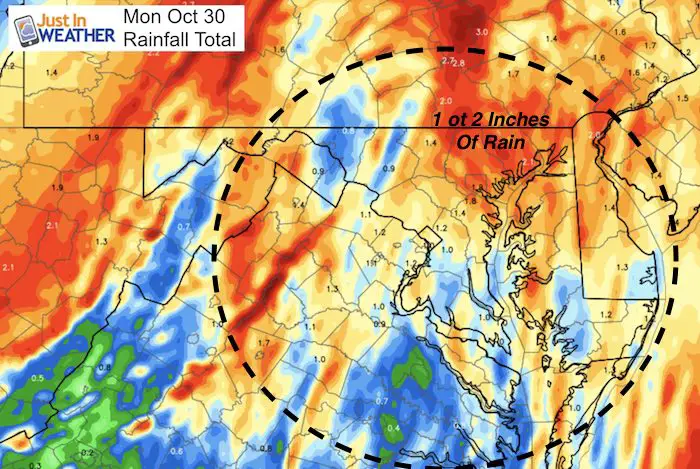 Mountain Snow Forecast
I am planning to be in Garrett County Monday morning to show you the snow.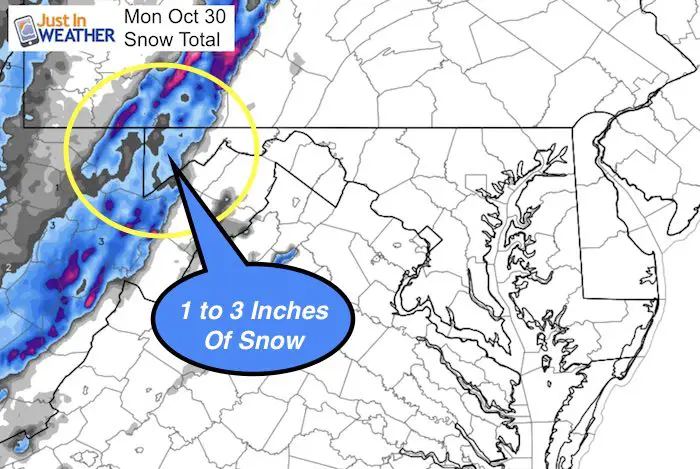 Temperature Outlook
This product tends to run a little warm. Highs will be in the 50s next week with more frosty mornings. Halloween will be cool and dry.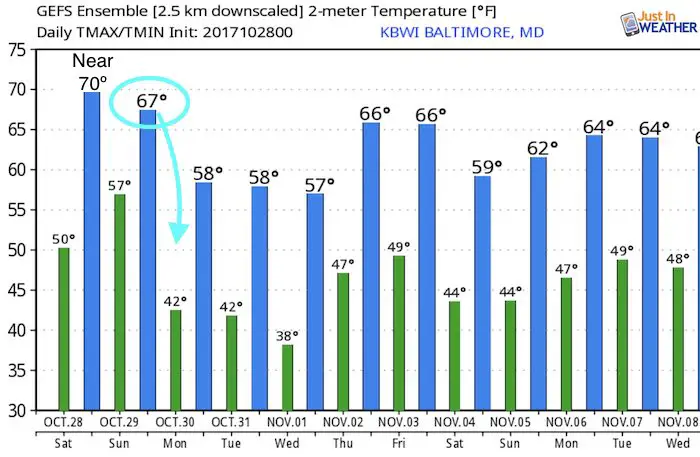 Winter Stuff
NOAA Winter Outlook: Not The Best But Not The Worst For Snow
Two Farmers Almanacs Winter 2018 Outlooks
My Preliminary Winter Outlook Notes
First Frost and Freeze Dates For Maryland (southern PA and northern VA)
NOAA Ranks Blizzard 2016 4th Worst Snowstorm On Record
Extreme Weather of 2015 balanced out on both ends
Get the award winning Kid Weather App I made with my oldest son and support our love for science, weather, and technology. Our 3 year anniversary of the release and our contribution to STEM education is this November. It has been downloaded in 60 countries, and works in both temperature scales. With your support we can expand on the fun introduction to science and real weather.
Please share your thoughts, best weather pics/video, or just keep in touch via social media