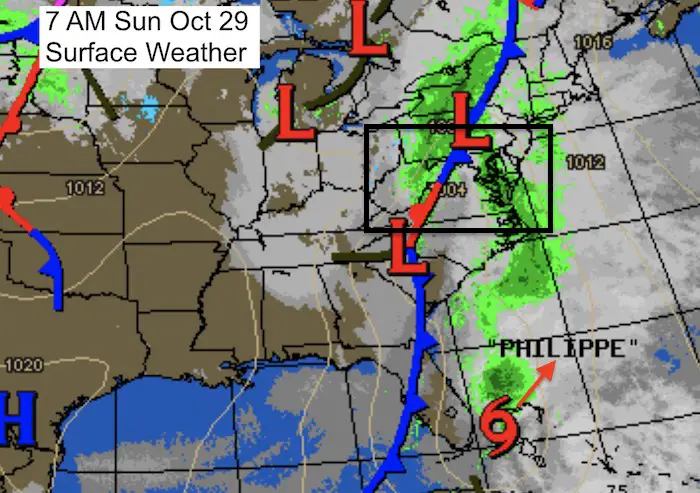 Sunday October 29
This is the most active weather map we have seen in a while. Today will start off as a warm day but it will be wet and a bit wild. We have a storm that will bring some of our area between 1 and 3 inches of rain. Most of us will be under a Wind Advisory Monday morning, and far western Maryland will get a few inches of snow.  Tropical Storm Philippe was named yesterday and has moved through southern Florida. It has 45 mph winds this morning and it will NOT be our storm. But it is feeding moisture and energy into it. The maps below show our rain timeline and path of Philippe moves through the same region off of North Carolina that Gert, Jose, and Maria moved through (Atmospheric Memory).
Storm Highlights
There is some heavy rain this morning, but the second part of this storm will stronger. The hourly slider and animation for this storm are below. Low Pressure will pass less than 100 miles off of the coast. This location is seen on both the GFS and European Models. That will enhance the rain this evening and pull in the colder air on very strong winds behind it. Snow will be developing in Garrett County, MD by 8 PM and a few inches of accumulation are possible. FITF*. I am working to get out there and show it to you.
Note: The strongest winds will be developing as Low Pressure strengthens and moves away from us. If you are watching this track and subscribe to my atmospheric memory theory, this would be a good sign for a winter storm.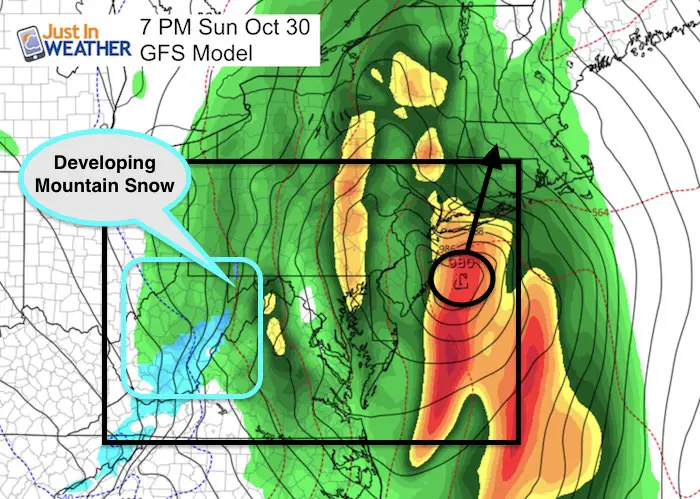 Wind Advisory
10 PM Sunday to 10 AM Monday
Winds: Steady 20 to 35 mph
Gusting 50 to 55 mph
This is NOT from Philippe and on the back end of our current storm. That is part of the push of colder air on the way.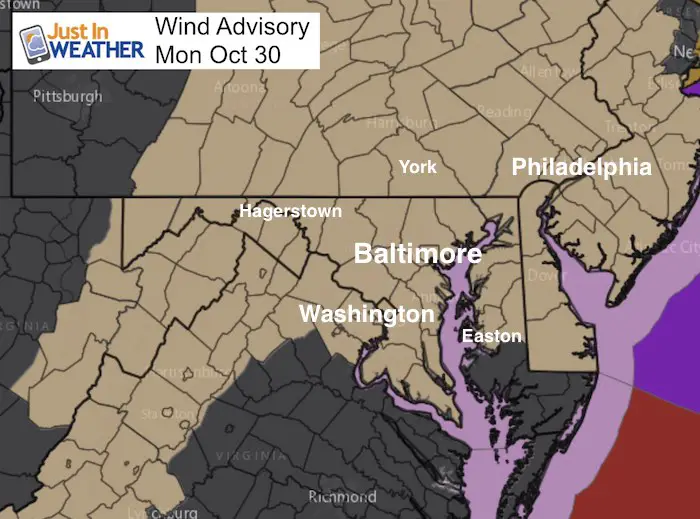 Keep In Touch All Winter: Sign up for email updates on new posts
Since you may miss some posts via social media, click here for email alerts as a way to make sure you don't miss any.  *You may have to refresh that page once for your browser to clear out the images.
Rain Timeline Today
Our day will have heavy rain this morning, then showers followed by more heavy rain later this afternoon and tonight. Temperatures will take a dive as colder air moves in behind our local storm. Our second way of rain tonight will be heavy and wind driven, while colder air will develop snow by 8 PM in western Maryland. There will be a few inches on the ground by Wisp and I am working to get out there and show you.
—> slider
[metaslider id=54210]
Monday Morning
The tail end of our storm will be departing as you wake up and head back to work/school.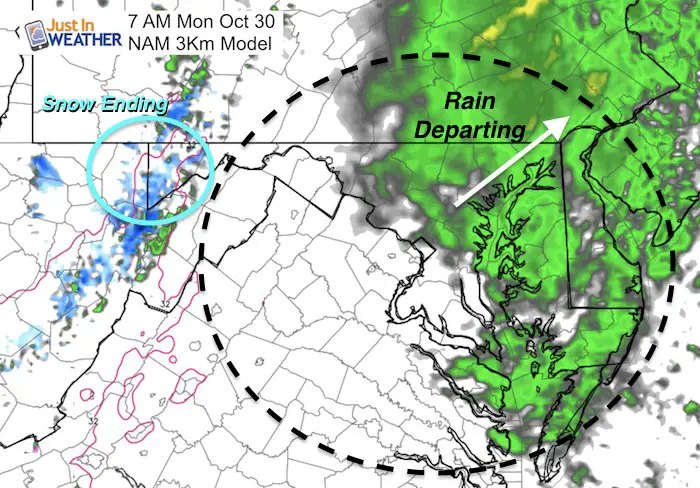 Rainfall Total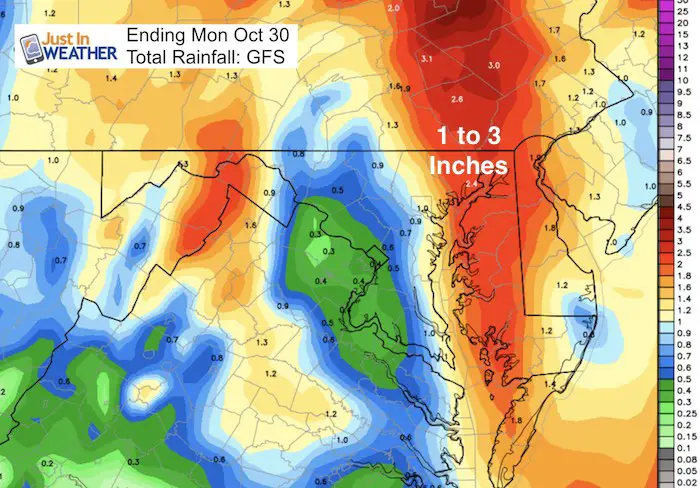 Snowfall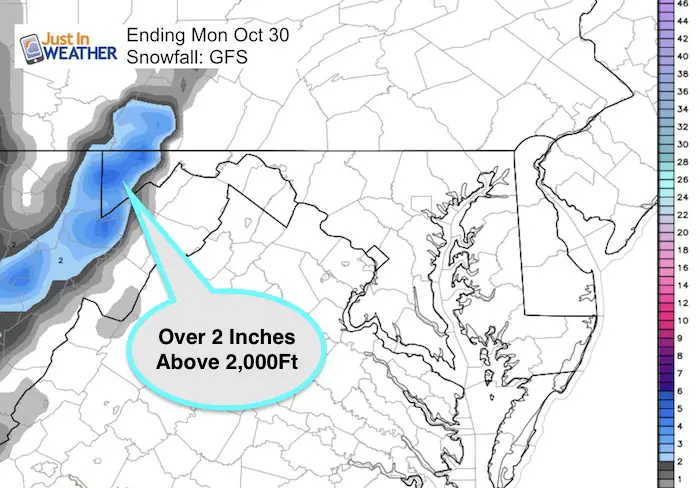 Animation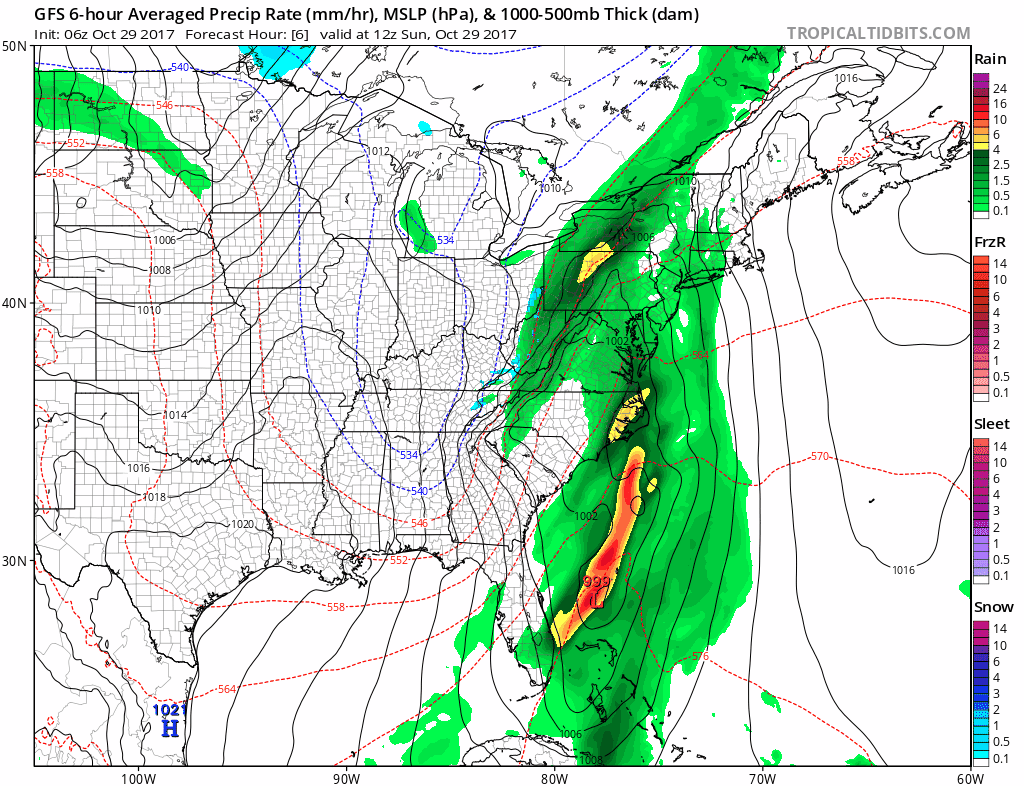 Tropical Storm Philippe
Winds are 45 mph and it is moving to the northeast at 17 mph. Compare this final location Monday to previous tropical systems this year below. Also note: this is NOT the same Low Pressure that we are plotting of of our coast locally tonight.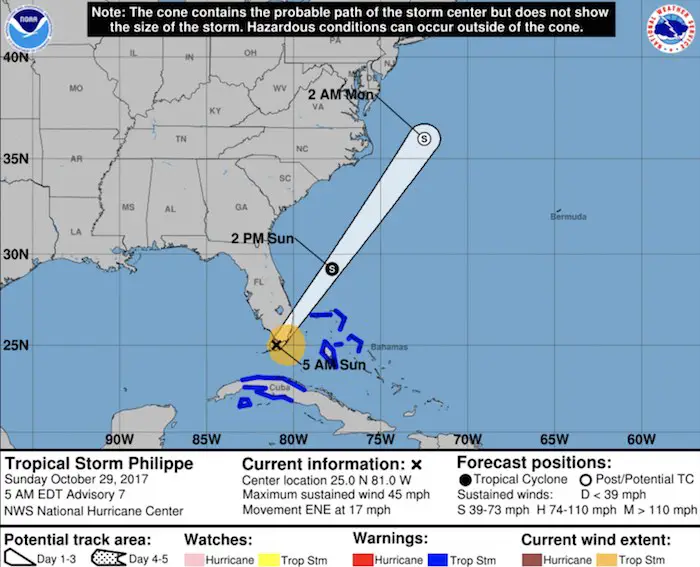 Familiar location off of North Carolina
Atmospheric Memory: Here are three other tropical systems that passed in the same area this season…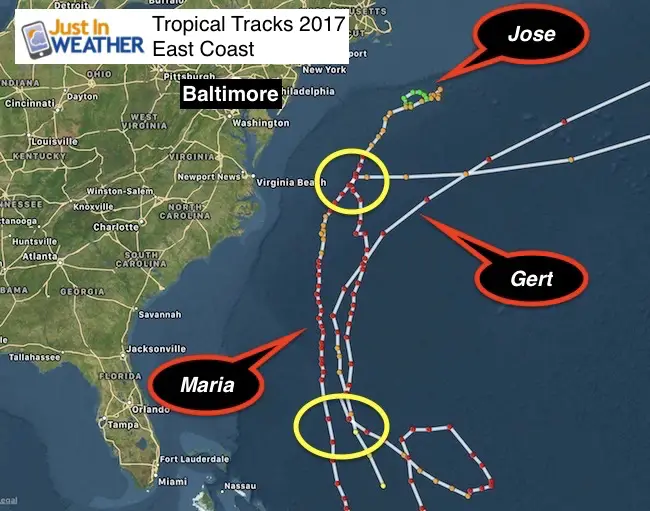 Temperature Outlook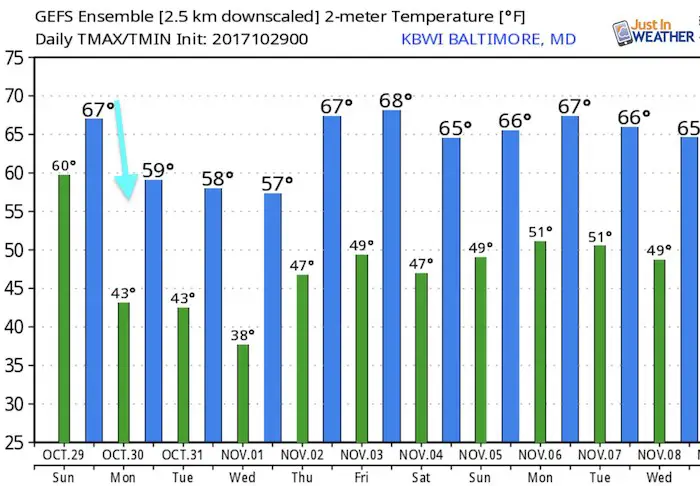 Winter Stuff
NOAA Winter Outlook: Not The Best But Not The Worst For Snow
Two Farmers Almanacs Winter 2018 Outlooks
My Preliminary Winter Outlook Notes
First Frost and Freeze Dates For Maryland (southern PA and northern VA)
NOAA Ranks Blizzard 2016 4th Worst Snowstorm On Record
Extreme Weather of 2015 balanced out on both ends
Get the award winning Kid Weather App I made with my oldest son and support our love for science, weather, and technology. Our 3 year anniversary of the release and our contribution to STEM education is this November. It has been downloaded in 60 countries, and works in both temperature scales. With your support we can expand on the fun introduction to science and real weather.
Please share your thoughts, best weather pics/video, or just keep in touch via social media