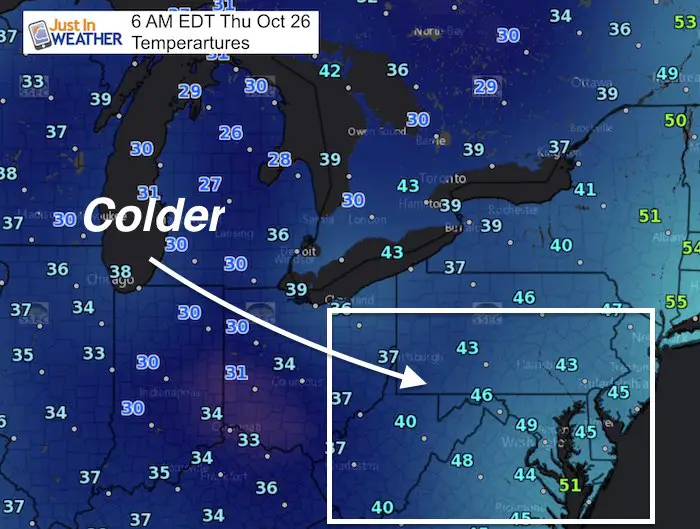 Thursday October 26
We wake up to morning showers and finish the day with a Frost Advisory and Freezing Warning. Colder air is on the way but then a quick but noticeable warm up followed by heavy rain over The Weekend. There is a lot of changes to fill up the weather plate, so please scroll down and see the maps that will simplify the changes today through the weekend. Overall the pattern will be acting a lot more like Fall. If you are going to the Ravens game tonight it will be chilly. If you have weekend plans, Saturday should be outdoors and Sunday should be inside. Here's the break down
Stats For October 25
Normal High:  64ºF
Record High:  81ºF in 1978
Normal Low: 42ºF
Record Low: 27ºF in 1922
Sunrise: 7:28 AM
Sunset 6:13 PM
Keep In Touch All Winter: Sign up for email updates on new posts
Since you may miss some posts via social media, click here for email alerts as a way to make sure you don't miss any.  *You may have to refresh that page once for your browser to clear out the images.
—-> Slider: Some Morning Rain
An upper level disturbance is slowly moving through our region with this band of light rain. There was some snow in the West Virginia mountains last night, and this is what we get from that. This will pass through Metro Baltimore and Southern PA to the Northern Eastern Shore through mid day.
[metaslider id=54105]
Cool Afternoon
Thanks to the clouds and light rain, temps will likely stay in the upper 50s. Some spots will get close to 60ºF
Cold Night
The Frost Advisory for counties west and north of the Chesapeake Bay. Freeze Warning for Washington County and across the I-81 corridor.
Weekend Outlook:
The broad range for 1 to 3 inches, but I am leaning on the lower end for us since the storm is faster and tracking farther east.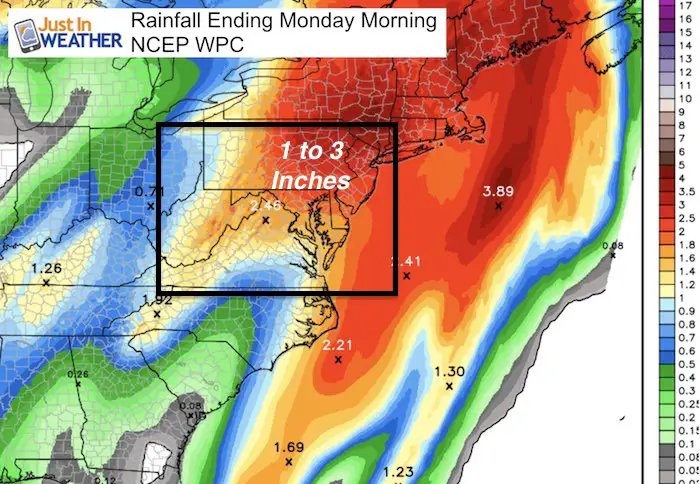 Saturday: Warming up to near 70ºF. But it will be breezy and a chance of showers later in the afternoon and by evening from west to east.
Sunday: Heavy rain in the morning. The storm appears to be following the trend I saw with the tropics… pushing farther east that first forecast. We are still expecting a range between 1 and 3 inches of rain by Monday morning when it ends.
Animation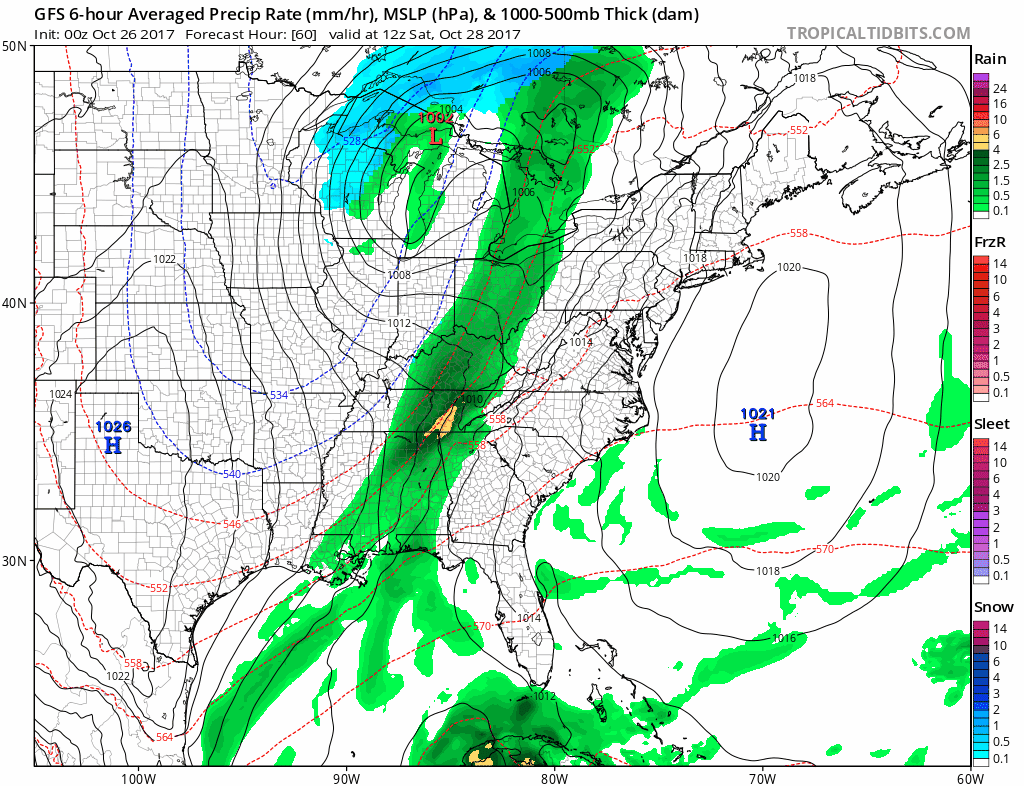 Quick Mover:
Most of that storm will be done Sunday evening… As the core Low passes farther east, it will take the rain but drag in the colder air.
For this reason, I am leaning on the lower end of the rain expectation for our region. Closer to the 1 inch mark with high amounts along the coast and into New England. 
Temperature Outlook
Note: Halloween should be quiet and cool. Temps into the lower 50s by evening for the Trick-or-Treating. Dress the kids accordingly.
Winter Stuff
NOAA Winter Outlook: Not The Best But Not The Worst For Snow
Two Farmers Almanacs Winter 2018 Outlooks
My Preliminary Winter Outlook Notes
First Frost and Freeze Dates For Maryland (southern PA and northern VA)
NOAA Ranks Blizzard 2016 4th Worst Snowstorm On Record
Extreme Weather of 2015 balanced out on both ends
Last Day!
Trust in this Bust- Limited Edition Shirt
This is not a forecast, but a fundraiser for breast cancer research at BCRF- the highest rated cancer research charity. This soft Bella T-Shirt is to promote the strength of the 'good bust' and the heart that beats strong beneath it. Proceeds will be donated in honor of my mother Linda Berk, a 3-time breast cancer survivor. Click on the shirt image to join us.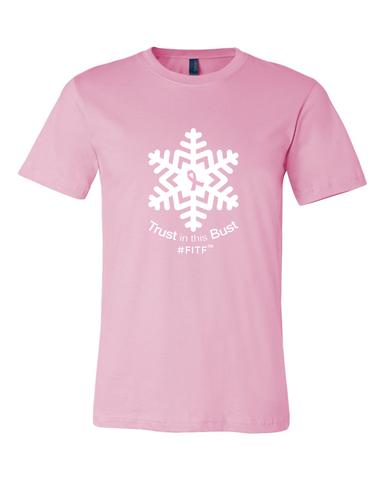 Get the award winning Kid Weather App I made with my oldest son and support our love for science, weather, and technology. Our 3 year anniversary of the release and our contribution to STEM education is this November. It has been downloaded in 60 countries, and works in both temperature scales. With your support we can expand on the fun introduction to science and real weather.
Please share your thoughts, best weather pics/video, or just keep in touch via social media