Wednesday October 25
A strong cold front moved through yesterday but we had another 70 degree day. Say goodbye to that for a while. Today will be close to 'normal' and the trend will be even colder over the next week and then some as we get to make up for lost time. There will be frost locally tomorrow morning and perhaps flurries in the mountains. The main weather event will be a strong storm coastal storm to end this weekend with heavy rain Sunday, followed by snow in western Maryland that should bring light accumulation. Then we remain cold through Halloween and into the first weekend of November.
This morning
Stats For October 25
Normal High:  64ºF
Record High:  77ºF in 1931
Normal Low: 42ºF
Record Low: 28ºF in 1962
Sunrise: 7:27 AM
Sunset 6:14 PM
Highs Today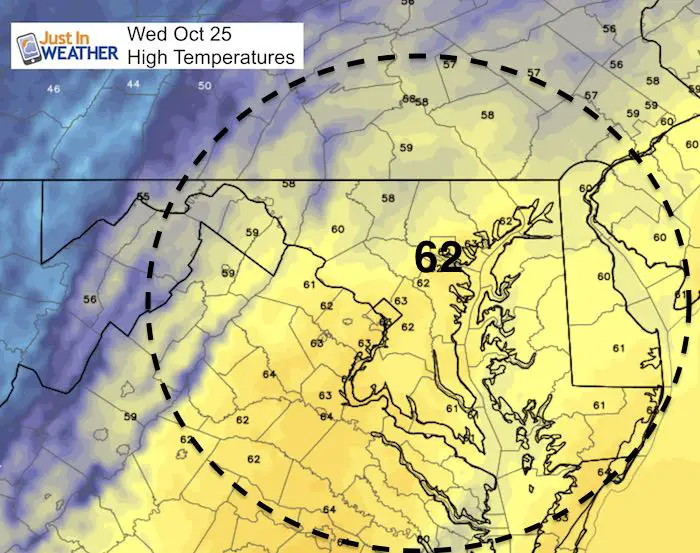 Lows Thursday
Rain Animation
Our rain will be heaviest Sunday morning. Total accumulation likely to be between 1 and 2 inches. I will show that forecast plot in my next report.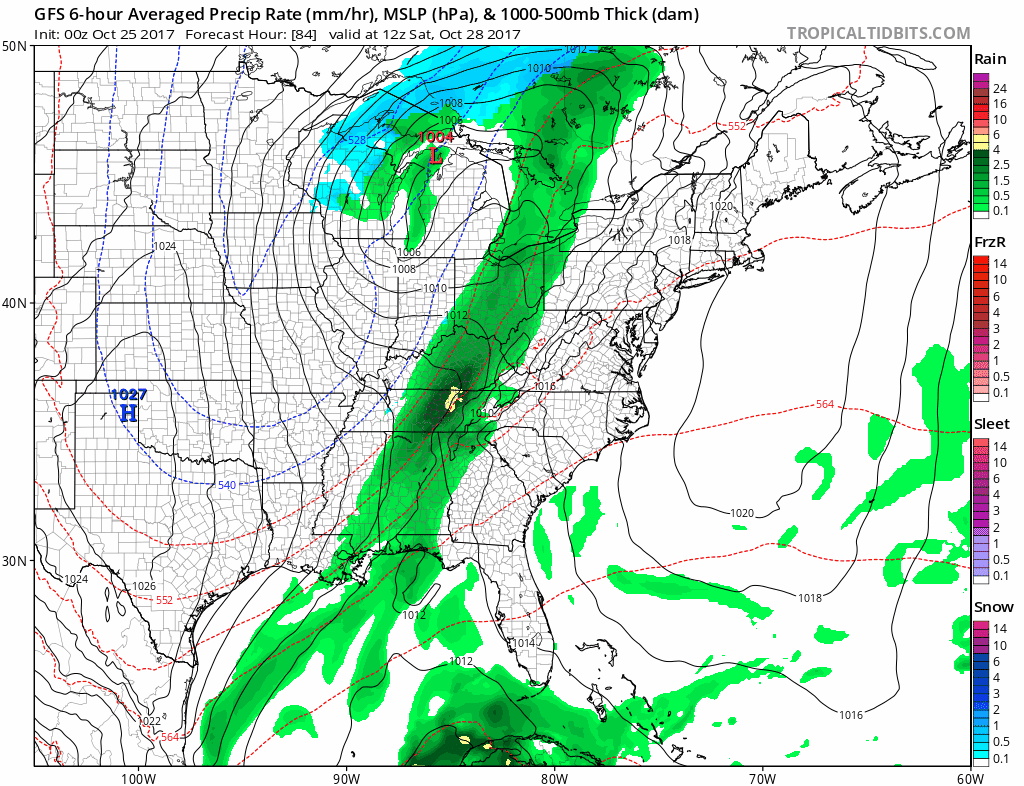 Snow?
It is time and this first image I can show with confidence there will be snow on the ground in western Maryland and West Virginia next Monday morning. I will be heading out west to see it and show it to you. FITF
Long Range A very long shot!
This next image is something I DO NOT TRUST! I am showing it to you because there is a good chance it will be shown on social media and needs to be addressed before the rumors begin. This is a 288 Hour forecast. Almost 2 weeks away!  I have NEVER seen a computer model accurately show a storm event that far away. The trend will lily push east and we need to consider that the Bay water is well above normal and influences the air temperatures nearby.  The cold air on the way will not cool this down enough yet.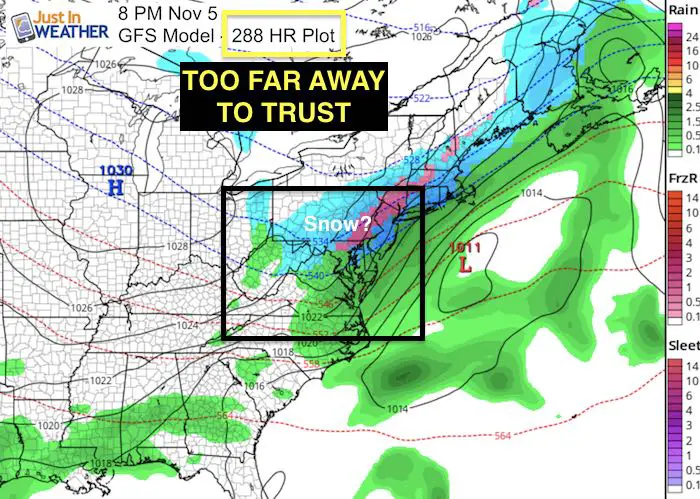 Keep In Touch All Winter: Sign up for email updates on new posts
Since you may miss some posts via social media, click here for email alerts as a way to make sure you don't miss any.  *You may have to refresh that page once for your browser to clear out the images.
Cold Trend- Jet Stream Shows Reinforcing Air Masses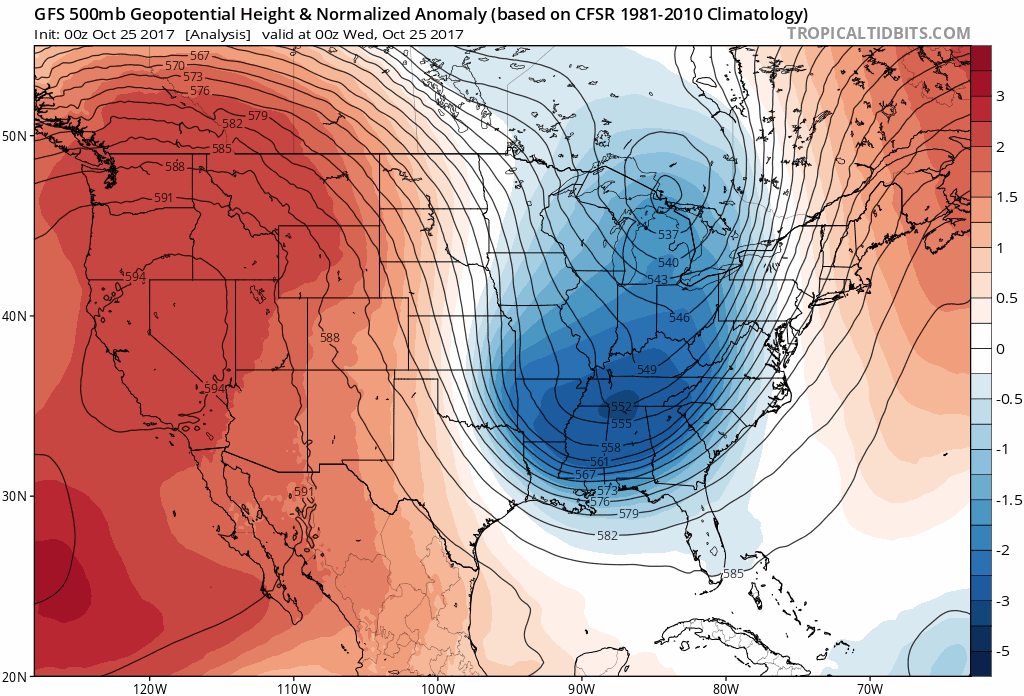 Temperature Outlook (Based at Baltimore's BWI)
Winter Stuff
NOAA Winter Outlook: Not The Best But Not The Worst For Snow
Two Farmers Almanacs Winter 2018 Outlooks
My Preliminary Winter Outlook Notes
First Frost and Freeze Dates For Maryland (southern PA and northern VA)
NOAA Ranks Blizzard 2016 4th Worst Snowstorm On Record
Extreme Weather of 2015 balanced out on both ends
2-Days Left!
Trust in this Bust- Limited Edition Shirt
This is not a forecast, but a fundraiser for breast cancer research at BCRF- the highest rated cancer research charity. This soft Bella T-Shirt is to promote the strength of the 'good bust' and the heart that beats strong beneath it. Proceeds will be donated in honor of my mother Linda Berk, a 3-time breast cancer survivor. Click on the shirt image to join us.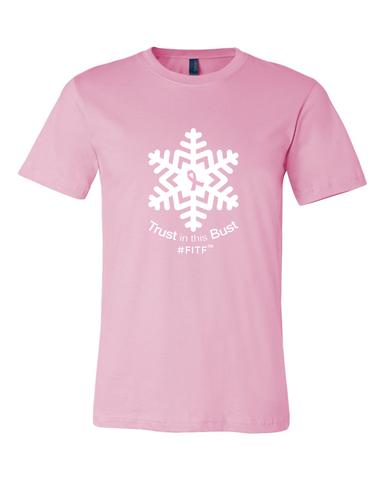 Get the award winning Kid Weather App I made with my oldest son and support our love for science, weather, and technology. Our 3 year anniversary of the release and our contribution to STEM education is this November. It has been downloaded in 60 countries, and works in both temperature scales. With your support we can expand on the fun introduction to science and real weather.
Please share your thoughts, best weather pics/video, or just keep in touch via social media