Monday October 23, 2017
Warm weather for two more days, then we get into a real chilly pattern that will want to stay this time. Yes, this faux fall is about to end. The unseasonably warm air now has added moisture with it. With longer nights it is inevitable to chill down and super-saturate the air, which has led to some thick fog in spot. The morning map here shows the lowest visibility under 1 mile in red. That appears to be along the Maryland/Pennsylvania border, around Washington in the Potomac Valley, and along the bay-side of the lower Eastern Shore. There is some fog around the Baltimore beltway, but not as bad as some commuters will experience on the way in. All will improve between by 9 AM and give us another warm day.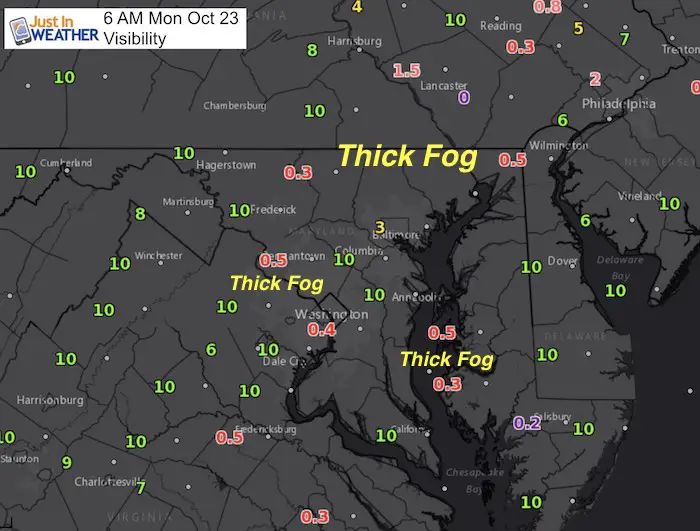 The cold front to our west has some moderate rain with it and may bring showers this evening. It will pass through tonight and Tuesday morning. Behind that will filter in colder air that we will feel  if for the rest of the week. Reinforcing shots of colder air will bring snow showers to the mountains. Halloween will be chilly and November will start feeling like its supposed to.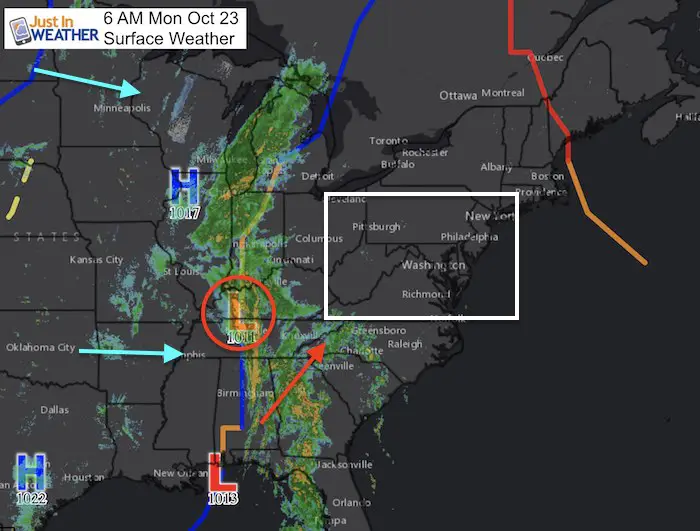 Stats For October 23
Normal High:  65ºF
Record High:  91ºF in 1947
Normal Low: 43ºF
Record Low: 28ºF in 1997
Sunrise: 7:25 AM
Sunset 6:26 PM
Highs Today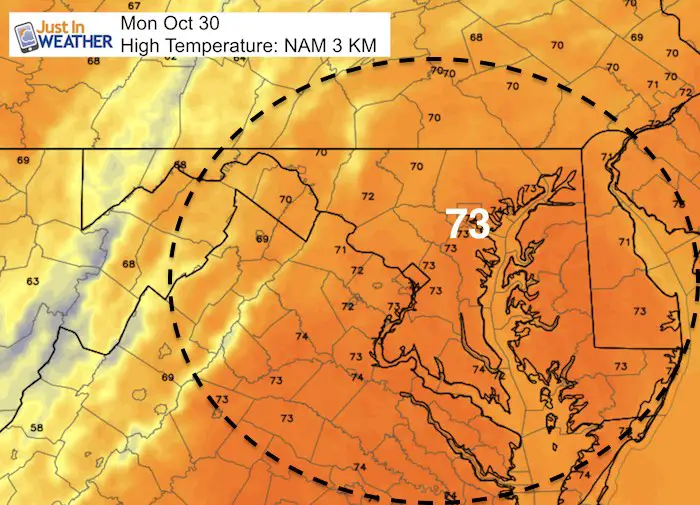 Rain Timeline
Most of our rain will fall between midnight tonight and sunrise Tuesday. The highs on Tuesday may be at midnight, it will still be mild in the afternoon. The colder air often lags half a day behind the cold front. We will feel it by Wednesday.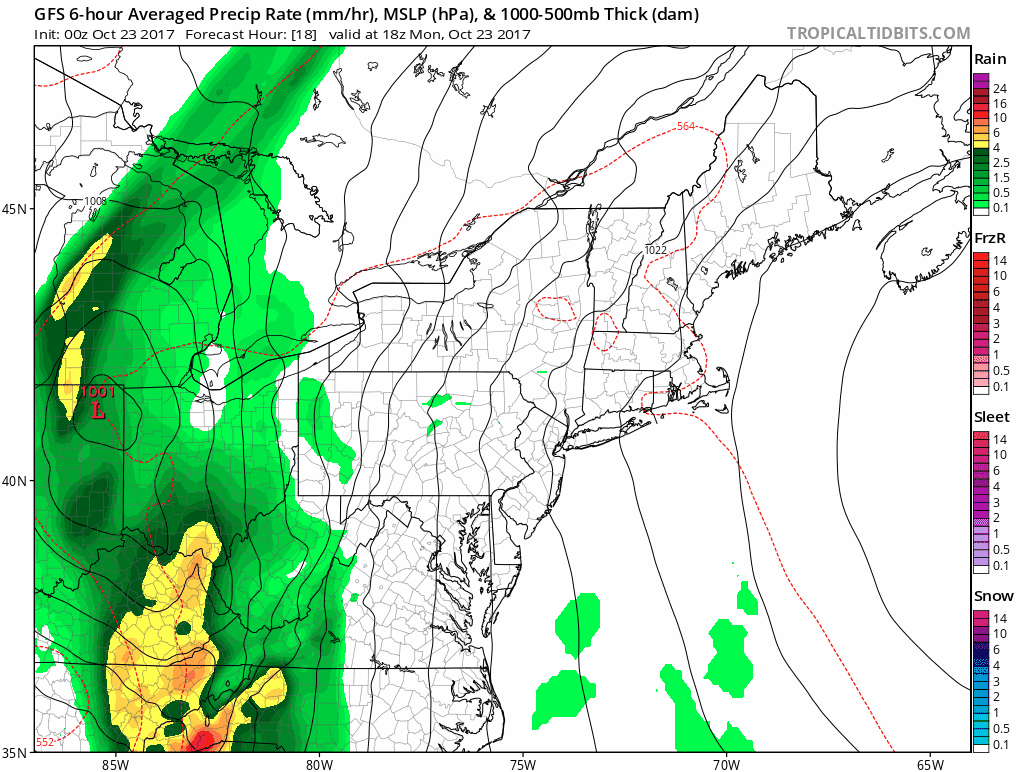 Outlook
One week from today it will be much colder! The jet stream will send a deep trough in to the eastern US and temperatures  will be well below normal. This pattern looks to sustain itself for the next week or two at least.
Snow Showers and Flurries
Getting the flakes to fly east of the mountains may be a stretch as the GFS model shows here. But I see a burst of snow in western Maryland and this high country of West Virginia and western Virginia to start next week.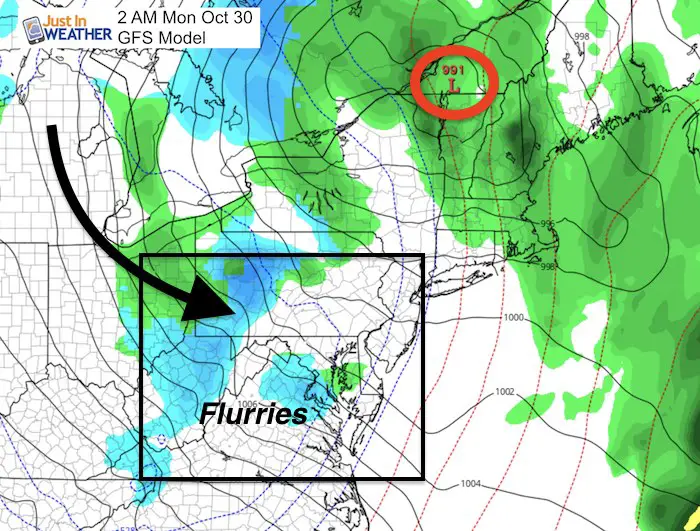 Jet Stream Animation
Blue is colder than normal and there is plenty that locks into the eastern US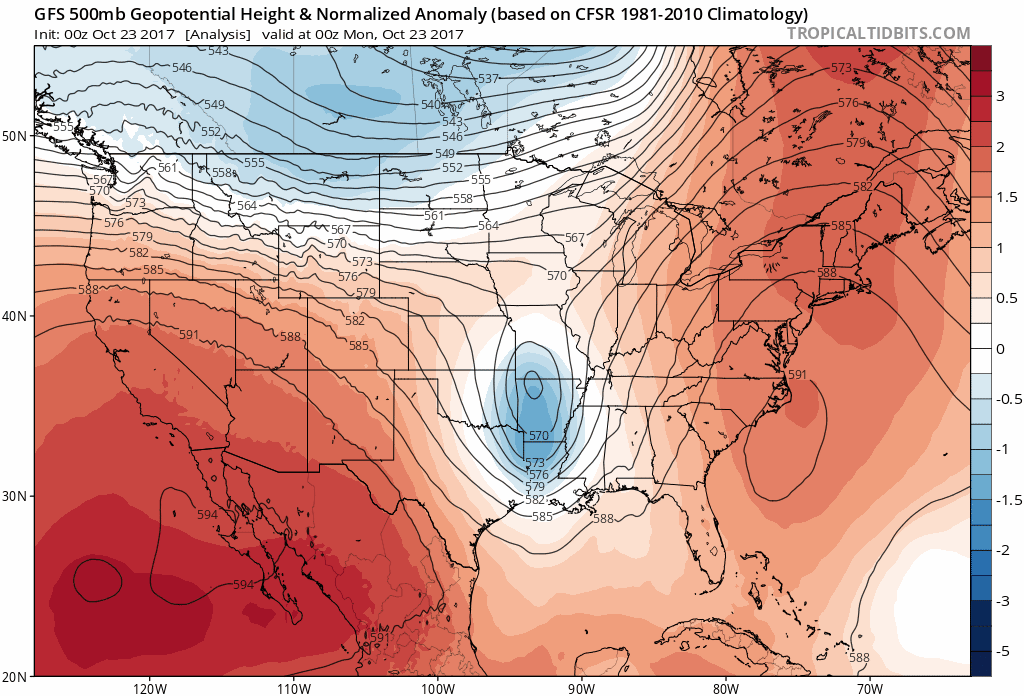 High Temperatures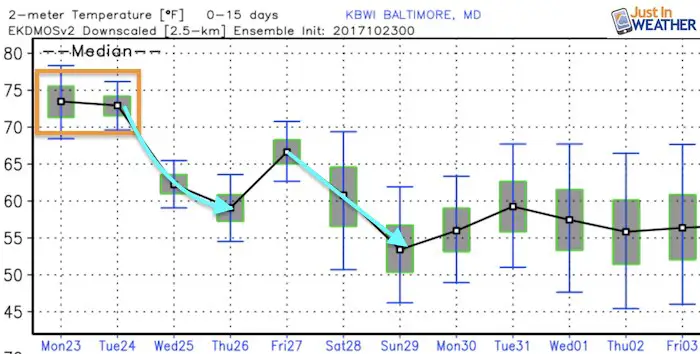 Winter Stuff
NOAA Winter Outlook: Not The Best But Not The Worst For Snow
Two Farmers Almanacs Winter 2018 Outlooks
My Preliminary Winter Outlook Notes
First Frost and Freeze Dates For Maryland (southern PA and northern VA)
NOAA Ranks Blizzard 2016 4th Worst Snowstorm On Record
Extreme Weather of 2015 balanced out on both ends
4-Days Left!
Trust in this Bust- Limited Edition Shirt
This is not a forecast, but a fundraiser for breast cancer research at BCRF- the highest rated cancer research charity. This soft Bella T-Shirt is to promote the strength of the 'good bust' and the heart that beats strong beneath it. Proceeds will be donated in honor of my mother Linda Berk, a 3-time breast cancer survivor. Click on the shirt image to join us.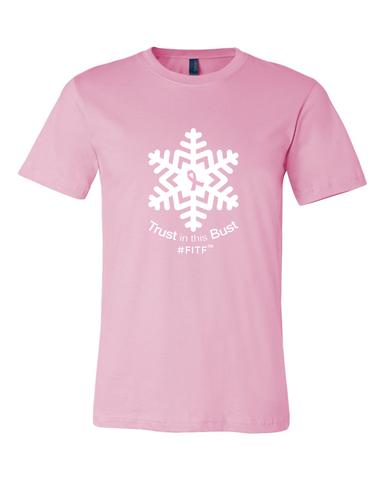 Get the award winning Kid Weather App I made with my oldest son and support our love for science, weather, and technology. Our 3 year anniversary of the release and our contribution to STEM education is this November. It has been downloaded in 60 countries, and works in both temperature scales. With your support we can expand on the fun introduction to science and real weather.
Please share your thoughts, best weather pics/video, or just keep in touch via social media