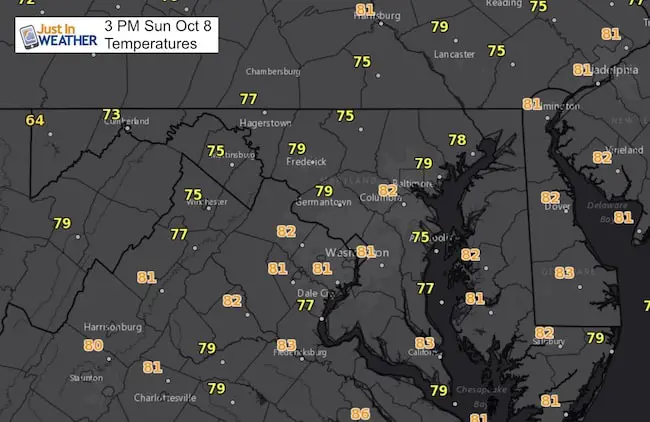 October 8 2017
The warm and muggy feel to the air might feel tropical and it should. Tropical Depression Nate is weaker with 35 mph winds, but it is going to help break a long standing temperature record for this date.  October 8th in Baltimore should bring a low temperature of 48ºF to the weather station at BWI. That is the long term average. This morning, the lowest reading was 73ºF at midnight. That is 4 degrees warmer that the normal high of 69ºF and above the normal low of 67ºF that Baltimore records in mid July.
The forecast keeps temps in the 70s through midnight. Should that happen, the record will be set for the warmest low temperate on this date in 95 years. The bar was set at 68ºF in 1922.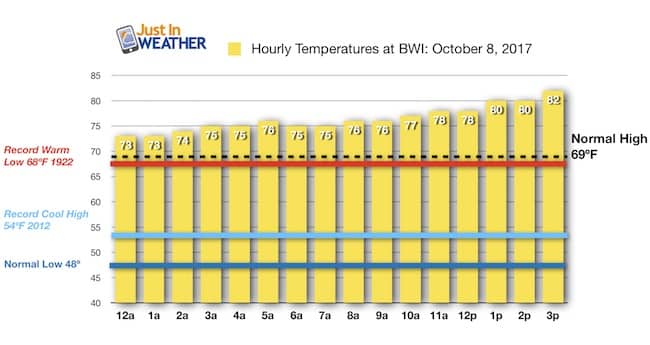 The official numbers will not be known until midnight.
Key Numbers Today
69ºF = Normal High 
68ºF =  Record Warm Low
67ºF = The normal low temperature in Baltimore for mid July, the warmest time of the year
73ºF = Low Temperature So Far Today
48ºF = Normal Low 
*The Oct. 9th record warm low of 71ºF was set in 1959
Forecasting Closer To Normal
Normal temperature is a loose term. It really represents the average of all the warm and cold measurement. This is the consensus forecast into next weekend. The highs will stay warm through Tuesday. But overnight lows will be getting cooler and less tropical.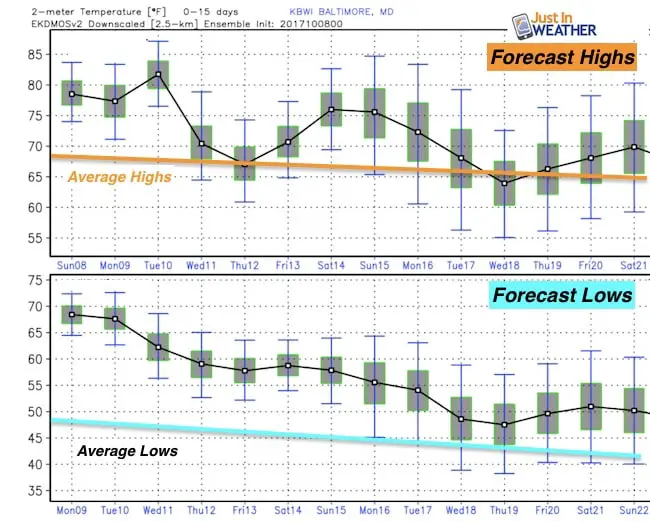 Sign up for email updates on new posts
Since you may miss some posts via social media, click here for email alerts as a way to make sure you don't miss any.  *You may have to refresh that page once for your browser to clear out the images.
Get the award winning Kid Weather App I made with my oldest son and support our love for science, weather, and technology. Our 3 year anniversary of the release and our contribution to STEM education is this November. It has been downloaded in 60 countries, and works in both temperature scales. With your support we can expand on the fun introduction to science and real weather.
Please share your thoughts, best weather pics/video, or just keep in touch via social media
Trust in this Bust- Limited Edition Shirt
This is not a forecast, but a fundraiser for breast cancer research at BCRF- the highest rated cancer research charity. This soft Bella T-Shirt is to promote the strength of the 'good bust' and the heart that beats strong beneath it. Proceeds will be donated in honor of my mother Linda Berk, a 3-time breast cancer survivor. Click on the shirt image to join us.