October 1 2017
We just turned the calendar to October and ended our late season heat wave, it is easy to suggest we should just enjoy the autumn season at hand and not rush ahead.  As much as I love snow and have FITF, I agree. But, there have been so many questions about this winter and a few outlooks that have been released, so I figured I would share some of my early thoughts with you now. Beside, my friend Larry Rogers of Mid Atlantic Aerial would love to get his drone over Annapolis in the snow and repeat that great photo above. This report is not only for Maryland, but the entire Mid Atlantic region.
I truly believe it is too early to have a firm grip on actual numbers for snowfall. I know that is what many want to hear, but there will be no snow numbers in this report. I usually wait until November to post my formal winter outlook and still plan on my final winter forecast to be then. What I do have to share with you now are these main things I look at to help frame my thoughts for winter season ahead:
Atmospheric Memory
First and foremost, I look for patterns in our atmosphere to give hints for what is to come. Have you ever noticed sometimes that we get into a pattern with nice weather during the week but it rains on the weekend? Or perhaps you notice it when there is a game?  Sometimes in the winter we can get multiple events starting at the same time of day or same day of the week.
This one of a few patterns I notice with storms. They can also consist of locations prone to extreme events in a given season, storm tracks, and even expectations that end up very different.. on a regular basis. That last one we tend to blame on model bias or error. I use some of this history to look at what has happened and what may happened next.
No, a hot summer doesn't necessarily mean a cold winter. Nor does a cool summer. It's funny that both questions were applicable this year. But there are other subtle cues:
Local extreme weather events (like tornadoes)
Tropical cyclone tracks/trends
Cool air masses. Remember the week leading up to Labor Day?
and the
Pacific Ocean pattern: La Nina
North Atlantic Oscillation
Please understand that I love snow as much as anyone. But I also have an obligation to my clients and you to keep a level head. We do not have a blockbuster snowstorm every winter. The average snowfall for each region (Maryland here as an example) includes low snow winters as much as the big winter,
Local Extreme Hints
There is an expression that extremes breed extremes. I have often noticed that if we have a cluster of extreme events, there is some element of atmospheric memory to want to repeat some extreme weather in that region. The dates may also give a hint of clustering of events down the road.
Tornadoes 
Kent Island (July 24)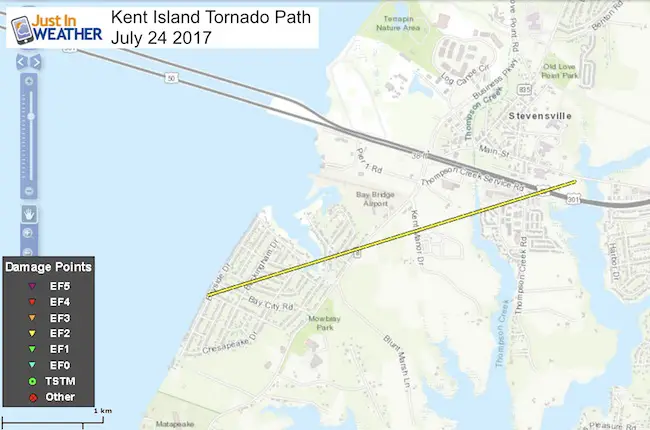 Waterspout Sighting
Before looking at the Kent Island tornado- Do you remember the waterspout sightings over the Bay a just off of Kent Island 9 days earlier on July 15? Click the image to see more.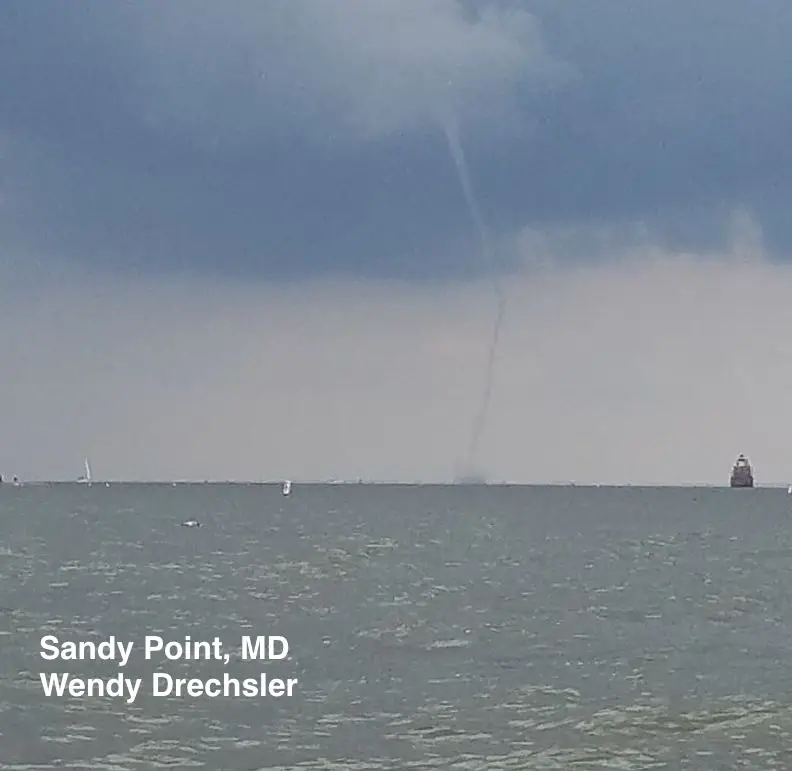 *Non-tornado in Baltimore Co (August 3)
Click here to see the articles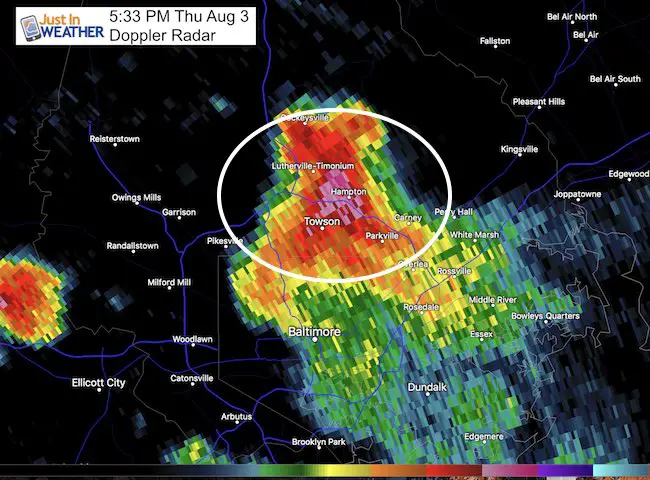 Salisbury (August 7)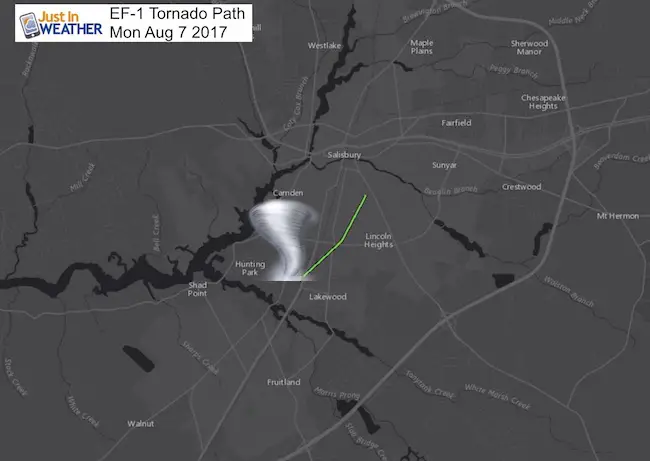 These are just the highlighted extreme weather events that I see as potential focus points of extreme weather or battle zones for winter events this coming winter.
Hurricanes
Gulf Coast/Mississippi/Ohio Valley Tracks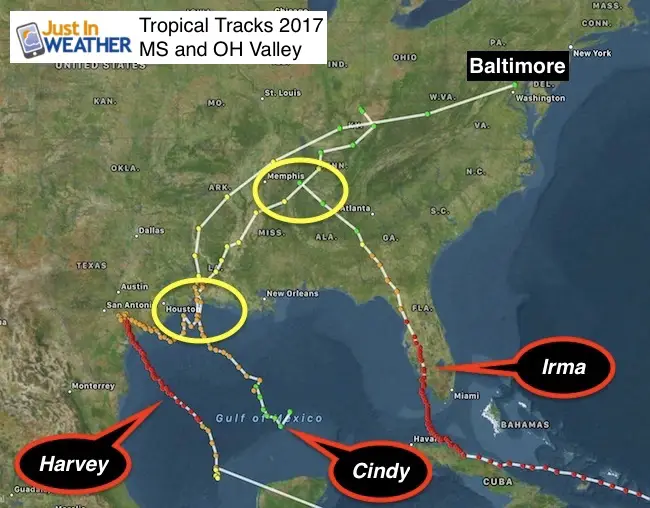 Cindy (June 19-24)
This was a tropical storm at its peak, but that track off of the Gulf was the same location Harvey made its last landfall. This made a direct path to our region and would have been a great track south of Baltimore for a winter storm.
Harvey (Aug 17-Sep 2)
Track from east Texas to the Ohio Valley
Irma (Aug 30 – Sep 12)
Long range modeling was all over the place!
I DO NOT trust anything more than 1 week away. If you see a storm outlook from 10 days ahead or beyond- look away. The odds of a computer model accurately predicting a storm intensity , time, and location that far ahead is slim to none.  Remember that Irma looked like an east coast hit at one point. Then the track was into Miami, then Key West, then back to Miami, then back to west of Key West, only to hit the Keys farther east.
The cold front to the north arrived faster than long range models had shown.
This storm took an unusual path through Florida and crossed the Harvey path in Tennessee. I see this as a weak spot in the atmosphere for winter storms.   The track, like Harvey… passed to our north.
Note: That is NOT a good path if you want snow in the Mid Atlantic.
East Coast Tracks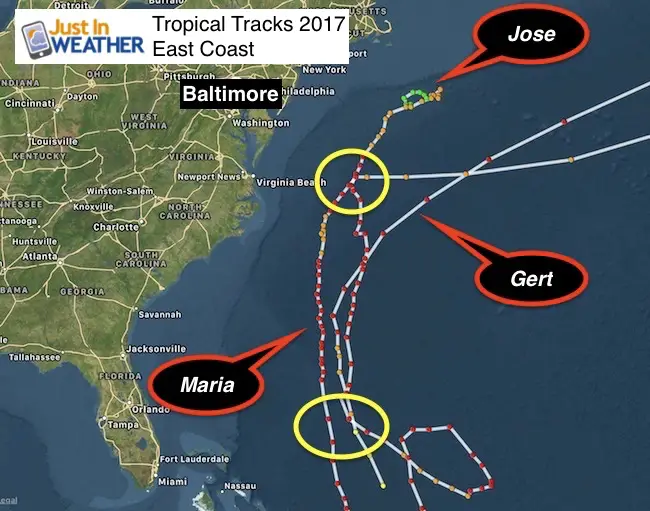 Gert (Aug 12 – 17)
This wasn't really a threat to the US coast, but who you look at the map of tracks, it is hard to avoid the connection to the region east of The Bahamas where the three storms listed here all crossed over.
Jose (Sep 5 – Sep 9)
The looping and eventual pass off of the Mid Atlantic coast farther east than hinted at by models followed the trend of verifying farther east that Irma showed us.
The net result was 200+ miles east of Cape Hatteras and Ocean City. This was the same cross over region as Maria's closest point.
Maria (Sep 16 – Sep 30)
This is another storm that was shown by long range models to possibly hit or clip the east coast. I showed many versions of even the trusted European Model pushing Jose onshore and the Fujuwara dance taking place. That was NOT the case.
The net result was 200+ miles east of Cape Hatteras and Ocean City. This is the same area as Jose.
*While this took a hard turn away thanks to the faster northern jet stream, both showed that weakness in the atmosphere east of Virginia Beach.
*I see this as a prime spot for at least two large storms off of the coast this winter, and within a week of each other.
Cold Air: Northern Branch Jet Stream stronger and faster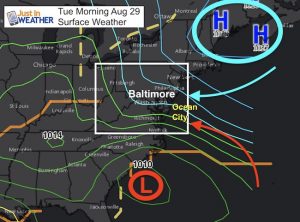 This tends to be faster and stronger. Remember how chilly the week was leading up to Labor Day? We even broke a record for a cool afternoon high on September 2nd with only 63ºF. Most days in the last week of September didn't get that cool!
That progressive pattern had many thinking summer ended early. We know now that it surged back in the second half of September. We sure did balance things out though.
As for hints of cold air… There are other patterns such as snowfall in Siberia and Canada over the next 4 to 6 weeks that can also come into to play with how the northern branch of the jet stream is behaving and what it could mean for our snowfall down the line.
Notes: 
Model Errors
Cold Air Pattern will be faster that initially shown. That is why long range modeling for the tropical systems was wrong. That is also the main time people look more than 1 week out for any sign of weather confirmation. I still do not trust our ability to pin down specific weather events much more than 5 to 7 days way.
So timing out any phasing with southern stream storms will likely be wrong!  This could take initial east coast storms too far east. I will be very cautious showing storms that models indicate more than 1 week away. If I do show them to you, I will clearly remind the error of the same modeling back in tropical season. On the flip side, long range storms that may show a warmer Ohio Valley Low the could end up east as well… and  colder for us.
Pacific Ocean Cool Pattern: La Nina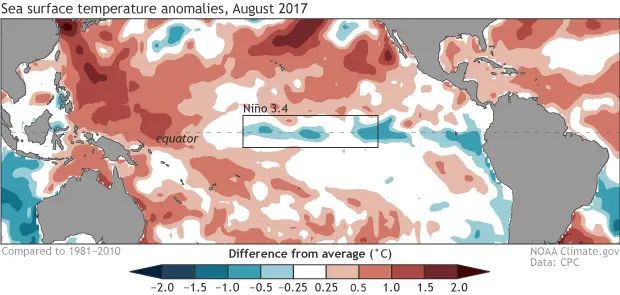 Back on September 14, NOAA issued a La Nina Watch for a 60% chance of a La Nina developing and influencing our fall and winter season. That is a pattern of cool water in the equatorial region of the Pacific Ocean that has implications on storms in the Pacific, patterns of the jet stream in North America, and global temperatures cooling.
That is a caveat to the patterns I showed above. Depending on the intensity of the La Nina, that could shift the overall jet stream in the northern hemisphere. So the origin of Pacific storms could shift the focus of where that energy reached the US and the resulting pattern.
North Atlantic Oscillation (NAO)
This is the biggest wildcard as it is the closest ocean circulation that can play the biggest role in shifting the jet stream. I do not want to give away too much not, but the warmer end of summer and push of tropical systems into the north Atlantic can play a role in warming the waters off of Greenland. That isles can actually help develop a blocking pattern and 'negative' NAO or colder set up for us.
My gut feeling summary:
Compared to last year: 
It will snow more, because it can't snow less. 
We had one of our lowest snow winters on record. Let's NOT do that again! BWI recorded only 3 inches all winter, ranking it the 5th lowest since 1883.  Only four times has Baltimore reported two winters in a row under 10 inches of snow. We have that in our favor.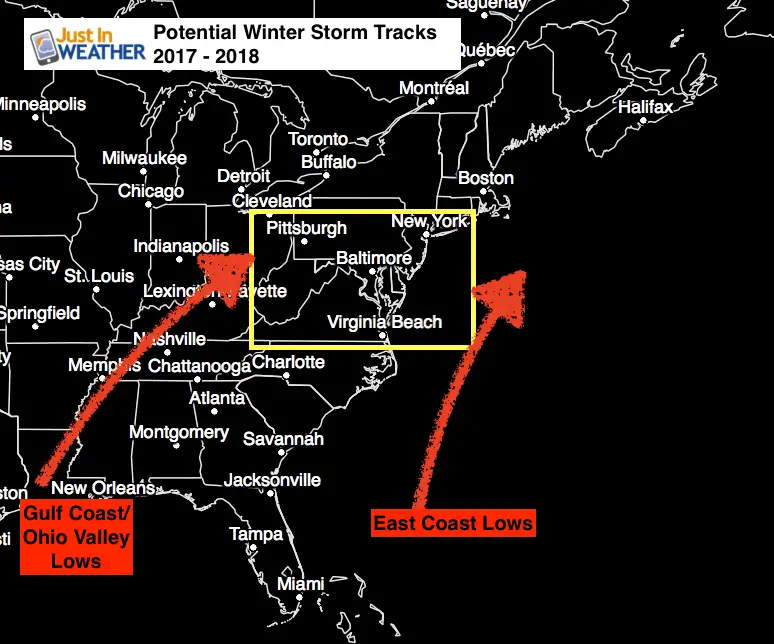 I do not see a favorable pattern at this time hinted by the tropics.  Should we end up with an active fall of storms, I will be looking for these tracks for any hint of similarity or shift (west or east). The OH Valley Lows may pass west and keep us too warm.  The east coast storms could stay too far off of the coast.
TS Cindy  passed to our south, which would be a good track for us in the winter. However, it was alone. But does show me that June 24 was then followed a month later by two weeks of very active, stormy weather of us (including the Kent Island and Salisbury tornados).  I am putting this on record that should we see an early season storm with a similar track, I would look one month later for an active two weeks as well.
Ice Storms?
While I do not see favorable storm tracks now, I did notice the active cold air late summer. If La Nina builds AND we can get a negative NAO, that would mean colder than normal temps for us. Should we time that out with the storms with tracks similar to what I showed above… that could spell more ice storms for us. That is a major element that can be overlooked when just trying to get a number snow inches for the season. Please keep that in mind.
I know there was a lot of information to digest here, so for getting this deep into the article… I thank you.  I will have plenty of more info to share over the next month as we get closer to my formal call for winter in November.
Faith in the Flakes!
The new store with new items and updated Snowstix will be open very shortly- hopefully this week.
Also See:
First Frost and Freeze Dates For Maryland (southern PA and northern VA)
Two Farmers Almanacs Winter 2018 Outlooks
NOAA Ranks Blizzard 2016 4th Worst Snowstorm On Record
Extreme Weather of 2015 balanced out on both ends
Please share your thoughts, best weather pics/video, or just keep in touch via social media
Get the award winning Kid Weather App I made with my oldest son and support our love for science, weather, and technology. Our 3 year anniversary of the release and our contribution to STEM education is this November. It has been downloaded in 60 countries, and works in both temperature scales. With your support we can expand on the fun introduction to science and real weather.