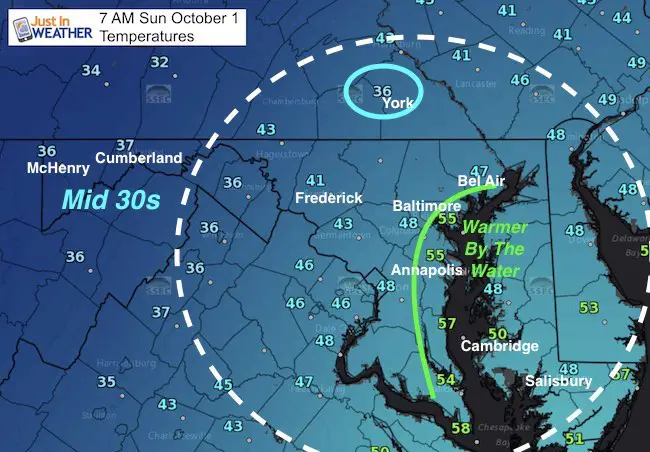 Sunday October 1 2017
This morning is the start of a new month and it really feels like we are settling into Fall. At sunrise, temperatures were mostly in the 40s, but the true response of our local microclimates have shown up on the temperature maps. Colder inland areas have dropped into the 30s as close as northern Maryland and southern Pennsylvania in York, matching the mountainous regions. Meanwhile the response of warmer water  has kept areas by the Chesapeake Bay in the 50s.
This month brings a big adjustment to our expected weather. Compare these stats over the next 31 days (for Baltimore):
Sunrise/Sunset:
Oct 1 –  7:02 AM/6:48 PM
Oct 31 –  7:33 PM/6:06 PM
Loss of 1 hour and 13 minutes of daylight
Average Temperatures:
Oct 1 –  72ºF; 51ºF
Oct 31 – 62ºF; 41ºF
Average drop of 10 degrees from the high and low temperatures.
*Check back as I will post my preliminary winter outlook this evening.
Weather Setup
The core of this cold air mass is actually located in northern Pennsylvania and western New York State. Some areas have dropped into the 20s.  But look to the left side of the image. A surge of warmer are in the 60s across the Central Plains states.  We will get back into the warm stuff this week. Highs for us will likely stay in the 60s today with a few lower 70 degree readings. But by mid week we will be back near 80ºF. Bug swings are typical in October as the battle between residual summer and advancing fall fight for real estate.  
Morning Weather Map
Sadly there is little to no chance of rain in our future this week. Just a swing of temperatures.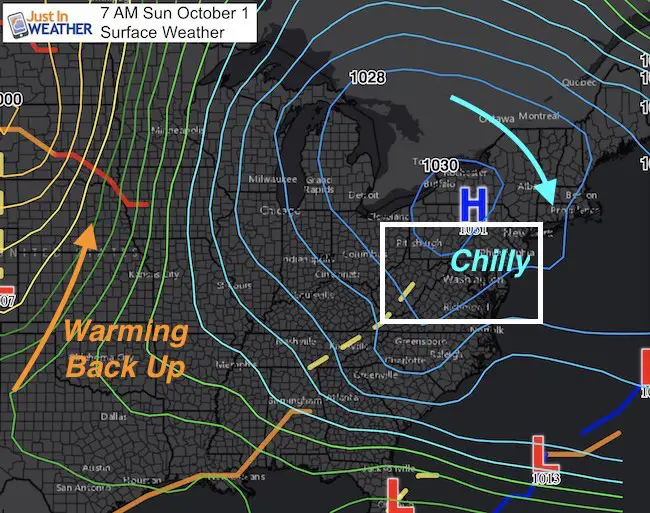 Temps Today: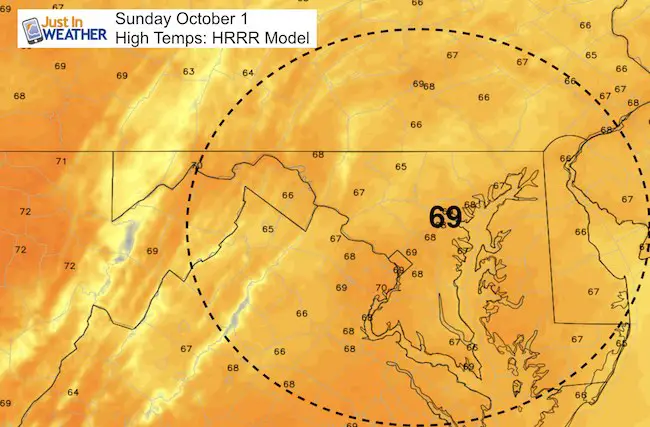 Temperature Outlook
The jet stream animation here shows the change in height at around 18,000 Ft. This is a reflection of temperatures and the color coding shows the cool air today with a warm up Tuesday and Wednesday. This will be followed by the return to cooler more normal temps next weekend.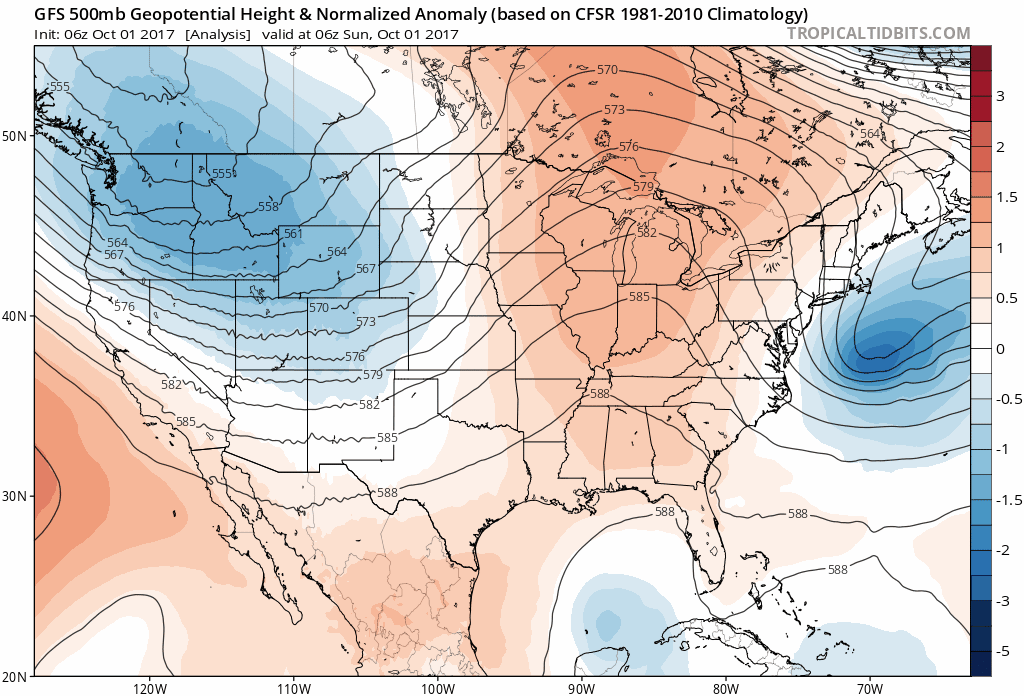 High Temperature Forecast (for Baltimore)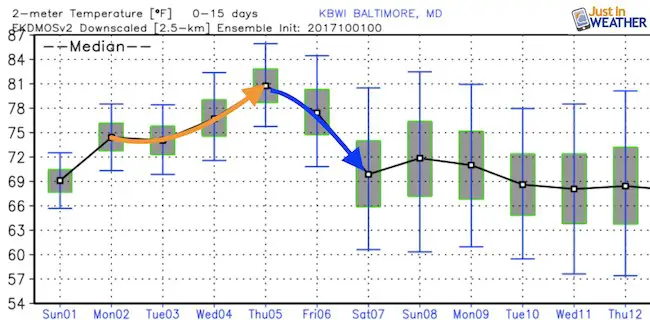 Please share your thoughts, best weather pics/video, or just keep in touch via social media
Get the award winning Kid Weather App I made with my oldest son and support our love for science, weather, and technology. Our 3 year anniversary of the release and our contribution to STEM education is this November. It has been downloaded in 60 countries, and works in both temperature scales. With your support we can expand on the fun introduction to science and real weather.