September 20 2017
It there wasn't major Hurricane Maria that just knocked out 100% of the power to Puerto Rico, the big weather story would be our late Summer heat. Fall officially begins Friday at t 4:02 PM EDT. It appears we have at least a week ahead of us of late summer heat with afternoons in the lower to middle 80s, but the cooler weather is on the way. The purpose of this post is to about the temperature outlook, but how the change on the way could influence Hurricane Maria when it inevitably moves off of the east coast of the US. There is still a lingering threat but the timing of our cool down could play an important role.
Jet Stream
Here is the GFS Model showing the warm ridge and cool trough in the atmosphere at 500mb, which is around 18,000 ft aloft. The slider will allow you to view each 12 hour time stamp that shows the heat ridge holding firm until next Wednesday. That is when the remains of Jose and Maria will interact off of the coast and a cold front is slated to reach us and possibly kick the whole pattern away.
Latest on Hurricane Maria and that forecast is below
—> slider 
[metaslider id=53301]
Temperature Outlook
The cool down as timed out today appears to begin with a cold front next Wednesday or Thursday.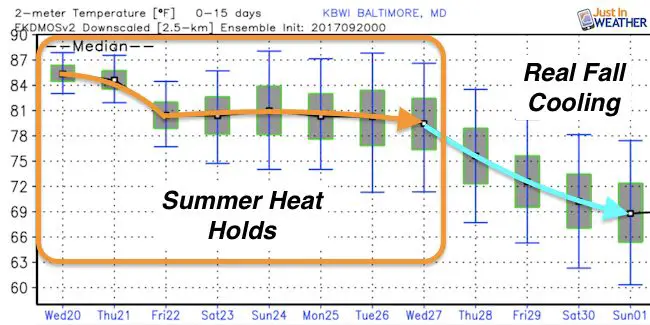 Now Let's Look At Hurricane Maria and Tropical Storm Jose
Tropical Storm Jose has winds of 70 mph and is now beginning a loop off of the south side of New England.  This will continue to weaken as it churns up the cooler water below. This may play a role as the longer pattern tried to push this westward and close to our coast next week.
Hurricane Maria has winds knocked down to 115 mph as it is moving NW at 12 mph away from the northwest coast of Puerto Rico.  The entire island of Puerto Rico has lost power and fears that it may not be fully restored for 4 to 6 months. That plus the other destruction is another humanitarian issue. For the purpose of this post, the focus here is just based on the weather conditions as it moves closer to the US mainland.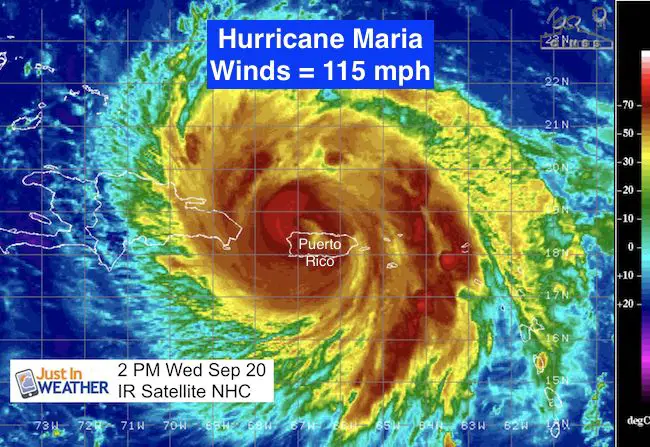 2 PM NHC Update
LOCATION…18.5N 66.9W
ABOUT 15 MI…20 KM W OF ARECIBO PUERTO RICO
ABOUT 95 MI…155 KM E OF PUNTA CANA DOMINICAN REPUBLIC
MAXIMUM SUSTAINED WINDS…115 MPH…185 KM/H
PRESENT MOVEMENT…NW OR 305 DEGREES AT 12 MPH...19 KM/H
MINIMUM CENTRAL PRESSURE…961 MB…28.38 INCHES
Intensity Forecsast
The strength of Maria is expected to regenerate over warmer water back to a Cat 4 and then hold nearly steady for a few days. Note that 115 mph winds are the limit for Category 3 and considered a major hurricane. The bottom numbers represent hours from this morning's forecast.  The good news is that by 120 hours (Day 5) the storm should be down to Category 1. This is the time we watch get close by the east coast of the US.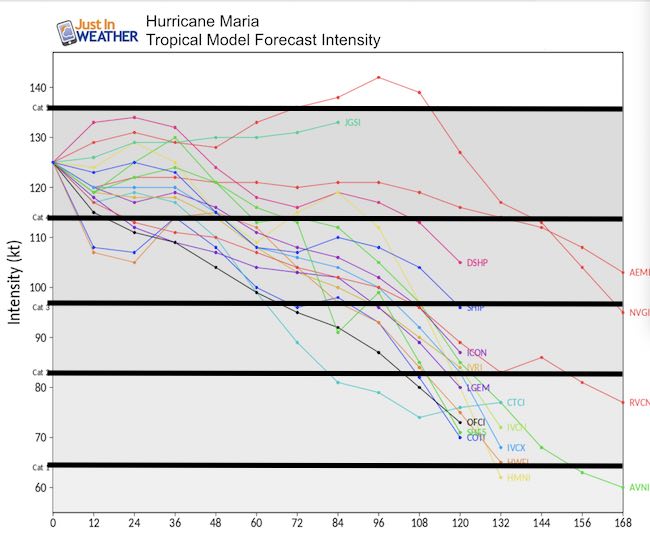 Forecast Track
Note the multiple plots for the next 5 to 6 days grouped east of Cape Hatteras.  There is one model going up the Chesapeake Bay, but that is the outlier! I would not buy into any discussion supporting that now. However, there is a debate about what happens after Day 6 which is when it should be close to the location Jose was east of Ocean City yesterday….
The remains of Jose plus the cold front to our west will do their battle next Wednesday and Thursday. See more below.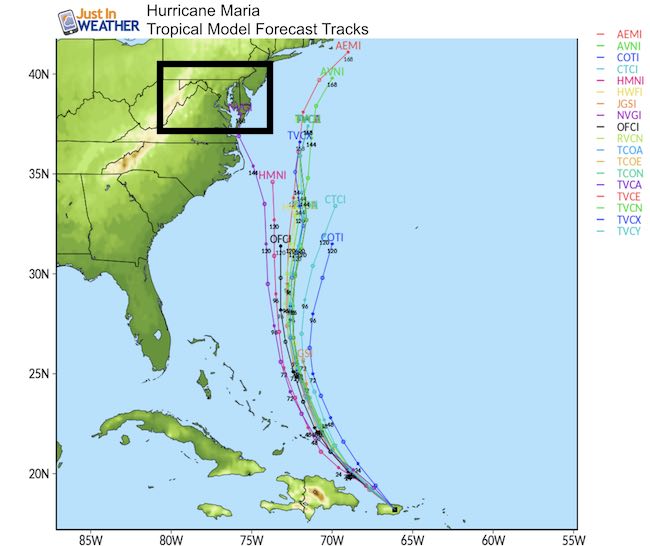 Outlook!
As I mentioned above, the remains of Jose plus the cold front to our west will do their battle next Wednesday and Thursday. Here is how the European Model shows this playing out. This animation shows the mid level vorticity or spin in the atmosphere.
Jose– Gets weaker and stretched out… pushed inland for the Mid Atlantic.
Maria – Appears to want to follow Jose with a jog to the west next Thursday morning. This plot shows the center 100 miles Southeast of Ocean City… but the cold front I mentioned above is expected to help push Maria back out to sea. Then we can get back to cooler weather
Note: This all times out for 8 days from now! I never trust a computer model with full accuracy that far away. But this is what the current conditions and expected forward speed of the players times out to show. Any adjustment of either element can change this completely
My Thoughts: The cold front could arrive a little sooner?  That is what happened ahead of Irma. The atmosphere has a way of repeating itself and similar errors show up in modeling. That is one reason I do show this long range projections. Tracking each system helps to better gauge the next one.
European Computer Model – Vorticity at 850mb
European and GFS Agreement?
Again, Next Wednesday and Thursday wil be the trying time for us. This will be when the cold front and Maria should interact. The timing of arrival of each will determine if Maria makes landfall or gets pushed back out to sea. This is the GFS Model showing the same thing as the European Model above.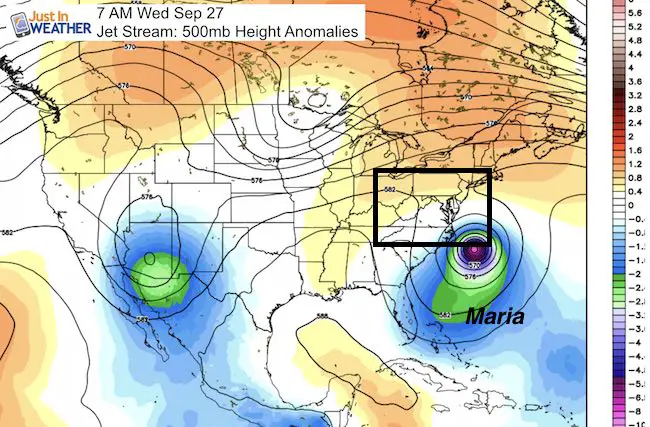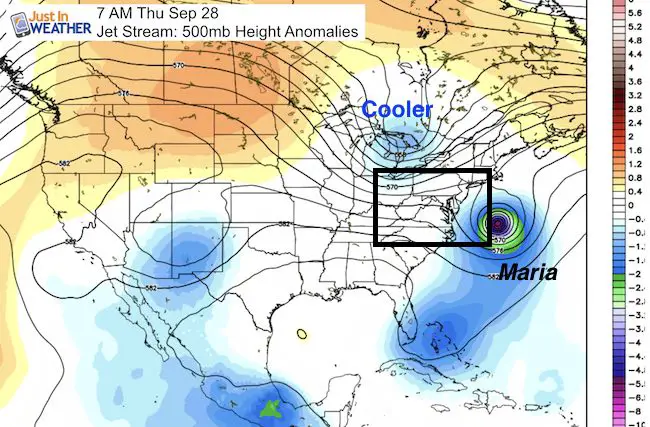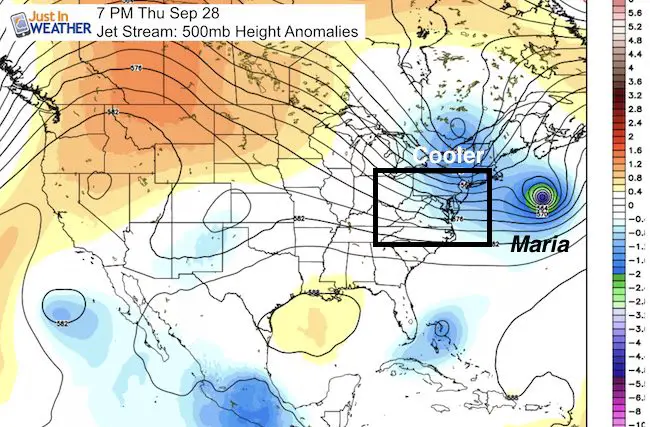 Please share your thoughts, best weather pics/video, or just keep in touch via social media
Get the award winning Kid Weather App I made with my oldest son and support our love for science, weather, and technology. Our 3 year anniversary of the release and our contribution to STEM education is this November. It has been downloaded in 60 countries, and works in both temperature scales. With your support we can expand on the fun introduction to science and real weather.
Keep on Trekking
Continue to be part of our Maryland Trek and Support Cool Kids Campaign. This was our best event yet and we want the message to carry throughout the year.
Proceeds go to programs that help children and their families ensuring cancer treatment.