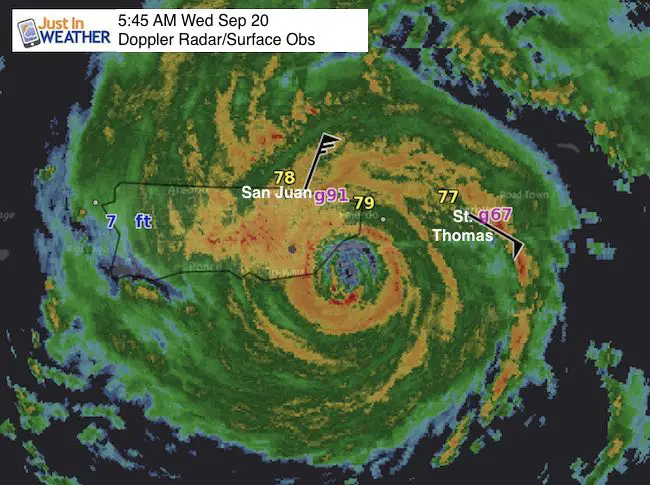 September 20 2017
Hurricane Maria is making landfall on Puerto Rico this morning. The storm was undergoing an eyeball replacement cycle that allows it to weaken a little. Winds at 5 AM were down to 155 mph, making this a Category 4 but that is little comfort. This is a direct hit and the water has the memory of 175 mph winds last night. So there will be top storm surge and the rainfall is just as intense. The eye at 6 AM was 35 miles from San Juan and already gave a 91 mph wind gust. Winds were gusting to 67 mph on St. Thomas.
St. Croix had reported a wind speed of 104 mph with a gust to 137 when it passed just 20 miles to the south and east. The wind field has hurricane force winds 60 miles from the center. This is twice as far as last night. The eye was last reported 35 miles from San Juan. With a forward speed of 10 mph, this will be an all day event.  The National Weather Service has issued an Extreme Wind Warning on top of all of the other warnings. Basically anyone in the path and not protected will risk death.  Yes, they issued that statement as well.
Here is a look at the Doppler Radar Loop at landfall
Doppler Radar Video
Note: The two Doppler Radar sites on Puerto Rico stopped sending data at 5:50 AM, likely down from the storm. These were among the last images at landfall of the outer eye wall.
Maria Will  Bring These Deadly Conditions
Storm Surge: Over 9 Ft
Winds: 175 mph gusting over 200 mph
Rainfall: 20+ inches
The islands are mountainous! This will enhance the rain, flooding, and cause mudslides.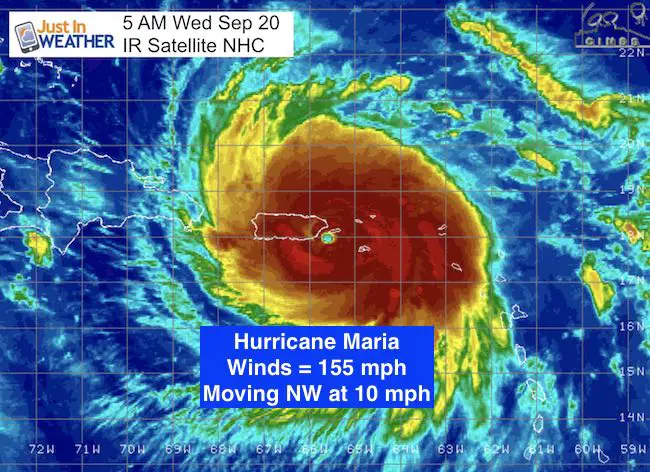 5 AM Stats
LOCATION…17.9N 65.6W
ABOUT 15 MI…25 KM SSW OF VIEQUES
ABOUT 50 MI…75 KM SE OF SAN JUAN PUERTO RICO
MAXIMUM SUSTAINED WINDS…155 MPH…250 KM/H
PRESENT MOVEMENT…NW OR 305 DEGREES AT 10 MPH…17 KM/H
MINIMUM CENTRAL PRESSURE…917 MB…27.08 INCHES
Local Path
The weather conditions plotted here show the 91 mph wind gust at San Juan at 5 AM
Warnings And Watches
A Hurricane Warning is in effect for…
* U.S. Virgin Islands
* British Virgin Islands
* Puerto Rico, Culebra, and Vieques
* Dominican Republic from Cabo Engano to Puerto Plata
* Turks and Caicos Islands and the Southeastern Bahamas
A Tropical Storm Warning is in effect for…
* Saba
* St. Maarten
* Dominican Republic west of Puerto Plata to the northern border of
the Dominican Republic and Haiti
* Dominican Republic west of Cabo Engano to Punta Palenque
A Hurricane Watch is in effect for…
* St. Maarten
* St. Martin and St. Barthelemy
* Dominican Republic from Isla Saona to Cabo Engano
What Is Next?
The Eye Wall Replacement Cycle was completing just as the storm was making landfall… After weakening a little over the mountains on Puerto Rico, it will be back over very warm water to maintain integrity. This should pass east of the Bahamas and head off of the US East Coast.
Forecast Models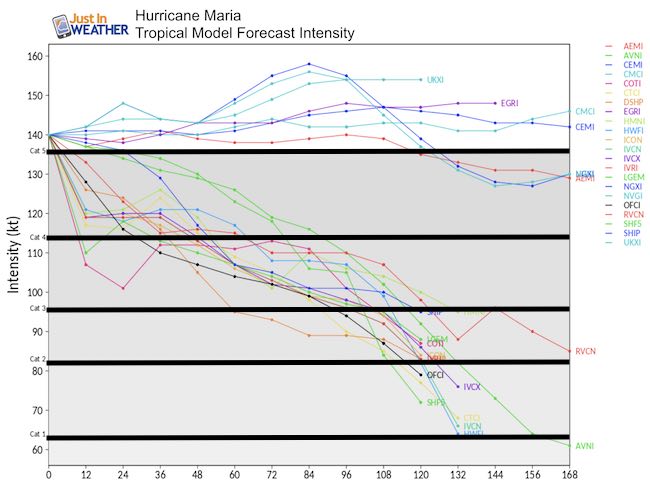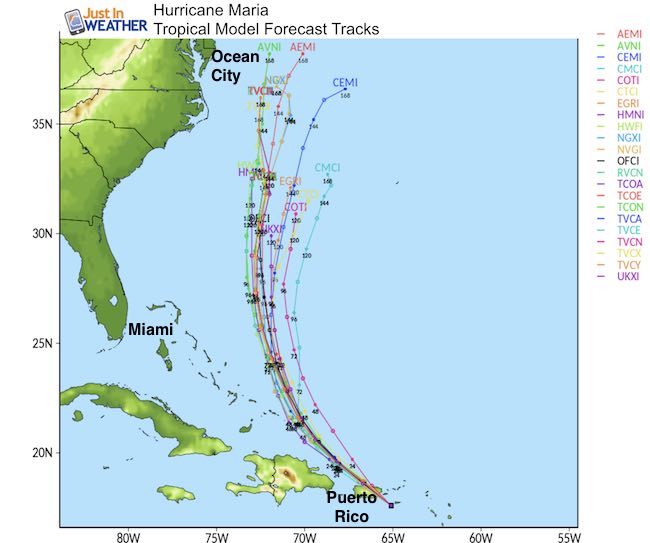 National Hurricane Center Forecast Cone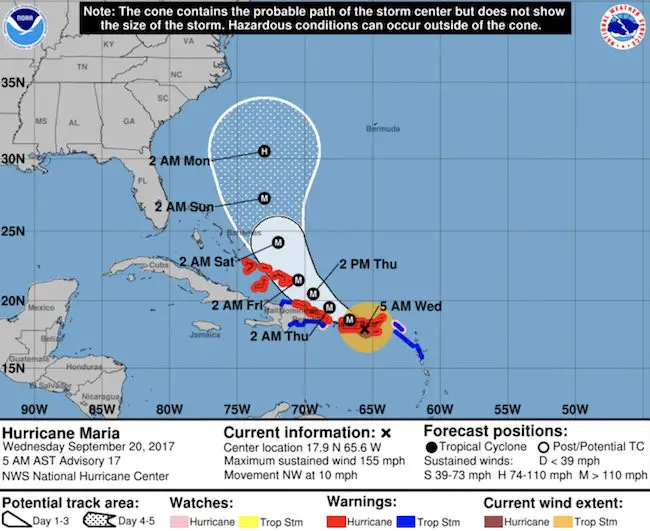 Long Range Forecast
The European Model shows influence of Jose to help steer this near and then away from the US east coast, but still too close to call. Jose is down a Tropical Storm this morning and will weaken as it stalls and loops. This model shows that circulation moving onshore and allowing Maria to curve away… Note that this is over a week away and I do not trust this fully. There has been a lot of fluctuation with the long range output and basically this breaks down to how long Jose can hold its strength and position as it loops offshore of New England.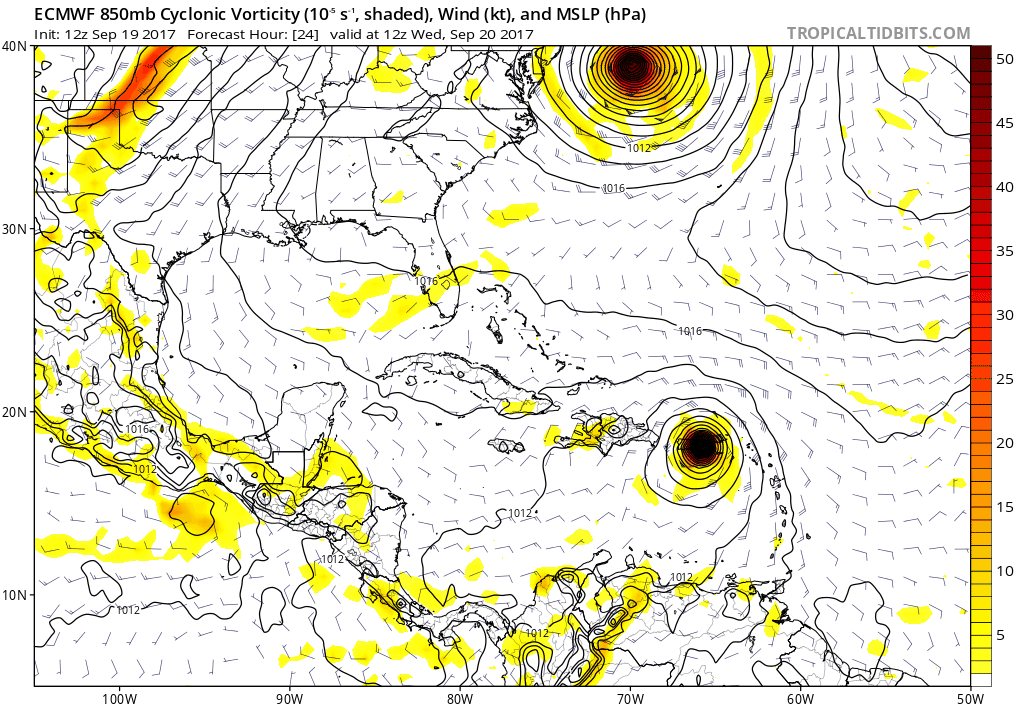 Please share your thoughts, best weather pics/video, or just keep in touch via social media
Get the award winning Kid Weather App I made with my oldest son and support our love for science, weather, and technology. Our 3 year anniversary of the release and our contribution to STEM education is this November. It has been downloaded in 60 countries, and works in both temperature scales. With your support we can expand on the fun introduction to science and real weather.
Keep on Trekking
Continue to be part of our Maryland Trek and Support Cool Kids Campaign. This was our best event yet and we want the message to carry throughout the year.
Proceeds go to programs that help children and their families ensuring cancer treatment.