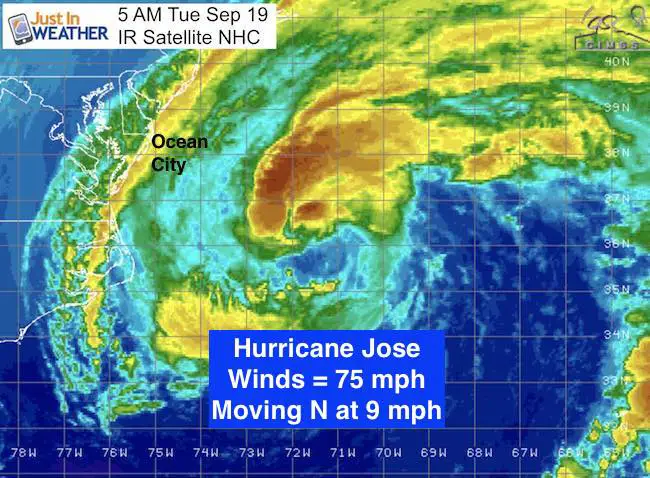 September 19 2017
Two hurricanes today and both will be impacting US interests. Jose is a minima hurricane of 75 mph winds and will be passing a few hundred miles off the Mid Atlantic beaches today. It looks more extra tropical and will weaken while lopping around and lingering off the coast for the week. A Wind Advisory and some showers will be most felt east of the Chesapeake Bay on Delmarva. Heavier rain up north to New York and New England.  Meanwhile the rapid intensification of Maria that slammed the island of Dominica as a Category 5 with 160 mph winds. It has lost some steam and has since come back again as it aims for the US Virgin Islands and Puerto Rico for a direct hit tomorrow. All the details broken down here:
Hurricane Jose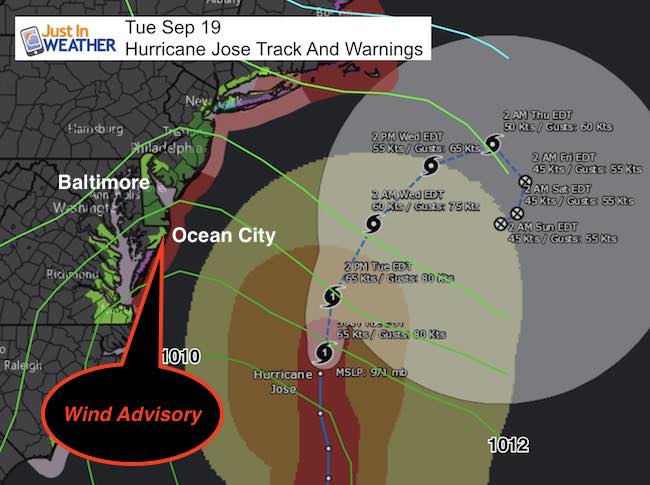 The path of Jose stays well offshore, but the edge will clip our beaches with tropical storm force winds. A Wind Advisory is in effect for Ocean City and along the coast up north for gusts to 45 mph. Waves over 10 Ft will help beach erosion.
Mid Level Winds
This looks impressive but shows the distance of this storm well offshore.
Surface Winds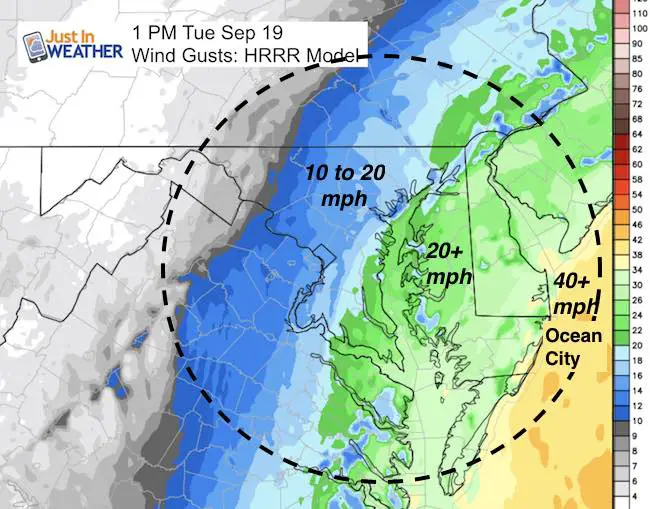 —> slider: Simulated Radar
[metaslider id=53213]
High Today
Summer Like Heat Ends Next Week
I need to show this to point out the heat holding in the lower 80s, then dropping next week. The system that will cool us down is what will likely push Hurricane Maria off of the east coast. We have hope locally of protection.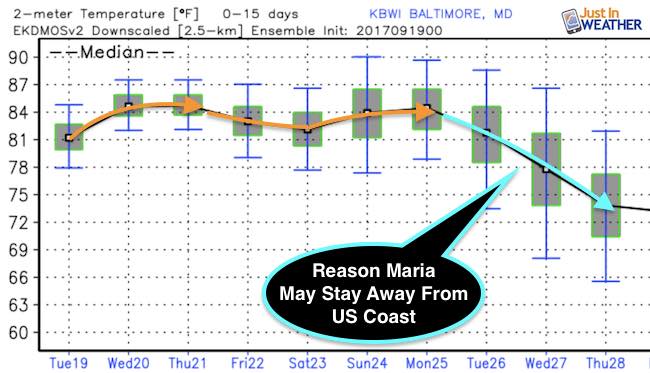 Hurricane Maria
Still a major hurricane, but Maria was slowed a little after passing over Dominica, but is back to Category 5 now with 160 mph winds. The water in the Caribbean is in the upper 80s, and there is no wind sheer aloft. This is fuel to grow again as it aims for the US Virgin Islands and Puerto Rico. This is a bad scenario for catastrophic damage.
5:10 AM Stats
LOCATION…16.0N 62.3W
ABOUT 65 MI…100 KM WSW OF GUADELOUPE
ABOUT 205 MI…325 KM SE OF ST. CROIX
MAXIMUM SUSTAINED WINDS…160 MPH…250 KM/H
PRESENT MOVEMENT…WNW OR 300 DEGREES AT 9 MPH…15 KM/H
MINIMUM CENTRAL PRESSURE…934 MB…27.58 INCHES
Wind Field
30 miles = hurricane force winds
125 miles = tropical storm force winds
Intensity Forecast:
Forecast Hours on the bottom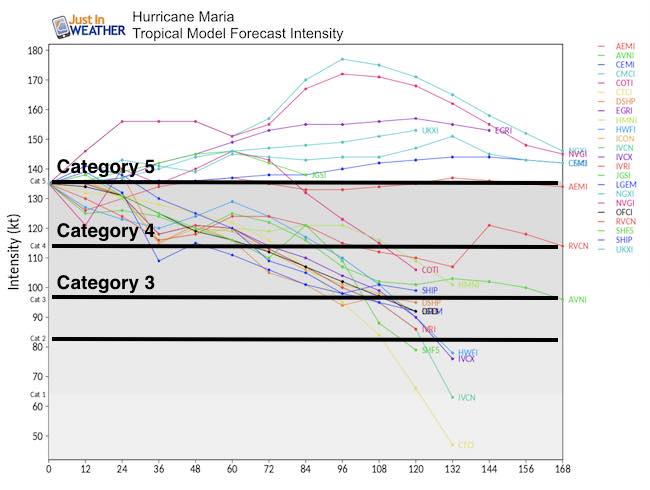 Local Path
This path puts the eye wall just off of St. Croix and the stronger rights side passing close enough to give the maximum hit all the way to St. Thomas and St. John. The eye is expected to move over Puerto Rico with winds over 140 mph (Category 4)… That is assuming it grows and then weakens a little. The damage will include:
Storm Surge: Over 9 Ft
Winds: Gusting over 160 mph (if not fully sustained)
Rainfall: 10 to 20+ inches
The islands are mountainous! This will enhance the rain, flooding, and cause mudslides.
Warnings and Wathes
A Hurricane Warning is in effect for…
* Guadeloupe
* Dominica
* St. Kitts, Nevis, and Montserrat
* U.S. Virgin Islands
* British Virgin Islands
* Puerto Rico, Culebra, and Vieques
A Tropical Storm Warning is in effect for…
* Antigua and Barbuda
* Saba and St. Eustatius
* St. Maarten
* Anguilla
* St. Lucia
* Martinique
A Hurricane Watch is in effect for…
* Saba and St. Eustatius
* St. Maarten
* St. Martin and St. Barthelemy
* Anguilla
* Isla Saona to Puerto Plata
Wind Arrival
What Happens Beyond
Forecast Models
After passing Puerto Rico, Maria should weaken and move towards the US coast. It appears to pass off of the coast and curve away on the latest modeling. The forward speed allows it to wait until a strong cold front reaches us and turns this away. That is the cool down I showed above.
European Model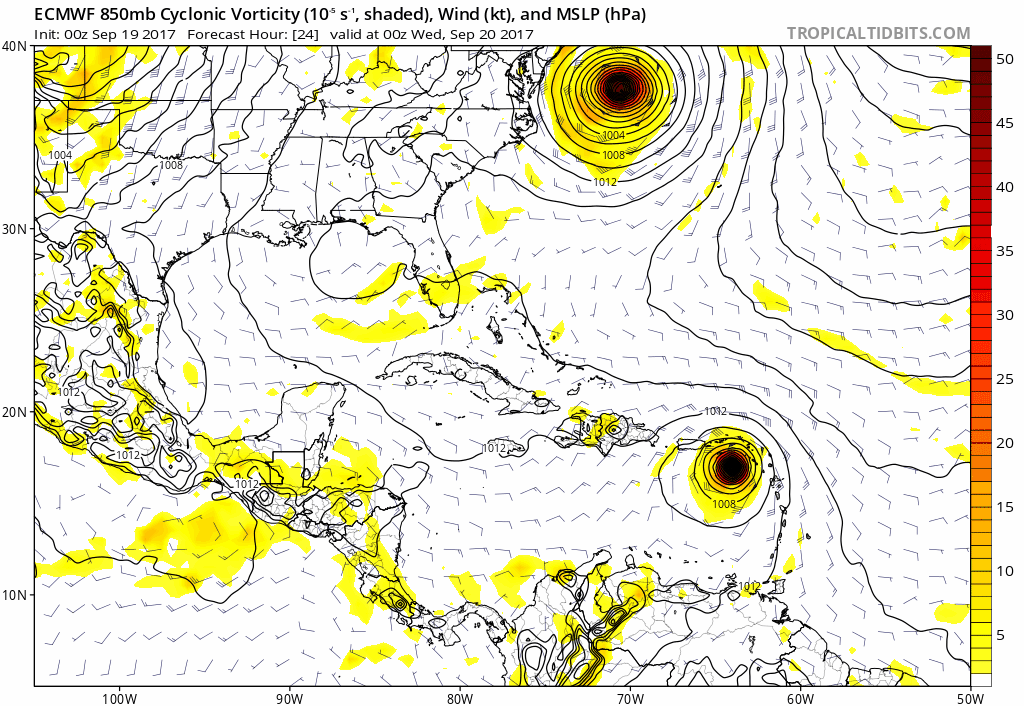 GFS Model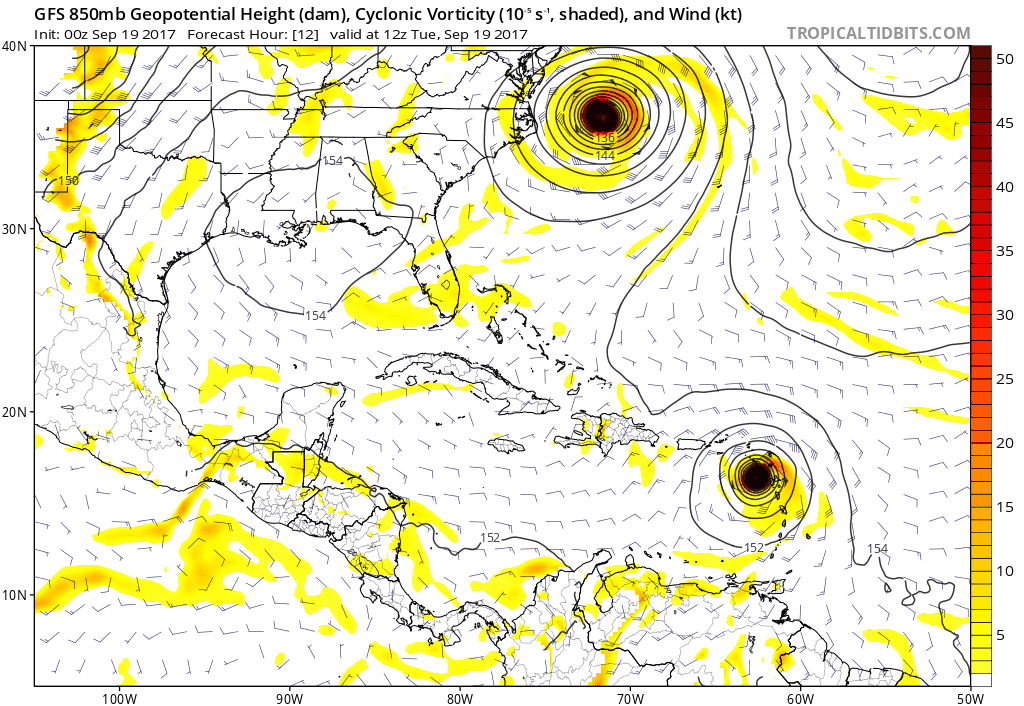 Please share your thoughts, best weather pics/video, or just keep in touch via social media
Get the award winning Kid Weather App I made with my oldest son and support our love for science, weather, and technology. Our 3 year anniversary of the release and our contribution to STEM education is this November. It has been downloaded in 60 countries, and works in both temperature scales. With your support we can expand on the fun introduction to science and real weather.
Keep on Trekking
Continue to be part of our Maryland Trek and Support Cool Kids Campaign. This was our best event yet and we want the message to carry throughout the year.
Proceeds go to programs that help children and their families ensuring cancer treatment.