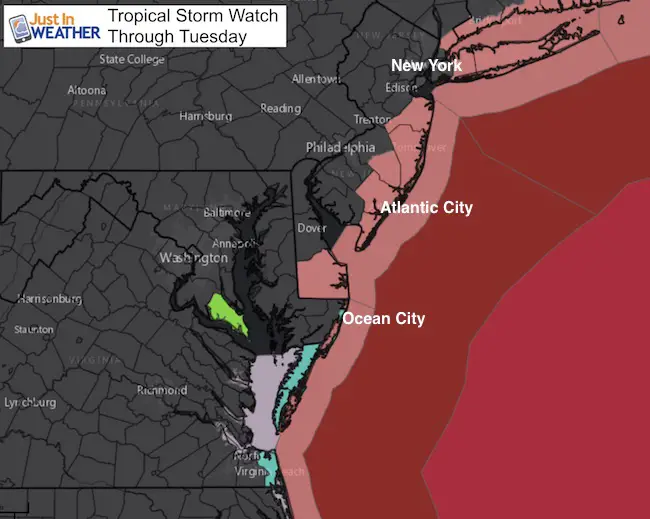 Sunday September 17
This is going to be a very busy week tracking Hurricane Jose off of our coast and rapidly intensifying Hurricane Maria hitting the eastern Caribbean battered by Irma. Jose will be passing close enough to the coast that tropical storm force conditions will be felt along the shore. A Tropical Storm Watch is in effect for Ocean City, and an included from Virginia Beach to New England. Winds could exceed 40 mph and seas are forecast to be over 10 Feet high.  Conditions will be deteriorating Monday evening into Tuesday. The storm itself has winds of 90 mph and should miss our region, but could clip southeast New England.
The problem may persist as Jose is expected to do a second loop and possibly could linger off the coast or come onshore next week just as we watch Hurricane Maria make an approach to the US. Below is a look at the latest info and forecast models keeping our interest on edge. Below is a look at each storm separately and then the animation forecasts at the bottom.
Hurricane Jose
National Hurricane Center Stats
LOCATION…31.5N 71.8W
ABOUT 335 MI…535 KM SE OF CAPE HATTERAS NORTH CAROLINA
ABOUT 415 MI…665 KM W OF BERMUDA
MAXIMUM SUSTAINED WINDS…90 MPH...150 KM/H
PRESENT MOVEMENT…N OR 360 DEGREES AT 9 MPH…15 KM/H
MINIMUM CENTRAL PRESSURE…967 MB…28.56 INCHES
Wind Onset Forecast
Tropical Storm Watch
A Tropical Storm Watch is in effect for…
* Fenwick Island to Sandy Hook
* Delaware Bay South
* East Rockaway Inlet to Plymouth
* Block Island
* Martha's Vineyard
* Nantucket
Wave Model Forecast
Possible New England Landfall?
Model Forecast Tracks
Notice the trend to loop south of New England
National Hurricane Center Forecast Track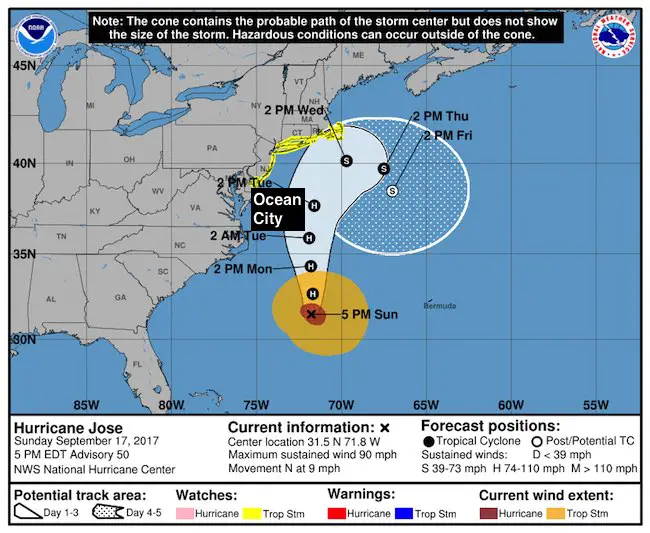 Introducing Maria
Less than 24 hour after being named, Maria is now a hurricane and expected to reach category 3. The track will take it across many of the same islands hit hard by Irma. The track is a little father south, putting the US Virgin Islands and Puerto Rico in the path of potential landfall. Then curving north and off of the east coast next week. the interaction of Jose possibly looping back needs to be considered. Depending on that strength, two tropical systems can orbit around each other in a 'dance' call The Fujiwara Effect.
National Hurricane Center Stats
LOCATION…14.0N 57.9W
ABOUT 125 MI…200 KM ENE OF BARBADOS
ABOUT 255 MI…410 KM ESE OF DOMINICA
MAXIMUM SUSTAINED WINDS…80 MPH…130 KM/H
PRESENT MOVEMENT…WNW OR 285 DEGREES AT 15 MPH…24 KM/H
MINIMUM CENTRAL PRESSURE…982 MB…29.00 INCHES
 Maria May Become A Major Hurricane
There is about a 45% chance of Maria crossing north of Category 3 intensity in the next 3 days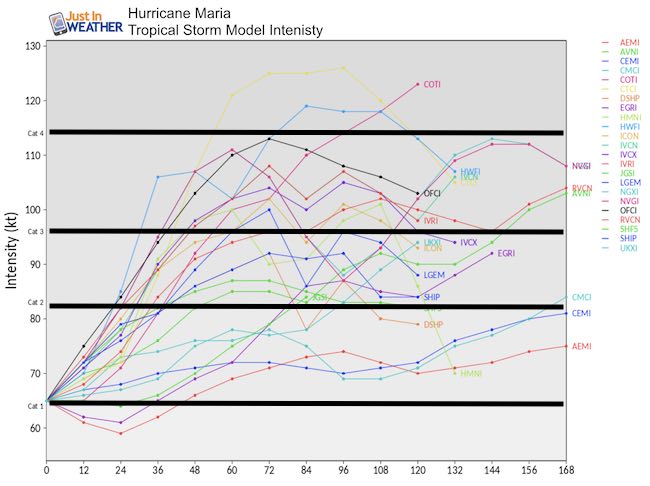 Watches And Warnings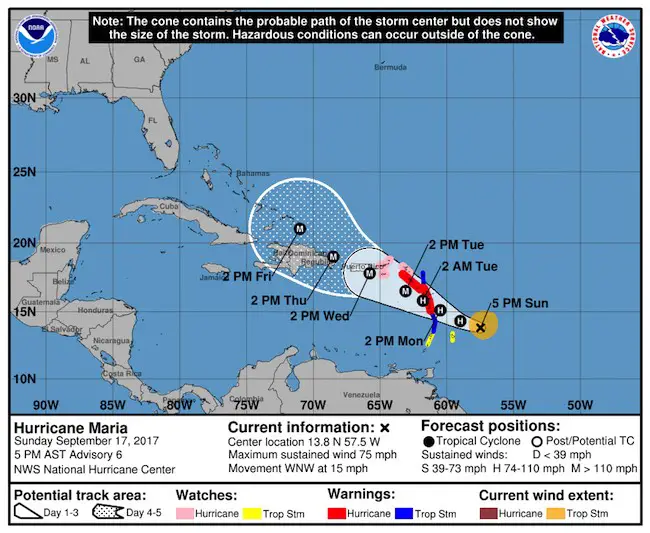 Island Impact
A Hurricane Warning is in effect for…
* Guadeloupe
* Dominica
* St. Kitts, Nevis, and Montserrat
* Martinique
A Tropical Storm Warning is in effect for…
* Antigua and Barbuda
* Saba and St. Eustatius
* St. Lucia
A Hurricane Watch is in effect for…
* U.S. Virgin Islands
* British Virgin Islands
* Saba and St. Eustatius
* St. Maarten
* St. Martin and St. Barthelemy
* Anguilla
A Tropical Storm Watch is in effect for…
* Barbados
* St. Vincent and the Grenadines
Forecast?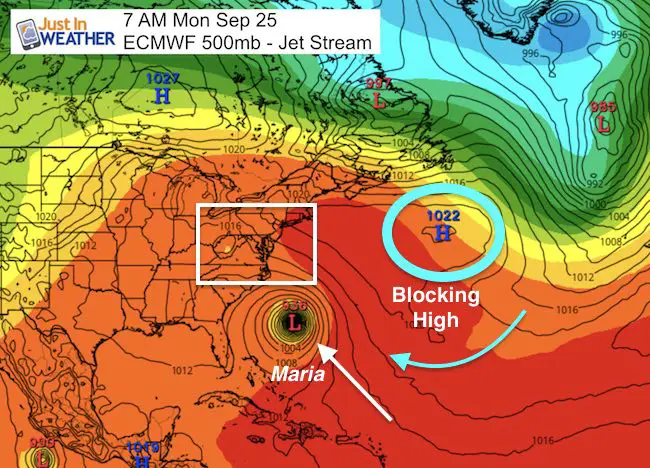 At this point, the trend for Maria to reach the US mainland and interact with Jose would be next week.  That depends on the loop of Jose and how strong each system remains. I still don't like to lock in on a forecast more than 5 days away, but this does show a trend worth watching. The main thing to consider is High Pressure once again riding east of New England in the North Atlantic. A Ridge in the Jet Stream will help block Jose and according to the ECMWF Model it could push back inland in the Mid Atlantic. The same blocking pattern is what will try to push Maria into the US coast.
I need to point out this is what the modeling tried to initially do with Irma and Jose. Will the third time be the charm or is this crying wolf? I do know that models that are persistent in showing a storm in an area may be wrong at the onset but foresee a something happening one way or another.  Well, here the trusted European ECMWF shows both Jose and Maria hitting the coast. While the GFS Model actually shows both lopping away = a miss.
 ECMWF Model
GFS Model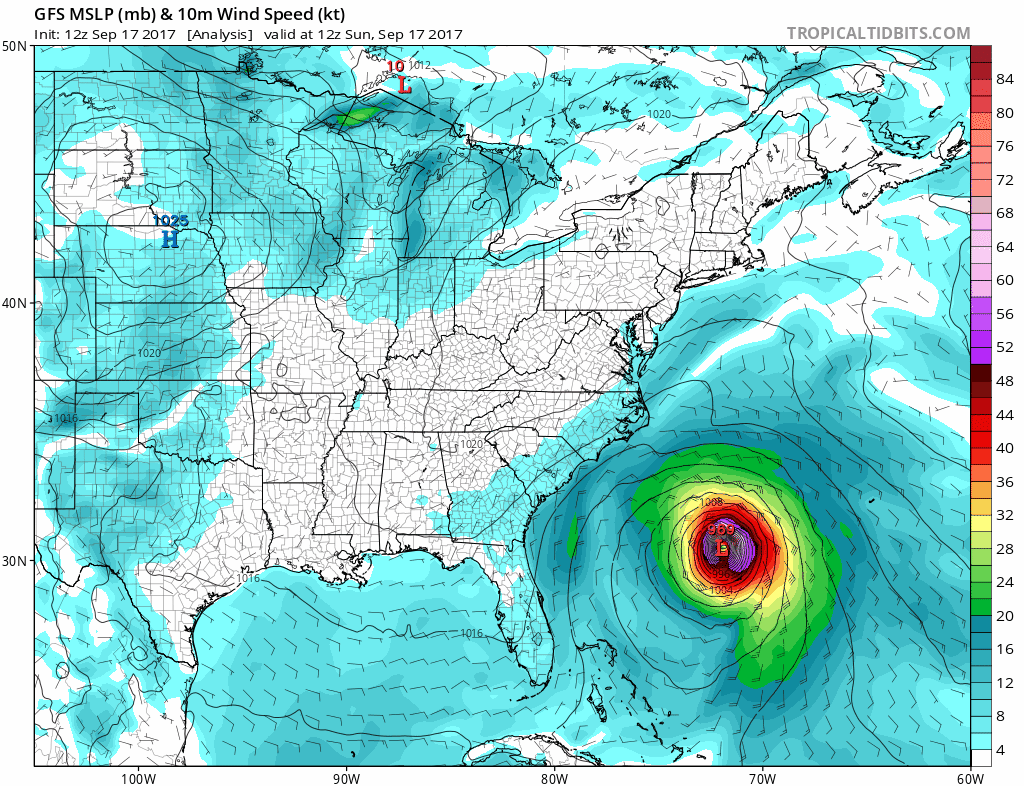 Please share your thoughts, best weather pics/video, or just keep in touch via social media
Keep on Trekking
Continue to be part of our Maryland Trek and Support Cool Kids Campaign. This was our best event yet and we want the message to carry throughout the year.
Proceeds go to programs that help children and their families ensuring cancer treatment.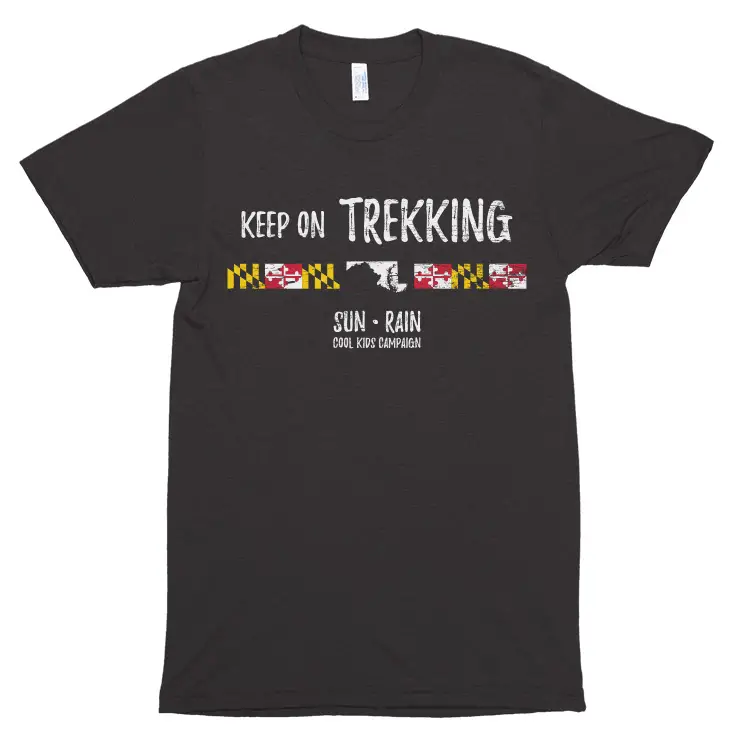 Get the award winning Kid Weather App I made with my oldest son and support our love for science, weather, and technology. Our 3 year anniversary of the release and our contribution to STEM education is this November. It has been downloaded in 60 countries, and works in both temperature scales. With your support we can expand on the fun introduction to science and real weather.