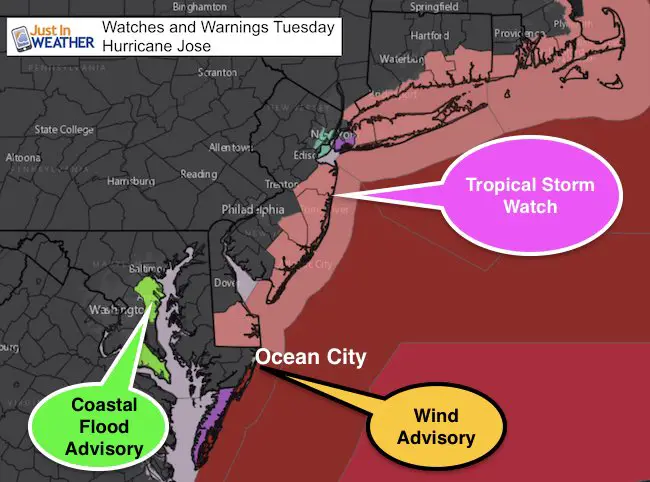 Monday September 18
Today is when the tropical coverage and local weather cross paths. Some morning fog will burn off and give way to another warm later summer day with a small chance of a late day shower. Hurricane Jose will be passing well to our east by roughly 200 miles, but it will impact our weather Tuesday.  A Wind Advisory is in place for Ocean City from 4 AM to 4 PM Tuesday for damaging wind of 45 mph. They will get rain that extends across Delmarva and some showers might reach across the Bay. Inland winds will reach 25 mph and some flooding is possible on the western shore of the Chesapeake, especially at high tide.  Jose will be a bigger problem for southern New England and then loop around and weaken.
The latest outlook from the European Model shows a dance of Hurricane Jose and Maria off the coast. This is one solution (shown below) and still early. But a delay of Jose could help protect us from the larger storm next week.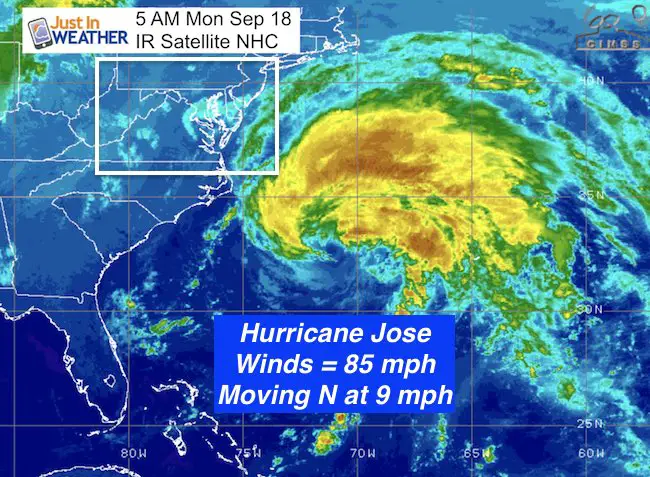 Hurricane Jose Stats From 5 AM
LOCATION…33.0N 71.4W
ABOUT 280 MI…450 KM ESE OF CAPE HATTERAS NORTH CAROLINA
ABOUT 385 MI…620 KM W OF BERMUDA
MAXIMUM SUSTAINED WINDS…85 MPH…140 KM/H
PRESENT MOVEMENT…N OR 360 DEGREES AT 9 MPH…15 KM/H
MINIMUM CENTRAL PRESSURE…974 MB…28.77 INCHES
A Tropical Storm Watch is in effect for…
* Fenwick Island to Sandy Hook
* Delaware Bay South
* East Rockaway Inlet to Plymouth
* Block Island
* Martha's Vineyard
* Nantucket
Forecast
––> slider: Rain Timeline
[metaslider id=53151]
Tuesday Afternoon Showers
Note: Winds will increase to 25 mph across metro Baltimore. Showers will be widespread across Delmarva, but may sneak by I-95 mid afternoon Tuesday
Tracking Jose
The core of the storm should stay nearly 200 miles east of Ocean City and curve south of New England. The plan is for it to nearly stall and weaken in cooler waters. It will get caught in that location and then try to turn towards our coastline by next weekend and could come onshore, but no longer a tropical system then.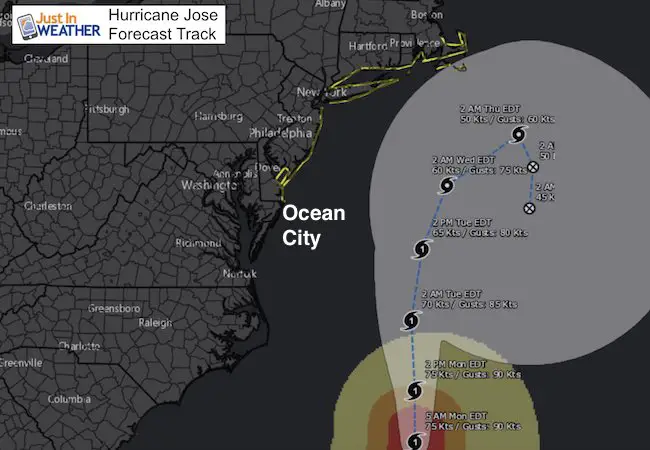 Ocean City: High Waves and Rip Currents
Late Summer Warmth Stays Before Maria
High temperatures for Baltimore remain near 80ºF through this weekend.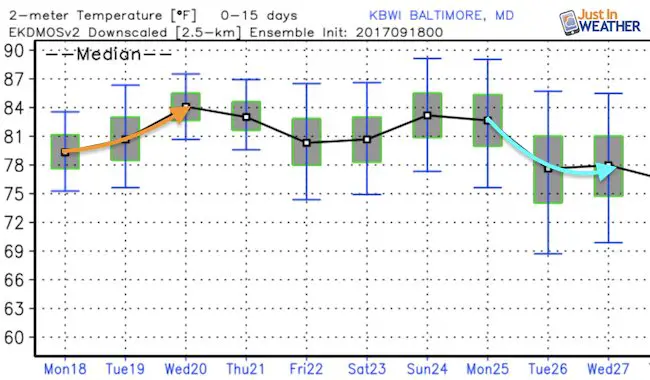 Looking South To Hurricane Maria
Hurricane Maria Stats From 5 AM
LOCATION…14.6N 59.5W
ABOUT 100 MI…160 KM E OF MARTINIQUE
ABOUT 130 MI…215 KM ESE OF DOMINICA
MAXIMUM SUSTAINED WINDS…90 MPH…150 KM/H
PRESENT MOVEMENT…WNW OR 290 DEGREES AT 13 MPH…20 KM/H
MINIMUM CENTRAL PRESSURE…977 MB…28.85 INCHES
Another Hit For Islands Hurt By Irma
Hurricane Watch includes US Virgin Islands and Puerto Rico
A Hurricane Warning is in effect for…
* Guadeloupe
* Dominica
* St. Kitts, Nevis, and Montserrat
* Martinique
A Tropical Storm Warning is in effect for…
* Antigua and Barbuda
* Saba and St. Eustatius
* St. Lucia
A Hurricane Watch is in effect for…
* Puerto Rico, Vieques, and Culebra
* U.S. Virgin Islands
* British Virgin Islands
* Saba and St. Eustatius
* St. Maarten
* St. Martin and St. Barthelemy
* Anguilla
A Tropical Storm Watch is in effect for…
* Barbados
* St. Vincent and the Grenadines
Fujiwara With Hurricane Maria
The Fujiwara Effect is when two tropical systems orbit around each other. It is almost like to magnets of the same polarity, the storms can force each other to veer off of their path. That is what the European Model is now showing. While Jose is expected to weaken and may come onshore next week in the Mid Atlantic, the impact is shown at this time to maybe push Maria off of the coast. 
See notes below
I need to point out that this is a abrupt change from the prior run that showed a double hit. This is due to a change in speed of both systems allowing Jose to hang closer to allow an impact on Maria. Any change in the speed will dramatically change this again.
The GFS model here shows both storms staying off of the coast.
Please share your thoughts, best weather pics/video, or just keep in touch via social media
Keep on Trekking
Continue to be part of our Maryland Trek and Support Cool Kids Campaign. This was our best event yet and we want the message to carry throughout the year.
Proceeds go to programs that help children and their families ensuring cancer treatment.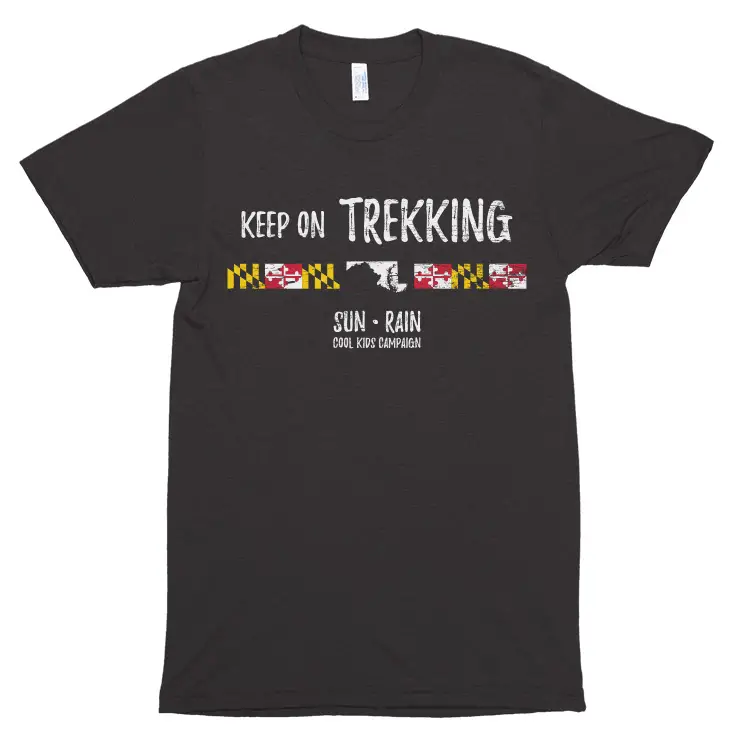 Get the award winning Kid Weather App I made with my oldest son and support our love for science, weather, and technology. Our 3 year anniversary of the release and our contribution to STEM education is this November. It has been downloaded in 60 countries, and works in both temperature scales. With your support we can expand on the fun introduction to science and real weather.