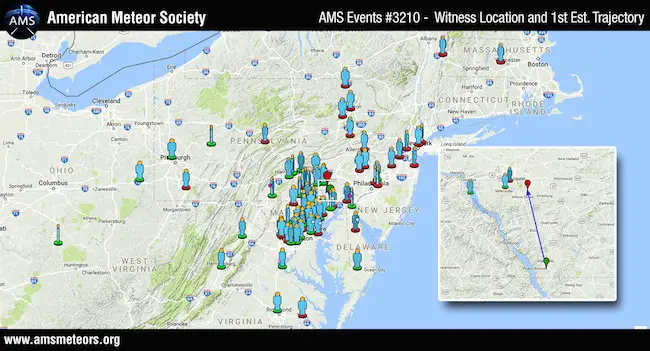 September 17 2017
Did you see the night light up around 1 AM? When I received  a message that there was a bright light in the sky early Sunday morning, I was wondering if it was just weekend festivities. I don't know who was doing what, and I won't ask. But the reports kept on arriving. After further inspection, there appears to have been a widespread fireball sighting here in the Mid Atlantic. The core reports appear to be between Baltimore and Lancaster right around 1 AM. The outlying reports spread out much wider on the south edge to Richmond, VA and north to Scranton and New York City. Even as far west as Pittsburgh.  Yes, there is video (below).
Captured on Camera
Aristidis Koutsouradis of Westminster captured this image lighting up the sky via the Raspberry PI Computer and wide angle lens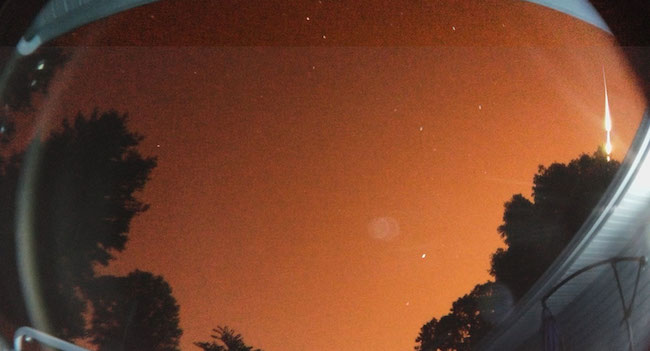 First Hand Account
This was the message Jim Hookey sent me
"About 0100 this morning, while aboard our boat on the Magothy River, we saw a fireball streak across the sky. It was traveling from south to north on what looked like a 350 degree heading. It started as a streak, but as it approached the horizon, it became very bright turning night into day for about 3 or 4 seconds. Then about a minute later, we heard a sonic boom. We suspect it was probably a meteorite entering and burning up in the atmosphere. Wondering if anyone else saw or reported this."
Thanks for this Jim! In fact 78 reports are plotted on this map.  You can see the full interactive map and follow The American Meteor Society for more updates and to share your report.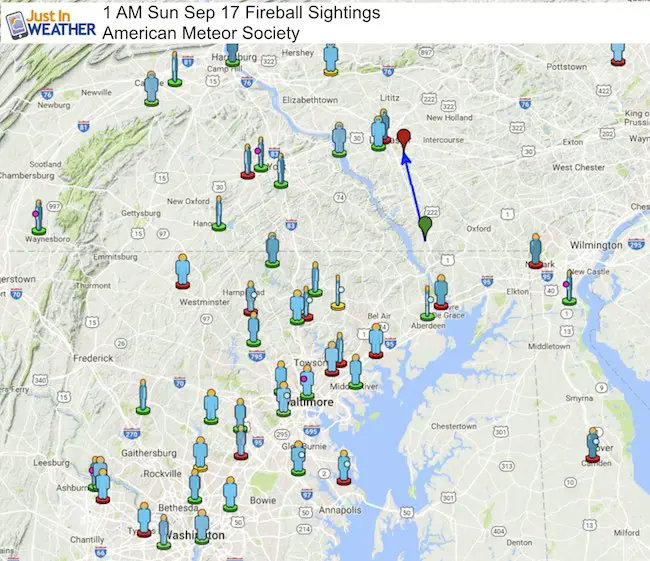 Video:
According to AMS-
 Operations Manager Mike Hankey has been testing a new Raspberry PI based fireball camera system in his front yard for several months and this is certainly the best fireball video he has captured to date. The camera system is comprised of 6 cameras each pointing in a different direction. The light from the fireball was actually recorded on 5 of the 6 cameras. 2 cameras with slightly overlapping fields of view directly caught the meteor.
2014 Fall Events
September 14th: Video of a fireball over PA turned night into day
October 2 Fireball over Maryland November 3rd Fireball maps and video
December 3rd Fireball spotted American Meteor Society
Please share your thoughts, best weather pics/video, or just keep in touch via social media
Keep on Trekking
Continue to be part of our Maryland Trek and Support Cool Kids Campaign. This was our best event yet and we want the message to carry throughout the year.
Proceeds go to programs that help children and their families ensuring cancer treatment.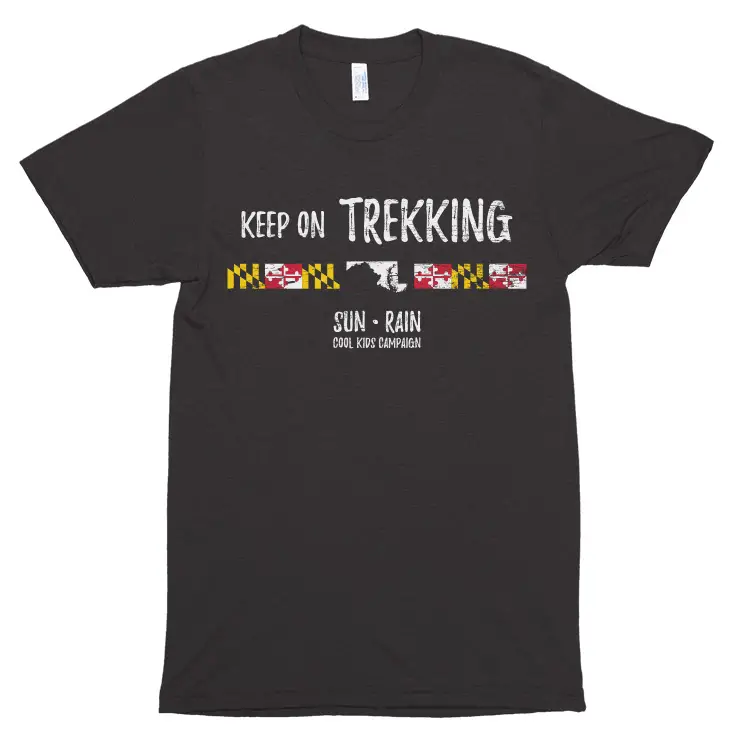 Get the award winning Kid Weather App I made with my oldest son and support our love for science, weather, and technology. Our 3 year anniversary of the release and our contribution to STEM education is this November. It has been downloaded in 60 countries, and works in both temperature scales. With your support we can expand on the fun introduction to science and real weather.