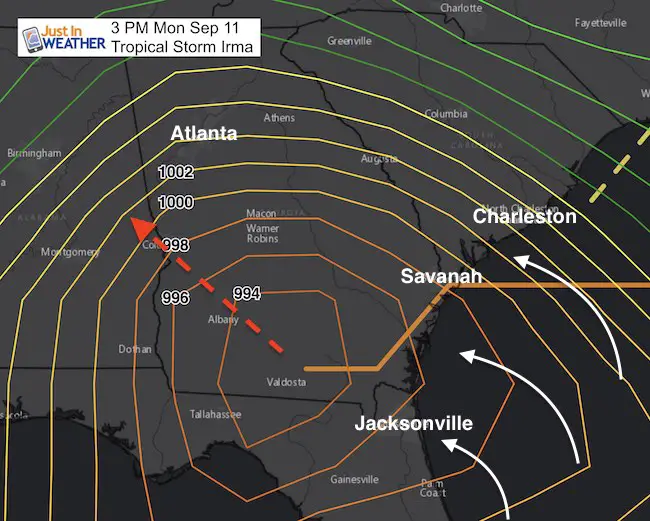 4 PM September 11
Tropical Storm Irma still has winds of 65 mph and is moving to the NW in Georgia away form the coast. A Flash Flood Emergency is in place north to Charleston, SC. Heavy rain bands are moving in to Atlanta where they will experience the stronger side of this remaining circulation. Wind gusts have pushed 55 to 60 mph already. The tornado rise is real a well as heavy rain flooding well inland.
The 2 PM Advisory
LOCATION…30.8N 83.6W
ABOUT 50 MI…80 KM SSE OF ALBANY GEORGIA
ABOUT 55 MI…85 KM E OF TALLAHASSEE FLORIDA
MAXIMUM SUSTAINED WINDS…60 MPH…95 KM/H
PRESENT MOVEMENT…NNW OR 340 DEGREES AT 17 MPH...28 KM/H
MINIMUM CENTRAL PRESSURE…980 MB…28.94 INCHES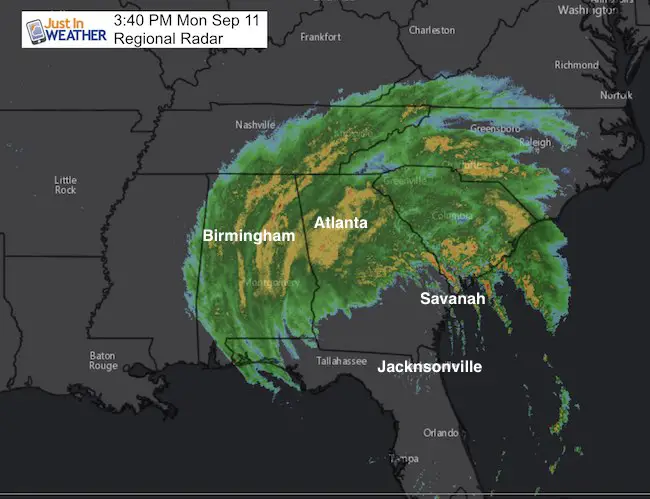 Flooding in Jacksonville
The wind inflow to the core timed out with High Tide along the St. John's River in Jacksonville to cause major flooding. Many inland homes have seen water levels 5 feet or higher. A portion of the sea wall failed but many dunes remained after the replenishment from Hurricane Matthew last year. Here are the local river gauges showing the water reaching the peak around high tide today.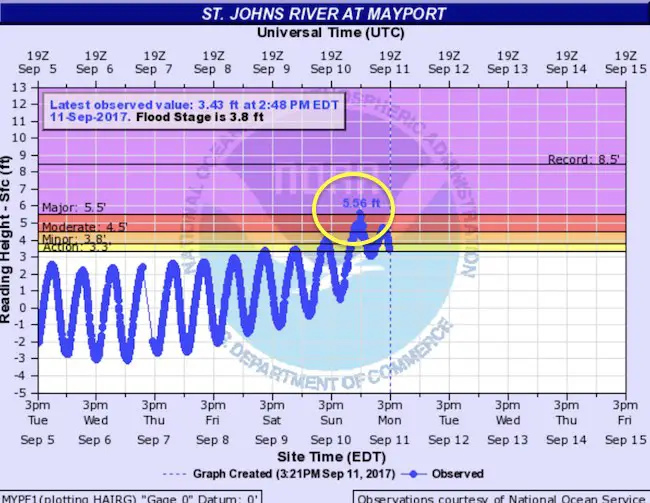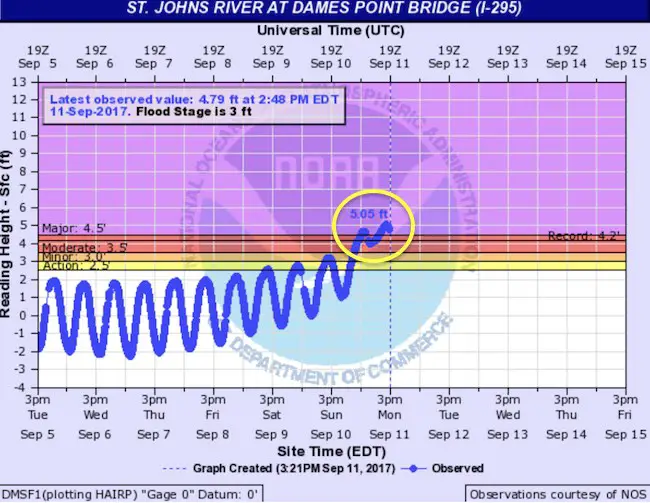 Severe Storm Threat
Numerous tornados have been reported again today to the east side of Irma, especially near the coast
Irma Track
Notice the core Low passes close to Birmingham. However the stronger winds will be felt on the right side up to Atlanta. This will also get enhancement by the southern Appalachian Mountains.
Rainfall Potential Into Wednesday
Flooding still an issue with an average off 3 to 6 inches of rain over the next 36 hours in the path of Irma.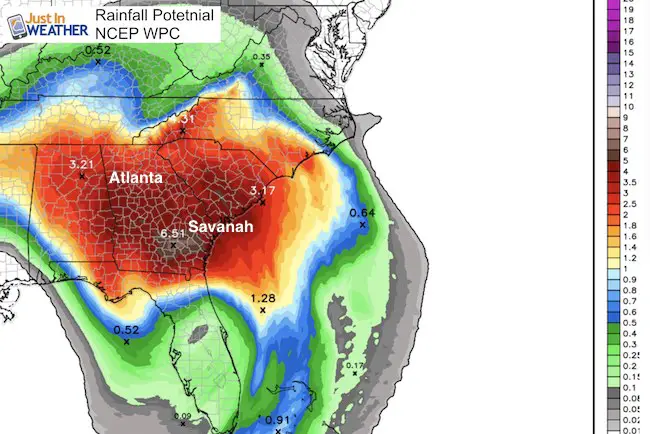 Mid Atlantic Protected (for now)
High Pressure today is what is preventing Irma from moving up the coast. This is what I initially pointed out 10 days again as the factor to direct Irma if it was a coastal system. It still is a factor. But this time pushing Irma into Tennessee. The reman at rain will come back our way with rain showers, not the tropical feature, beginning Wednesday and into Thursday for sure.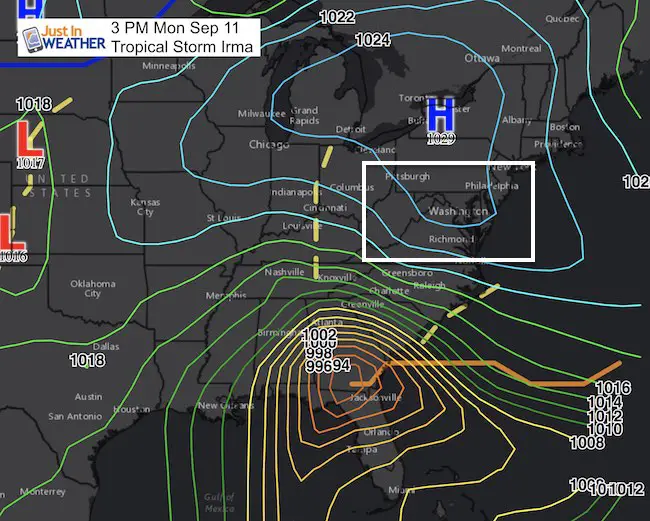 Why about Jose?
I have seen a few concerning model projections bringing that storm off of the east coast next week. I caution to show them since it is still more than 1 week away and I DO NOT trust long range model projections for location, especially with a strong tropical system. However I will begin to start to discuss it in my next report.
Please share your thoughts, best weather pics/video, or just keep in touch via social media
Keep on Trekking
Continue to be part of our Maryland Trek and Support Cool Kids Campaign. This was our best event yet and we want the message to carry throughout the year.
Proceeds go to programs that help children and their families ensuring cancer treatment.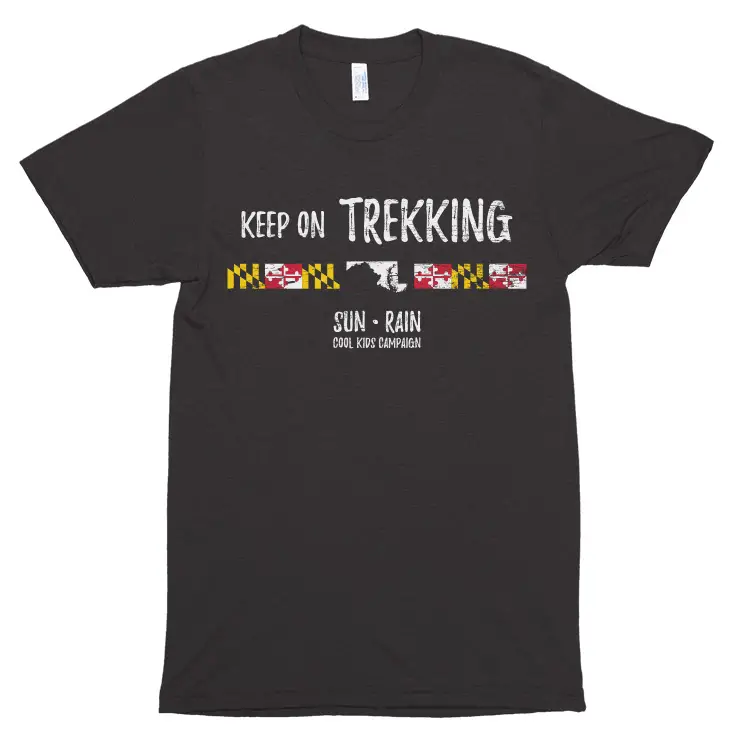 Get the award winning Kid Weather App I made with my oldest son and support our love for science, weather, and technology. Our 3 year anniversary of the release and our contribution to STEM education is this November. It has been downloaded in 60 countries, and works in both temperature scales. With your support we can expand on the fun introduction to science and real weather.