Monday September 11
This day is etched in our nation's memory and we should never forget, but this year is the added element of the historic Hurricane Irma. Daylight will show us the results on yesterday's landfalls in Cudjoe Key and Marco Island in Florida. Winds were officially recorded with 130 mph gusts, but the storm surge flooding may have been less than forecast. As of 5 AM, winds for Irma were down to 75 mph and there is Hurricane Jose holding at 105 mph winds lingering in the Atlantic.
The focus will be the tornado eruption spreading across Florida through their east coast, and today that moves farther north. A state of emergency is in effect for every county in Georgia and severe weather extends to South Carolina as well. Heavy rain, flooding, and wind damage still expected along the inland path north. Below is a look at the impact Irma wil have on our weather this week and how close Jose may get to the east coast.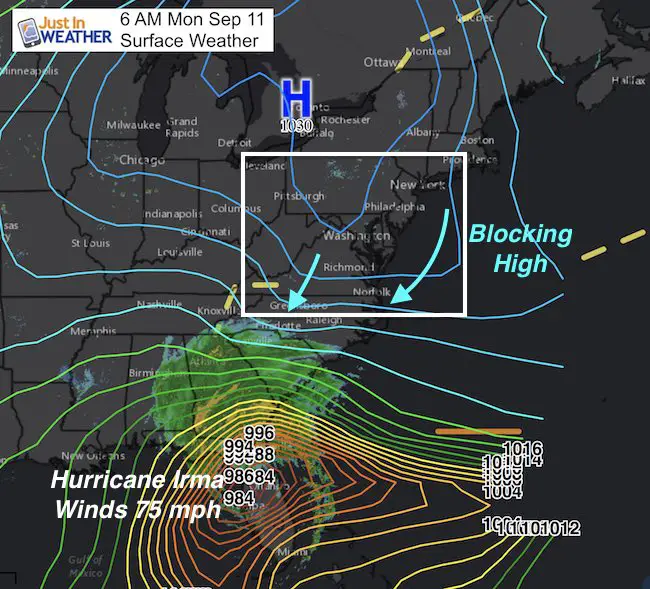 High Pressure is protecting us in the Mid Atlantic. This is the same weather system I showed 10 days again that was supposed to protect us from a coastal hit of this same storm. Keep that in mind because the long range forecast shows Hurricane Jose getting close to the was coast, but I still do not see this as a lock being so far out in time. However, we have a lot to look at this week and will get some rain from Irma. Here is a quick look below.
First: We get another nice day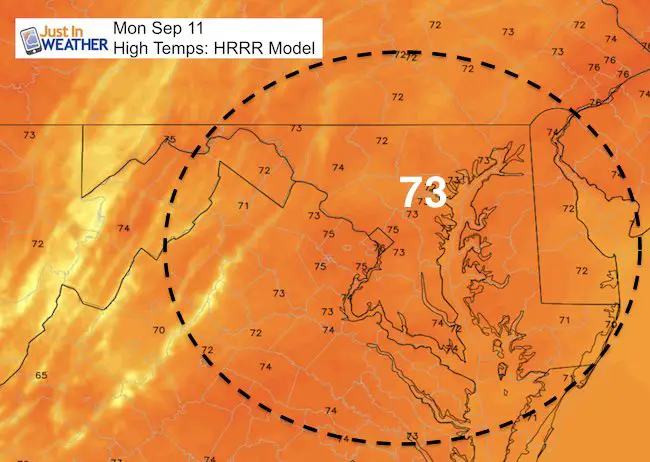 Tornado Potential To Coastal GA and SC From Irma
Irma Track From NHC
Intense rain bands and wind damage still possible along the path of Irma. This will track northwest today. It will pass south of Atlanta and near Birmingham, AL and settle into western Tennessee.
5 AM Stats
LOCATION…28.9N 82.6W
ABOUT 35 MI…55 KM ESE OF CEDAR KEY FLORIDA
ABOUT 60 MI…100 KM N OF TAMPA FLORIDA
MAXIMUM SUSTAINED WINDS…75 MPH…120 KM/H
PRESENT MOVEMENT…NNW OR 340 DEGREES AT 18 MPH…30 KM/H
MINIMUM CENTRAL PRESSURE…965 MB…28.50 INCHES
Rainfall From Irma (and stalled front)
—-> slider
The rain will eventually get caught up in the westerly flow and spread our way Wednesday. It will be more in the form of showers over a few days at the end of the week and weekend. Mostly afternoon and evening development.
[metaslider id=52925]
Looking Ahead to Hurricane Jose
As Irma dissipates, Jose has 105 mph winds. It is expected to get led behind and loop around in the same area this week. It could make a push towards the easer coast, but likely stay offshore.
Forecast Track
I need to explain this!  Jose has been shown by some models, including this GFS as a hit into Maryland next week. I purposely DID NOT SHOW THAT because it did not believe it. Remember that Irma was expected to be close to Maryland 10 days ago and ended up on the west coast of Florida. So take this with a grain of salt.
The overall pattern we have had over the past month should help support protecting us from an Eastern hit. Here is the latest display of the GFS model showing Jose curving away from the US mainland. I expected this to fluctuate over the next few days, so we will compare for trends.
Watch Hurricane Jose loop on the bottom right side of the map here. The trend to the east coast is already much farther east that the prior day's run showing a hit in Maryland. DO NO CONSIDER THIS A DONE DEAL! But high waves off the east coast should be expected.
Jose- Computer Model Tracks
There is more agreement of the loop and trend away from he east coast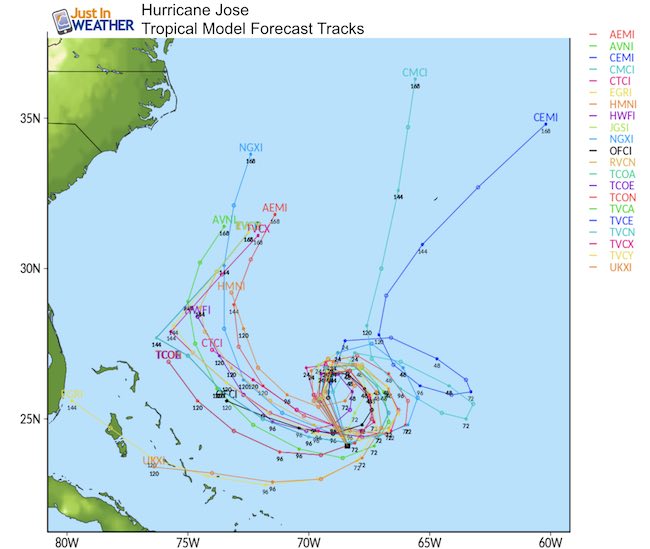 Temperature Outlook
Irma will help to warm us up this week, but we trend cooler again after the weekend showers.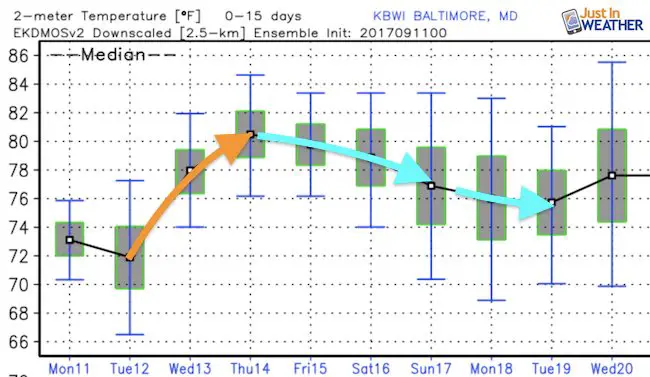 Keep on Trekking
Continue to be part of our Maryland Trek and Support Cool Kids Campaign. This was our best event yet and we want the message to carry throughout the year.
Proceeds go to programs that help children and their families ensuring cancer treatment.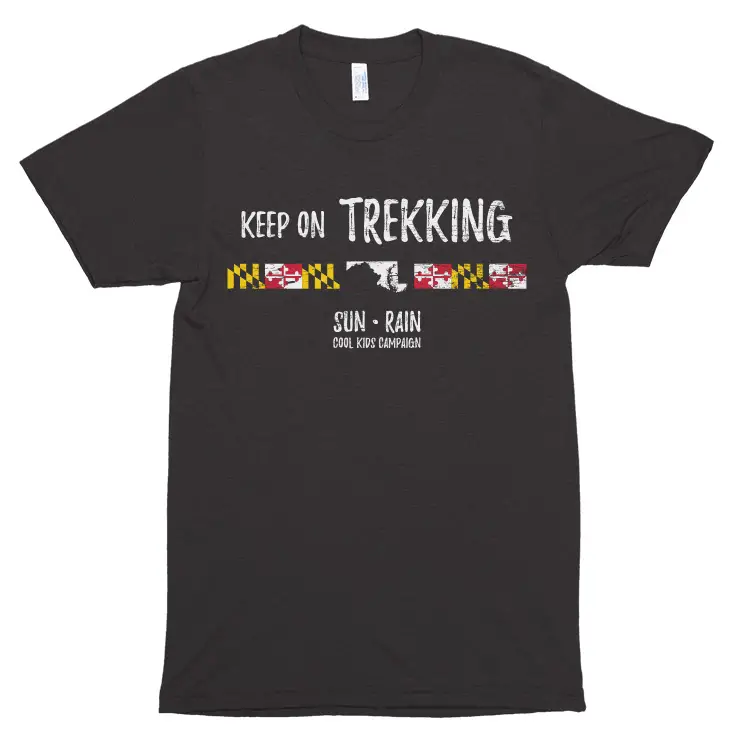 Please share your thoughts, best weather pics/video, or just keep in touch via social media
Get the award winning Kid Weather App I made with my oldest son and support our love for science, weather, and technology. Our 3 year anniversary of the release and our contribution to STEM education is this November. It has been downloaded in 60 countries, and works in both temperature scales. With your support we can expand on the fun introduction to science and real weather.