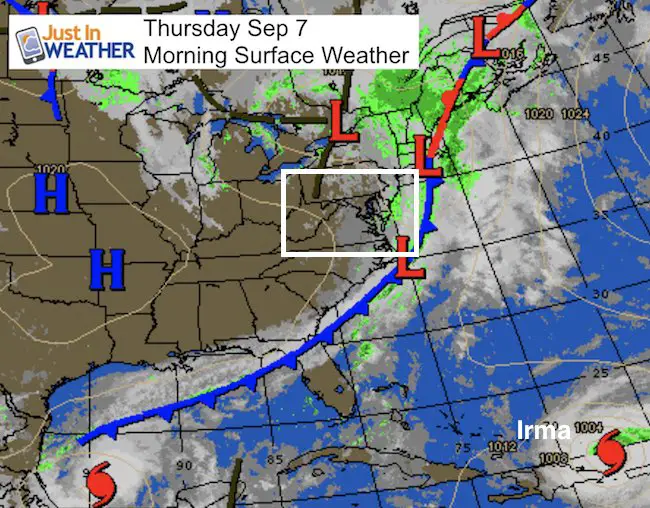 Thursday September 6
Hurricane Irma winds this morning were down a little to 180 mph. It now holds the record for 42 hours at or above that speed and is showing little sign of weakening much more. The path will take the most devastating right side of the eye way over the Turks and Caicos Islands with up to a 20 foot storm surge and waves pushing 50 feet high plus up to 20 inches of rain. Catastrophic has sadly become common vocabulary and it fits today.  Death and destruction is inevitable today and the path brings this too close to Miami then up the populated Gold Coast of eastern Florida Sunday. Expect warnings to be issued for Florida today now that this is closer to arriving. The path has shifted a little west this morning. What follows is less certain but could bring rain into the Mid Atlantic by Tuesday.
Today's Local Weather
Morning fog will burn off. Sunshine will bring us back to the lower 70s
Hurricane Irma
SUMMARY OF 500 AM AST…0900 UTC…INFORMATION
———————————————-
LOCATION…20.0N 68.3W
ABOUT 95 MI…155 KM N OF PUNTA CANA DOMINICAN REPUBLIC
ABOUT 210 MI…335 KM ESE OF GRAND TURK ISLAND
MAXIMUM SUSTAINED WINDS…180 MPH…285 KM/H
PRESENT MOVEMENT…WNW OR 290 DEGREES AT 17 MPH…28 KM/H
MINIMUM CENTRAL PRESSURE…921 MB…27.20 INCHES
Hurricane Force Winds: 50 miles from the center
Tropical Storm Force Winds: 185 miles from the center (370 miles across)
Storm Surge: Wall Of Water With Landfall Today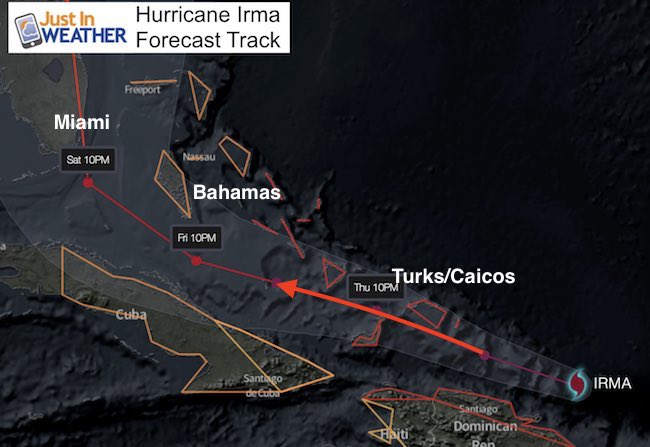 Turks and Caicos Islands…15 to 20 ft
Southeastern and central Bahamas…15 to 20 ft
Northern coast of the Dominican Republic…3 to 5 ft
Northern coast of Haiti and the Gulf of Gonave…1 to 3 ft
Northern coast of Cuba in the warning area…5 to 10 ft
Click here to see:  Irma video of radar and satellite as it passed Puerto Rico
Maintaining Strength:
Sea Surface Temperatures will be warmer to counter the impact of the islands over the next few days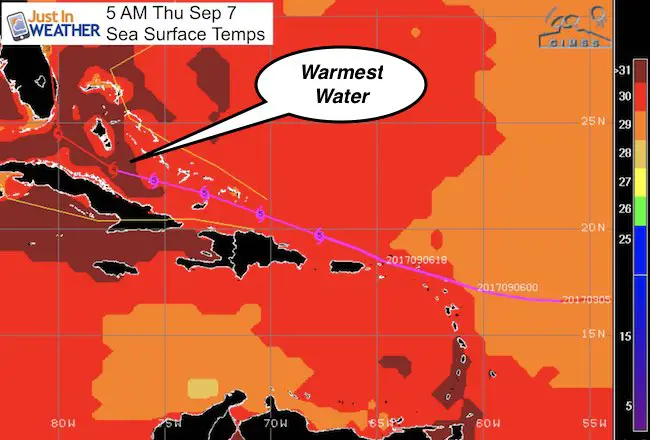 Intensity Forecast
Expected to weaken a little, but remain at least a Category 4 when it gets close to Miami Saturday Night/Sunday Morning
Forecast Maps
The HWRF is showing some fluctuations with the path, but this is still within the margin of error to have the eye wall pass over Miami and south Florida. Still a chance to wiggle just offshore or over the peninsula.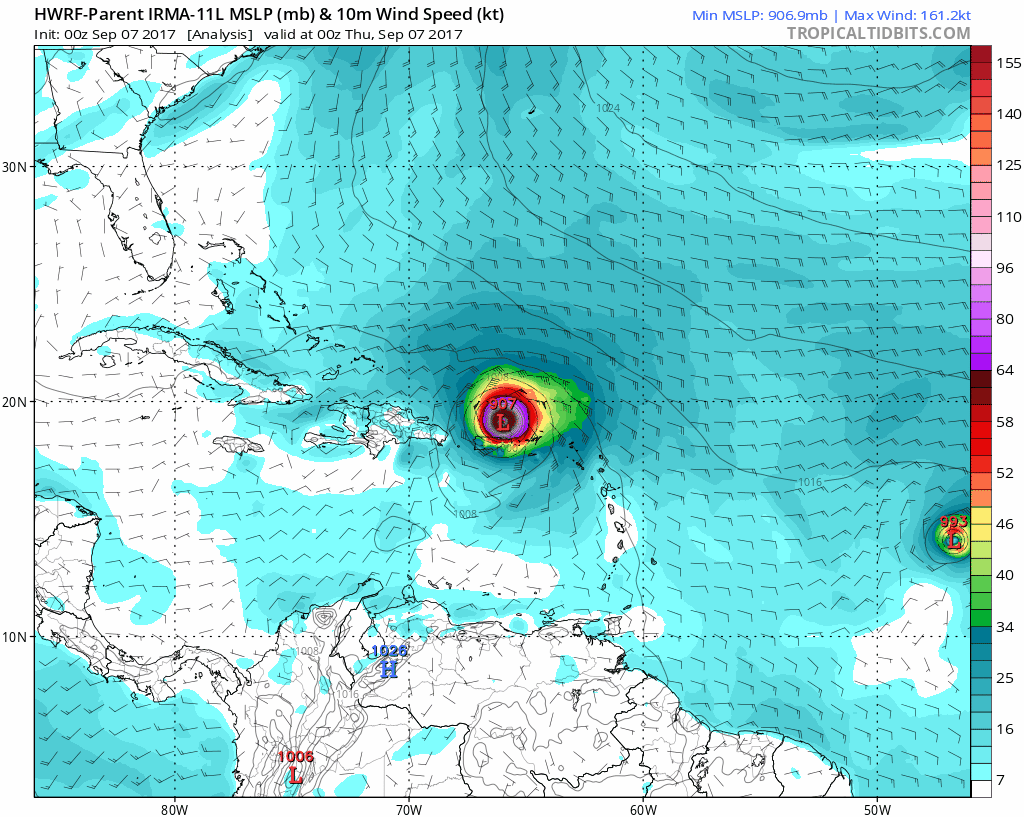 Very Close to Miami
The GFS Model is showing the path just to the east of Miami and the coast, but there is less than 50 miles of a buffer, so still within reach of one wobble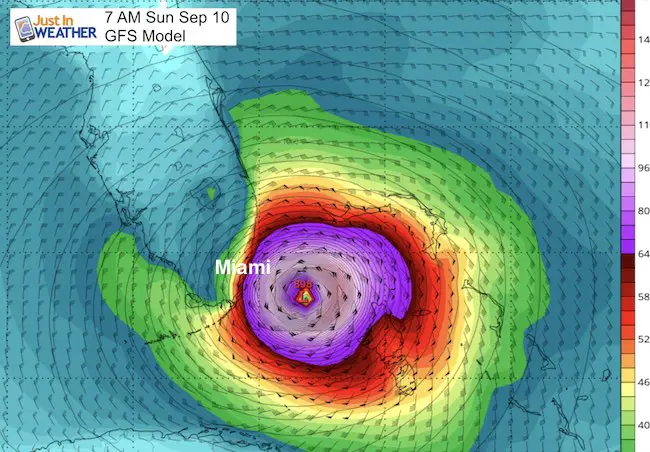 Winds And Timing
Tracking North
There are still some features across the US that will help to steer Irma. It will get pulled north and then pushed inland. Way to many variables so not a lock, but the GFS is showing this into North Carolina with rain and wind into Maryland as the storm pushes northwest
Topical Tracks
National Hurricane Center Track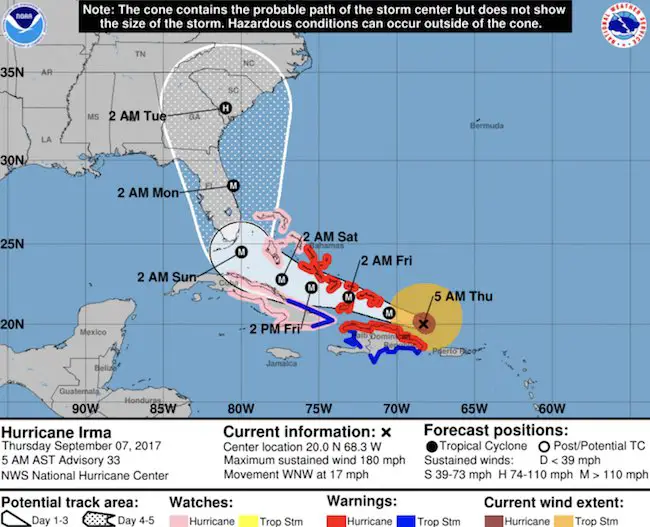 A Hurricane Warning is in effect for…
* Dominican Republic from Cabo Engano to the northern border with
Haiti
* Haiti from the northern border with the Dominican Republic to Le
Mole St. Nicholas
* Southeastern Bahamas and the Turks and Caicos Islands
* Central Bahamas
* Northwestern Bahamas
A Hurricane Watch is in effect for…
* Cuba from Matanzas province eastward to Guantanamo province
A Tropical Storm Warning is in effect for…
* Dominican Republic from south of Cabo Engano westward to the
southern border with Haiti
* Haiti from south of Le Mole St. Nicholas to Port-Au-Prince
* Cuba provinces of Guantanamo, Holguin, and Las Tunas
Hurricane Jose
Don't forget this storm. There is a chance to gets left behind and then loops back towards the Bahamas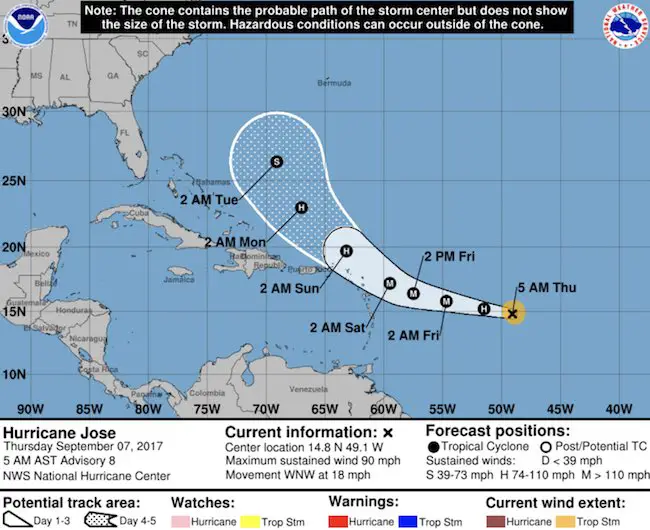 Keep on Trekking
Continue to be part of our Maryland Trek and Support Cool Kids Campaign. This was our best event yet and we want the message to carry throughout the year.
Proceeds go to programs that help children and their families ensuring cancer treatment.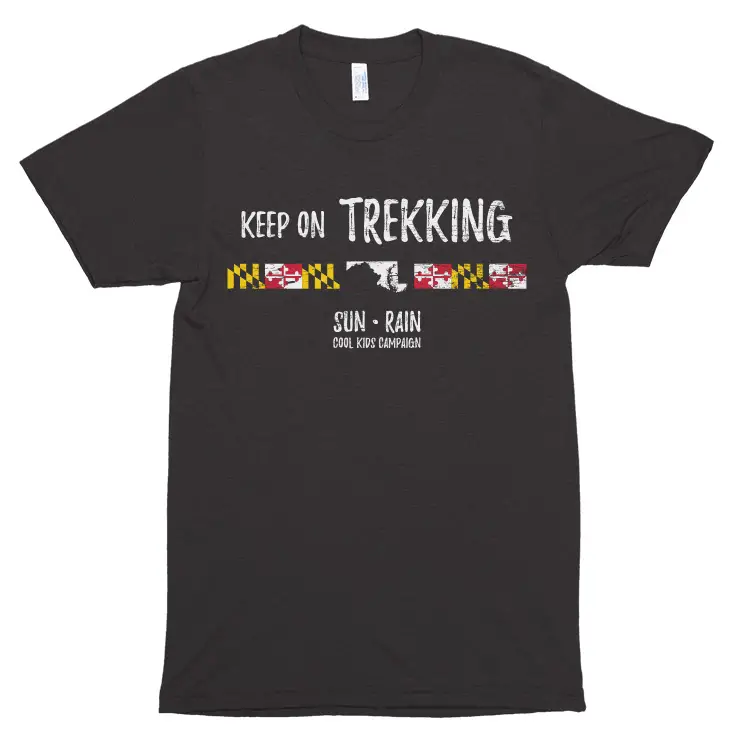 Please share your thoughts, best weather pics/video, or just keep in touch via social media
Get the award winning Kid Weather App I made with my oldest son and support our love for science, weather, and technology. Our 3 year anniversary of the release and our contribution to STEM education is this November. It has been downloaded in 60 countries, and works in both temperature scales. With your support we can expand on the fun introduction to science and real weather.