5 PM Wednesday September 6
Hurricane Irma is rolling north of the Virgin Islands and Puerto Rico holding wind speed of 185 mph.  The close up satellite video below is amazing with this textbook stadium effect feature. Nearby Jose is now a hurricane as well.  This was expected, and the track will clip the northeastern Caribbean then head farther north of Irma's path.  Info on that storm is at the bottom of this post. We are in unchartered territory as a storm Irma's intensity is a very rare thing and pretty much will make up its own environment surrounding it. So trying to plot the track is imperfect, but it provides some idea, especially noting trends of any changes.
The purpose of this post is to focus on the potential for Sunday passing along the Florida coast very close to Miami. The Bahamas may be in the worst position here, while the US shoreline remains a question mark. However the storm is larger than the state of Florida and the impact will be widespread. This is NOT Harvey, so instead of stalling, it will move out, but it will pack a much stronger punch.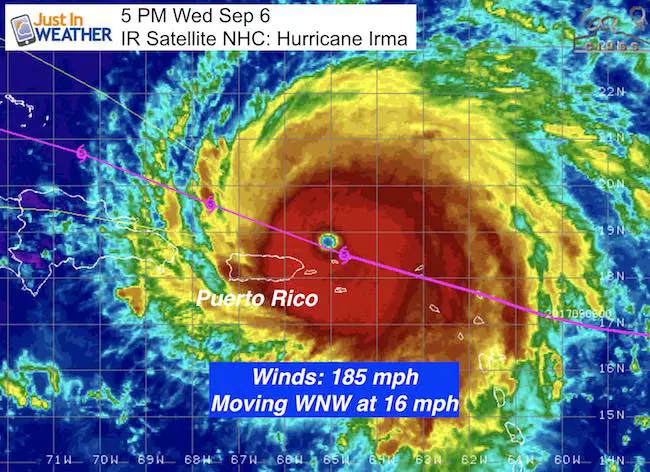 Up until now the tracking I show as well as what you have seen from other forecasters is based on computer modeling. These calculations and maps have shown a wide variety of long range tracks when this reaches the US mainland. Remember the east coast there, then Key West. Now it appears to be back to some of the original thinking, passing off the east side of Florida and then turning into the southeast US.
State of Emergency in effect for Florida and the coastal counties of Georgia.  The exact track is still not known, but the trend and cone of uncertainty covers a large area. This storm is so large that the immediate impact will cover a few hundred miles of shoreline, plus the waves propagating a surge farther out on the north end at landfall.
Latest Stats
SUMMARY OF 500 PM AST…2100 UTC…INFORMATION
———————————————-
LOCATION…18.8N 65.4W
ABOUT 40 MI…60 KM NW OF ST. THOMAS
ABOUT 55 MI…85 KM ENE OF SAN JUAN PUERTO RICO
MAXIMUM SUSTAINED WINDS…185 MPH…295 KM/H
PRESENT MOVEMENT…WNW OR 285 DEGREES AT 16 MPH…26 KM/H
MINIMUM CENTRAL PRESSURE…914 MB…26.99 INCHES
Hurricane Force Winds reach 50 miles away from the center
Tropical Storm Force Winds reach 185 miles away from the center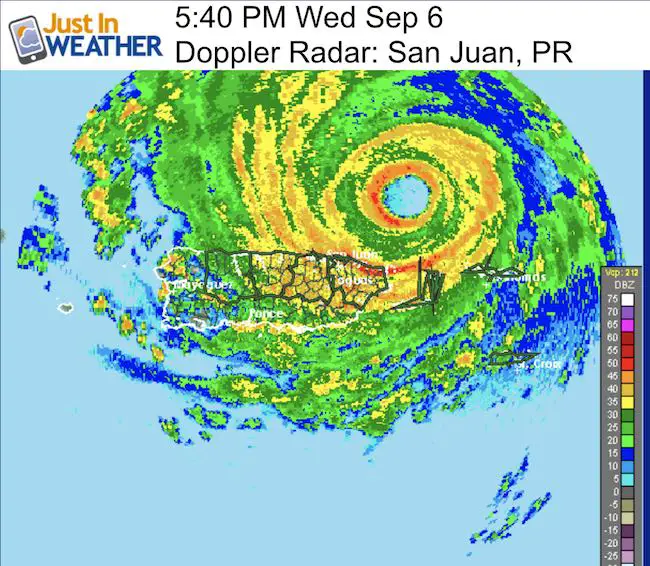 Latest Models On Hurricane Irma
NOT A PROMISE. ONLY TO TRACK TRENDS
The HWRF Model is showing the track rolling very close to or just east of Miami. I still find it impossible to pin the exact location of the eye 4 days away, so please consider that this is east of the forecast from yesterday. I would like to see at least three consecutive model runs showing consistency to start locking in on landfall or eye wall scraping up the coast.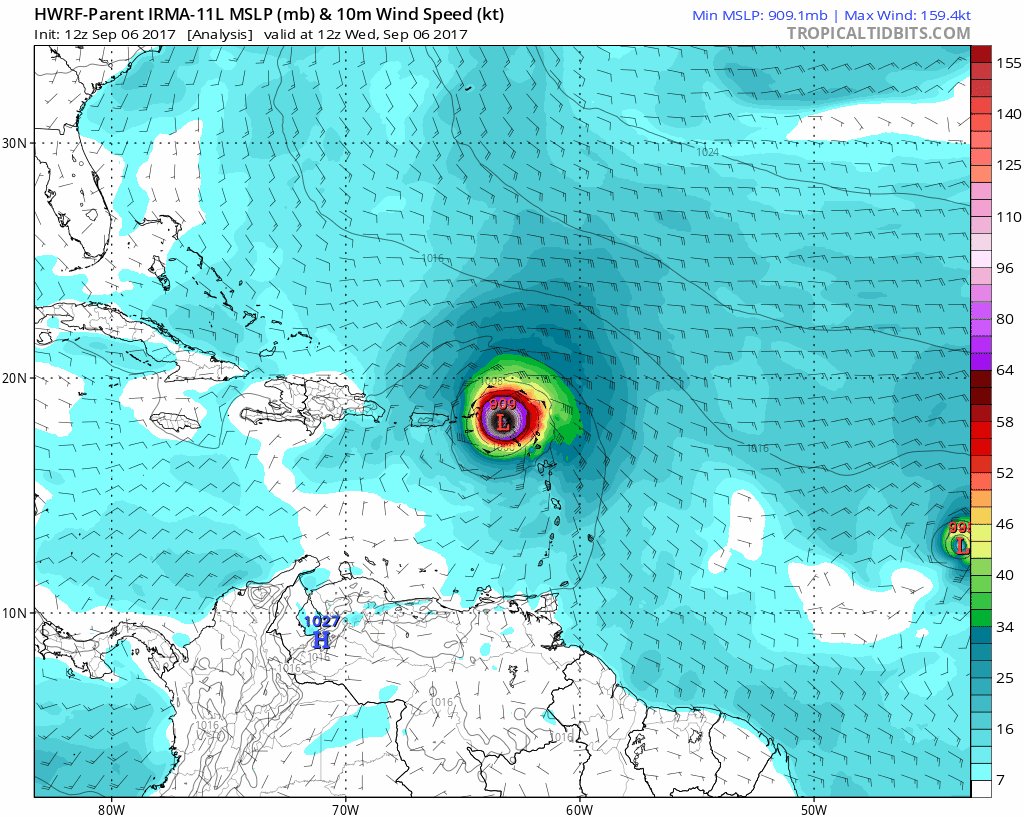 Snapshot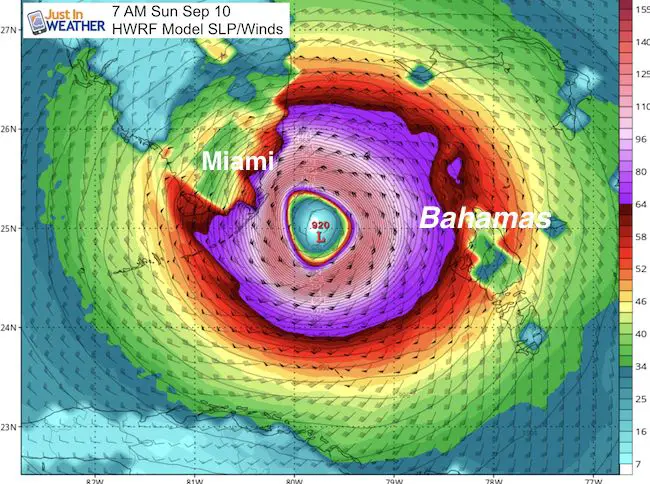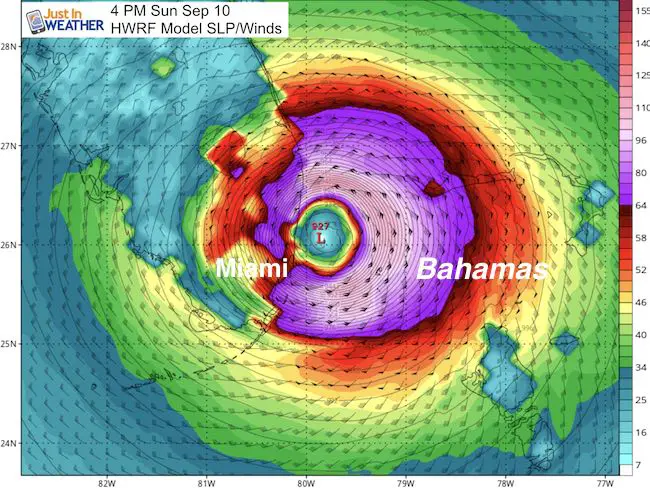 This is the American Model that has been the most consistent with the track staying on the east side of Florida. It deserves the credit for that and worth the longer range look here.
Notice the track with final landfall on the Georgia/South Carolina border. Then the push to the northwest into Kentucky. This is due to the same strong High Pressure off of the New England coast I mentioned last week. This set up would push the storm inland and dissipate well west of Maryland.
Snapshot
This also shows the path just off Miami Sunday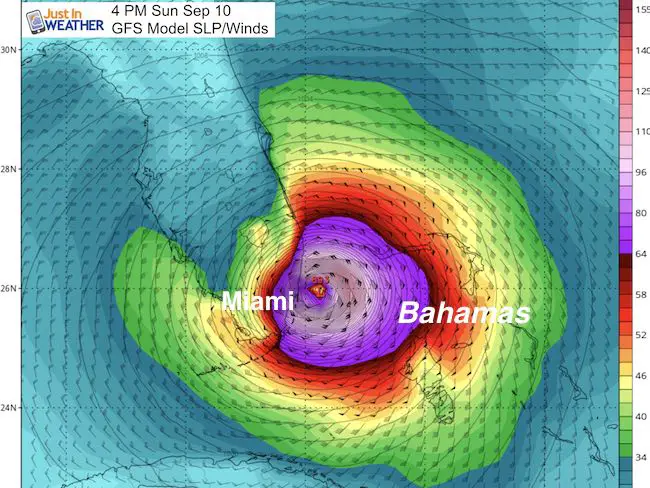 Irma's Eye: GOES 16 Visible Satellite Video
Hurricane Irma National Hurricane Center Track and Warnings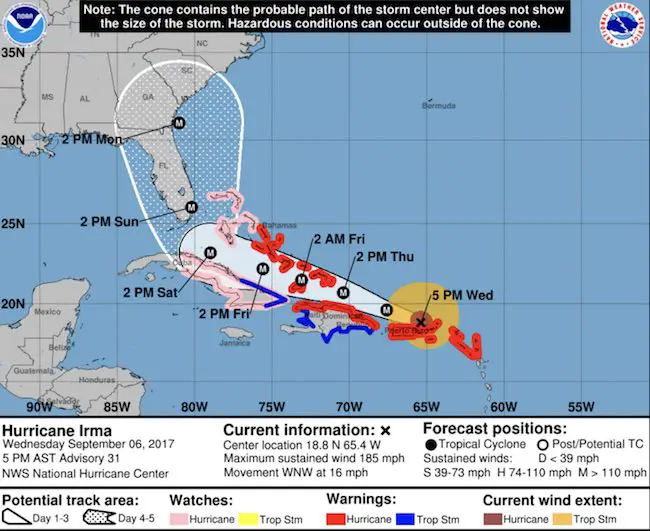 WATCHES AND WARNINGS
——————–
CHANGES WITH THIS ADVISORY:
The government of the Bahamas has issued a Hurricane Warning for
the central Bahamas, including Cat Island, the Exumas, Long Island,
Rum Cay, and San Salvador. A Hurricane Watch has been issued for
the northwestern Bahamas, including the Abacos, Andros Island,
Berry Islands, Bimini, Eleuthera, Grand Bahama Island, and New
Providence.
The government of Cuba has issued a Tropical Storm Warning for the
Cuban provinces of Guantanamo, Holguin, and Las Tunas.
The government of France has discontinued the Hurricane Warning for
Saint Martin and Saint Barthelemy.
SUMMARY OF WATCHES AND WARNINGS IN EFFECT:
A Hurricane Warning is in effect for…
* British Virgin Islands
* U.S. Virgin Islands
* Puerto Rico, Vieques, and Culebra
* Dominican Republic from Cabo Engano to the northern border with
Haiti
* Haiti from the northern border with the Dominican Republic to Le
Mole St. Nicholas
* Southeastern Bahamas and the Turks and Caicos Islands
* Central Bahamas
A Hurricane Watch is in effect for…
* Cuba from Matanzas province eastward to Guantanamo province
* Northwestern Bahamas
A Tropical Storm Warning is in effect for…
* Dominican Republic from south of Cabo Engano westward to the
southern border with Haiti
* Haiti from south of Le Mole St. Nicholas to Port-Au-Prince
* Cuba provinces of Guantanamo, Holguin, and Las Tunas
Hurricane Jose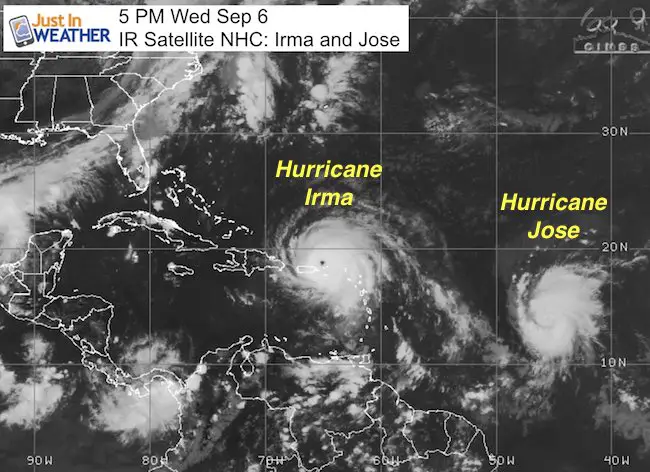 SUMMARY OF 500 PM AST…2100 UTC…INFORMATION
———————————————-
LOCATION…13.9N 45.8W
ABOUT 1040 MI…1675 KM E OF THE LESSER ANTILLES
MAXIMUM SUSTAINED WINDS…75 MPH…120 KM/H
PRESENT MOVEMENT…WNW OR 285 DEGREES AT 16 MPH…26 KM/H
MINIMUM CENTRAL PRESSURE…994 MB…29.36 INCHES
Keep on Trekking
Continue to be part of our Maryland Trek and Support Cool Kids Campaign. This was our best event yet and we want the message to carry throughout the year.
Proceeds go to programs that help children and their families ensuring cancer treatment.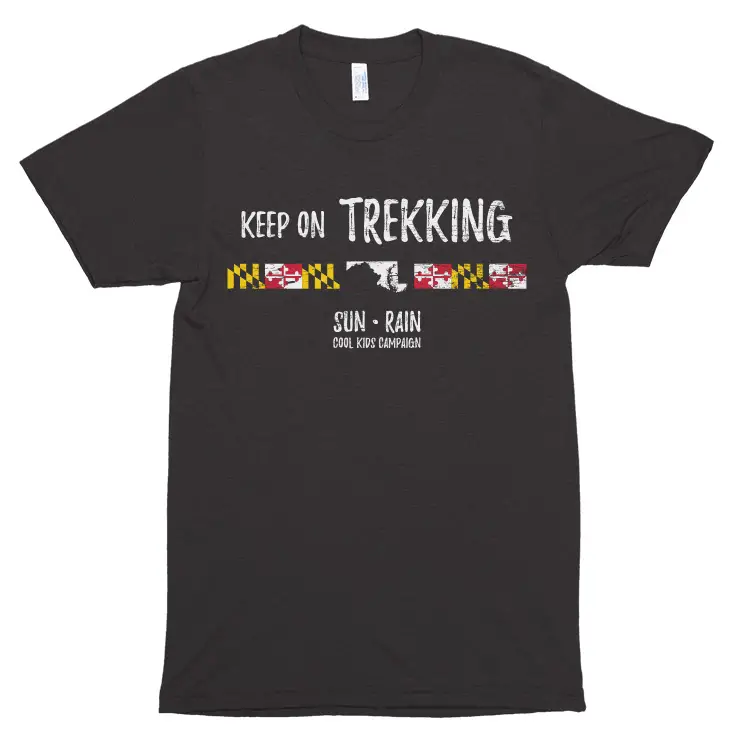 Please share your thoughts, best weather pics/video, or just keep in touch via social media
Get the award winning Kid Weather App I made with my oldest son and support our love for science, weather, and technology. Our 3 year anniversary of the release and our contribution to STEM education is this November. It has been downloaded in 60 countries, and works in both temperature scales. With your support we can expand on the fun introduction to science and real weather.