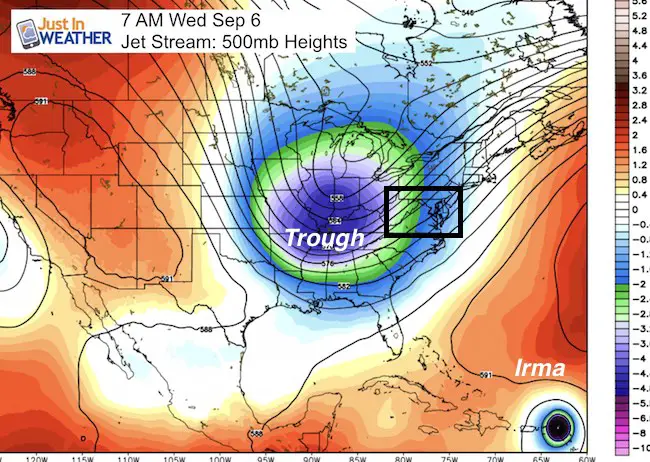 Wednesday September 6
Two main things to point out this morning: The cold front is stalled over our region and we will have more rain today as temperatures struggle in the 60s.  This cold front and the trough behind it is one of the factors steering Hurricane Irma.  The winds are still 185 mph (gusts to 225 mph) with Barbuda and Aguilla Islands getting the hit this morning. The storm is a beast and we are in unchartered territory. So my report last night as  I was convinced the track would head towards the Florida Keys is now showing a shift back east keeping the Miami area in play. But this is a large storm. The hurricane force winds extend 50 miles on all sides. The Tropical Storm Force Winds extend 175 miles each direction. A large region will be impacted. We are most concerned with the right side for the worst conditions. More info below.
Rain Today
—> slider HRRR Model
[metaslider id=52704]
High Temperatures will hold in the upper 60s to near 70ºF
Hurricane Irma and Tropical Storm Jose
There are so many factors that will direct storm track. Jose is getting stronger faster, which may also help to break down some of the Atlantic Ridge.  Irma is moving WNW at 16 mph which is a slight shift and faster. The arrival time this weekend needs to be synced up with the trough in the eastern US. Any slight change in location and time will determine if this hits the Keys, Miami, or in between. Either way, it is expected to maintain at least Category 4 strength then.
Wednesday Morning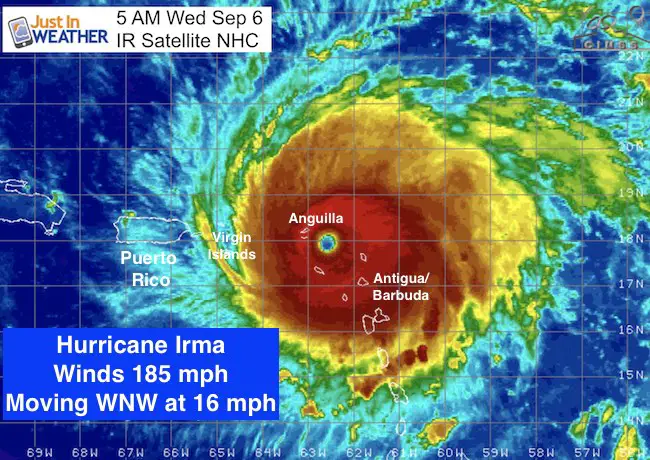 SUMMARY OF 500 AM AST…0900 UTC…INFORMATION
———————————————-
LOCATION…17.9N 62.6W
ABOUT 35 MI…55 KM ESE OF ST. MARTIN
ABOUT 145 MI…235 KM E OF ST. CROIX
MAXIMUM SUSTAINED WINDS…185 MPH…295 KM/H
PRESENT MOVEMENT…WNW OR 285 DEGREES AT 16 MPH…26 KM/H
MINIMUM CENTRAL PRESSURE…914 MB…26.99 INCHES
Waves over 30 Ft.
Storm Surge Forecast:
Northern Leeward Islands…7 to 11 ft
Turks and Caicos Islands…15 to 20 ft
Southeastern Bahamas…15 to 20 ft
Northern coast of the Dominican Republic…3 to 5 ft
Northern coast of Haiti and the Gulf of Gonave…1 to 3 ft
The combination of a life-threatening storm surge and the tide will
cause normally dry areas near the coast to be flooded by rising
waters moving inland from the shoreline. The water is expected to
reach the following HEIGHTS ABOVE GROUND if the peak surge occurs at
the time of high tide…
British and U.S. Virgin Islands except St. Croix…7 to 11 ft
Northern coast of Puerto Rico…3 to 5 ft
Southern coast of Puerto Rico and St. Croix…1 to 2 ft
The water in the islands toward the Turks, Caicos, and Bahamas is warmer. There may be some tear but little else to slow this down. The nest hurricane reconnaissance mission is underway now. The normal balloon launches in the US have been doubled form every 12 hours to every 6 hours to add more data into the models to help improved forecasting. So hopefully we can lock into a better projection. But here is the shift…
HWRF Model
This showed a hit between Key West and Marathon Key yesterday. Now it is showing a turn off of the east coast of Florida.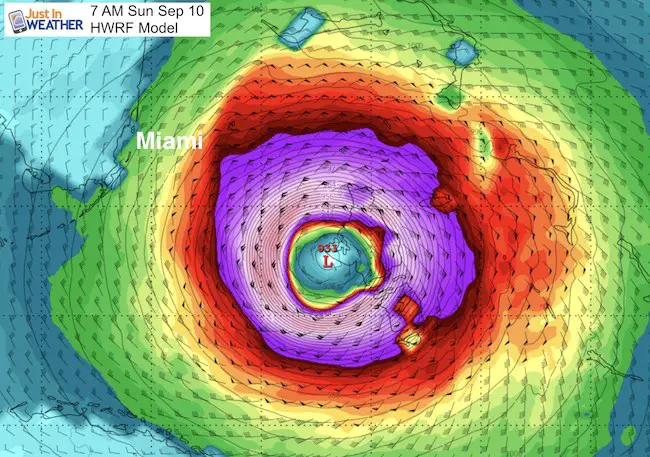 European Model
The European Model also was consistent with the track into the Keys now turning the storm across south Florida near Miami Sunday. This puts the east coast back into play.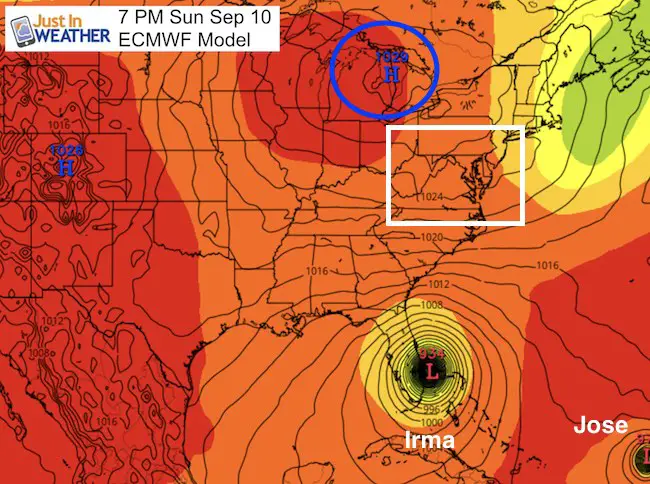 National Hurricane Center Track
Rather than make an abrupt change, NHC is showing a trend that is not exactly lined up with the models I showed. It is an average or blend.  This morning's run at 7 AM (complete by 10 AM) will shed a lot of light on if this was a blip or actual likely plot tracking and earlier turn and east coast risk. See the NHC Track for Joe below the Watches and Warnings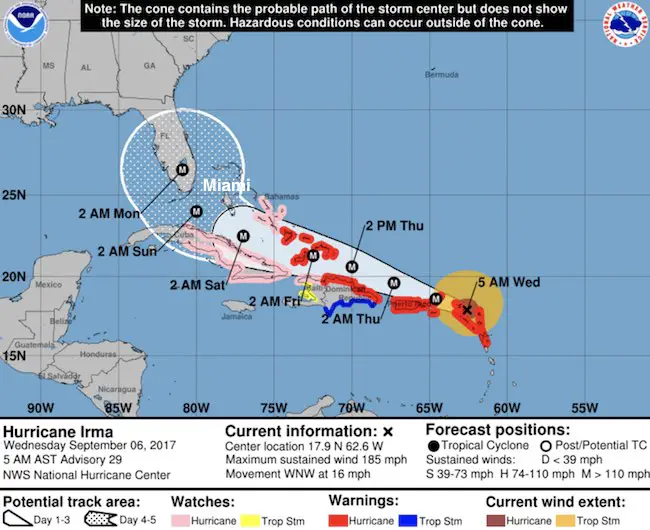 SUMMARY OF WATCHES AND WARNINGS IN EFFECT:
A Hurricane Warning is in effect for…
* Antigua, Barbuda, Anguilla, Montserrat, St. Kitts, and Nevis
* Saba, St. Eustatius, and Sint Maarten
* Saint Martin and Saint Barthelemy
* British Virgin Islands
* U.S. Virgin Islands
* Puerto Rico, Vieques, and Culebra
* Dominican Republic from Cabo Engano to the northern border with
Haiti
* Guadeloupe
* Southeastern Bahamas and the Turks and Caicos Islands
A Hurricane Watch is in effect for…
* Haiti from the northern border with the Dominican Republic to Le
Mole St. Nicholas
* Turks and Caicos Islands
* Southeastern Bahamas
* Cuba from Matanzas province eastward to Guantanamo province
* Central Bahamas
A Tropical Storm Warning is in effect for…
* Dominican Republic from south of Cabo Engano westward to the
southern border with Haiti
A Tropical Storm Watch is in effect for…
* Haiti from south of Le Mole St. Nicholas to Port-Au-Prince
Jose to become a Hurricane
This is on the back side just a few days behind Irma, but should be turned north by the Virgin Islands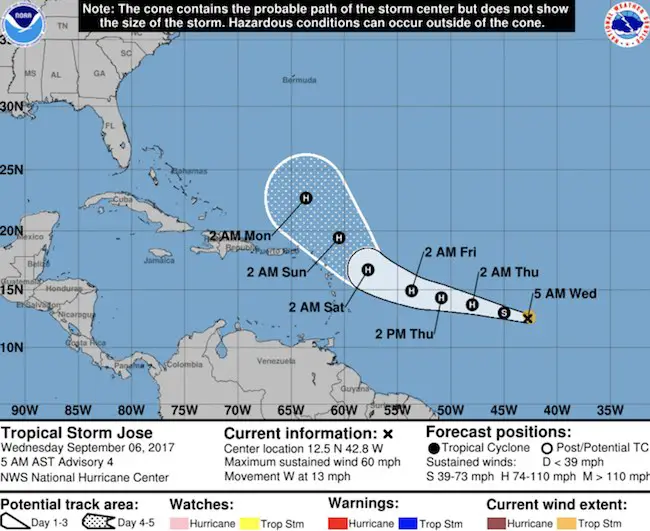 Keep on Trekking
Continue to be part of our Maryland Trek and Support Cool Kids Campaign. This was our best event yet and we want the message to carry throughout the year.
Proceeds go to programs that help children and their families ensuring cancer treatment.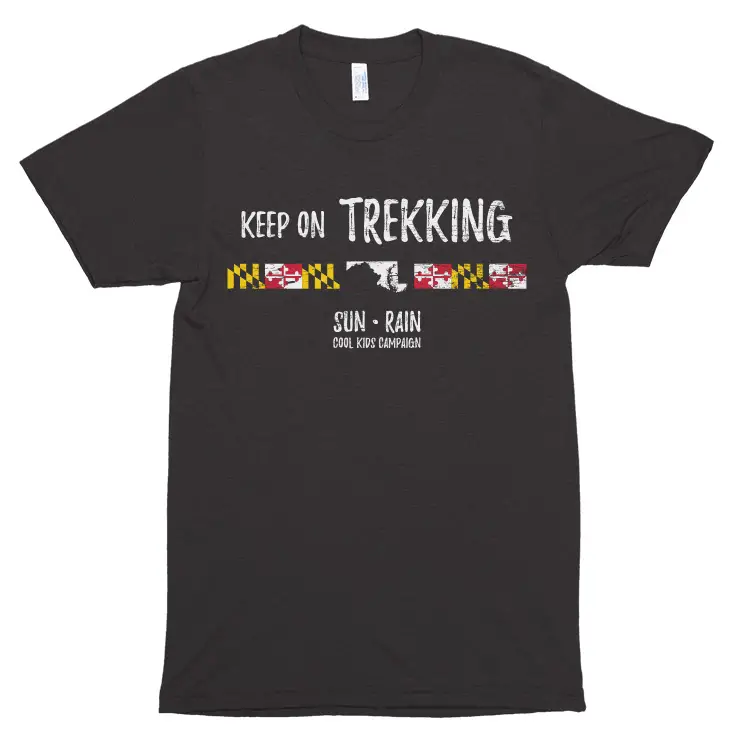 Please share your thoughts, best weather pics/video, or just keep in touch via social media
Get the award winning Kid Weather App I made with my oldest son and support our love for science, weather, and technology. Our 3 year anniversary of the release and our contribution to STEM education is this November. It has been downloaded in 60 countries, and works in both temperature scales. With your support we can expand on the fun introduction to science and real weather.