Tuesday September 5
Do you remember when I when I wrote about Hurricane Irma over the weekend and showed High Pressure off of New England that would play a role in it hitting the east coast or curving out to sea? Yeah, well that's not happening. It's been a lost option for a few days. However, that same High Pressure could still play a role in directing it, just from the other side.  I have seen some narrowing down of a more likely track this weekend when Irma inevitably reaches the mainland US. Here are my brief thoughts this evening.
UPDATE:
After a day of holding on the track I show here, the overnight models shafted back thanks to Irma speeding up and the early arrival of our cold front. Please see my next post here
With winds of 185 mph, Hurricane Irma is a rare breed of storm and there is a simple explanation as to why the track has been adjusting. Then again, I did write (and often do) that long range storm forecasting is not a lock and likely to change. There are too many variables of speed, intensity, and interaction with other elements to go out beyond 5 days. But that time frame does now put it in the target for US landfall and that track is showing a more consistency.
Note that the pressure in the last Air Force recon mission I saw was up a little but there will some variable and an eye wall replacement cycle due in the next day or two.
Large Size:
Hurricane Force Winds: Extend 60 miles form the center
Tropical Storm Force Winds: Extend 175 miles from the center
The eye is 40 miles wide and symmetrical.
Great 'stadium effect' on satellite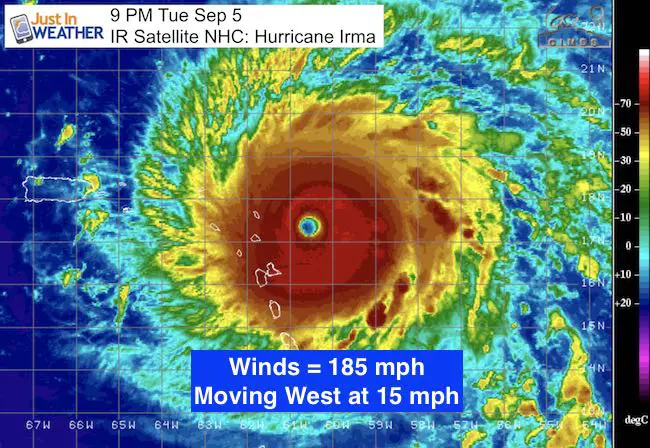 SUMMARY OF 800 PM AST…0000 UTC…INFORMATION
———————————————-
LOCATION…17.2N 60.5W
ABOUT 85 MI…140 KM E OF ANTIGUA
ABOUT 90 MI…145 KM ESE OF BARBUDA
MAXIMUM SUSTAINED WINDS…185 MPH…295 KM/H
PRESENT MOVEMENT…W OR 280 DEGREES AT 15 MPH…24 KM/H
MINIMUM CENTRAL PRESSURE…916 MB…27.05 INCHES
Forecast Trend
Skipping past the destruction through the Turks and Caicos Islands and souther Bahamas… The interest for the US lies in south Florida. The trend holding over the last day as been this clipping of Cuba and turning towards Key West. Here is the HWRF Model for 7 AM Sunday showing landfall in the Keys.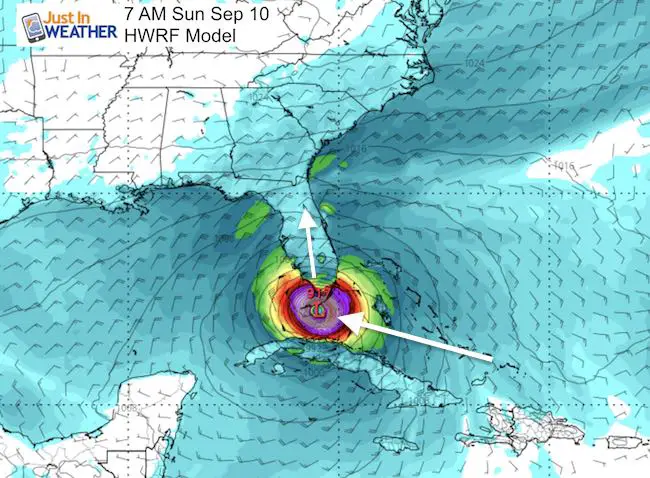 Animation
This shows the storm holding that southern track. That is what is allowing this to miss the turn up the east coast and aim for southern Florida and then up the entire state when it does turn.
European Model
I am switching to the ECMWF Model to illustrate the influence of Mid Latitude elements. For simplicity I am just showing the surface features, but there is a large wave pattern in the jet stream that is expected to dig a trough along the eastern US that will pick up Irma and make the turn north.  This Euro Model shows the impact on south Florida, but notice the time of 7 AM Mon Sep 11. This is a day later than the HWRF. Either the timing is off or the storm will be nearly stalled as it makes that turn over the weekend.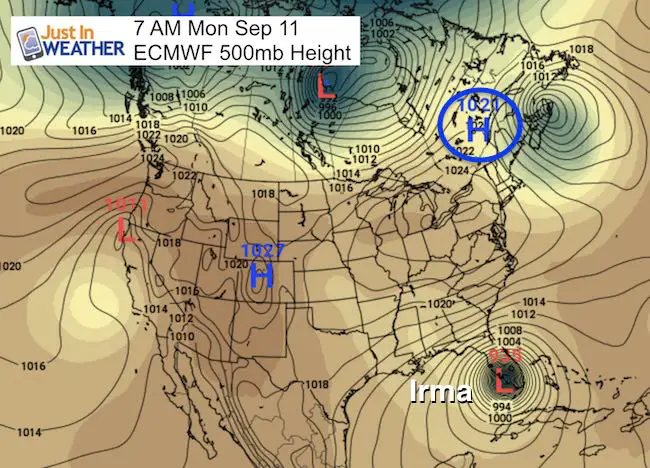 Fast forward a full day to 7 AM Tuesday September 12. This is where that High Pressure off of New England comes into play. Irma was allowed to stay farther south and slip underneath the ridge… now coming up the other side. The High may determine if Irma stays inland and spins itself out… while tracking through our region and northward.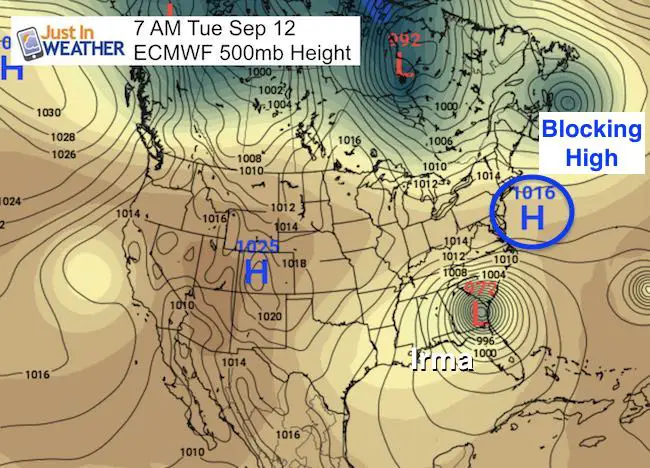 Forecast Track?
The long range modeling does vary and considering the adjustment already, it is a fruitless game to try and pin that pony down now.
Here is the spaghetti plot this evening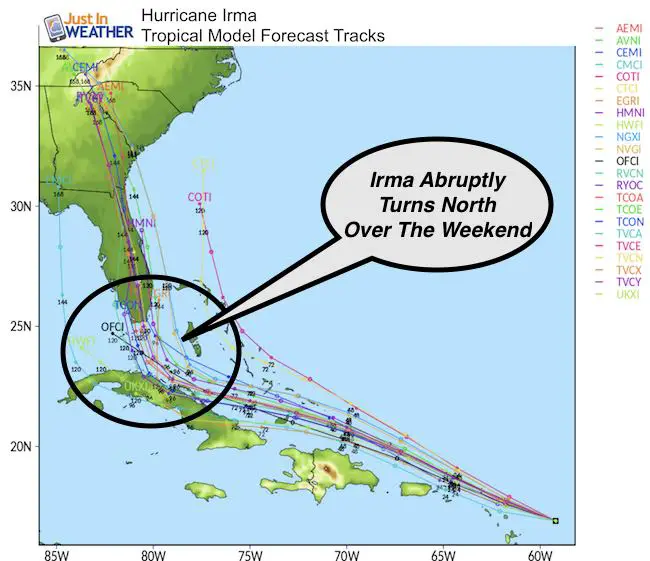 Intensity
Irma is likely to hold its own for a while, but eventually get a little torn by the islands and some sheer entering the Florida Straights. Still a formidable Cat 4 with the wave memory of this monster will bring devastation that is hard to imagine now. It will be beyond bad and sad along the path. Note that 120 hours is about the time it makes the turn into Florida.
SUMMARY OF WATCHES AND WARNINGS IN EFFECT:
Note- This track from the National Hurricane Center is staying along that track from the HWRF and turning the corner towards Key West, not Miami or the east coast.
A Hurricane Warning is in effect for…
* Antigua, Barbuda, Anguilla, Montserrat, St. Kitts, and Nevis
* Saba, St. Eustatius, and Sint Maarten
* Saint Martin and Saint Barthelemy
* British Virgin Islands
* U.S. Virgin Islands
* Puerto Rico, Vieques, and Culebra
* Dominican Republic from Cabo Engano to the northern border with
Haiti
A Hurricane Watch is in effect for…
* Guadeloupe
* Haiti from the northern border with the Dominican Republic to Le
Mole St. Nicholas
* Turks and Caicos Islands
* Southeastern Bahamas
* Cuba from Matanzas province eastward to Guantanamo province
A Tropical Storm Warning is in effect for…
* Guadeloupe
* Dominica
* Dominican Republic from south of Cabo Engano westward to the
southern border with Haiti
A Tropical Storm Watch is in effect for…
* Haiti from south of Le Mole St. Nicholas to Port-Au-Prince
Keep on Trekking
Continue to be part of our Maryland Trek and Support Cool Kids Campaign. This was our best event yet and we want the message to carry throughout the year.
Proceeds go to programs that help children and their families ensuring cancer treatment.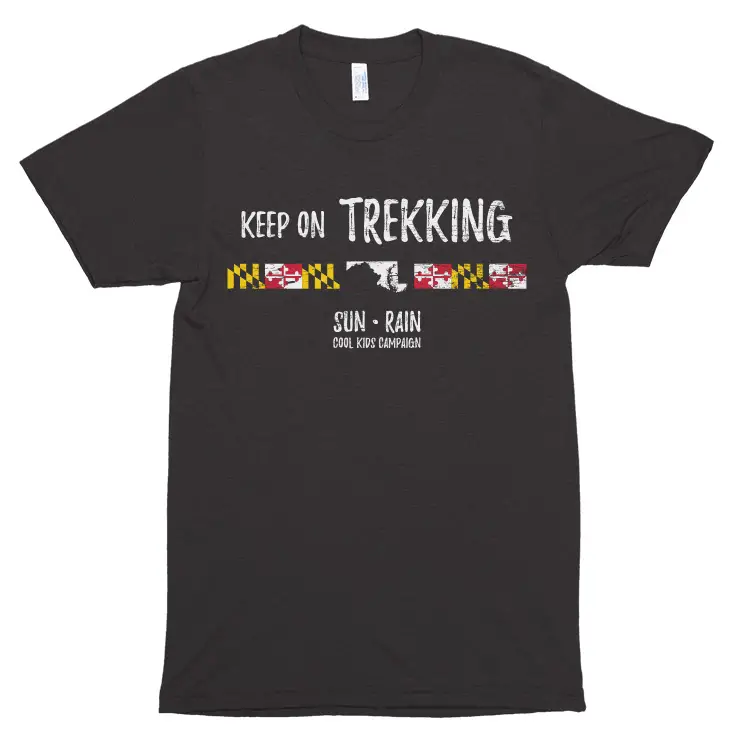 Please share your thoughts, best weather pics/video, or just keep in touch via social media
Get the award winning Kid Weather App I made with my oldest son and support our love for science, weather, and technology. Our 3 year anniversary of the release and our contribution to STEM education is this November. It has been downloaded in 60 countries, and works in both temperature scales. With your support we can expand on the fun introduction to science and real weather.