Monday September 4
Hurricane Irma now has winds of 130 mph and is classified as a Category 4. This is as strong as Harvey had become before landfall on Texas. It looks strong and will hold steady or show some additional growth as it grazes the northern Caribbean Islands. Irma is still over the open ocean weather in the Atlantic and is appearing to hang on a track farther south. That is important for the immediate impact on the Caribbean Islands, passing Puerto Rico on Wednesday. The long range places it more of a threat to southern Florida by Saturday. Then riding into South Carolina. This would still be devastating to the coast but concentrate the damage across the Southeast US. It would still bring potential issues of high water and rain bands into our region. See the animations and notes below.
Track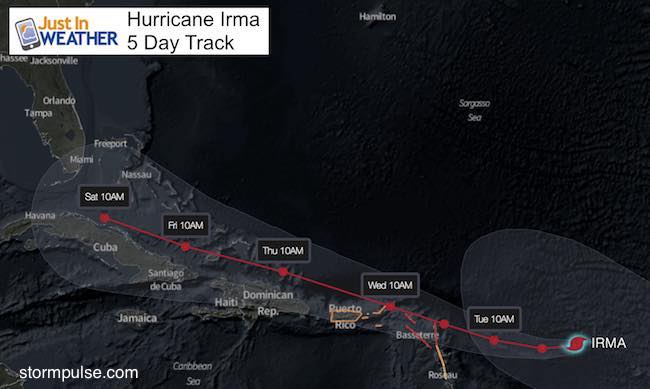 The short range forecast over the next 3 to 5 days does show an influence on the northern Caribbean Islands. As a result, Hurricane Watches have been issued. At this time the storm is expected to pass to their north, but a direct hit on the Bahamas will lead to serious problems before any threat to the mainland US.
SUMMARY OF WATCHES AND WARNINGS IN EFFECT:
A Hurricane Warning is in effect for…
* Antigua, Barbuda, Anguilla, Montserrat, St. Kitts, and Nevis
* Saba, St. Eustatius, and Sint Maarten
* Saint Martin and Saint Barthelemy
A Hurricane Watch is in effect for…
* Guadeloupe
* British Virgin Islands
* U.S. Virgin Islands
* Puerto Rico, Vieques, and Culebra
A Tropical Storm Warning is in effect for…
* Guadeloupe
A Tropical Storm Watch is in effect for…
* Dominica
Intensity
Model Tracks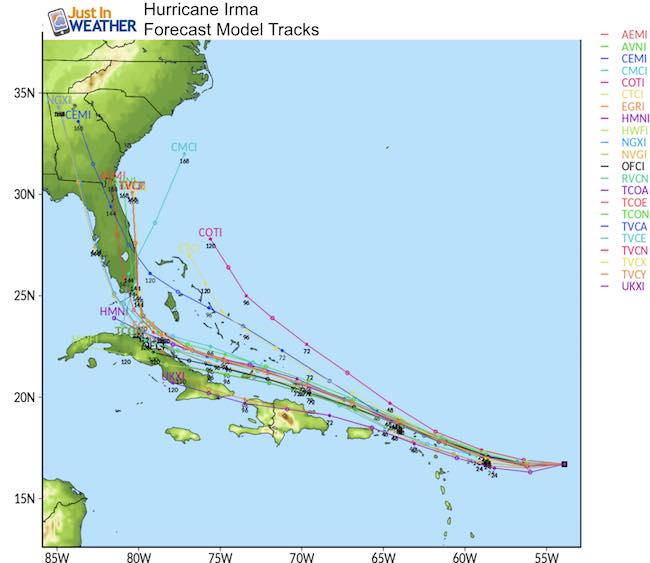 Big difference still on Tuesday Sep 12
I hope you have been watching this with me for the past few days. The main reason I do not hop on any hype is the variation of variables that can change the long range track dramatically. This time the European shows the slower and southern track shifting up the Florida coast and then into South Carolina. The GFS model shows a similar impact that could be devastating Miami and up the coast, as it hugs the shoreline all the way into SC.
*This is now very different that Isabel in relation to our region… but scary for what it will do wherever it does end up.
See the still plot for 7 AM Tue Sep 12 below….
Model Animations
European Model stays south and then shows an abrupt push north and a second hit in South Carolina. 
---
The GFS Model stays father north and a little faster, allowing this to curve sooner out to seas and miss the eastern US 
Comparing 7 AM Tuesday Sep 12
I am still using this time frame for reference to the prior posts.


National Hurricane Center Track
The next 3 to 5 days is the high confidence part of this forecast. Reminder that this is on the south side of the prior forecast cone showing a path along northern Cuba and south of the Bahamas now. The abrupt turn north towards Florida would be on Day 6.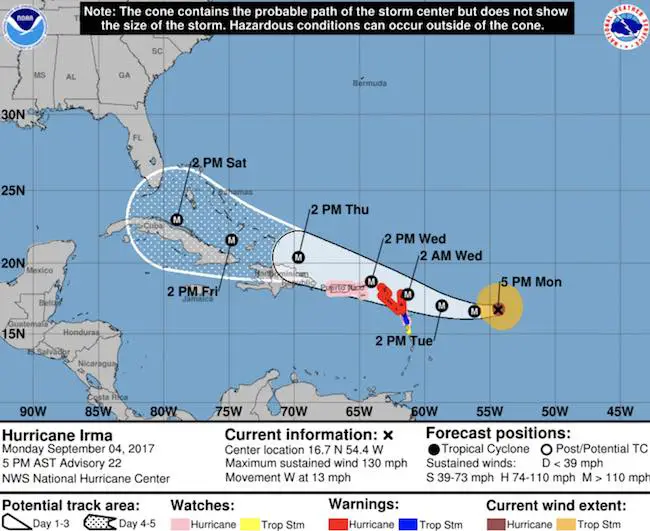 Keep on Trekking
Continue to be part of our Maryland Trek and Support Cool Kids Campaign. This was our best event yet and we want the message to carry throughout the year.
Proceeds go to programs that help children and their families ensuring cancer treatment.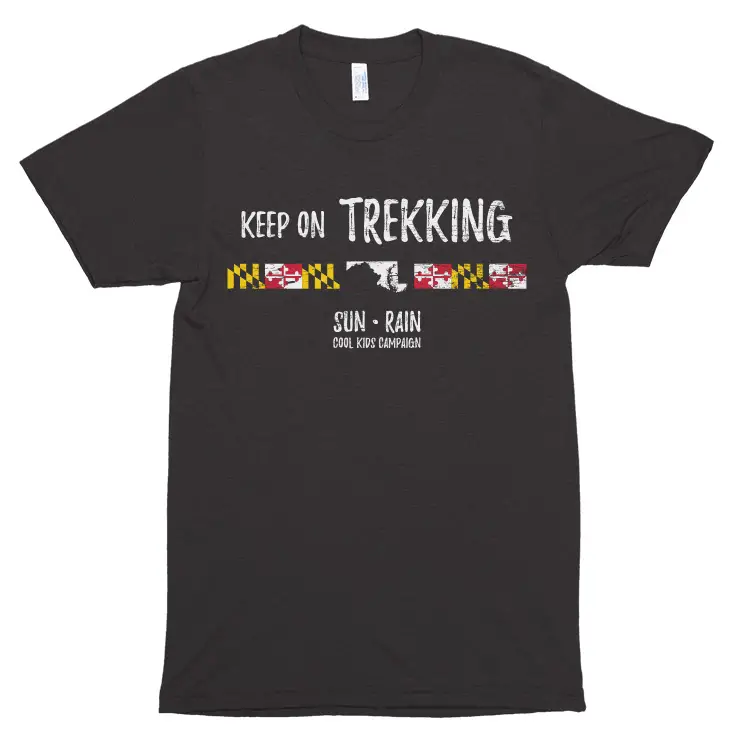 Please share your thoughts, best weather pics/video, or just keep in touch via social media
Get the award winning Kid Weather App I made with my oldest son and support our love for science, weather, and technology. Our 3 year anniversary of the release and our contribution to STEM education is this November. It has been downloaded in 60 countries, and works in both temperature scales. With your support we can expand on the fun introduction to science and real weather.