Saturday April 22 – Today is Earth Day and we will be reminded around every corner. Do you know the song by The Guess Who: No Sugar Tonight/New Mother Nature? I keep hearing that line, "A New Mother Nature taking over". Then I hear my mother's voice telling me that it is a woman's prerogative to change her mind.  Well, my parents are in town this weekend to watch both of my boys play baseball…. and the first game got rained out last night. In fact we were on the edge of a storm what gave our field light rain, but the last 30 seconds dumped a downpour that flooded the field and cancelled the game.  So I am not happy about how things are turning out. Sadly, my other son's game tonight under the lights may fall victim to the soggy field from today's rain.
At this point, I share your frustration. I am sorry too. I had many questions about weekend events, including the boom of outdoor wedding season. But it may work in your favor if Sunday morning was your concern. My forecast WAS locked in on rain tonight and Sunday morning… But now it looks like the reverse. Rain much of today with a break tonight…then the rain returning Sunday afternoon and evening.
How Does This Happen?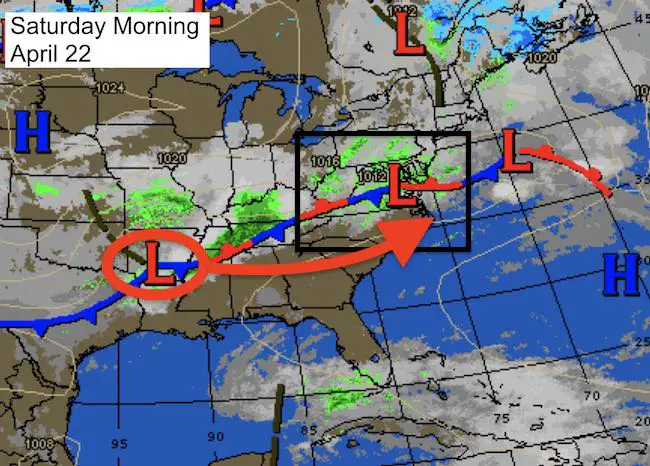 Blame a stalled front and a larger storm. The timing of our rain is linked to where the front lies. A larger storm to our southwest is in part responsible for sending waves of energy along the front and basically changed where it ended up. The front will slide south tonight, but. more organized Low Pressure will slow the entire system down as it sends steady rain back our way later Sunday into Monday.
Here is the best bet of how the rain will play out. I broke down two sliders for Saturday and Sunday with the NAM 3Km Model displaying what I think is the consensus of how the precipitation will move. Please note that this is just guidance for the overall rain bands… not precise. So allow for some wiggle room for the heavier cells.
—> sliders: Simulated Radar
Saturday
[metaslider id=46805]
Sunday
Steady rain is most likely Sunday night into Monday.
[metaslider id=46836]
Also see: Hail from Friday's Storm
Soggy Few Days
Depending on the location of the front, some areas could get between 2 and 5 inches of rain… But this is likely where the rain is persistent, without a break.

Storm Smart: My STEM Assembly Program
Click here to see the details and how this educational program is also a fundraiser for schools. We can start scheduling for May now.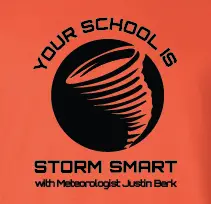 Get the award winning Kid Weather App I made with my oldest son and support our love for science, weather, and technology. Our 3 year anniversary of the release and our contribution to STEM education is this November. It has been downloaded in 60 countries, and works in both temperature scales. With your support we can expand on the fun introduction to science and real weather.
Please share your thoughts, best weather pics/video, or just keep in touch via social media
Faith in the Flakes
The store is closing for the season. Next week we wil be shifting back to spring mode. This will include a severe weather STEM assembly program.
Sign up for email updates on new posts

Since you may miss some posts via social media, click here for email alerts as a way to make sure you don't miss any.  *You may have to refresh that page once for your browser to clear out the images.

 Also See: