Sunday April 23 – The weather this morning has cleared out for central Maryland, Delaware and into southern Pennsylvania. How could this be the exact opposite of how it looked just two days ago… The weekend was supposed to be more wet Saturday night into Sunday morning. Get out and enjoy it now… There is a chance the rain makes a move back into the southern half (south of Rt 50) by later this afternoon and evening.
I hope you saw my update yesterday adjusting for that… but WHY? Well, it all comes down to the storm in the south that essentially slowed down. This crawling system is producing beneficial rain in the Deep South, but also shifted a little farther south, thanks to the High Pressure in Pennsylvania this morning.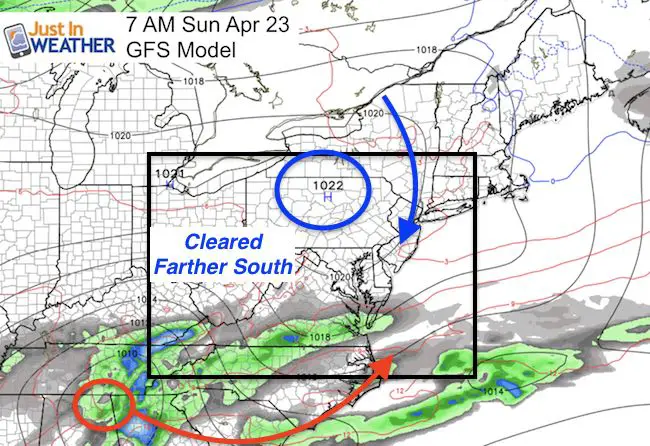 This storm is going to try and move back north. Check out the Water Vapor satellite loop this morning. The moisture flow does suggest a push back north today… in fact look in the bottom/middle part of the screen here. That is Low Pressure appearing to move back north to Tennessee and Kentucky.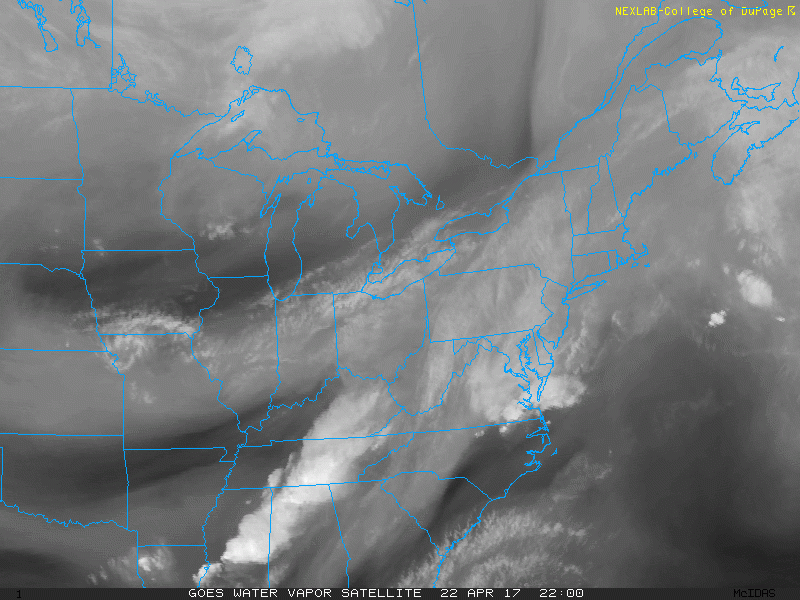 According to the NAM 3Km Model, the rain will reach back toward Washington DC by 5 PM and spread north overnight… making for a wet Monday.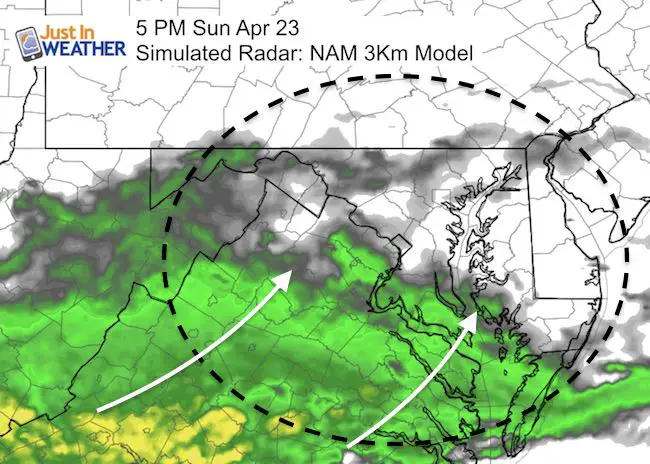 I support this notion! I am leaning on the side of Monday being cool and wet. However, the trusty GFS Model is being stubborn and holding off the storm another day. I show this because this was the model that first showed today being dry when I didn't believe it. *Yes, I am OK pointing out my mistakes and why I want to show you what this model is doing now….
—-> slider GFS Model
Slower return of the storm
[metaslider id=46865]
*Notice the rain in this model projection does not return until Monday night.  even then the storm impact on us does not look impressive.
Now back to the NAM 3Km Model. Here is Monday morning…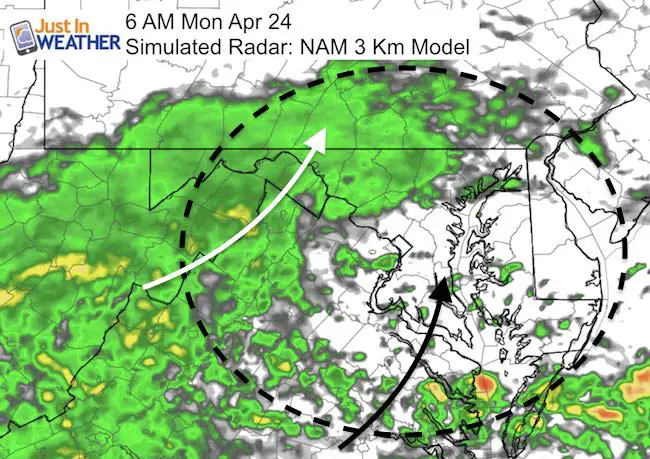 Rainfall Outlook
Notice the sharp cut off of rainfall and how close that line is to Baltimore…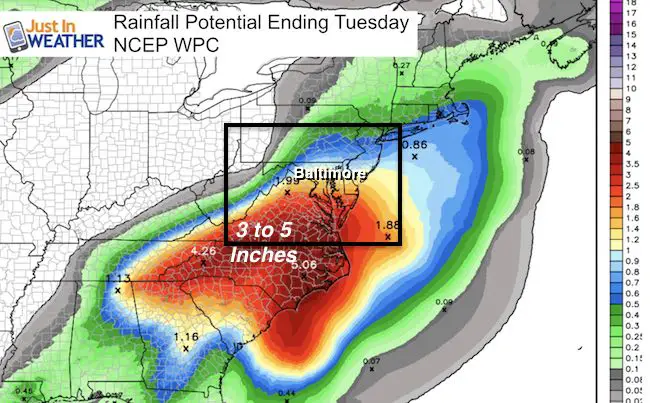 Temperature Outlook
I still see the potential to push the upper 80s to near 90F at the end of the week
Storm Smart: My STEM Assembly Program
Click here to see the details and how this educational program is also a fundraiser for schools. We can start scheduling for May now.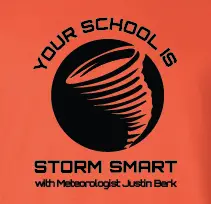 Get the award winning Kid Weather App I made with my oldest son and support our love for science, weather, and technology. Our 3 year anniversary of the release and our contribution to STEM education is this November. It has been downloaded in 60 countries, and works in both temperature scales. With your support we can expand on the fun introduction to science and real weather.
Please share your thoughts, best weather pics/video, or just keep in touch via social media
Faith in the Flakes
The store is closing for the season. Next week we wil be shifting back to spring mode. This will include a severe weather STEM assembly program.
Sign up for email updates on new posts

Since you may miss some posts via social media, click here for email alerts as a way to make sure you don't miss any.  *You may have to refresh that page once for your browser to clear out the images.

 Also See: