Friday April 21 – Yesterday The National Hurricane Center named the first tropical storm of the season in the north Atlantic. Arlene was never any threat to land and while over colder waters, the purity of its tropical characteristics can be questioned…. But it did reach a peak of 50 mph winds. In fact the winds are that strong this afternoon, but it is now 'Post' Tropical Storm status because it is getting caught up with a cold core upper level Low and losing its integrity. Yes, this is pretty early for a named tropical system. June 1st is the official start of the season in the Atlantic, but early named storms do not indicate how the rest of the season will go.
Earliest named storms:
1938: Hurricane (unnamed) January 3-6 –  Reached Category 1. Located in the Eastern Atlantic Ocean
1954: Subtropical Depression – January 27-28. Winds 35 mph. Located in the Central Atlantic Ocean
1955: Hurricane Alice- Formed on December 30 1954, lasted until January 7 1955. Winds topped at 80 mph. Located in the Lesser Antilles.
In Satellite Era
1978: A subtropical storm developed on January 18 and dissipated five days later on the 23rd. It was a central Atlantic system drifting west. Not the same as this.
2005-2006: At the end of the record 2005 season, Subtropical Storm Zeta formed on December 30, 2005 and lasted until January 6th 2006. The longest surviving subtropical storm in the Atlantic in any January.
2016 – Hurricane Alex: Formed On January 15. Became a hurricane on the 16th with 85 mph winds.
See more: Hurricane Alex
History of naming Tropical Storms and Hurricanes
Tropical Storm Formation By Date: Maps For 10 day periods starting in May
Below is a look at the water vapor satellite loop (look on the right side). The larger circulation may look more impressive. After seeing that, scroll down and see how this region wil help give flip the luck and give rise to a summer pattern for us next week.
Satellite Loop: Post Tropical Storm Arlene
Are You Ready For Summer?
—> slider Jet Stream Shows Heat Ridge On East Coast
[metaslider id=46767]
Temperature Outlook
As I have mentioned often, this product tends to underestimate warming periods. So I see a good chance that if this pattern does develop temperatures have a chance of reaching the 90s next Thursday and Friday.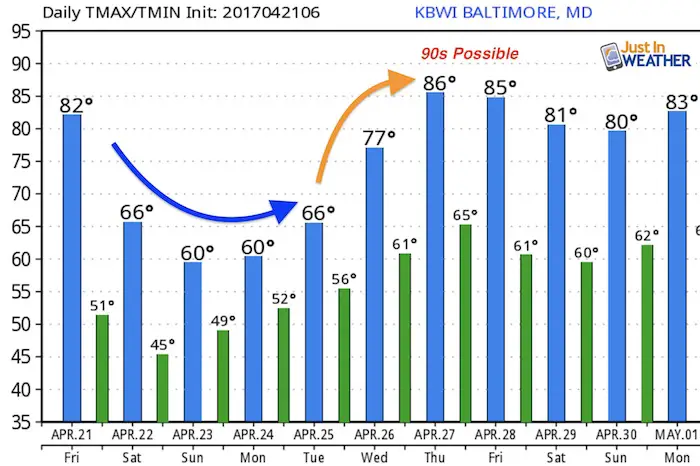 NOAA CATCHING ON
Here is their temperature outlook for next week. This map is NOT how much above normal the temps will be, but rather the odds of being 'average'.
Storm Smart: My STEM Assembly Program
Click here to see the details and how this educational program is also a fundraiser for schools. We can start scheduling for May now.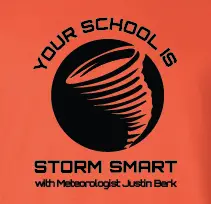 Get the award winning Kid Weather App I made with my oldest son and support our love for science, weather, and technology. Our 3 year anniversary of the release and our contribution to STEM education is this November. It has been downloaded in 60 countries, and works in both temperature scales. With your support we can expand on the fun introduction to science and real weather.
Please share your thoughts, best weather pics/video, or just keep in touch via social media
Faith in the Flakes
The store is closing for the season. Next week we wil be shifting back to spring mode. This will include a severe weather STEM assembly program.
Sign up for email updates on new posts

Since you may miss some posts via social media, click here for email alerts as a way to make sure you don't miss any.  *You may have to refresh that page once for your browser to clear out the images.

 Also See: