Wednesday January 11, 2017 – Hope and Faith may be one of the same, and now my 'flake' has new meaning that goes well beyond snow.  Faith in the Flakes has been something I was saying to my oldest some for nearly eight years. It was after we missed a storm, but I wanted him to believe it would snow again soon.  It did. This turned into a mantra for many of us winter lovers in the Mid Atlantic.  For kids, and many teachers, believing in snow is a top priority in the winter. It could be day off of school, or just the beauty and fun. But for Bellows Springs in Columbia – Howard County,  MD… they put all their 'faith' and HOPE in a very special person.
Sandy Eastridge is a reading specialist at Bellows Springs, and self proclaimed open book. I like that.   Two years ago, she was diagnosed with liver cancer. No one likes that!  Hepatocellular Carcinoma and Cholangiocarcinoma actuyally. Two types of liver cancer. Her tumor is inoperable, so she has been going through extensive treatment at Johns Hopkins.
Jessica Westendorf, a fellow teacher at the school,  contacted me with an idea of a way to honor and support her Sandy.  Throughout this process, she has inspired the staff of her school with her amazingly positive attitude. To show their support and admiration of Sandy, who is an avid snow lover, they all wanted to make a special Faith in the Flakes shirt for 100 faculty members.  Needless to say, I was honored by the request.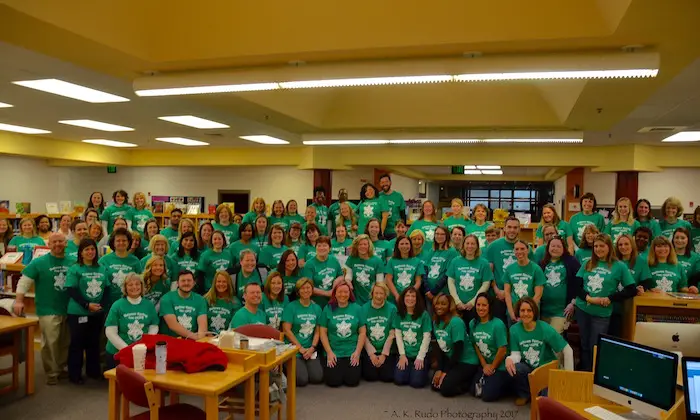 Today, Jessica fabricated a false meeting to trick Sandy. She organized the entire faculty to wear their special FITF shirts and gave Sandy a surprise that she never expected. It worked! I was a little late due to my kids having a school delay for ice. When I arrived this morning, I was nearly brought to tears by the love and support this large family showed her. Being part of this was one of the greatest honors.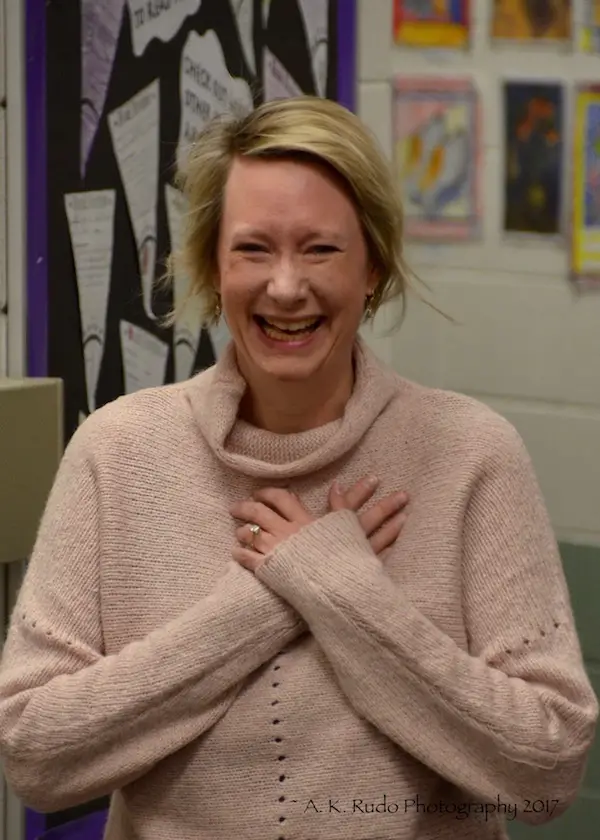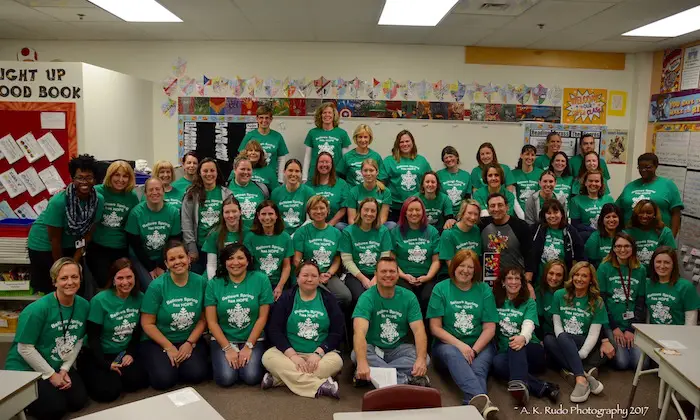 I have been to over 140 schools in the past year delivering FITF shirts to faculty all over Maryland. I enjoy telling people that I know when I walk in the doors what kind of school it is. When the faculty are friendly, and almost like family, it shows. That atmosphere is great for the kids to learn! I taught in college for a decade, and have done assemblies all of my career. Both my parents were teachers. I've seen it work! That environment can also be as good as any medicine. I believe it.
After spending some time with Sandy I can say her smile and attitude is infectious. I completely understand why there is this outpouring of support for her.
Sandy's tumor is shrinking! She said her last test had the largest drop so far, and she feels good.
This Emerald Green shirt signifies Liver Cancer. My snowflake is for Faith. What I saw and was blessed to be part of today is HOPE! It's love. It's support. It was amazing and possibly could be the reason Sandy defies the odds to control and maybe defeat this cancer.
The FITF shirts with school names have been connected to a STEM assembly and fundraiser for the PTO/PTA. With these shirts, $300 was raised for charity instead. I will be matching it. So, $600 is on the way to  American Cancer Society on behalf of Sandy Eastridge.
If anyone deserves a miracle, it is this woman and all of her family at Bellows Springs. Thank you so much for including me in such a wonderful display of humanity.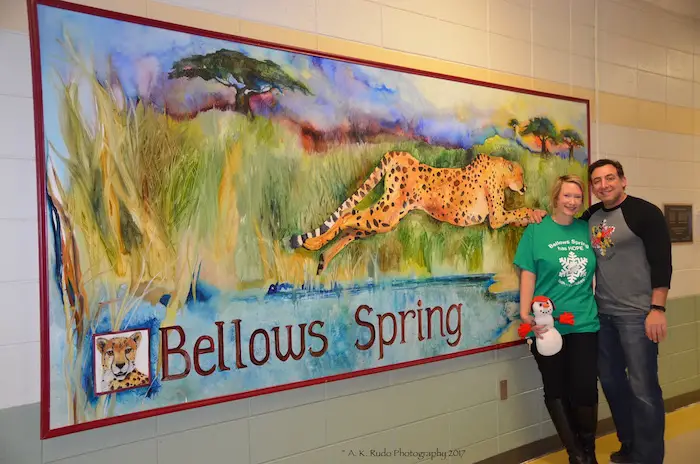 Note: The back of all spirit shirts has our infamous Pre-Snowfall Ritual Checklist
PJs inside outspoon under the pillow
White crayon/chalk on window
Flushing ice cubes
Snow dance
…The last item is most important:
Do all of your homework!
Here I am with Sandy and Jessica (pink hair). Thank you. Thank you. THANK YOU!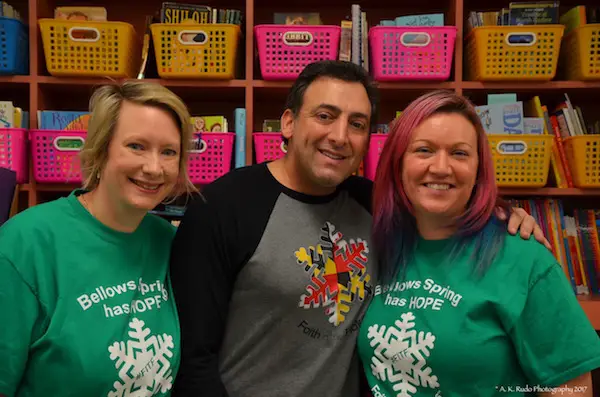 Please share your thoughts, best weather pics/video, or just keep in touch via social media
Faith in the Flakes Online- Flannel PJs Printed Inside Out
Store Now Open
We've added Flannel PJ Pants that will be printed inside out. They have to be, to make it snow ?
Free Personal Delivery for orders of 20 items or more to schools and businesses.
Click this image for the online store.
Look for more items to be added soon.
Also see the info for the STEM Assembly Spirit Wear program:  Put your school name on the shirts and raise money for you PTO/PTA in the process.
FITF SNOW STICKS
Available in 2 Ft, 30 Inches, and 3 Ft Sizes. Also with Orange/Black or Purple/Black. Click on the image to see the options offered by my friend Thatcher at Signs By Tomorrow in Timonium.
Go to http://www.signsbytomorrow.com/timonium/ to order yours today! Click the 'Request a Quote' button at the top of the page. In comment box include color, size and payment information. Please indicate whether you'd like to have us UPS ship them to you or if you would like to pick up in our store. Snow Sticks will ship or will be ready for pick up in our store 48 hrs after order is placed, Mon-Fri.
Sign up for email updates on new posts
Since you may miss some posts via social media, click here for email alerts as a way to make sure you don't miss any.  *You may have to refresh that page once for your browser to clear out the images.
Get the award winning Kid Weather App I made with my oldest son and support our love for science, weather, and technology. Our 3 year anniversary of the release and our contribution to STEM education is this November. It has been downloaded in 60 countries, and works in both temperature scales. With your support we can expand on the fun introduction to science and real weather.
Also See:
My Winter Outlook for 2016-2017: Colder with snow spread out more
NOAA Winter Outlook for 2016 to 2017
La Nina Formed: What it could mean to our winter
Farmers Almanacs Split On Cold And Snow
Extreme Weather of 2015 balanced out on both ends
Low Snow Winters In Baltimore: Records Might Surprise You
NOAA Ranks Blizzard 2016 4th Worst Snowstorm On Record