October 5, 2107
Sometimes we get what we don't expect and your plans get turned upside down.  As a meteorologist I am well aware that in the winter a snow forecast can be a bust. In life, a cancer diagnosis can bust your future and spirit.  My mother Linda had to deal with that multiple times and proved directly what she taught me my whole life: Deal with every challenge head on and own it!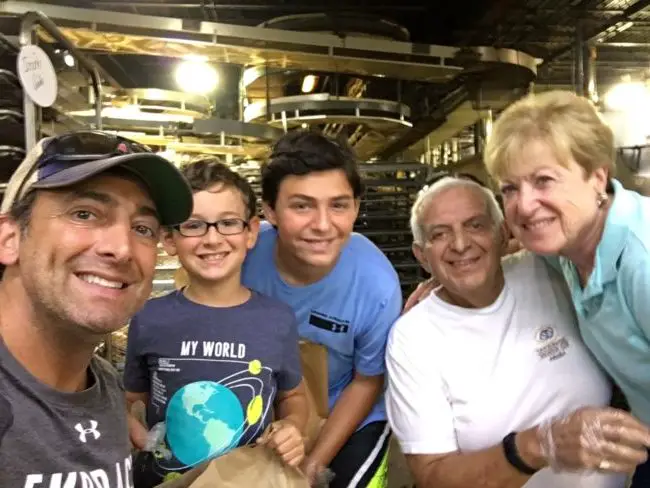 That is why I wanted to take what I know to honor the matriarch of my family. Linda Berk has been the rock for all of us. She is a 3-time breast cancer survivor. She met each surgery and treatment with strength and a sense of humor. In fact, after  her last diagnosis, she had a double mastectomy. Two weeks later, she went bowling with my kids… 10-pin!  With a real real ball! She didn't want my kids, let alone anyone else to know that she was in pain. In the process, she has shown us many times over that nothing was going to stop her! There was nothing that was going to bust her spirit.
Trust in this Bust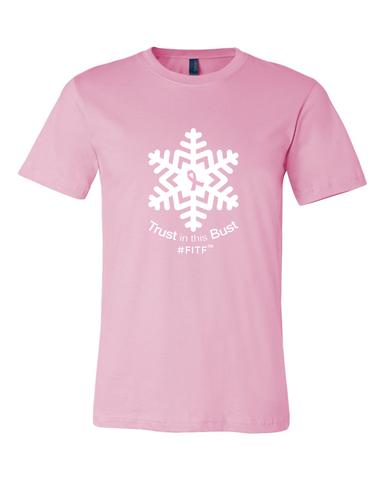 I made this shirt design in my mothers honor… Please join me in honoring her as proceeds will be donated in her name to breast cancer awareness and research through BCRF. The Breast Cancer Research Foundation donated 88% of funds to research and 3% to awareness. That is a total of 91% of all money, which gives them the highest A+ rating!
You will have this soft Bella shirt to show off your love of snow, or twist the notion of a 'busted' forecast to a Bust and the heart beneath it that has strength. If that helps me this winter at some point, it will be the gift that keeps on giving 🙂
Click this link to get this limited edition shirt
Positive Spin:
With breast cancer, believing in the best possible outcome is as important as any procedure or medication. Personal strength tied in with support and love is critical in helping win the fight to save your bust!
Perhaps you noticed the multiple meanings to show your support.  It is a little early for snow, but Faith in the Flakes was carrying that idea of focusing on something I love and believing the best will happen. A true metaphor for life.
Love snow and pink
Faith in the Flakes* doesn't fade even if a storm fails to materialize. We believe we will get the next one.
Trust in this Bust – Strength in striving breast cancer and your heart that beats beneath it. Because whether you have cancer or support someone who is fighting the battle, trust in them to survive.
Please share your thoughts, best weather pics/video, or just keep in touch via social media
Get the award winning Kid Weather App I made with my oldest son and support our love for science, weather, and technology. Our 3 year anniversary of the release and our contribution to STEM education is this November. It has been downloaded in 60 countries, and works in both temperature scales. With your support we can expand on the fun introduction to science and real weather.