January 3 – Legendary snow is forecast over the next week of epic proportions… for the western US. The infamous Pineapple Express is setting up where a series of storms well beyond Hawaii will bombard California and slam into the Sierra Nevada Mountains. The amount of moisture projected in this image from NCEP (NOAA's National Center for Environmental Prediction) accounts for multiple models and puts out over 24 inches of liquid equivalent precipitation over the high Sierra during the next 7 days. If you extrapolate a standard 10:1 ration, the would be over 240 inches of snow equalling over 20 feet for the highest elevations! Talk about Faith in the Flakes!  It should be noted that the towns and passes at lower elevations might cut those amounts in half… which is still impressive. FITF* Meanwhile here in the Mid Atlantic we are trying to buy a snowflake…
Note that Truckee, CA on the north side of Lake Tahoe for Example, the elevation is 5,812 Ft above sea level. Over a mile high! The Sierra-Nevada range has 120 peaks over 13,000 Ft.  Many reach over 14,000 Ft.  Near Lone Pine, CA Mount Whitney the highest peak in the continuous US at 14,505 Ft. That elevation helps enhance storms precipitation. Plus the temperatures drop 3.3F per 1000 Ft in a storm. It can be 30 degrees colder on the peaks than at the mile high mountain pass of Truckee.
See the weather maps below. But first, a little historical comparison.
This is Donner Party type conditions. That was in 1846-47 when snow stranded a group of travelers and some, but not all resorted to cannibalism to remain alive. Crippling snow, but we'd like to think preparation and modern technology would avoid a repeat of that.  The snow overload could have drought busting results as well with long lasting snowpack the region desperately needs.
The top snowfall in the Truckee-Tahoe region began in late January, 1938. That time, 12 feet of snow fell in less than one week.  Then a series of events led to 17 feet of snow in 16 days. San Francisco newspapers wrote stories about another Donner Party with rumors of starvation due to lack of supplies.  That wasn't true.  Donner Summit was under 20 feet of snow by Valentine's Day. By May that year, 819 inches had fallen on Donner Pass. That is 68.25 Ft and their top seasonal snowfall even to this day.
Other Snowy winters in this regions include:
2) 1952 = 67.7 Ft
3) 1880 = 65.25 Ft
4) 1980 = 64.67 Ft
5) 1895 = 42 Ft
Epic Weather Pattern: Pineapple Express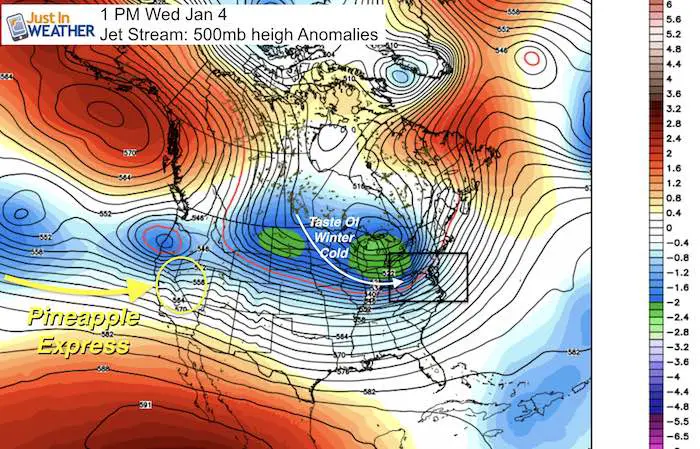 Storm Track: GFS Model —> slider Every 12 hours
[metaslider id=41978]
Total Snowfall….
Note that computer modeling is not designed to handle these amounts. Also, compression from the weight of the heavy snow piling up would make the actually depth less than the total that fell. We experienced that in the 2010 blizzards when NWS lowered the snowstorm total. That was related to NWS measuring requirements differing from the FAA at BWI airport.
Even Our Largest Snow Stick Would Get Lost….
FITF SNOW STICKS
Available in 2 Ft, 30 Inches, and 3 Ft Sizes. Also with Orange/Black or Purple/Black. Click on the image to see the options offered by my friend Thatcher at Signs By Tomorrow in Timonium.
Go to http://www.signsbytomorrow.com/timonium/ to order yours today! Click the 'Request a Quote' button at the top of the page. In comment box include color, size and payment information. Please indicate whether you'd like to have us UPS ship them to you or if you would like to pick up in our store. Snow Sticks will ship or will be ready for pick up in our store 48 hrs after order is placed, Mon-Fri.
Please share your thoughts, best weather pics/video, or just keep in touch via social media
Get the award winning Kid Weather App I made with my oldest son and support our love for science, weather, and technology. Our 3 year anniversary of the release and our contribution to STEM education is this November. It has been downloaded in 60 countries, and works in both temperature scales. With your support we can expand on the fun introduction to science and real weather.
Sign up for email updates on new posts
Since you may miss some posts via social media, click here for email alerts as a way to make sure you don't miss any.  *You may have to refresh that page once for your browser to clear out the images.
Also See:
My Winter Outlook for 2016-2017: Colder with snow spread out more
NOAA Winter Outlook for 2016 to 2017
La Nina Formed: What it could mean to our winter
Farmers Almanacs Split On Cold And Snow
Extreme Weather of 2015 balanced out on both ends
Low Snow Winters In Baltimore: Records Might Surprise You
NOAA Ranks Blizzard 2016 4th Worst Snowstorm On Record