Friday December 16 – The National Weather Service has issued a Freezing Rain Advisory that includes Maryland's lower Eastern Shore of Dorchester and Wicomico Counties. Cambridge and Salisbury are impacted. Also central Virginia. The Winter Weather Advisory has been extended until 1 PM for the colder suburbs northwest of Baltimore. This includes northern Harford, northern Baltimore. Carroll, Frederick, Washington, and Allegheny Counties.  This is all supporting what I mentioned earlier about the cold air being slow to depart.
This split in the counties has been part of the new zone breakdowns from the National Weather Service that began in December 2014
See more about that topic here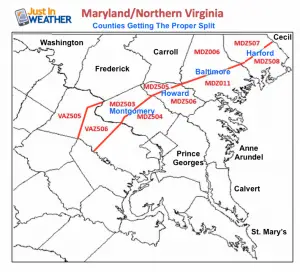 It is important to note again that the ground is frozen solid. Computer models forecast surface temperatures for weather stations at 6 Ft above the ground. Situations like this can still have rain above freezing falling on a ground that is still frozen, thus icing up. Also any ice that develops might linger longer. I can not tell how the roads will be since that depends on your local crews. But untreated roads, sidewalks, and parking lots will be slick.
More notes below slider
Here's the latest radar simulation from the HRRR Model. Please note this is a guide and not gospel. It does suggest a brief period of flurries or sleet around midnight passing north. But the main batch will be delayed until just before sunrise. It is possible we get snow and sleet sooner than shown here. The air is so dry that plenty of virga (sublimating/evaporating before reaching the ground. I am hedging my between on 3AM on…
Radar Simulation: HRRR Model —> slider
[metaslider id=41421]
Less snow
Still icy morning
Gradual thawing through noon, lasting longer north of Baltimore.
The later expiration for Maryland Counties does not mean it will thaw sooner in southern PA. I know it can confuse people who live or travel between these areas, but it is just the lack of coordination between NWS offices.
Faith in the Flakes Online- Flannel PJs Printed Inside Out
Store Now Open
We've added Flannel PJ Pants that will be printed inside out. They have to be, to make it snow ?
Free Personal Delivery for orders of 20 items or more to schools and businesses.
Click this image for the online store.
Look for more items to be added soon.
Also see the info for the STEM Assembly Spirit Wear program:  Put your school name on the shirts and raise money for you PTO/PTA in the process.
FITF SNOW STICKS
Available in 2 Ft, 30 Inches, and 3 Ft Sizes. Also with Orange/Black or Purple/Black. Click on the image to see the options offered by my friend Thatcher at Signs By Tomorrow in Timonium.
Go to http://www.signsbytomorrow.com/timonium/ to order yours today! Click the 'Request a Quote' button at the top of the page. In comment box include color, size and payment information. Please indicate whether you'd like to have us UPS ship them to you or if you would like to pick up in our store. Snow Sticks will ship or will be ready for pick up in our store 48 hrs after order is placed, Mon-Fri.
Please share your thoughts, best weather pics/video, or just keep in touch via social media
Get the award winning Kid Weather App I made with my oldest son and support our love for science, weather, and technology. Our 3 year anniversary of the release and our contribution to STEM education is this November. It has been downloaded in 60 countries, and works in both temperature scales. With your support we can expand on the fun introduction to science and real weather.
Also See:
My Winter Outlook for 2016-2017: Colder with snow spread out more
NOAA Winter Outlook for 2016 to 2017
La Nina Formed: What it could mean to our winter
Farmers Almanacs Split On Cold And Snow
Extreme Weather of 2015 balanced out on both ends
Low Snow Winters In Baltimore: Records Might Surprise You
NOAA Ranks Blizzard 2016 4th Worst Snowstorm On Record