Friday October 1
Welcome to a new month!  We begin October close to average weather. I have had many requests for ideas how to dress for rapidly changing temps. I have a simplified idea below.
This weekend, a retro feel of Late Summer. Next week will turn rainy.
Tropics still have Major Hurricane Sam even stronger plus Tropical Storm Victor. 
Video: Incredible view inside Hurricane Sam from the Ocean with 50 foot waves and 120 mph winds.
Morning Surface Weather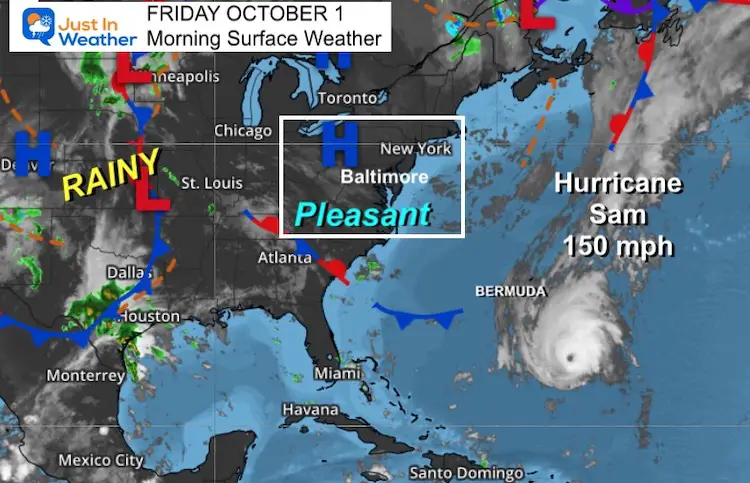 Morning Temperatures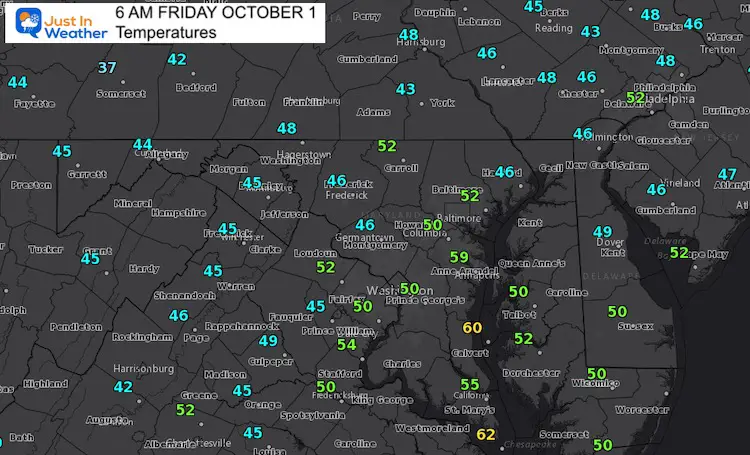 How to dress for October 1?
Morning: Light jacket or hoodie
Afternoon: T-shirt
Evening/Friday Night Football: Light jacket or hoodie
Temperature Trend Today
Animation: 7 AM to 9 PM
11Z Fri = 7 AM Fri
20Z FRi = 4 PM Fri
01Z Sat = 9 PM Fri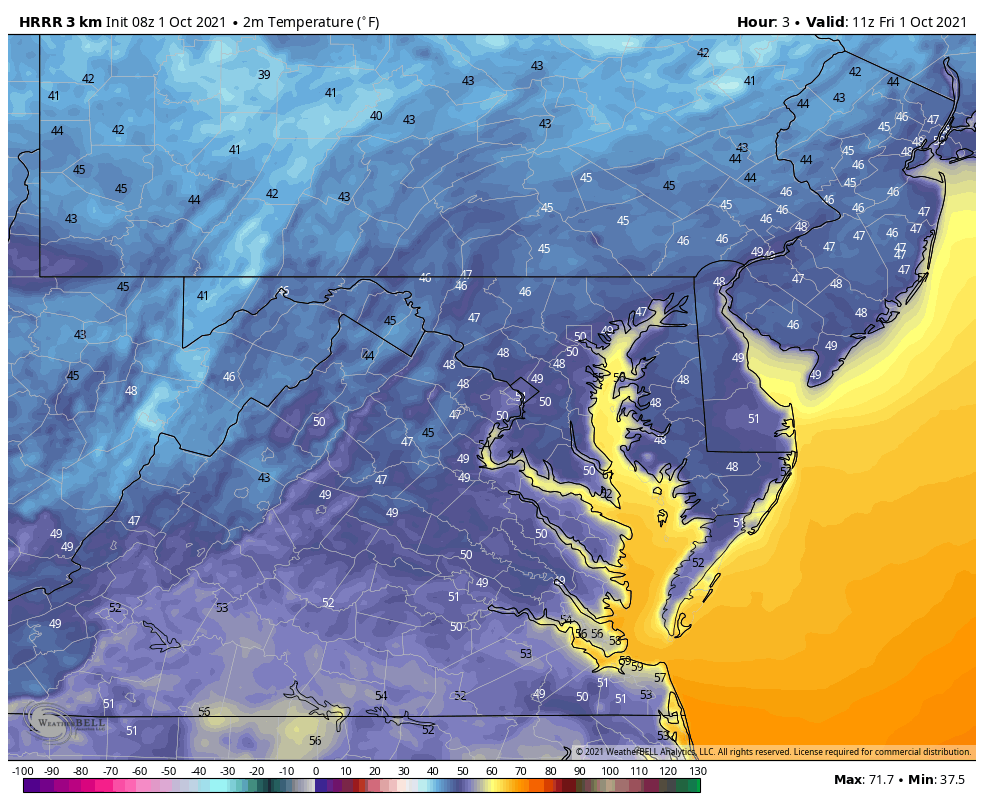 Weather Almanac: Climate Data
TODAY October 1
Normal Low in Baltimore:  51ºF
Record 36ºF in 1947
Normal High in Baltimore: 72ºF
Record 91º F 1941
Temperatures Saturday 
Morning
Afternoon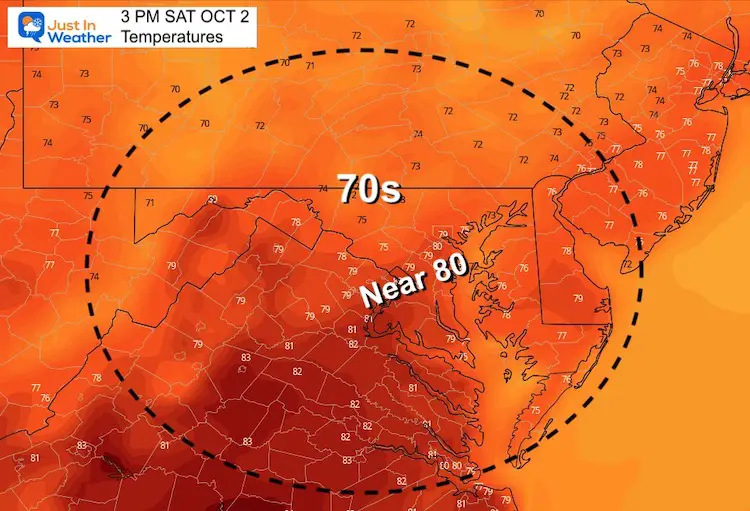 Tropical Weather
Satellite Loop
Winds at the eye wall of Hurricane Sam are 150 mph this morning.
Video Inside Hurricane Sam
NOAA released this First Ever view inside a Category 4 storm from the surface of the ocean. Saildrone captured this outside the eyeball with 50 mph winds and 120 mph winds at the sight.
Saildrone:
This is what the remote sensor looks like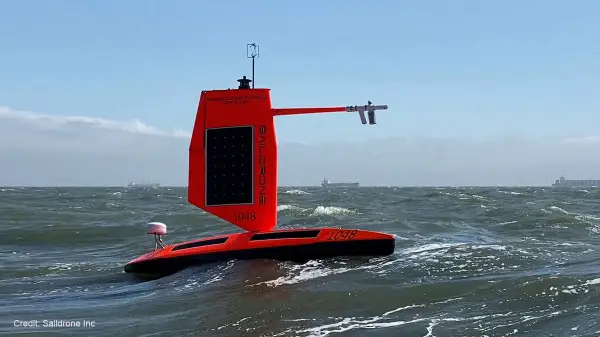 Tropical Update
Hurricane Sam has winds of 150 mph, and is passing East of Bermuda.  Tropical Storm Victor has 60 mph winds, but will be a 'fish' storm, staying out in the Atlantic.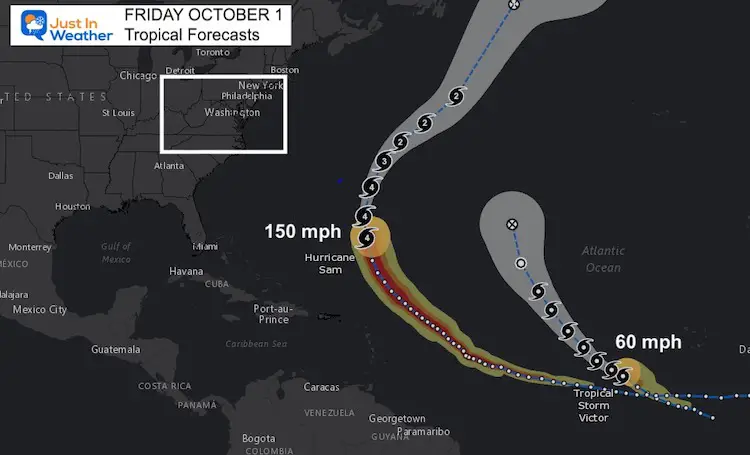 Looking Ahead: Monday-Friday 
It now appears most of the weekend will be dry.
Some showers may arrive Sunday night, but let's pick this up Monday.
Showers will build to steady rain during the week.
7 Day Forecast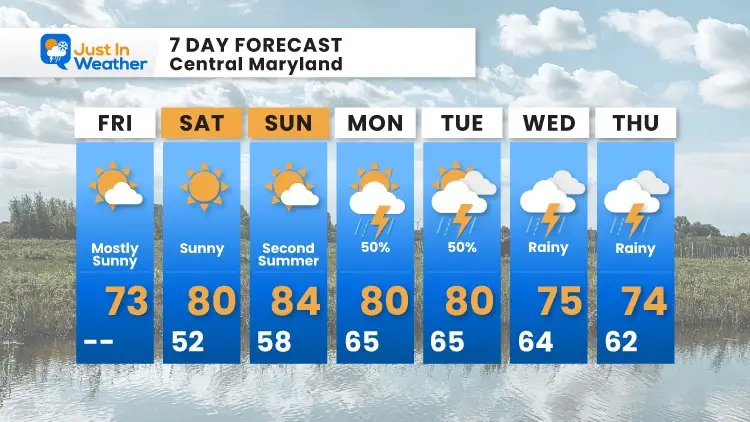 INTERACTIVE WEATHER PAGES
14 Local Maryland Pages (and York PA)
We have made a page for Maryland Weather which gives you the current conditions for 14 present area locations.
Local Hourly Forecasts and Local Radar
Central Maryland
Delmarva
Pennsylvania
Maryland Trek Gear

Maryland Trek 8 Says THANK YOU!
Running Total Raised $116,438
During 329 Miles From Wisp To Ocean City
To Honor Kids In Cancer Treatment and Support FREE Programs At Just In Power Kids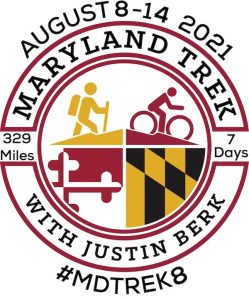 Please share your thoughts, best weather pics/video, or just keep in touch via social media