Wednesday September 22 2021
A slow moving weather system will spend the next two days in our region. This will provide some heavy rain over some of the same areas, which will enhance the flooding potential.
Fall officially begins at 3:21 PM, and it will start to feel like it.
While some rain showers will spread into central metro areas today, the bulk of the rain today will be west of I-83. Even heavier rain will fall in the mountains, including the I-81 corridor and through the mountains. 
Warmer and dry weather will hold on one more day across much of Delmarva.
Excessive Rainfall Today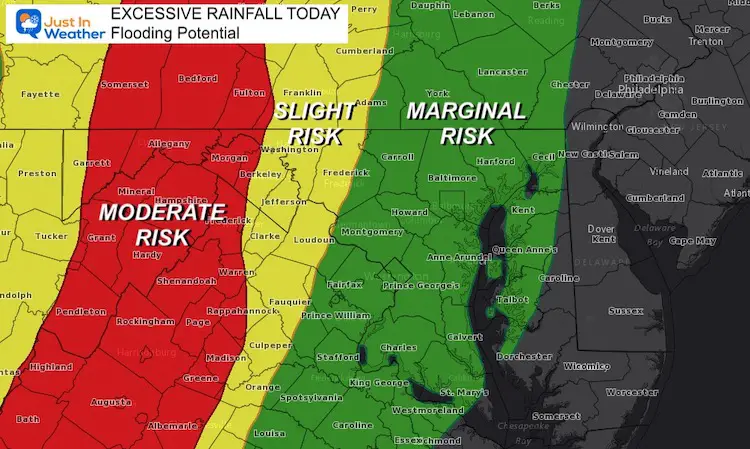 Flash Flood Watch
As I mentioned in a prior report, this was initially posted for the mountains where heavier rain will fall fall. It has been expanded to include southern Pennsylvania.
If you live in central Maryland, pay attention as this is likely to be expanded further into this region, where heavy rain is expected on Thursday.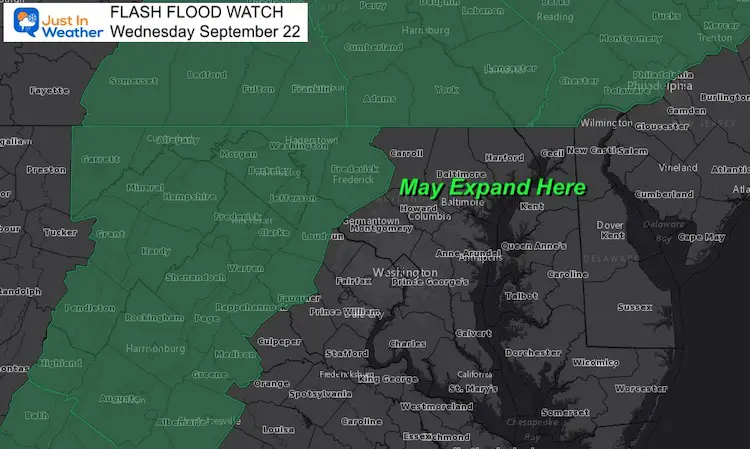 Rainfall Potential —> slider
Compare three model forecast maps
Weather Set Up
Morning Surface Weather
A lot of moisture is already flowing in from the south. A slow moving cold front is the main event that will enhance the heavy rain and thunderstorms. This will enhance the rain in the mountains today, then cross metro areas Thursday. It will be off of the coast Friday morning.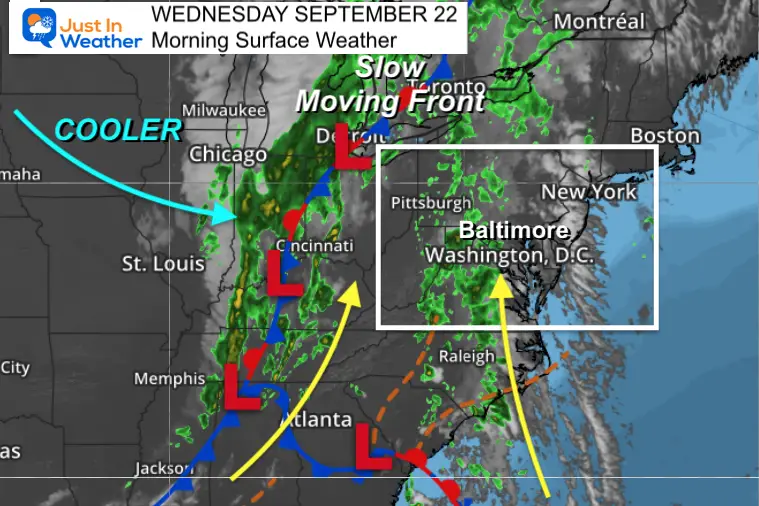 Rainfall Forecast Animation
ECMWF Model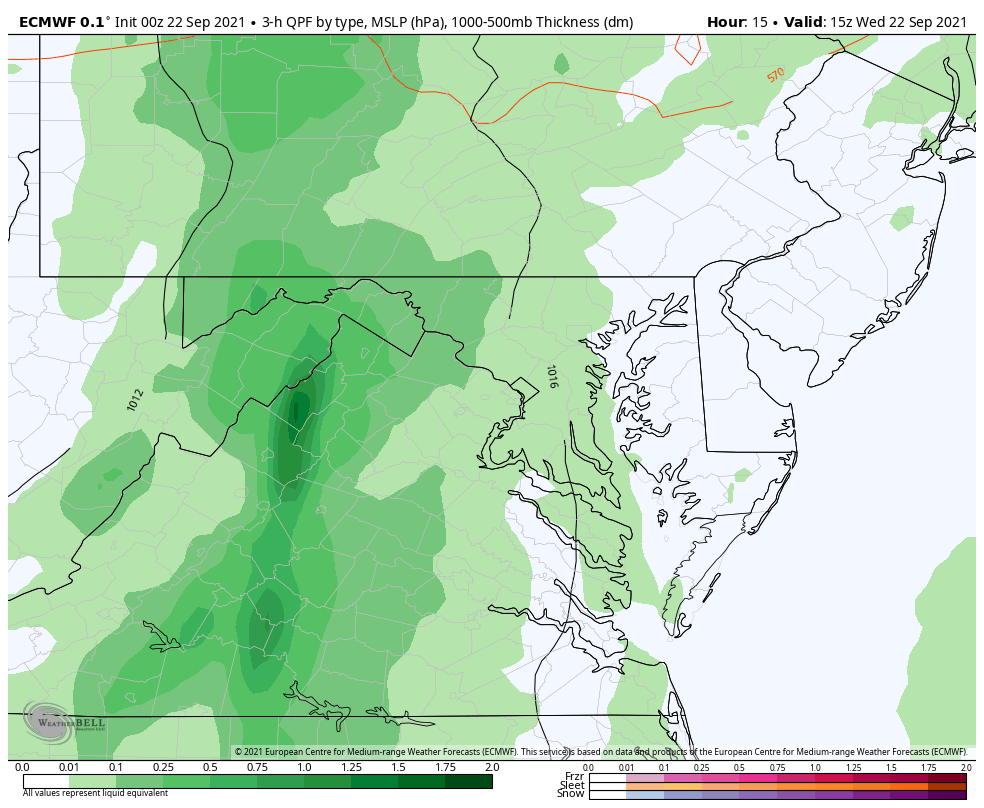 Afternoon Temperatures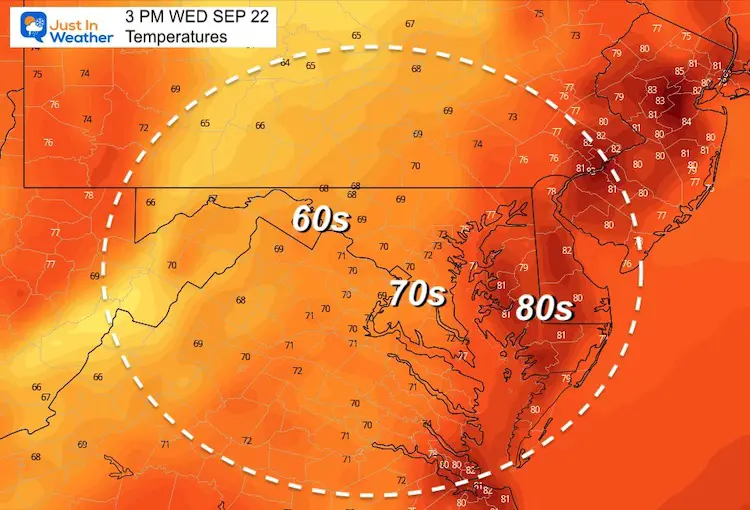 Also See:
Autumnal Equinox: Fall Begins Today at 3:21 PM
Weather Almanac: Climate Data
TODAY September 22
Normal Low in Baltimore:  57ºF
Record 37ºF in 1962
Normal High in Baltimore: 78ºF
Record 97º F 1970
Temperatures Thursday
Morning
Chill reaches the mountains behind the front.
This will be the warmest time of the day for the big cities.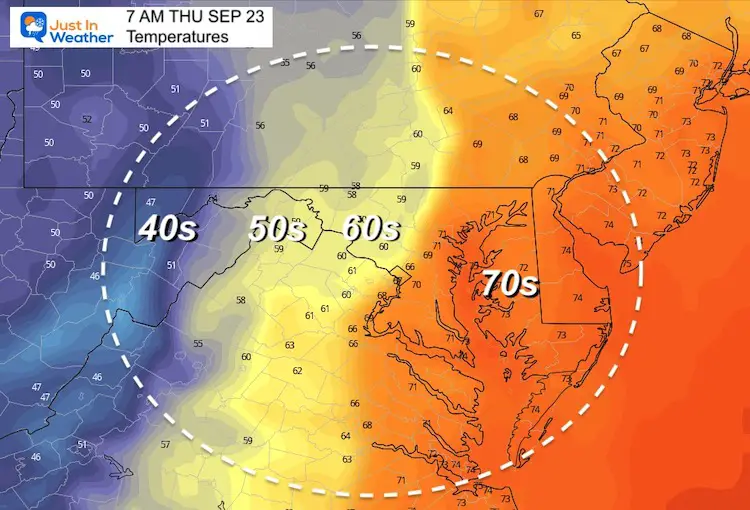 Afternoon
Under the heavy rain, temps will be falling in central Maryland and PA into the 60s and 50s.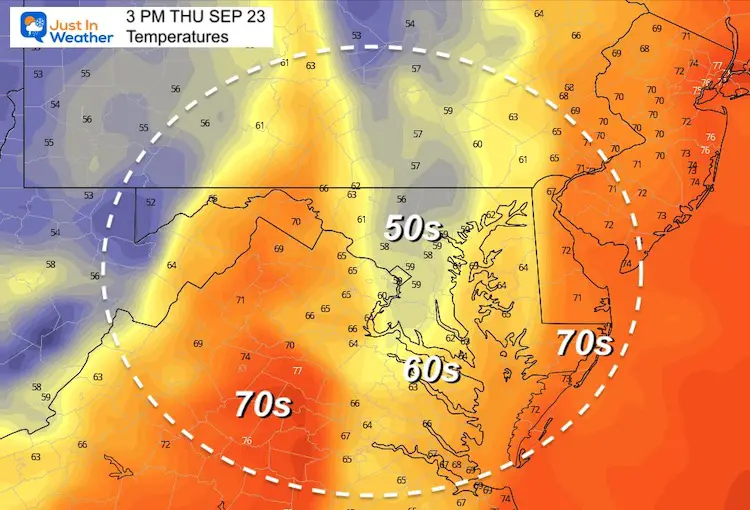 7 Day Forecast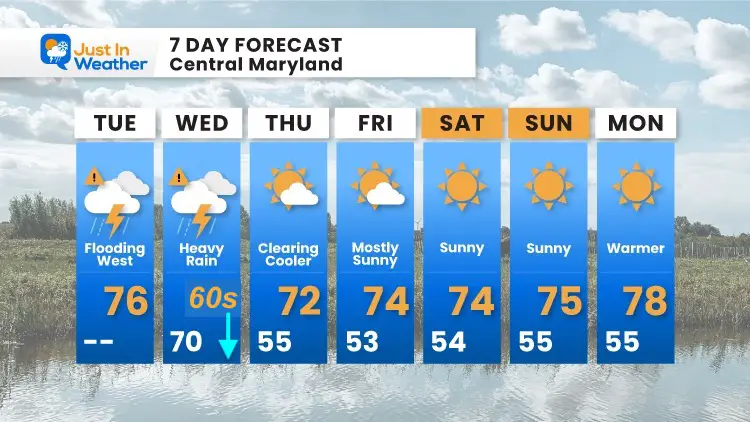 INTERACTIVE WEATHER PAGES
14 Local Maryland Pages (and York PA)
We have made a page for Maryland Weather which gives you the current conditions for 14 present area locations.
Local Hourly Forecasts and Local Radar
Central Maryland
Delmarva
Pennsylvania
Maryland Trek Gear

Maryland Trek 8 Says THANK YOU!
Running Total Raised $116,438
During 329 Miles From Wisp To Ocean City
To Honor Kids In Cancer Treatment and Support FREE Programs At Just In Power Kids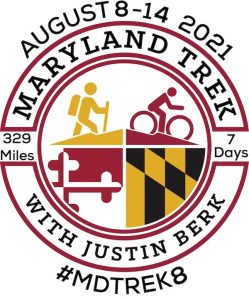 Please share your thoughts, best weather pics/video, or just keep in touch via social media