Wednesday September 22
Heavy rain is on the way. We've already discussed that, and perhaps you have already had one of those heavy showers move by your place. 
The Flash Flood Watch has been expanded through central Maryland for tonight through Thursday.  This has been expected, and includes all counties in Maryland west of the Chesapeake Bay.
Flash Flood Watch
Counties in Maryland added to the Watch include: Carroll, Howard, Montgomery, Baltimore, Harford, and Cecil.
Basically along and west of I-95.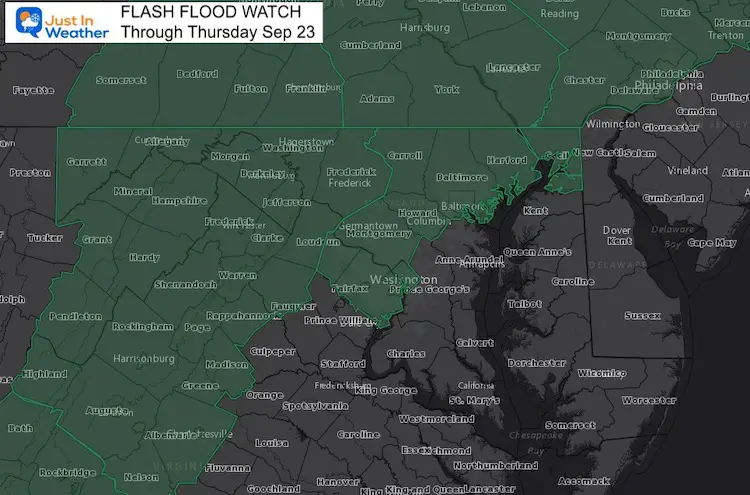 Among the weather discussion today, a few things have jumped out:
"A low level jet stream is pumping in tropical moisture"
Jet Stream This Evening
Significant upslope in the mountains with training convection due to strong unidirectional flow.
Rising air in the mountains is enhancing the cloud development.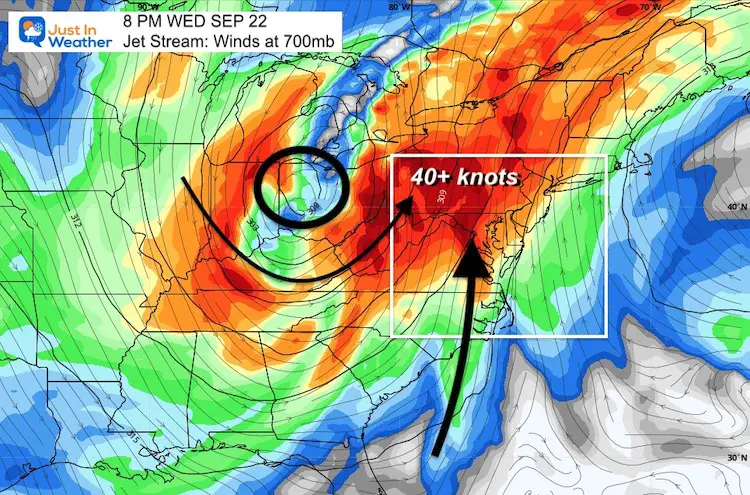 "A steady wind at cloud level is helping to bring in more moisture"
Infrared Stellite Loop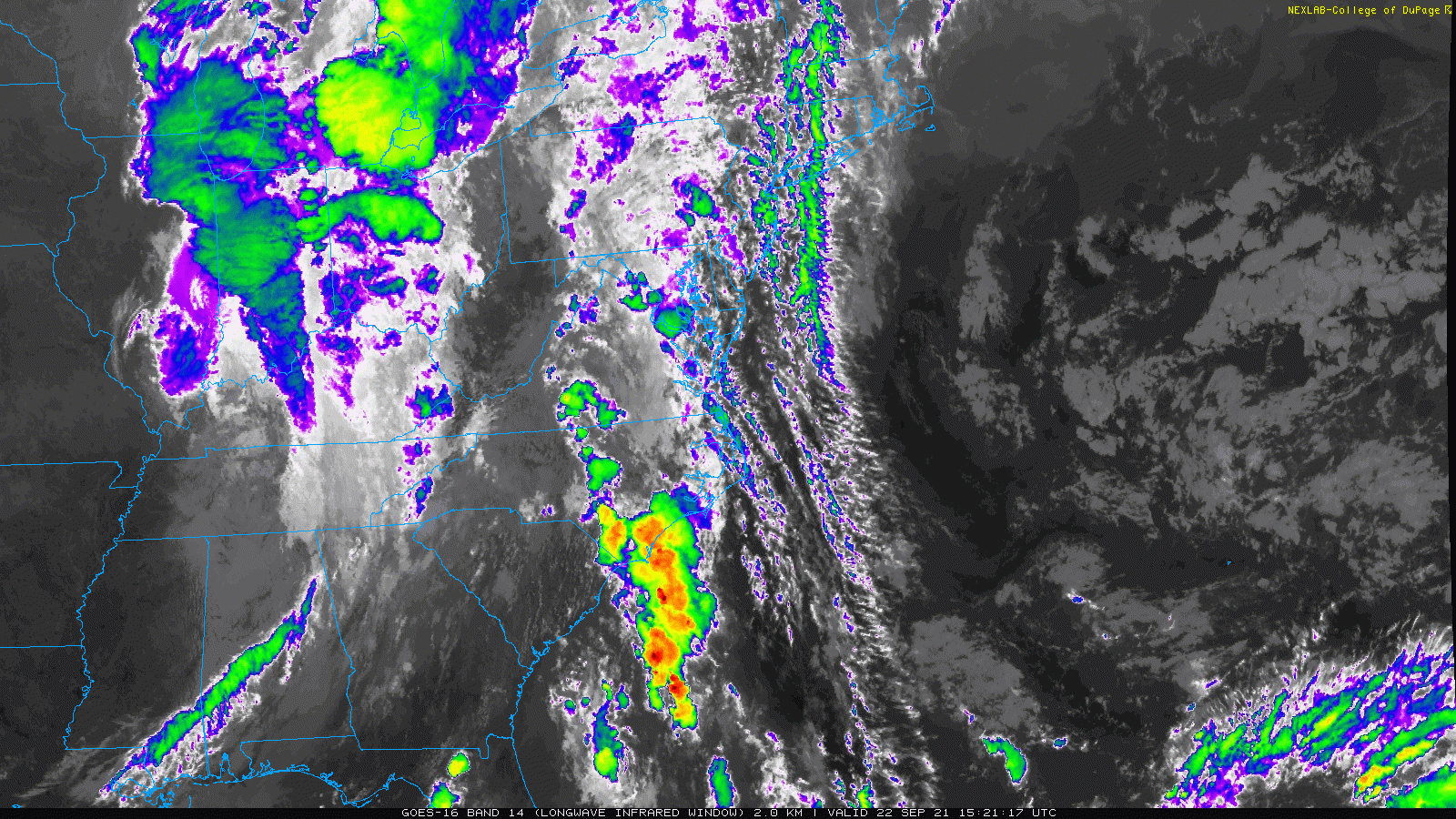 Explore More:
Click to see:   Live Radar And Weather Maps
"Rain falling over the same areas may produce 3 to 5+  inches of rain in the mountains"
Excessive Rainfall Risk
This map is for Wednesday. The heavy rain will shift east Thursday, to include metro areas. This is when local 1 to 2+ inches may fall.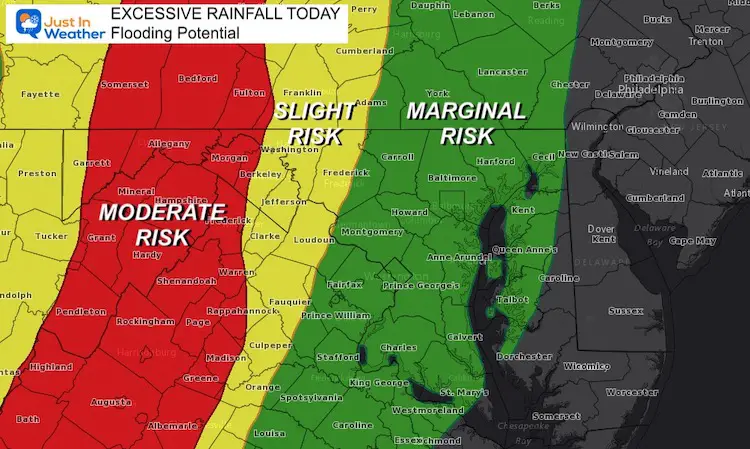 Rainfall Potential —> slider
Compare three model forecast maps
Afternoon Weather Map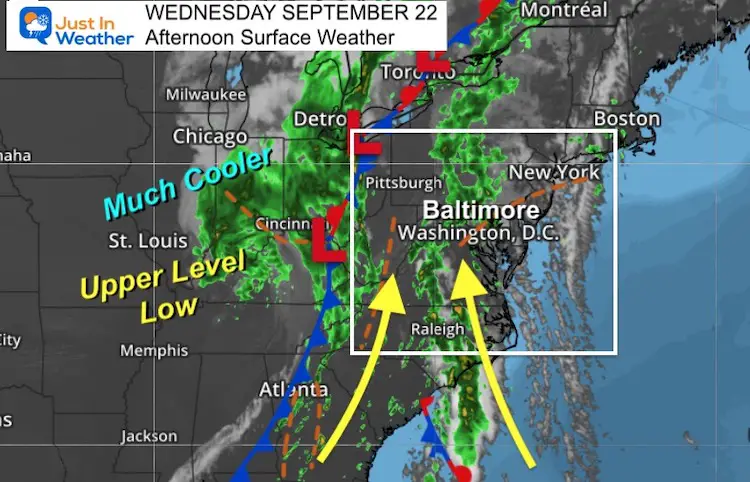 Timing The Rain…
This is a slow moving front. Rain showers have developed ahead of the main event, but the front itself is now expected to cross central Maryland/south central Pennsylvania Thursday Morning.
Rain Animation ECMWF Model
Wednesday Evening To Friday Morning
While the bulk affects central areas Thursday morning and early afternoon, the front will finally cross the coast Friday morning. 
FROPA- Frontal Passage
8 AM Thursday- NAM 3 Km
Temperatures Fueling The Front
Check out the temperature contrast expected Thursday morning.
40s in the mountains to 70s near Baltimore east through Delmarva. 
Temps will be falling in metro areas during the day.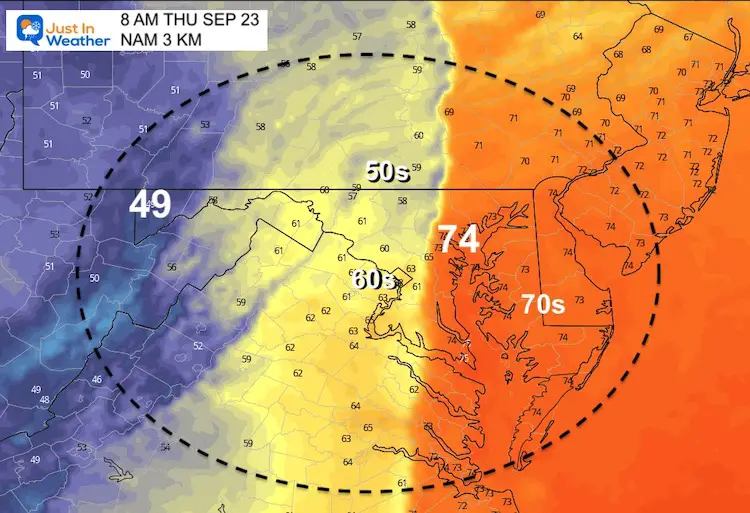 7 Day Forecast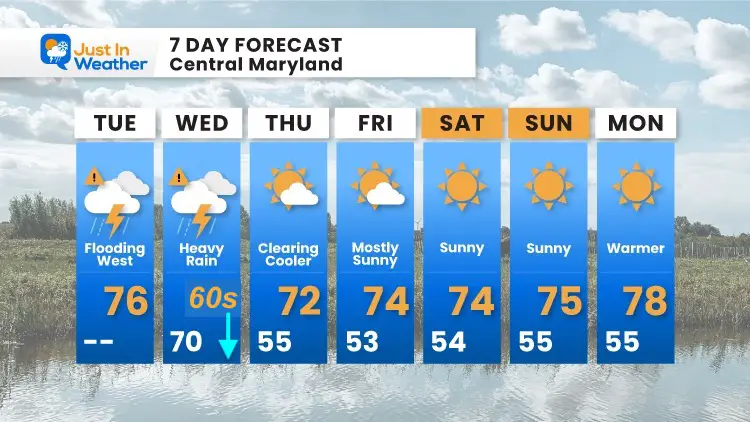 INTERACTIVE WEATHER PAGES
14 Local Maryland Pages (and York PA)
We have made a page for Maryland Weather which gives you the current conditions for 14 present area locations.
Local Hourly Forecasts and Local Radar
Central Maryland
Delmarva
Pennsylvania
Maryland Trek Gear

Maryland Trek 8 Says THANK YOU!
Running Total Raised $116,438
During 329 Miles From Wisp To Ocean City
To Honor Kids In Cancer Treatment and Support FREE Programs At Just In Power Kids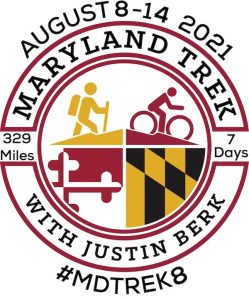 Please share your thoughts, best weather pics/video, or just keep in touch via social media