Wednesday September 8 2021
The advertised cold front is still on the way. It has just taken its time, meaning it will take longer to move out as well.
In my prior post I shared a model projection for severe storms over metro Baltimore in the evening. This didn't materialize, yet.  But the energy is still there and the overnight may get a bit noisy. 
Severe Thunderstorm Watch
Most of central Maryland and southern Pennsylvania may experience strong or severe storms tonight. 
*Also add in a Flood Watch in addition to this severe threat*
The main risk may be damaging wind over 60 mph and large hail over 1 inch.  If any storm cell produces this, you will get an alert for a Warning that will track the towns and time.
However you may just want to be aware that loud pounding rain or thunder may rumble outside.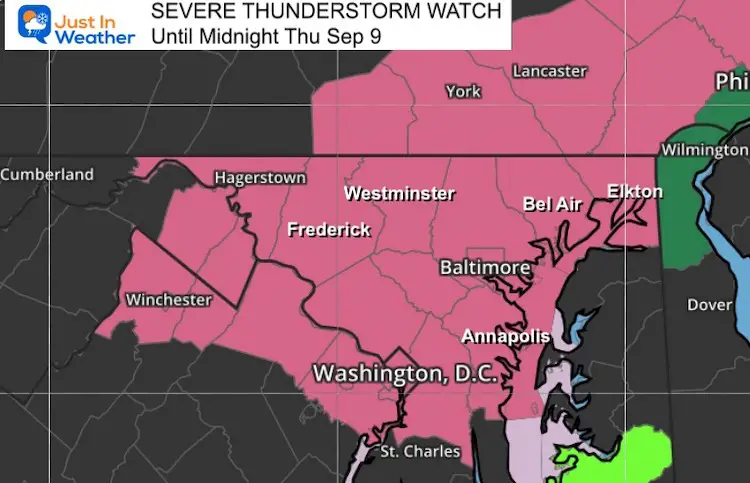 Radar Snapshot at 9 PM
At the time of this post, a 'Warning' was issued for parts of Adams and York Counties in PA.
This snapshot shows the storm cell and track of this cell to the Northeast.  The entire line is shifting slowly to the east.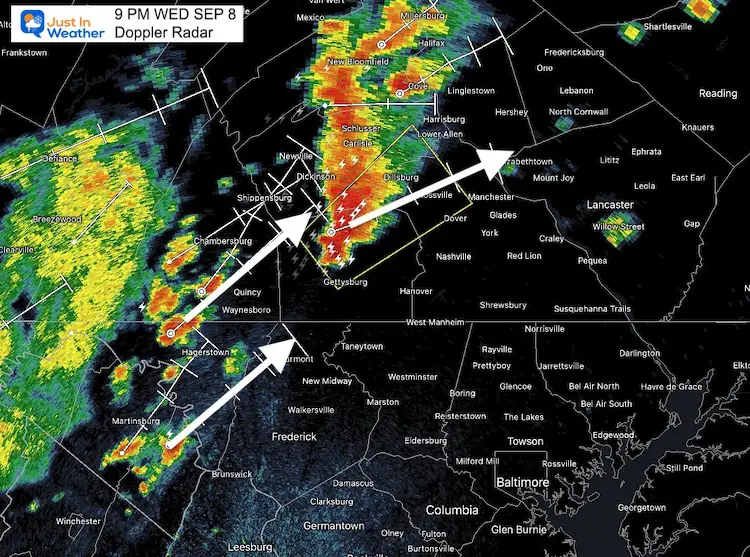 Evening Radar Loop
7 PM to 9 PM- we can see the developing of this storm line in the mountains, with a cluster in southern PA that pulsed after sunset.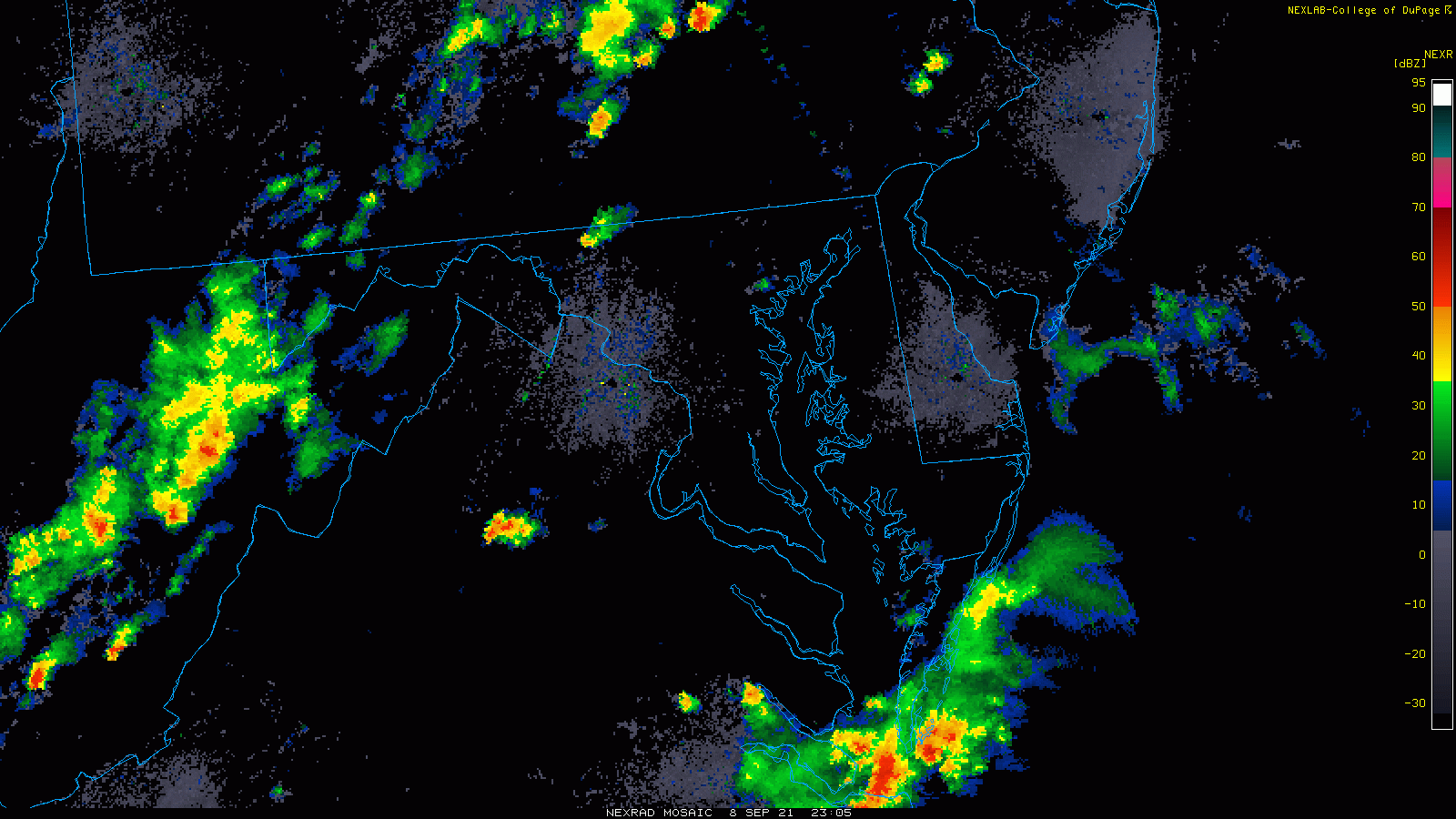 Radar Simulation:
10 PM Wednesday to 12 PM (Noon) Thursday
This line of rain and storms may stall over our region for a few hours. The risk of rain and perhaps a few more storms will linger into the morning and mid day while expanding to Delmarva.
Compare to Live Radar and Lightning
Showers may last into early Thursday morning.
Severe Storm Risk 
A few storm cells will have the potential for damaging winds, large hail, and isolated tornados.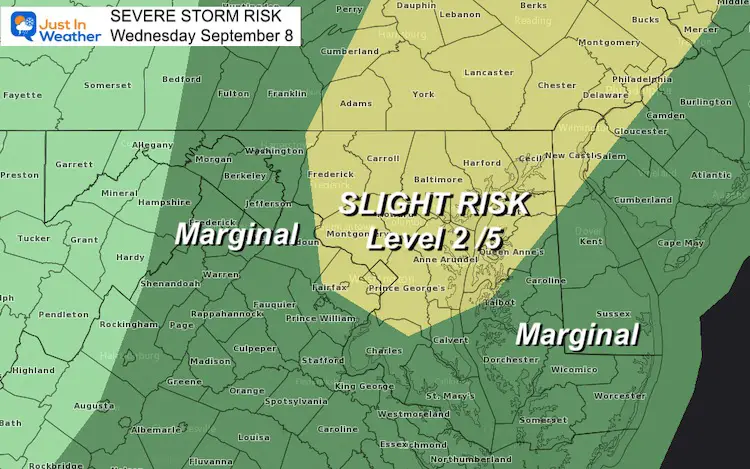 7 Day Forecast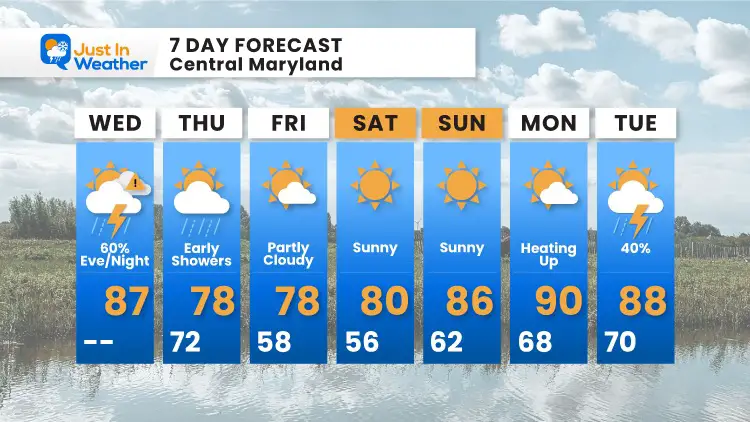 INTERACTIVE WEATHER PAGES
14 Local Maryland Pages (and York PA)
We have made a page for Maryland Weather which gives you the current conditions for 14 present area locations.
Local Hourly Forecasts and Local Radar
Central Maryland
Delmarva
Pennsylvania
Maryland Trek Gear

Maryland Trek 8 Says THANK YOU!
Running Total Raised $116,438
During 329 Miles From Wisp To Ocean City
To Honor Kids In Cancer Treatment and Support FREE Programs At Just In Power Kids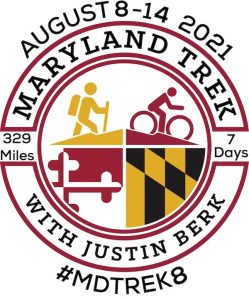 Please share your thoughts, best weather pics/video, or just keep in touch via social media