Wednesday September 1
The morning began with a Tornado Watch, Severe Thunderstorm Warning, and Flood Warnings. That was before 5 AM and included the big cities.
Today is going to be very busy. Even if you end up with dry hours this morning, you will likely get in on the storm action this afternoon.
The risk for severe weather will increase after 2 PM. Yes, this is earlier than thought due to a faster speed of the core Low.
Severe Storm Risk
Most of our region has an Enhanced Risk for sever weather. This will include storms with: 
Flooding from heavy tropical downpours
Wind gusts over 60 mph
Tornados- Multiple quick spin up cells.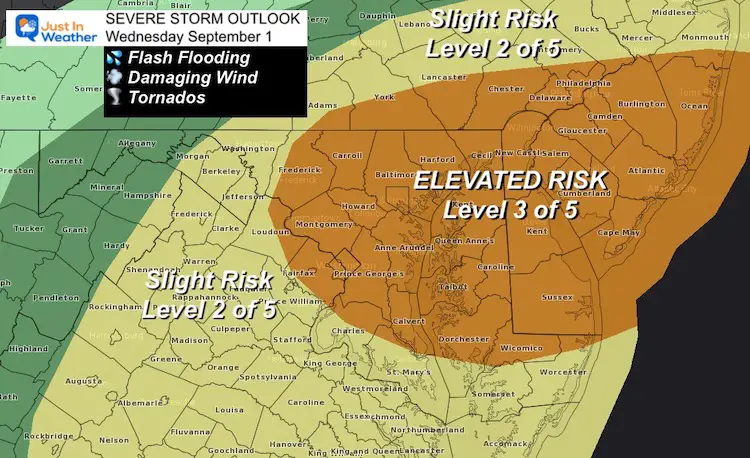 Alert Reminder
Watch means it 'might happen'. This may get issued for a large region over many hours. Today could include Flooding, Severe Storms, and Tornados.
Warning means IT IS HAPPENING NOW! This will include specific towns with timing.
Schools? 
I've spoken with a few educators about the afternoon threat for severe storms when buses head out.  Pay attention to your district/county for possible early dismissal. Some schools already called for a 'virtual/distance learning'  day today.
Flash Flood Warnings (as of 7:30 AM)
Heavy rain already fell with the early morning cell.
High water seen already along rivers, low lying areas, and even on the northern Chesapeake Bay with a steady wind flow from the south/southeast.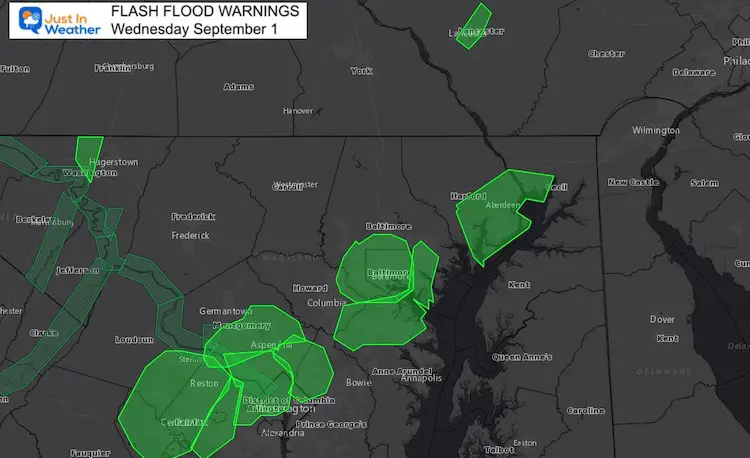 Morning Surface Weather
Updated 7:30 AM
Reminder that steady rain this morning is more likely west and north. This will include Frederick and Carroll Counties in Maryland to York and Lancaster Counties in Pennsylvania.
East of there will get some scattered showers, and more dry farther east of I-95 through noon.
Timing the expansion of rain and storms is in the slider below.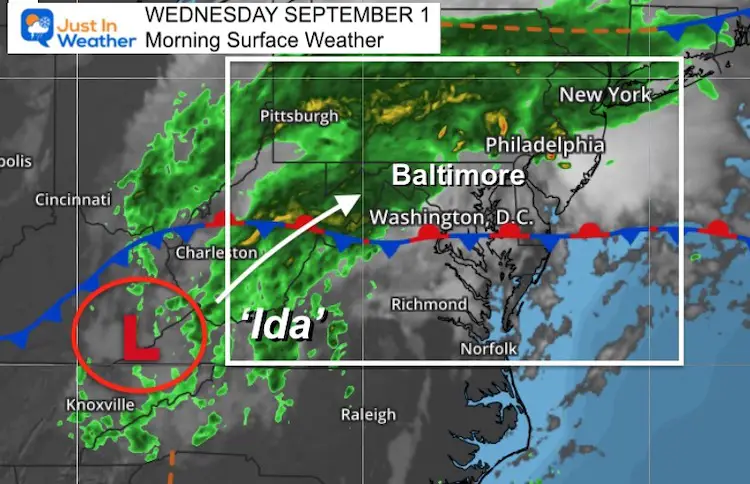 Timing The Storms
Below is the NAM 3 Km model simulation slider. I have mentioned often that this model has underperformed, but it is still a good display for guidance.
Limits/Bias has shown under playing storm coverage, and even late by 1 to 2 hours. Please consider that with this slider. We may see more coverage and timing could earlier. 
Central Maryland: Plan for any time after 2 PM
Radar Simulation —> slider
Morning steady rain will be west and north, but sever storms reach most areas this afternoon and evening. 
Live Radar/Lightning Widget
Weather Almanac: Climate Data
TODAY September 1
*Notice the Extreme Records Just 1 Year Apart
Normal Low in Baltimore:  63ºF
Record 53ºF in 1963
Normal High in Baltimore: 83ºF
Record 99º F 1962
7 Day Forecast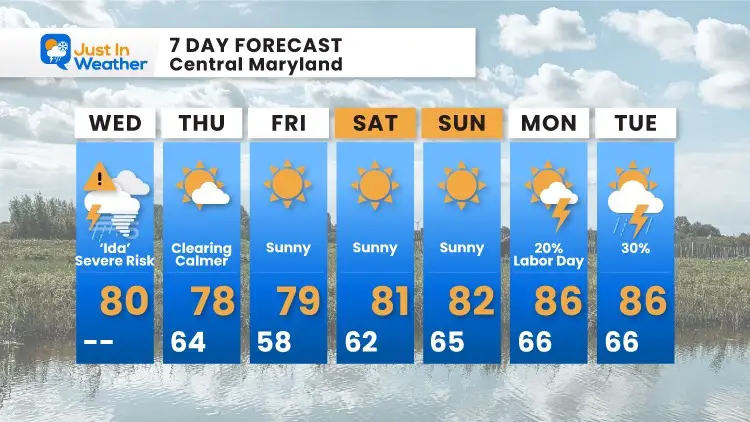 INTERACTIVE WEATHER PAGES
14 Local Maryland Pages (and York PA)
We have made a page for Maryland Weather which gives you the current conditions for 14 present area locations.
Local Hourly Forecasts and Local Radar
Central Maryland
Delmarva
Pennsylvania
Maryland Trek Gear

Maryland Trek 8 Says THANK YOU!
Running Total Raised $116,438
During 329 Miles From Wisp To Ocean City
To Honor Kids In Cancer Treatment and Support FREE Programs At Just In Power Kids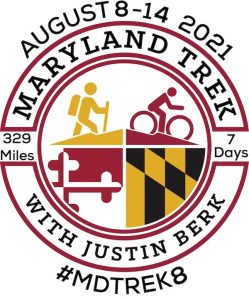 Please share your thoughts, best weather pics/video, or just keep in touch via social media