Friday August 13 2021
This should be the end of this heat wave, but it will go out with a bang!
Temps will crank up to the upper 90s again, with a Heat Index up as high ad 110ºF.  Severe Storm Risk is higher in the mountains, but strong storms are possible in metro areas this evening. 
Morning Surface Weather
High Pressure is still domination with this heat ridge.  Signs of the change with a cold front are to our northwest. We will get into that refreshing change this weekend.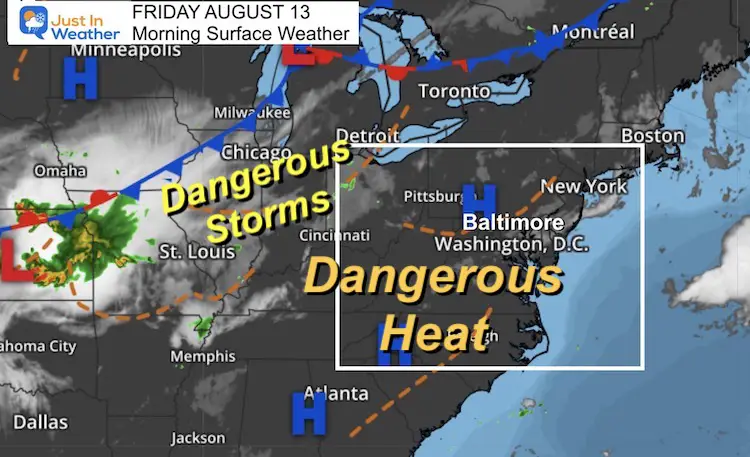 As I sit here writing this report as my Maryland Trek team is getting ready to hike marathon distance across The Eastern Shore.  We have EVERY PRECAUTION with our support crew to keep everyone safe. 
Heat Advisory and Excessive Heat Warning
Heat Index Values will range from 105ºF to 110º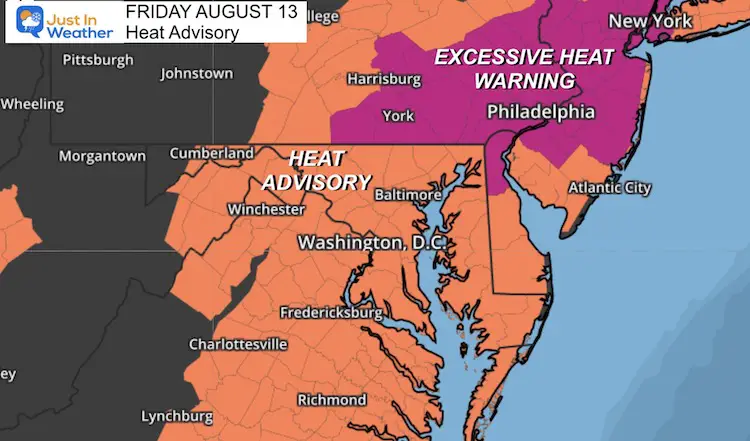 Severe Storm Outlook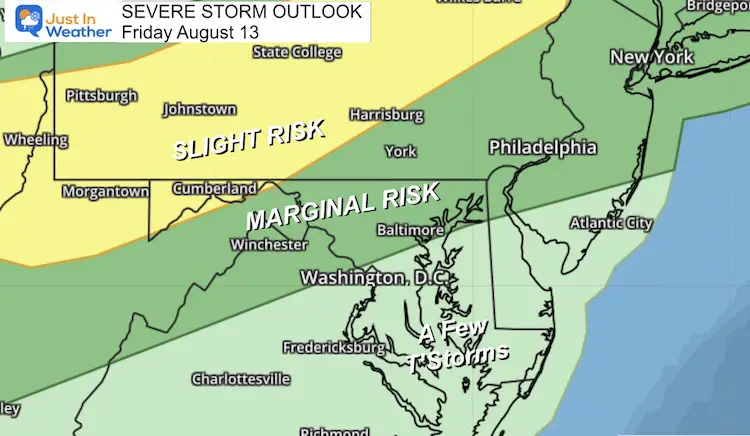 Storm Radar Simulation
Maryland Trek: Annapolis On Thursday
My access to this server left yesterday void of weather on this site. 
I want to thank Governor Hogan for welcoming our team, and meeting with a few of our Power Kids, including our day honoree Scarlett. 
*We are all Vax'd and have a negative Covid Test.
Maryland Trek 8 Day 6
Today is for Avery
Please see her story and follow our team here
Grasonville to Sharptown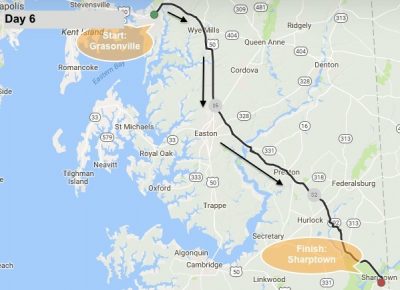 Weather On Our Route
Delmarva
Weather Almanac: Climate Data
TODAY August 13
Normal Low in Baltimore:  66ºF
Record 54ºF in 1950
Normal High in Baltimore: 86ºF
Record 99º F 2002
Temperatures 
This Afternoon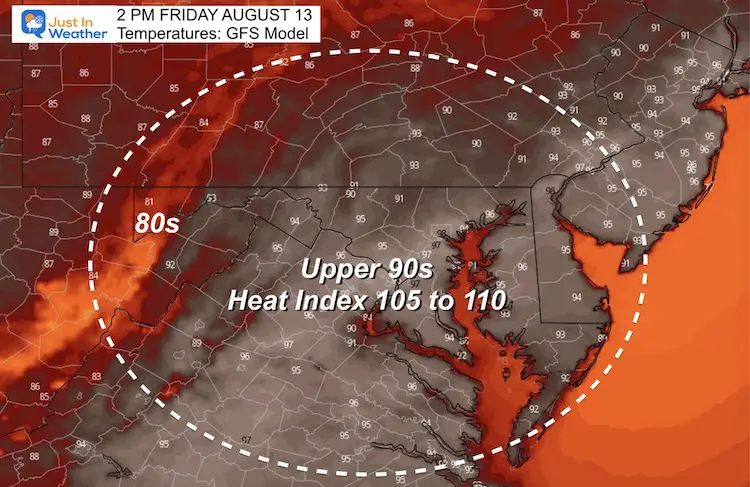 Saturday Morning
Saturday  Afternoon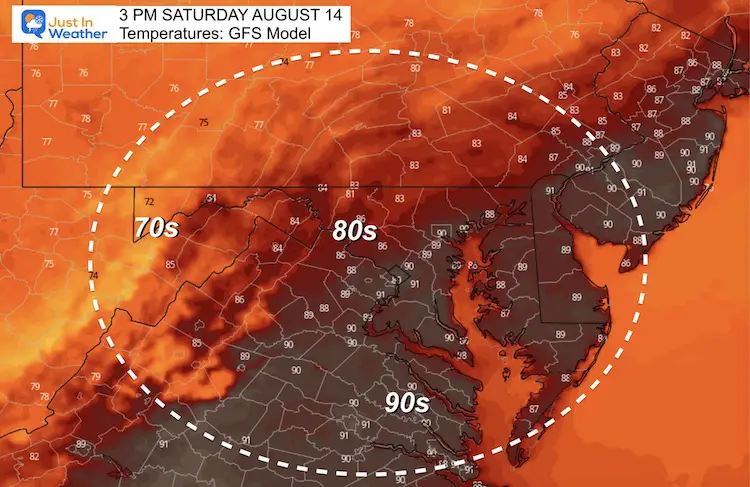 7 Day Forecast
A break from the heat this weekend… Then we need to watch Tropical Storm Fred in the Southeast US for how it may impact us.  Once The Maryland Trek completes, I will have more time to put my spin on the storm and update you here.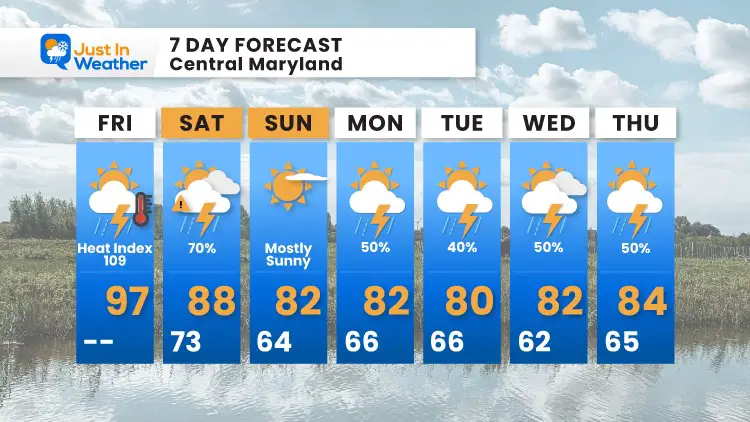 Maryland Trek 8 IS NOW
329 Miles From Wisp To Ocean City
To Honor Kids In Cancer Treatment and Support FREE Programs At Just In Power Kids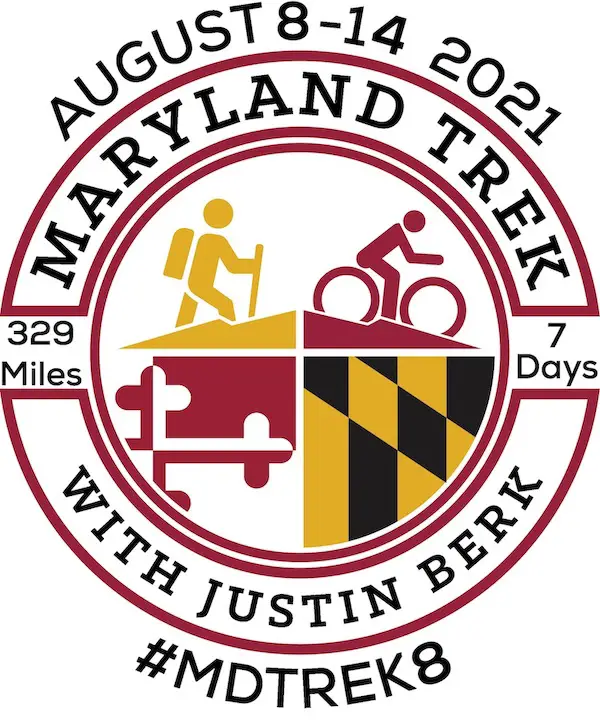 Sunshine State Of Mind
I am done with the cold and snow (for the season). I am embracing my wife's mantra of Sunshine State of Mind.
This was designed by Shannon Berk and we will be wearing it through spring and to the beach.
Double Benefit: Proceeds will be split between our nonprofit Just In Power Kids and the development of my new weather website. That has been scheduled to be ready to launch in May.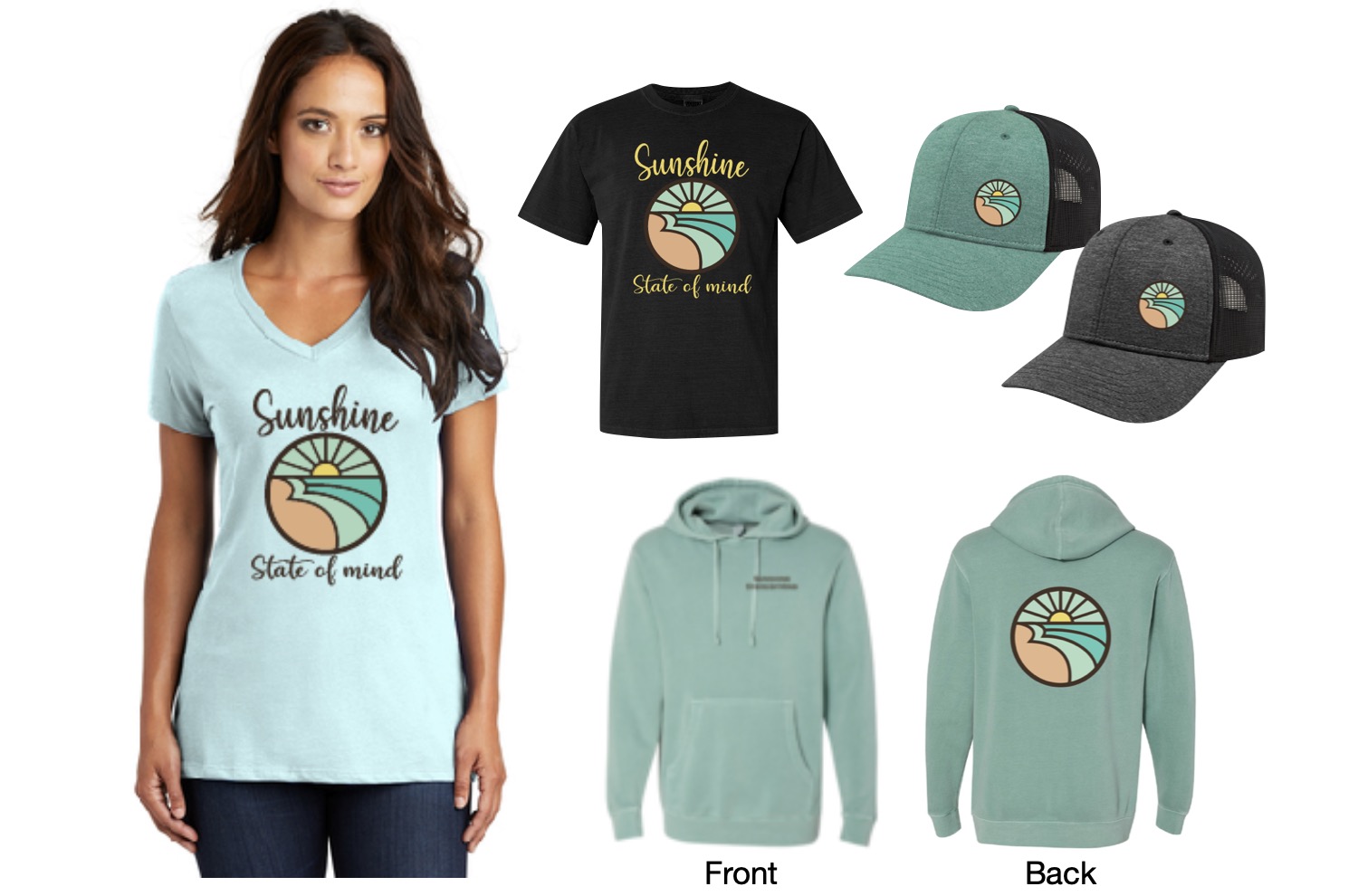 YOUR INTERACTIVE WEATHER PAGES
14 Local Maryland Pages (and York PA)
We have made a page for Maryland Weather which gives you the current conditions for 14 present area locations.
Local Hourly Forecasts and Local Radar
Central Maryland
Delmarva
Pennsylvania

Please share your thoughts, best weather pics/video, or just keep in touch via social media