Wednesday June 30 2021
A Heat Advisory has been issued for today in central Maryland around the Chesapeake Bay… not much relief from the water as the humidity will make it feel over 100ºF. An Excessive Heat Warning for metro Philadelphia, where it may 'feel like' over 110ºF this afternoon.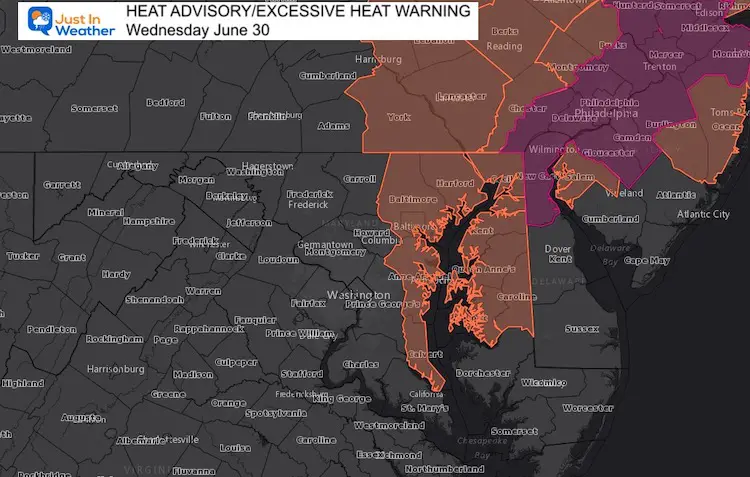 Morning Weather Set Up
The Heat Wave will peak today, and the end is in sight. The storm track will bring severe weather across the Ohio Valley to the Northeast.
The actual temperatures will come close to the record of 100ºF in Baltimore, set in 1959 and other prior years)
Severe weather will pass to our north, while some thunderstorms may drift into north central Maryland by evening.
The big storm day for us will be Thursday, then turning cooler into the July 4 Independence Weekend, with the risk of showers lingering.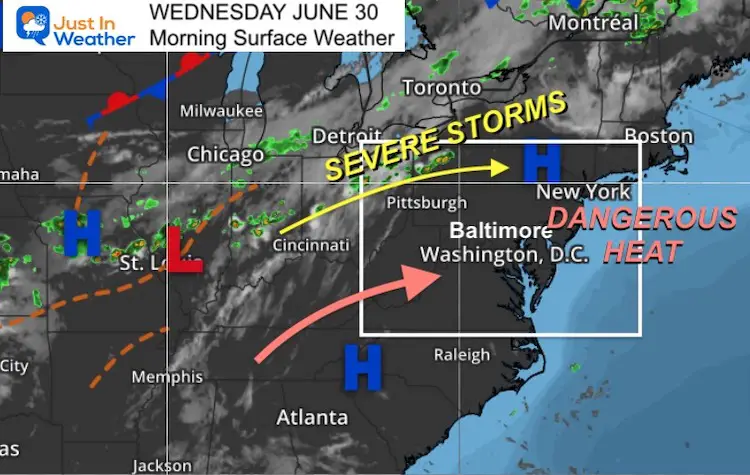 Weather Almanac:
As we finish out the month of June with heat, it might be easy to forget the chill we had as well.
Climate Data For Baltimore 
Days with high temps:
60s = 1

70s = 4

80s = 14

90s = 10
TODAY
Normal Low in Baltimore:  65ºF
Record 52ºF in 1988
Normal High in Baltimore: 86ºF
Record 100º F 1959 (and other days)
Afternoon Temperature Forecast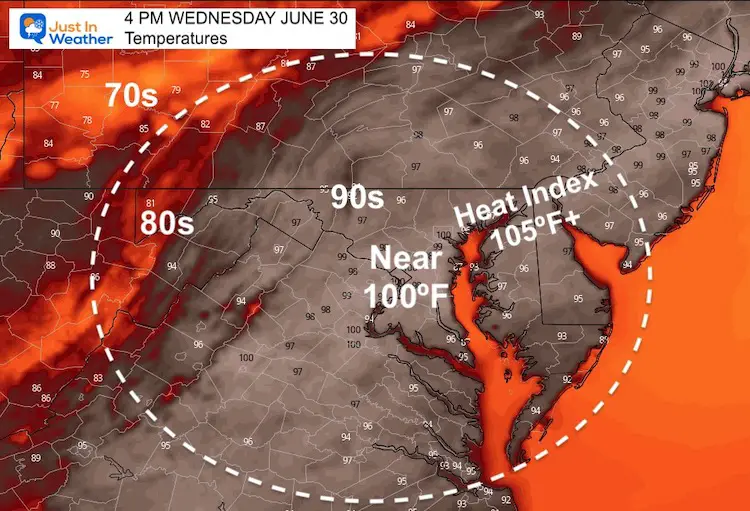 Storm Potential
Scattered showers late in the day, while severe storms will erupt in Pennsylvania and New York.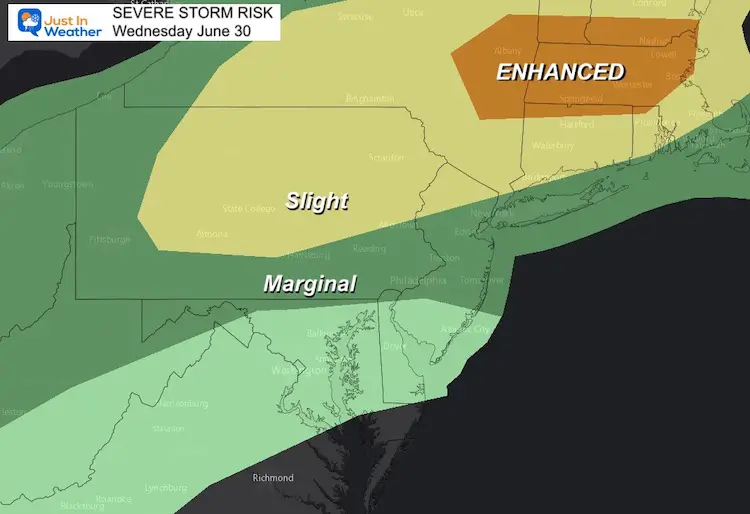 Radar Simulation: 4 PM to Midnight
We may have a cluster of storms reach metro areas this evening.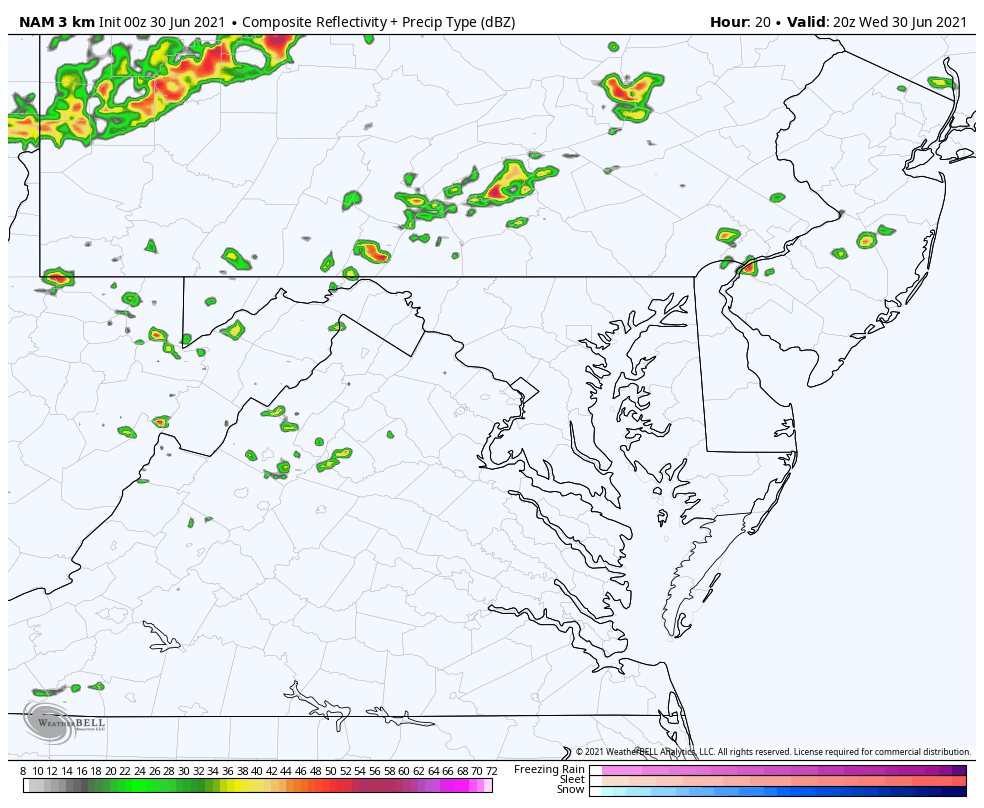 Thursday Afternoon Temperatures 
Metro areas may reach near 90ºF early afternoon before the storms arrive.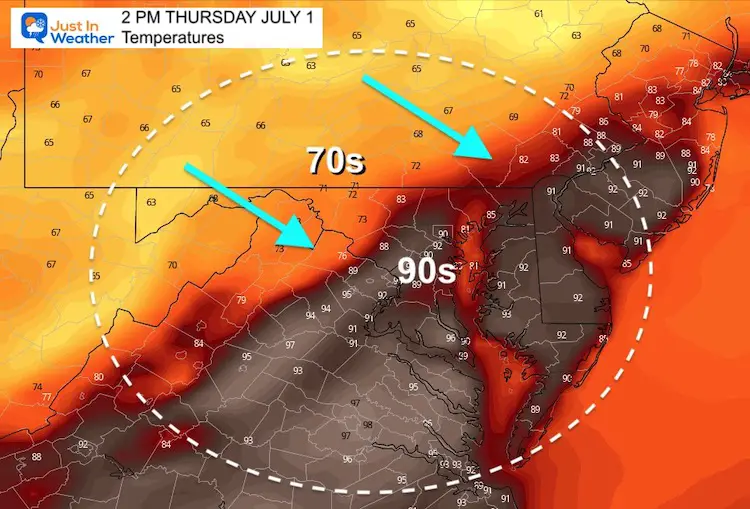 Storm Chances Go Up:
I have been mentioning the poor performance of local model guidance.  Here is a different product, showing the activity mainly in the mountains between 4 PM and midnight
Looking Ahead
Friday will start with a band of rain in the morning. This now appears to be passing south, while showers and storms will redevelop behind the front. 
The chance of showers or T'storms will pop up each afternoon this weekend with cooler temps, but it will not be a washout.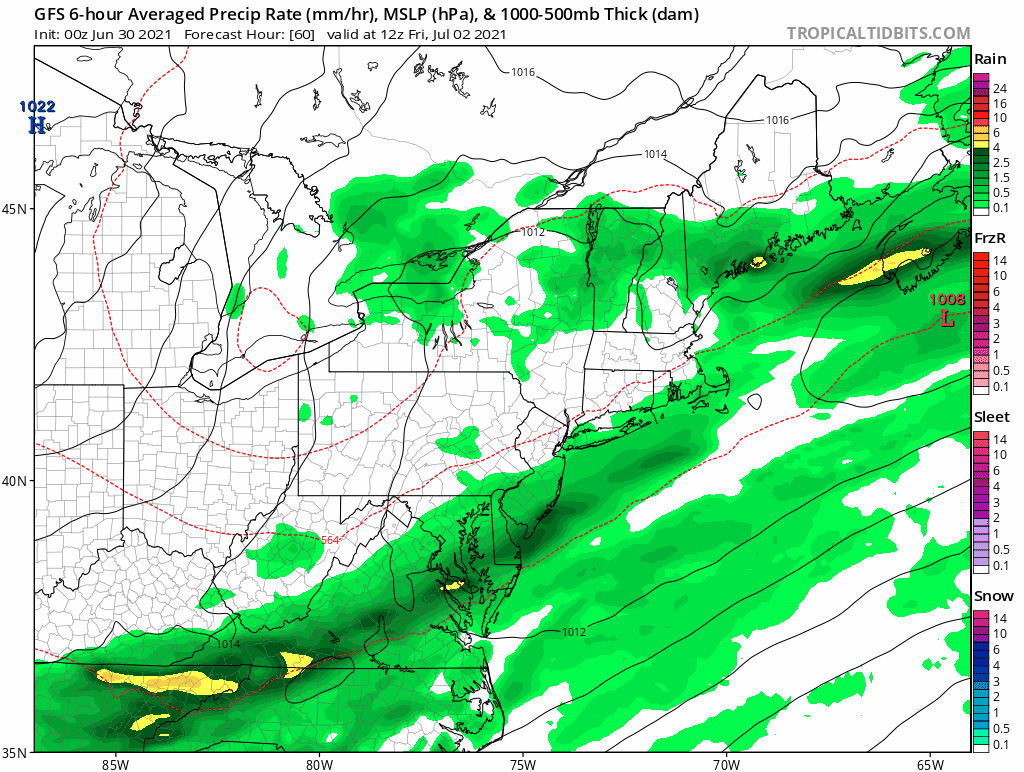 7 Day Forecast
The Independence Holiday Weekend will be cooler. The rain on the graphic is NOT a washout, but there will be a chance for showers or storms each afternoon. 
Next week, the heat will return. 
In Case You Missed It:
Amazing Video of Baltimore Lightning and Storm Photos
Earthquake in Woodlawn, MD on Friday
Sunshine State Of Mind
I am done with the cold and snow (for the season). I am embracing my wife's mantra of Sunshine State of Mind.
This was designed by Shannon Berk and we will be wearing it through spring and to the beach.
Double Benefit: Proceeds will be split between our nonprofit Just In Power Kids and the development of my new weather website. That has been scheduled to be ready to launch in May.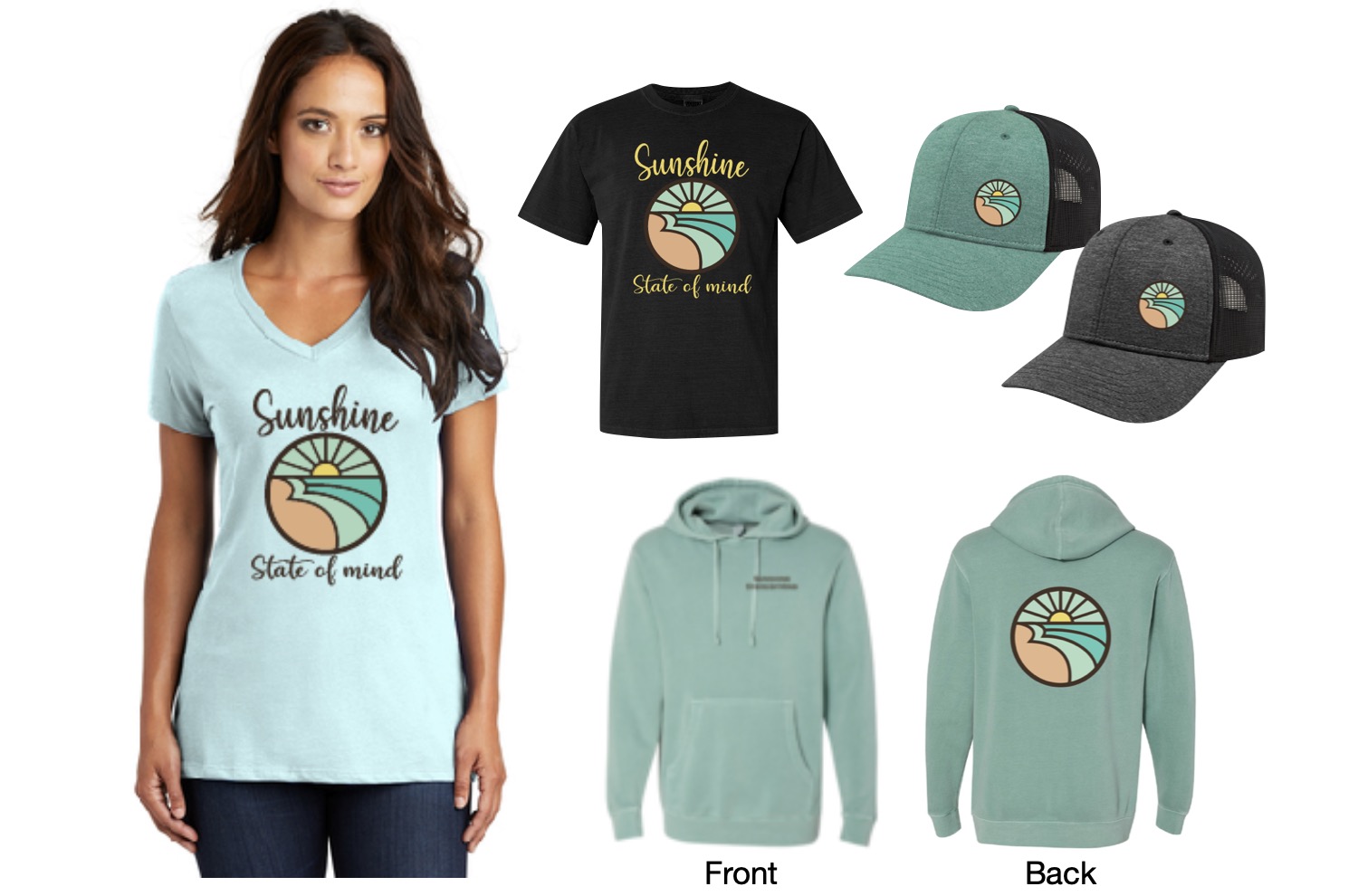 YOUR INTERACTIVE WEATHER PAGES
14 Local Maryland Pages (and York PA)
We have made a page for Maryland Weather which gives you the current conditions for 14 present area locations.
Local Hourly Forecasts and Local Radar
Central Maryland
Delmarva
Pennsylvania

Please share your thoughts, best weather pics/video, or just keep in touch via social media