Did you have any storm damage last night?  The expectation for the resurgence of a line of thunderstorms lived up to expectations Monday night. This included large hail over 1 inch, wind gusts over 40 mph with one report to 67 mph. There were clusters of tree and power line damage.  Also pockets of flash flooding.
The line of storms moved through western Maryland, then approached metro Baltimore around 9 PM. This lasted beyond midnight.
This first look as the preliminary storm reports showed the clusters around metro Baltimore and northern Virginia west of Washington DC. 
Preliminary Storm Reports
This includes Large Hail, Tree Damage, and Wind Gusts.
Radar Recap:
8 PM to Midnight Mon June 14
Is your Power Out?
Click here for a combination of all the regional utility information
Local Maps
Baltimore
Hail reached up to 1 inch in Baltimore's Little Italy.
Winds ranged from 40 to 57 mph
Peak Wind: 67 mph at the Key Bridge
Marine rescue unit reported that a crane at the Port registered a top wind of 88 mph.
Tornado? There are many reports of a possible tornado in Baltimore. I am gathering info and NWS may investigate the debris field today to confirm. I will let you know if they find anything.
Central Maryland
Largest Hail: 1.75″ in Columbia, 1 inch hail hit Elkridge, Catonsville,  Baltimore City, and Essex.
Wind Damage was extensive, with the main cluster between south Baltimore City to Southeast Baltimore County.
Northern VA and Washington
Large Hail in western Fairfax County: 0.75″ to 1.25″
Flooding across Fairfax Co VA to Washington DC.
Personal Reports
This post I made on Facebook resulted in over 700 comments at the peak of the storm. This includes first hand accounts and photos.  I hope this is easy for you to view here, or it may take you back to the app.
Additional Personal Storm Reports
Sunshine State Of Mind
I am done with the cold and snow (for the season). I am embracing my wife's mantra of Sunshine State of Mind.
This was designed by Shannon Berk and we will be wearing it through spring and to the beach.
Double Benefit: Proceeds will be split between our nonprofit Just In Power Kids and the development of my new weather website. That has been scheduled to be ready to launch in May.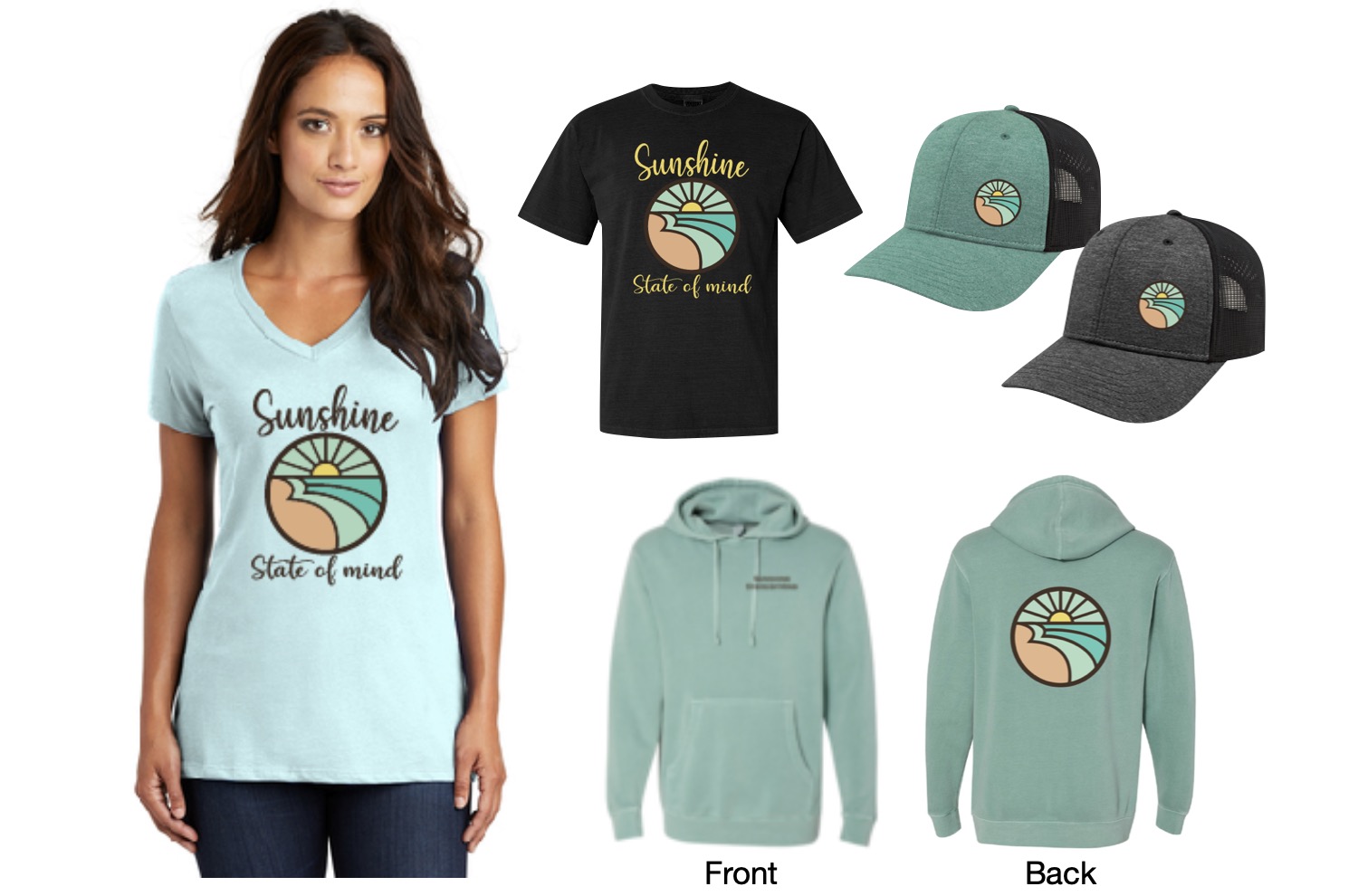 YOUR INTERACTIVE WEATHER PAGES
14 Local Maryland Pages (and York PA)
We have made a page for Maryland Weather which gives you the current conditions for 14 present area locations.
Local Hourly Forecasts and Local Radar
Central Maryland
Delmarva
Pennsylvania

Please share your thoughts, best weather pics/video, or just keep in touch via social media