A rare and special treat could be in our view on Thursday morning June 10, 2021. I say 'could be' because we need a clear sky to the east at sunrise to view the partial solar eclipse. But it will be a challenge. The weather this week keeps the risk of evening storms and residual clouds or fog overnight into the mornings. 
Expected View In Baltimore: 70% Coverage
See more details below..
I have a live stream video link below, just in case we have clouds. So you can come back here when the sky show arrives.
This will benefit anyone with a view to the east.  This includes:
If you are at the beach or on the west shore of the Chesapeake Bay.
If you live in a building in Baltimore facing east, or anywhere in a hill with a view of sunrise.
Even in Garrett County, if the weather cooperates, I'd head to the top of Wisp for a chance to see this.
Solar Eclipse Anatomy
Total Solar Eclipse
The path of the moon lines up perfectly to cast its shadow on Earth. Most orbits, the line up places the shadow in space and we do not see it.
Annular Eclipse
Here is the down side of the Supermoon we have had lately.  This is when only part of the sun is blocked by the moon.  While the moon is closer to the Earth when full, it is farthest away and smaller when 'new'. So it is just beyond the ability to completely block the sun.
Partial Eclipse (this is what we are expecting)
In our region, we will be in the path of part of the sun being covered. It will rise similar to the  shape of a crescent moon, just a lot brighter. 
When To View And Map Coverage
Consider the timing and coverage, this may be the best set up for us… If the sky clears.
Since this will be rising while the eclipse in in progress, it will enhance the appearance of the coverage. 
Baltimore will max out with 70% coverage. This will look like a crescent moon. 
Where To Look
Face East! It's that simple. If you can see the sun rise with little to no obstruction (trees or buildings). That's it. Check over the next few days, if you want to wake up early. Make sure to focus on if you can see the sun before 6 AM, to get the max impact.
If the weather works out, this will be an even better than the last two notable solar eclipses in recent years.
Photo of a Lifetime
On November 4, 2013 we had similar sunrise partial solar eclipse. Between the clouds, across the Hudson River from New York City, this provided the opportunity of a lifetime for photographer Chris Cook. He drove down from Boston and ended up at the right place on a whim. His photo seen here was featured by astronomers world-wide,  and National Geographic. 
Eclipse Over New York 
Well Deserved Image Credit & Copyright: Chris Cook
What We Saw And Safety
My boys were quite a bit smaller back then.  I work them up early and packed them up armed with welder's goggles.
While the light passing through more of the atmosphere may allow for a quick peak with sunglasses, I still advice using extra caution and eye protection.
*Top photo was from Ricky Matthews.
Live Stream Video
Coverage Begins at 5 AM EDT
Click here to see more eclipse timing details.
Next Total Solar Solar Eclipse
April 8, 2024: Here is the path. My two city picks are Dallas and Cleveland. My goal is to make plans for two locations and then head to the one with the better weather forecast that day.
Sunshine State Of Mind
I am done with the cold and snow (for the season). I am embracing my wife's mantra of Sunshine State of Mind.
This was designed by Shannon Berk and we will be wearing it through spring and to the beach.
Double Benefit: Proceeds will be split between our nonprofit Just In Power Kids and the development of my new weather website. That has been scheduled to be ready to launch in May.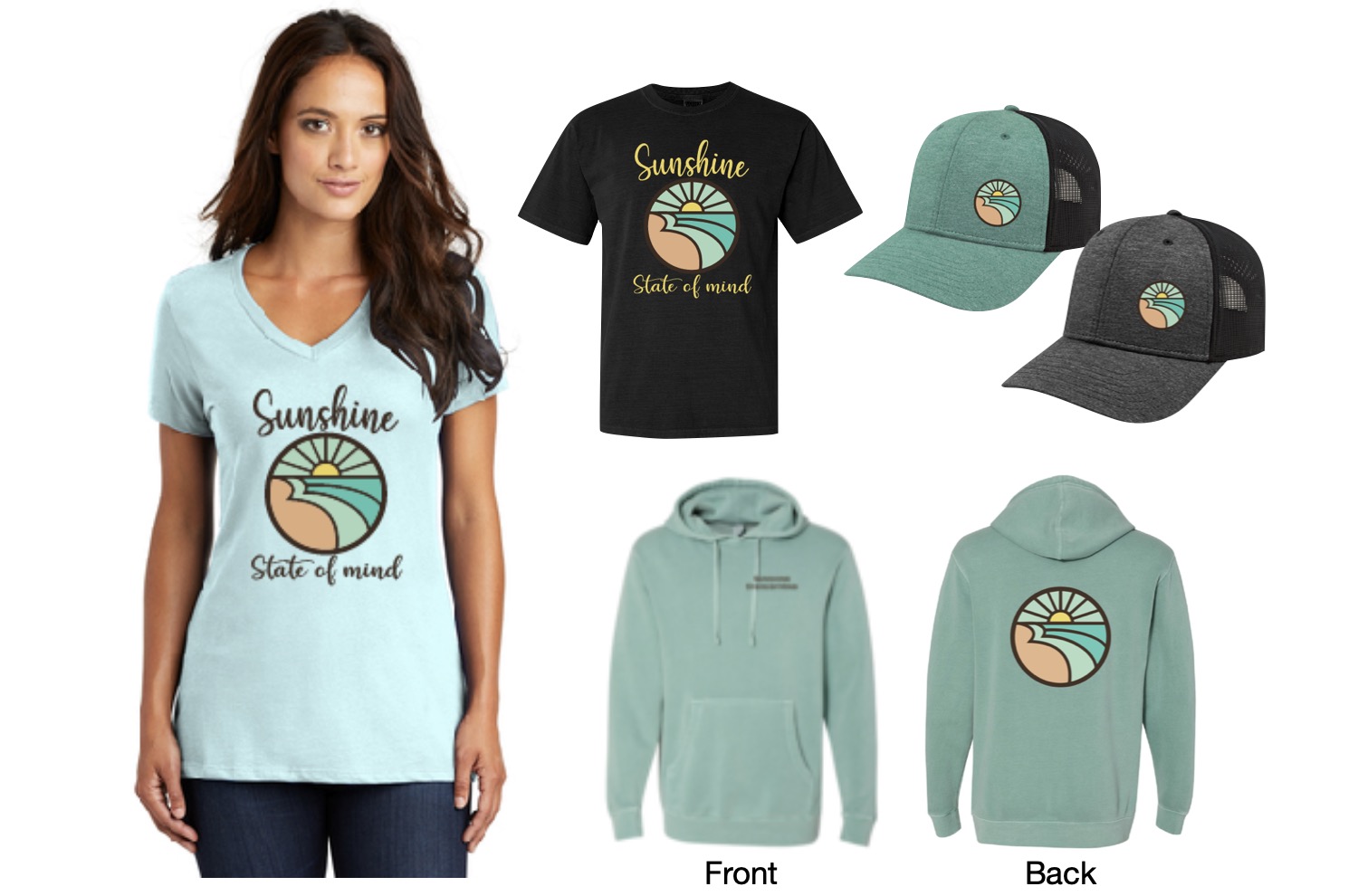 YOUR INTERACTIVE WEATHER PAGES
14 Local Maryland Pages (and York PA)
We have made a page for Maryland Weather which gives you the current conditions for 14 present area locations.
Local Hourly Forecasts and Local Radar
Central Maryland
Delmarva
Pennsylvania

Please share your thoughts, best weather pics/video, or just keep in touch via social media