Friday May 7
The best way to sum up this weekend and the next week is chilly. We are entering a cool pattern where temperatures will be 'at least' 10 degrees below normal. 
This weekend will be the coolest, and there is still a risk for inland frost and western Maryland snow.  Next week modifies a little, but not a lot.
Let's start with the rain, as we will get that to return this afternoon, and linger off and on through Mother's Day.
Thursday Morning Map
A series of cold fronts will bring in the rain showers. The first one arrives this afternoon, but will take its time crossing our region this evening.  The second front will help reinforce showers and maybe a chilly thunderstorm Saturday afternoon.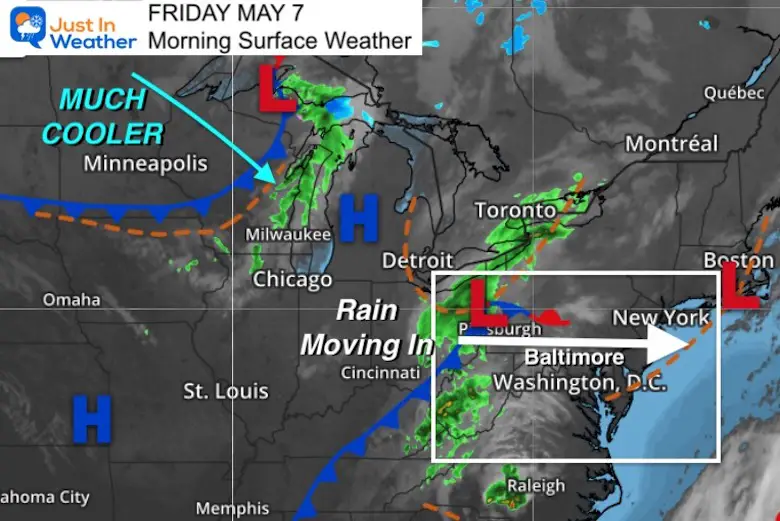 Rain Timeline Key Time Frames
This Afternoon: 
A line of rain, will have some heave pockets. This will enter the metro area by the commute home.
Tonight:
That band of rain will be a slow mover. Still raining in most of the metro area, but just entering Delmarva as it gets dark.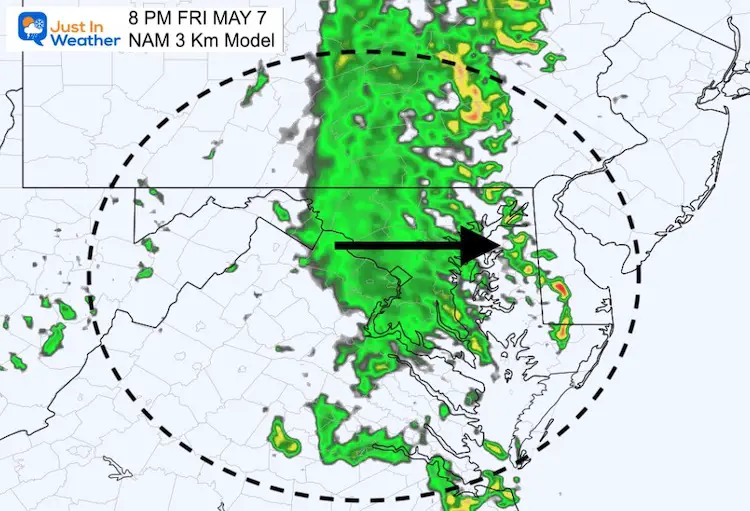 Saturday Morning:
Another band of rain showers possible, as flurries begins to show in the mountains.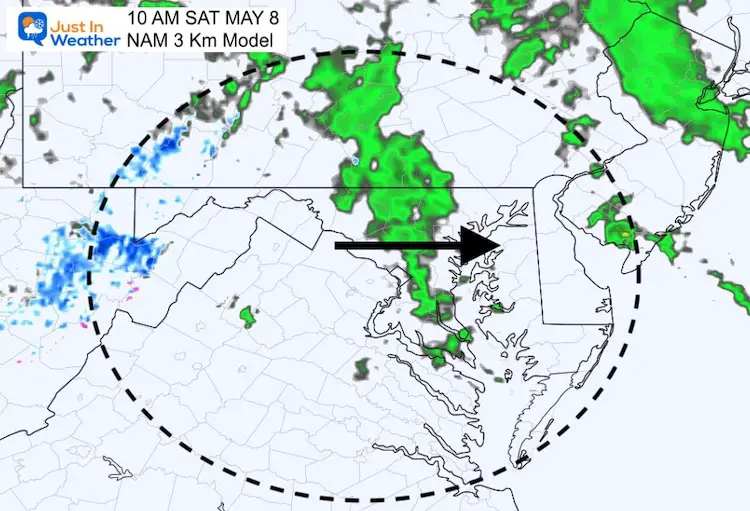 Saturday Afternoon:
In the chilly air, we can get low base thundershowers. The lower freezing level in the clouds can produce graupel or small hail. 
Snow showers will be falling, but not likely sticking in western Maryland and West Virginia.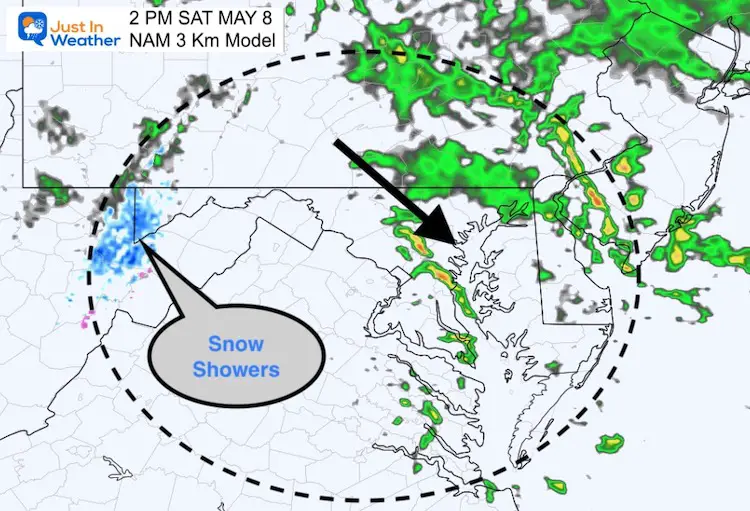 Radar Simulation Animation
Friday afternoon to Saturday Afternoon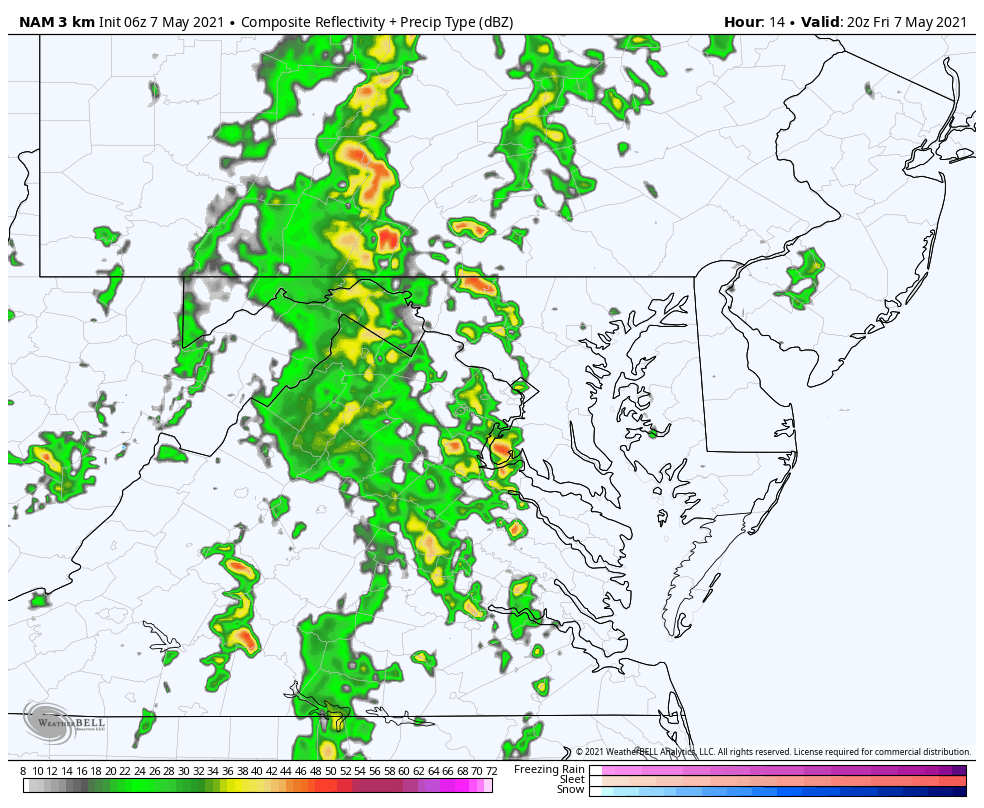 Mother's Day
This will be chilly, but not a washout. Just a chance for showers.
Rain and a line of thundershowers will arrive during the afternoon and evening.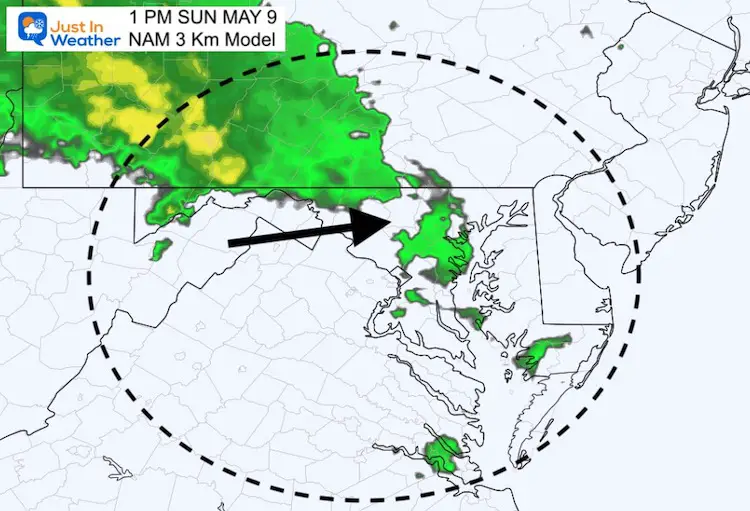 Temperatures 
Weather Almanac: Climate Data For Baltimore
Normal Low in Baltimore: 49ºF; Record 49ºF in 1958
Normal High in Baltimore: 71ºF, Record 96ºF 1930
Friday Afternoon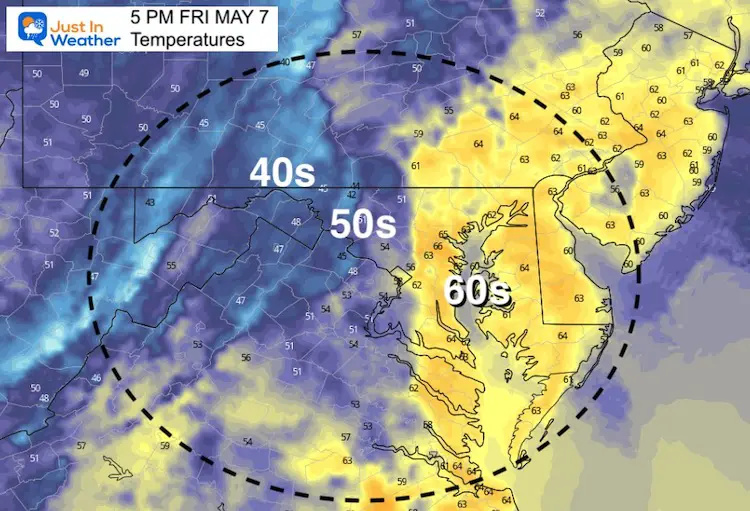 Saturday Morning
I am still on the fence about where the frost potential may reach.
If you live in the normally colder suburbs if Baltimore, play it safe: Cover your plants or bring them in.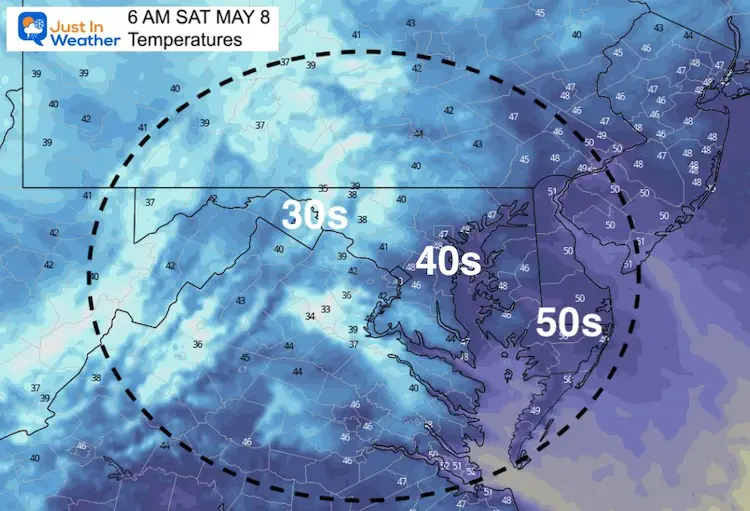 Saturday Afternoon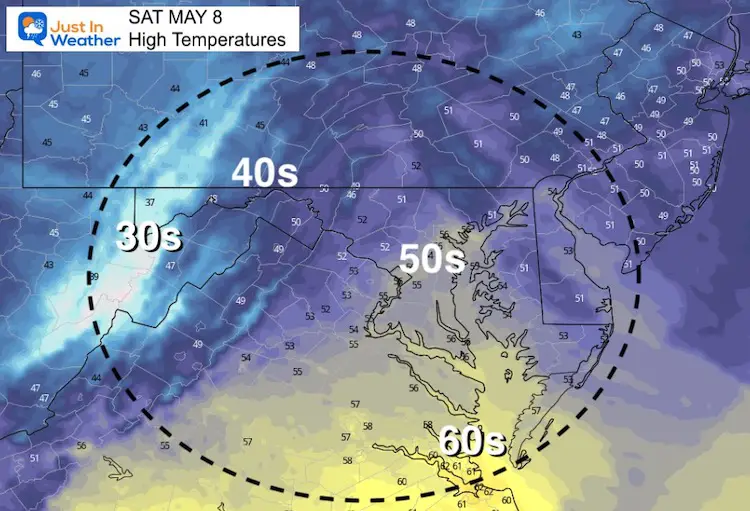 Temperature Outlook
It is likely we will not reach the 70s (average) for more than a week.
*Normal High Temperatures Should Be In The Lower 70s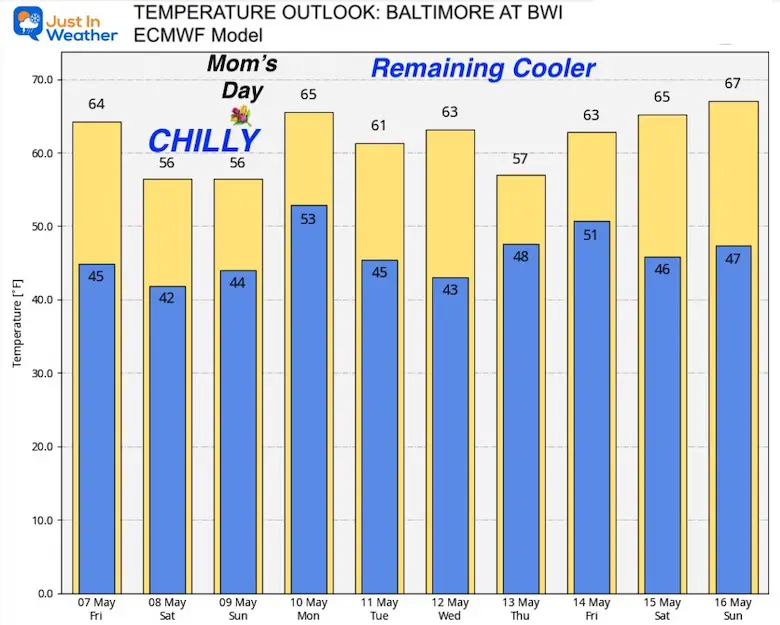 Sunshine State Of Mind
I am done with the cold and snow (for the season). I am embracing my wife's mantra of Sunshine State of Mind. This was designed by Shannon Berk and we will be wearing it through spring and to the beach.
Double Benefit: Proceeds will be split between our nonprofit Just In Power Kids and the development of my new weather website. That has been scheduled to be ready to launch in May.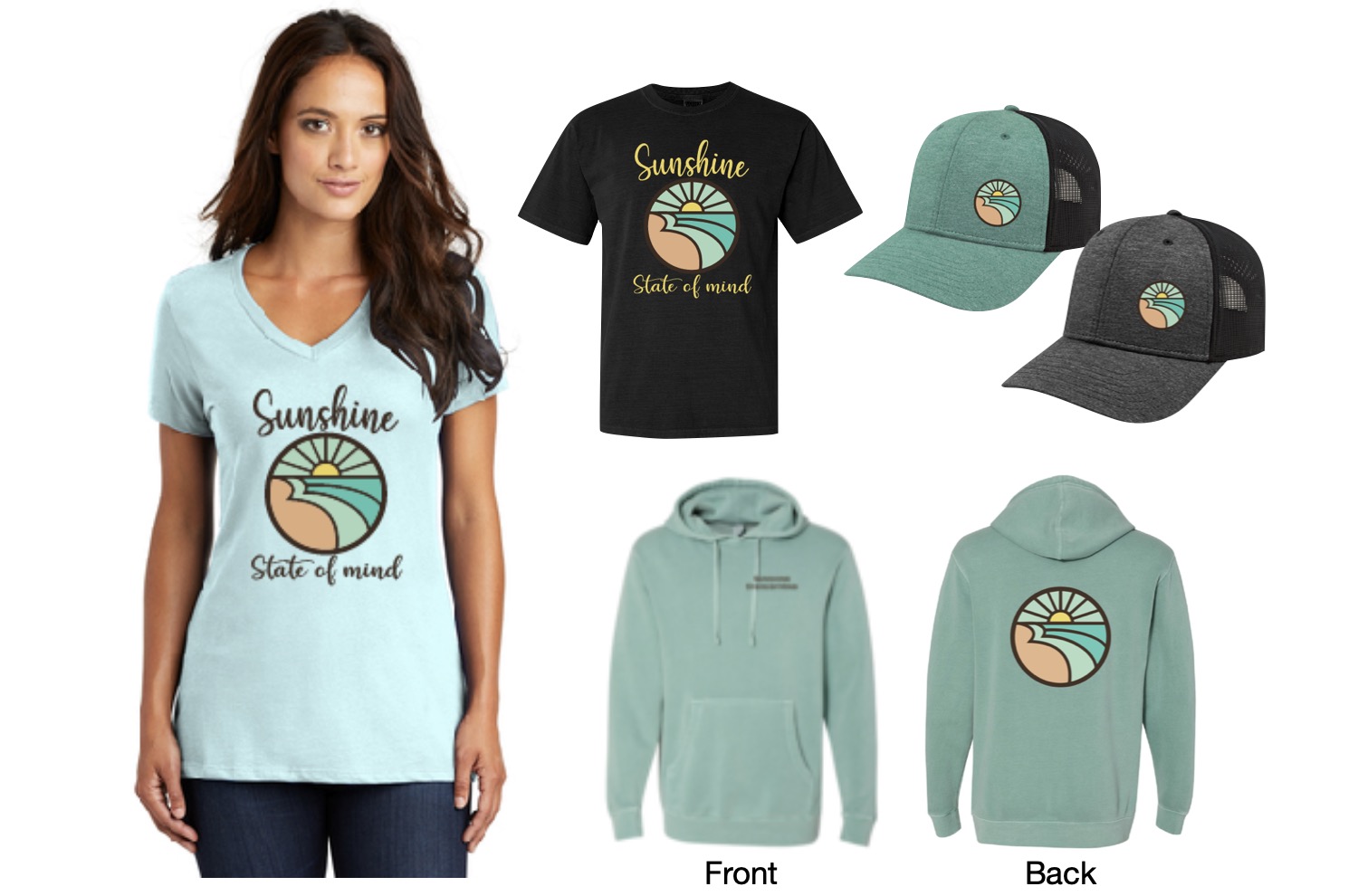 YOUR INTERACTIVE WEATHER PAGES
14 Local Maryland Pages (and York PA)
We have made a page for Maryland Weather which gives you the current conditions for 14 present area locations.
Local Hourly Forecasts and Local Radar
Central Maryland
Delmarva
Pennsylvania

Please share your thoughts, best weather pics/video, or just keep in touch via social media