Thursday April 22 2021
Could this happen again?  I will be up early Friday morning April 23 to watch for what could be an incredible sky show. Will you?
Here are tips for what we may see in the sky, and how to watch the Space X rocket launch right here online. I also added their famous Docking Simulator for fun.
Back on Sunday March 14, early risers in the Mid Atlantic got a pleasant surprise from the Space X Falcon 9 Rocket. This was launched from NASA's Cape Canaveral in Florida en route to the ISS, and seen all this way!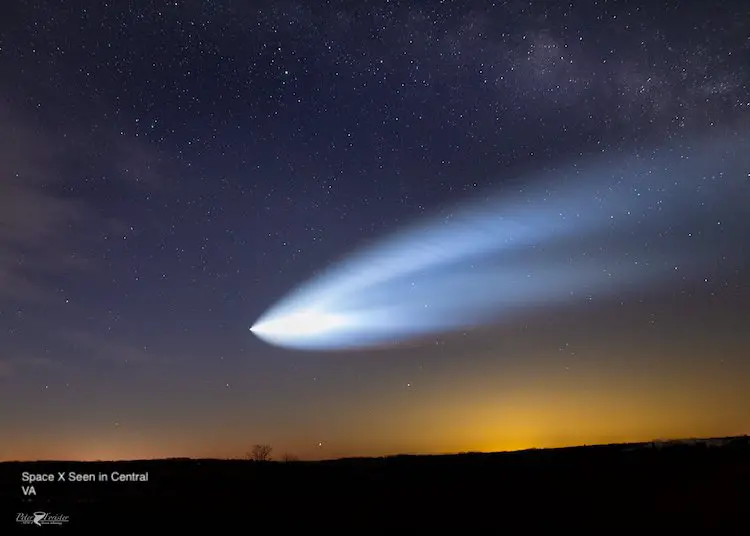 Peter Forester (@forecaster25) captured that amazing view in central Virginia before sunrise. But he wasn't alone. I was overloaded with UFO questions and put together a report including some video of what was seen. You can see that collection here:
This time we have a little more lead time to get the word out. If you head out, I have some tips. 
First: Bundle up!
This it will be before sunrise and we have a Freeze Warning/Frost Advisory in place.  That is a good hint that our sky should be clear.
What To Plan For:
5:49 AM EDT – Liftoff of the Flacon 9 with Crew-2 Dragon
4 astronauts will be on board.
The flight will track up along the east coast, over the Atlantic Ocean.

 

2 minutes and 36 seconds: That is how long the light from the Merlin 1D engines will be visible within a 300 mile radius.

 

2 minutes and 47 seconds: Time AFTER LAUNCH when the second stage will ignite.

 

5:52 AM EDT – If we get to see the event, this will be the rough time it will become visible!
This will be high enough in the atmosphere to catch the sunlight, while we will still be pre-dawn on the ground.

 
Sunrise in Baltimore will be at 6:17 AM
Where to look:
Face East!  This will be passing up the East Coast from south to north…
Simply aim for where the predawn glow is in the sky and look off towards the right a little.
Hopefully you live by or can easily find low obstruction view. It will be great by the water on the Baltimore/Annapolis side of the Chesapeake Bay, or by the ocean beaches. But there are plenty of other spots inland with a great opportunity. 
Below I have placed the Space X Video Feed, so you can simply come back and watch the launch right here.
Rocket Tracking Map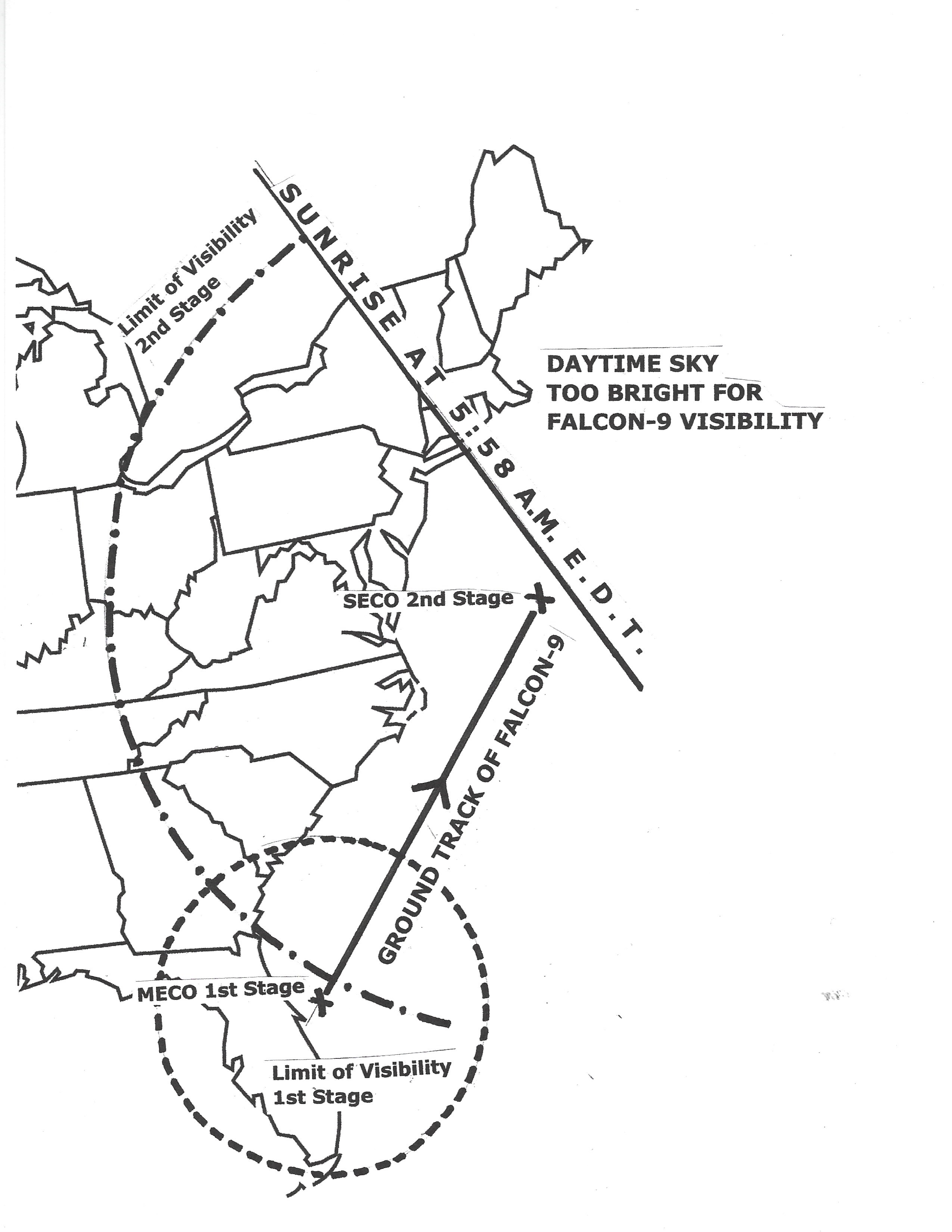 (Image credit: Joe Rao/space.com)
What We May See…?
This will be a similar set up to the March 24 launch. If all goes well, and the sky is clear, then you will see a predawn glow to the east, and perhaps the exhaust contrail catching that light from beyond our horizon at high altitude to glow like this:
Timelapse of the absolutely incredible twilight phenomenon from this morning's Space X launch as seen from Maryland. Got some dslr pics too! #spacex #Falcon9 pic.twitter.com/0K5FxPKPRs

— Robbie (@RobbMDWxMedia) March 14, 2021
Two more clips have been added to the timeline from Chris Brown  in Mt. Airy, MD and Ricardo Sanchez in Virginia.
I saw this here in Virginia at Valley view park I work as a park maintenance there and I looked up in the sky and saw this…I took pictures and this video pic.twitter.com/RNR8sgMAVV

— Ricardo Sanchez (@PiPoTime) March 14, 2021
SPACE X Video Feed
Just For Fun:
Docking Simulation from SpaceX
I don't know where to begin telling you about how much fun this is, and NOT EASY.  The simulation lets you control the Dragon on approach with ISS. There are instructions. It will help kids, and adult drivers realize there is no friction in space. So each movement needs to be small and steady.
Check it out and let me know what you think:
Sunshine Sate Of Mind
I am done with the cold and snow (for the season). I am embracing my wife's mantra of Sunshine State of Mind.
This was designed by Shannon Berk and we will be wearing it through spring and to the beach.
Double Benefit: Proceeds will be split between our nonprofit Just In Power Kids and the development of my new weather website. That has been scheduled to be ready to launch in May.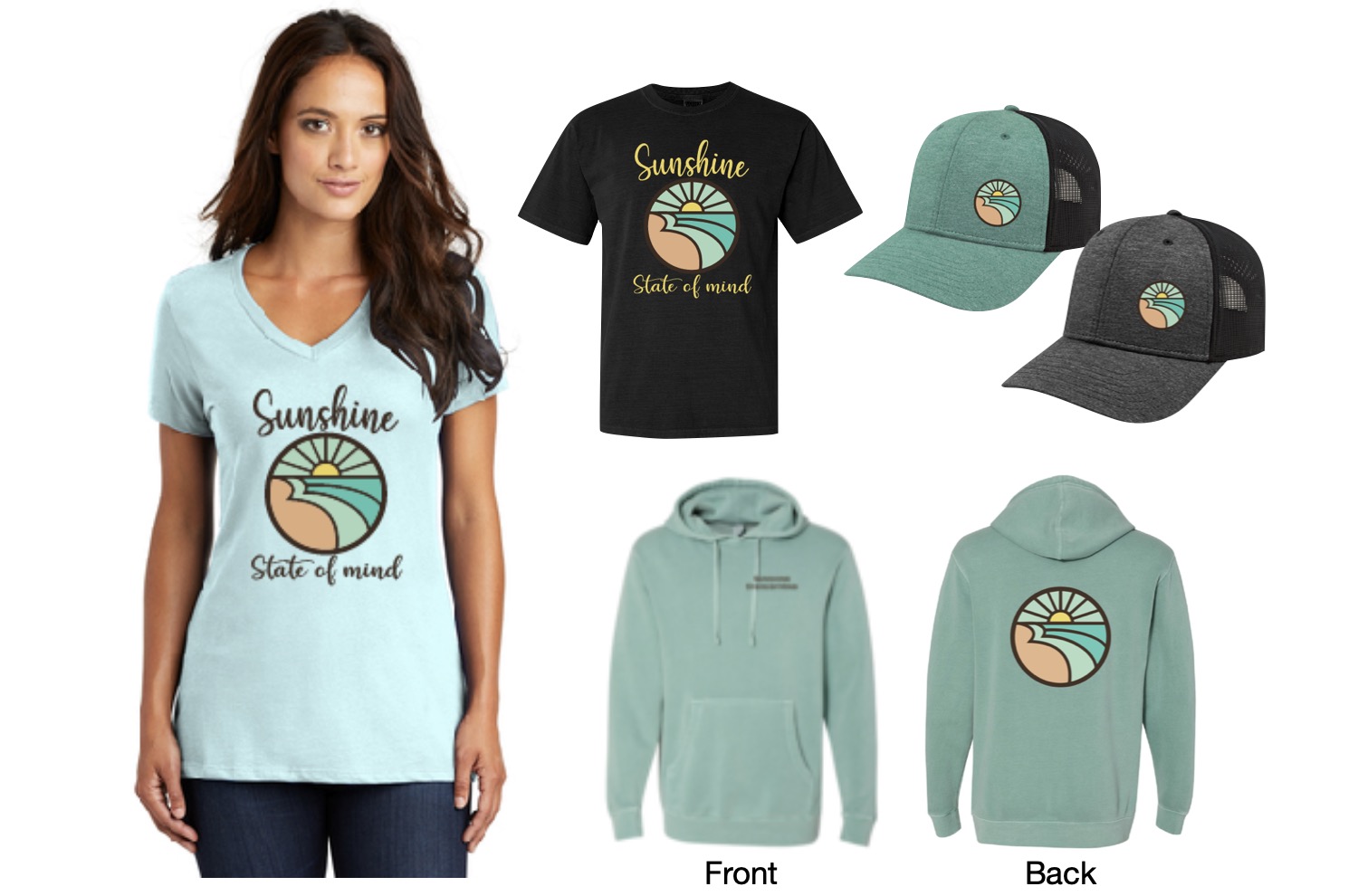 YOUR INTERACTIVE WEATHER PAGES
14 Local Maryland Pages (and York PA)
We have made a page for Maryland Weather which gives you the current conditions for 14 present area locations.
Local Hourly Forecasts and Local Radar
Central Maryland
Delmarva
Pennsylvania

Please share your thoughts, best weather pics/video, or just keep in touch via social media
Maryland Smoothie King Is Now Supporting Our Nonprofit Just In Power Kids