Monday April 12 2021
The weather in April truly can vary from late winter to early summer in Maryland. We've already seen about everything in the first two weeks from snow showers to thunderstorms and even temps into the 80s.
Here are the high temperatures so far this month, measured at Baltimore's BWI:
After a chilly start, most of this month so far has been above average. We are about to get payback for that, which means many more chances for frosty mornings, and some snow in the western Maryland mountains. Even the polar vortex has even made conversation among experts.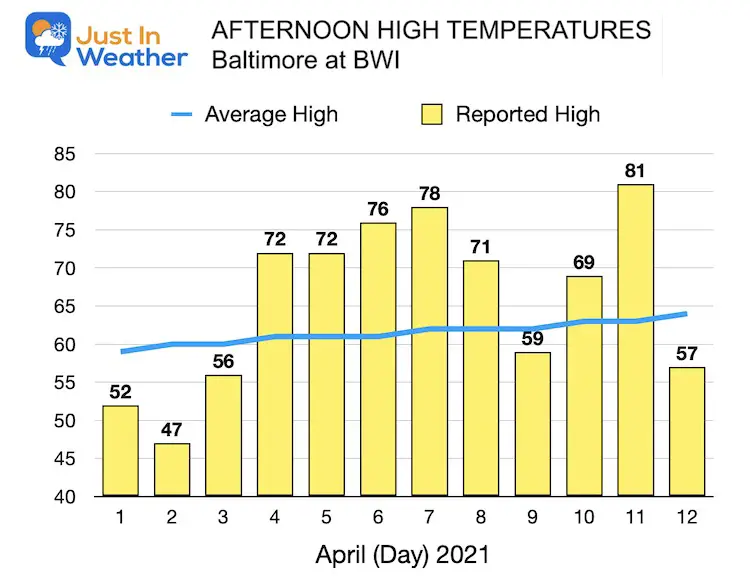 The next few weeks will be trending cooler than average for the eastern US.  Let's take a look at what that means.
Temperature Trend Day 6 to 10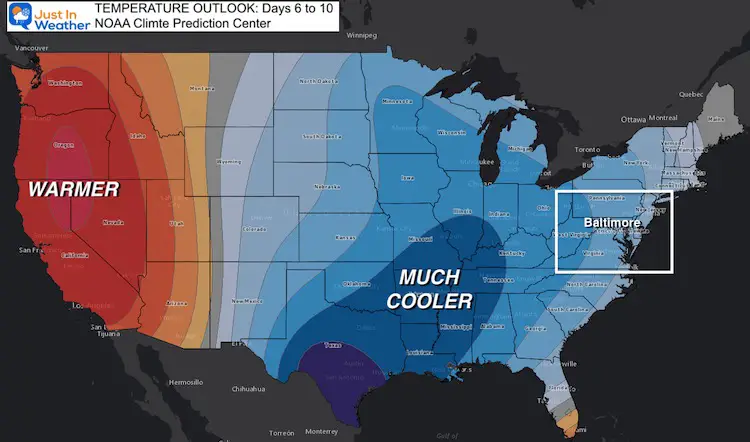 Alaska Sending Its Cold
It may not have been on your radar, but last week Alaska set all time monthly records for both snow and cold:
* Bettles, AK fell to -38ºF on Friday, a monthly record (for any April date).  Old:  April 7 of 1986, when Bettles fell to -37ºF.
* Anchorage had 24″ of snow cover Thursday, its latest date on record with 24″ depth.
This Tweet put it in perspective:
The cold that's inbound to Alaska is truly extreme for the time of year. The NWS forecast of -30°F in Fairbanks would be 47°F below normal, the largest negative anomaly (any time of year) since 1969. -4°F in Anchorage would be 5 std devs below normal. @AlaskaWx @Climatologist49 pic.twitter.com/mLtCDD6goQ

— World Climate Service (@WorldClimateSvc) April 7, 2021
Polar Vortex
With the mention of extreme cold, even in April this can make an appearance. Our friend Dr. Judah Cohen had his take on it. 
2) The GFS is predicting a pattern consistent with the dynamic Final Warming with ridging and relatively warm temperatures in western North America and troughing with relatively cool temperatures in eastern North America. pic.twitter.com/UmF80GI7gv

— Judah Cohen (@judah47) April 9, 2021
Storm Animation: Chilly and Damp
This cold pattern makes the air unstable, so when combined with stronger April sunshine produces more clouds and rain showers.
This will be the expectation Wednesday through Friday, as  coastal Low may enhance the cold and produce snow in metro New York City.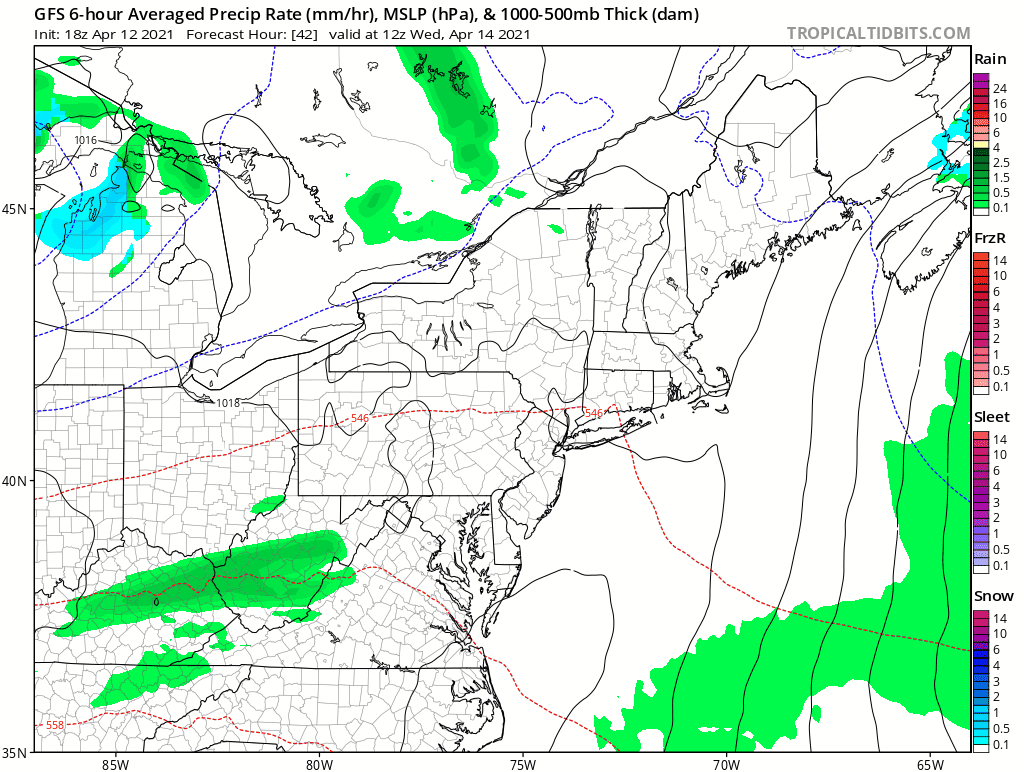 Western Maryland Snow
Early Friday morning, there may be enough snow to coat the ground in Garrett County, MD. This may seem late, but is not too rare for them.
Jet Stream Pattern
The buckling of the jet stream will send reinforcing troughs (blue) to keep us colder than average into next week, and maybe beyond.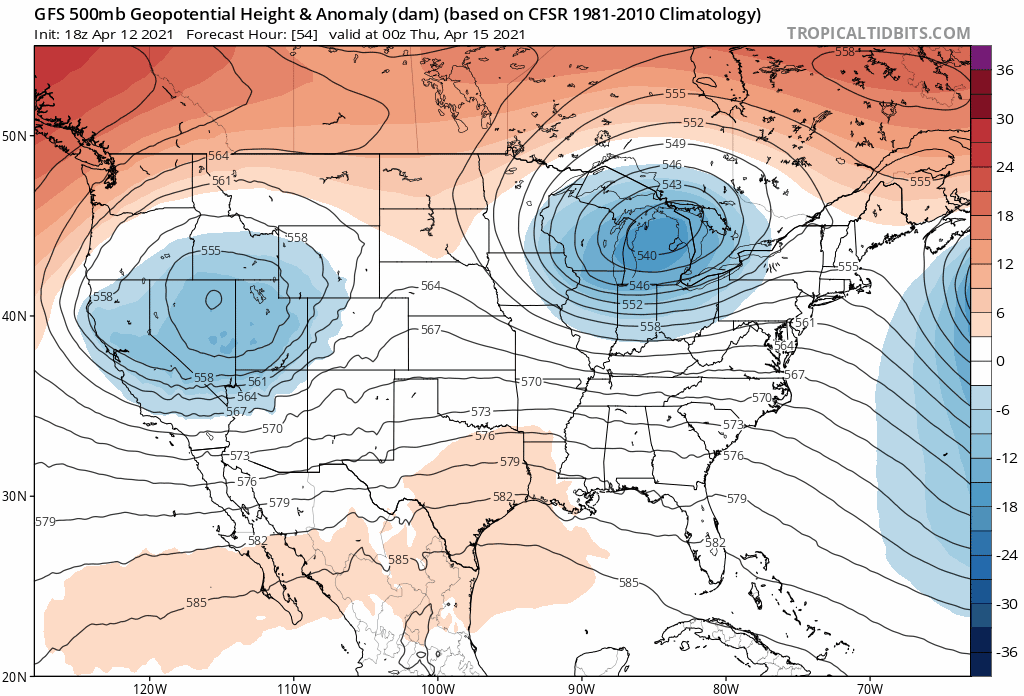 The NOAA Guidance also supports a cooler than average trend into Day 14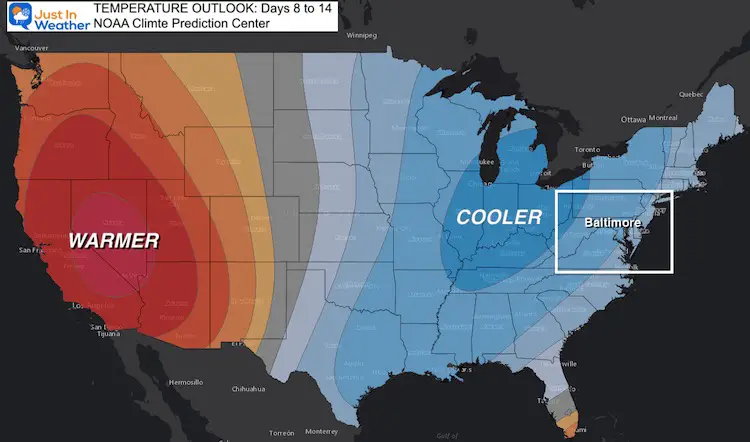 Temperature Outlook
This forecast is for BWI. So, we can expect inland areas to be at least 5 degrees colder (or more).
If this was winter, we could be looking at a nice snowy pattern. But this deep into April, the more likely expectation is for chilly days and colder nights. 
That brings many opportunities for frosty mornings. This may encourage you to hold off longer on your planing, and possibly slow down the emergence of the bulk of Cicada Board X.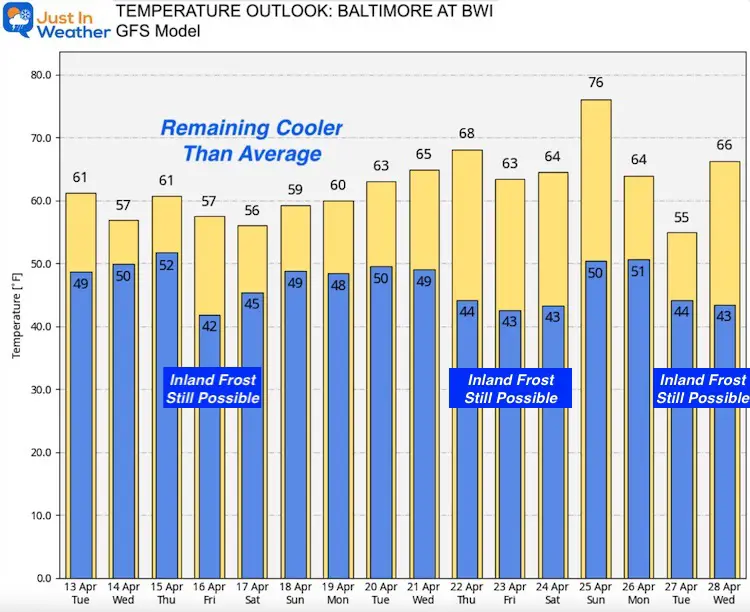 Sunshine Sate Of Mind
I am done with the cold and snow (for the season). I am embracing my wife's mantra of Sunshine State of Mind.
This was designed by Shannon Berk and we will be wearing it through spring and to the beach.
Double Benefit: Proceeds will be split between our nonprofit Just In Power Kids and the development of my new weather website. That has been scheduled to be ready to launch in May.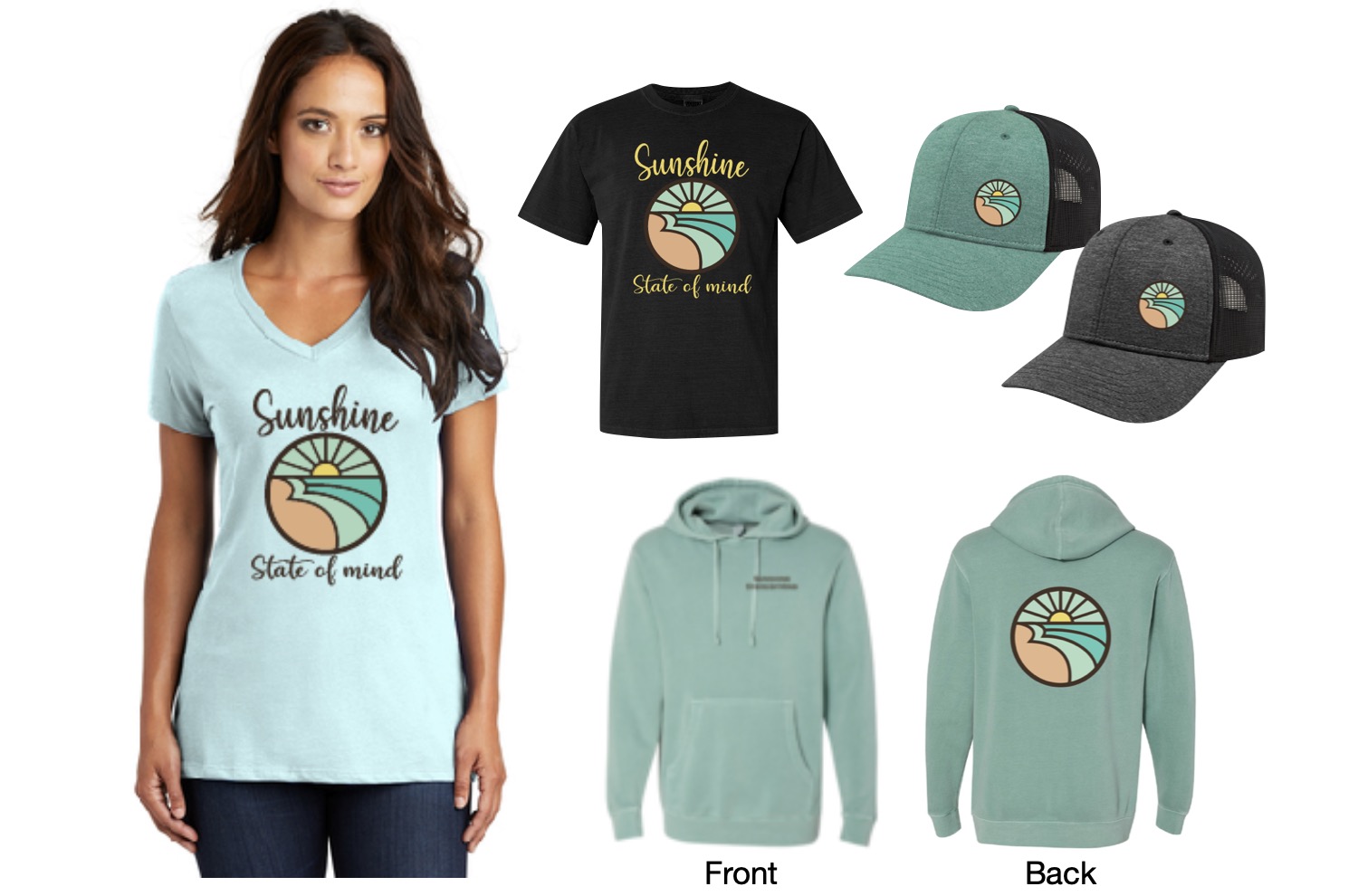 YOUR INTERACTIVE WEATHER PAGES
14 Local Maryland Pages (and York PA)
We have made a page for Maryland Weather which gives you the current conditions for 14 present area locations.
Local Hourly Forecasts and Local Radar
Central Maryland
Delmarva
Pennsylvania

Please share your thoughts, best weather pics/video, or just keep in touch via social media
Maryland Smoothie King Is Now Supporting Our Nonprofit Just In Power Kids