Thursday April 8 2021
Before we get to today's weather, I want to address the UFO reports last night. It was actually identified, but still special, or startling if you saw it.
This was the view from Brock Goddard that many had seen over central Maryland and Virginia. It was described as a long white to orange streak, or a cluster of many lights if you had better resolution. See his video below.
Here is video from his Tweet:
Can someone please explain what this is? #ufosighting #ufo pic.twitter.com/u7nnsGtFkC

— Brock Goddard (@brockgoddard6) April 8, 2021
Explanation: Elon Musk continues to leave his mark.  This was a continuation of the Statlink satellite program designed to bring internet communications to remote location around the globe.
Check out this video:
Starlink Satellites Launch And Deployment:
Space X launched another 60 Starlink Satellites From Falcon 9 Rocket
Watch Falcon 9 launch 60 Starlink satellites to orbit → https://t.co/bJFjLCzWdK https://t.co/VynQjPcYI8

— SpaceX (@SpaceX) April 7, 2021
We have had more clouds mix in across our sky as a weak front is draped over our region. Where the winds are from the east from the ocean it is a little cooler. But inland, remaining mild.  
Today will still be nice, but we bring in the chance of showers Friday, then maybe thundershowers over the weekend when we warm back up.
Morning Surface Weather
We are still between a large and strong storm in the central US and the circulation over the Atlantic that has been nearly stalled all week. Eventually this pattern will break down.
Morning Satellite Loop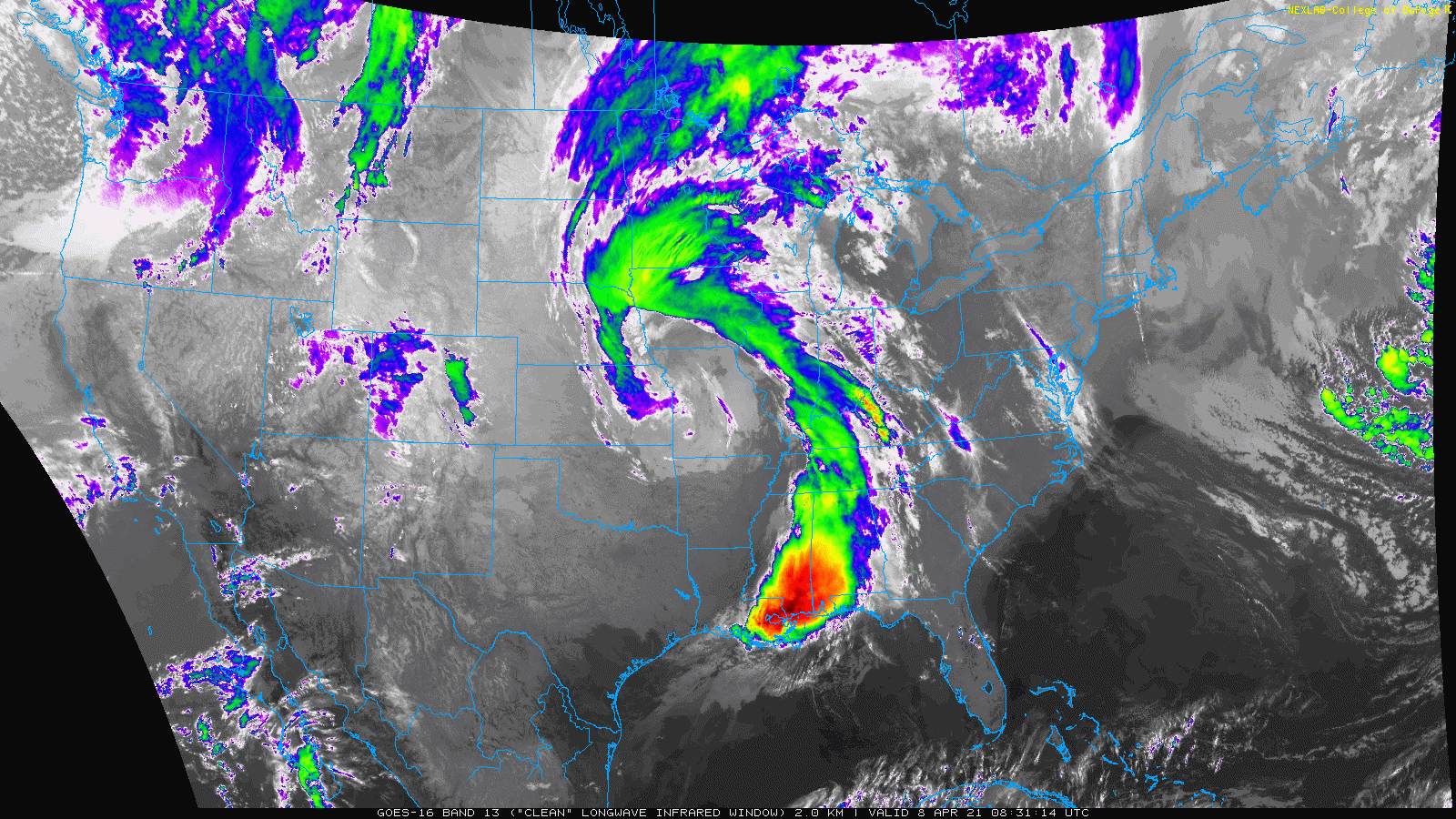 Morning Temperatures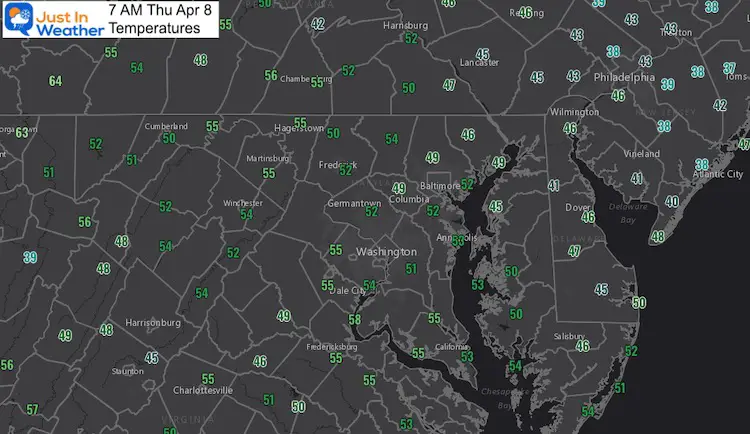 Weather Almanac
Normal Low in Baltimore: 41ºF; Record 26ºF in 1982
Normal High in Baltimore: 62ºF, Record 91ºF 1929
Monday Afternoon Temperatures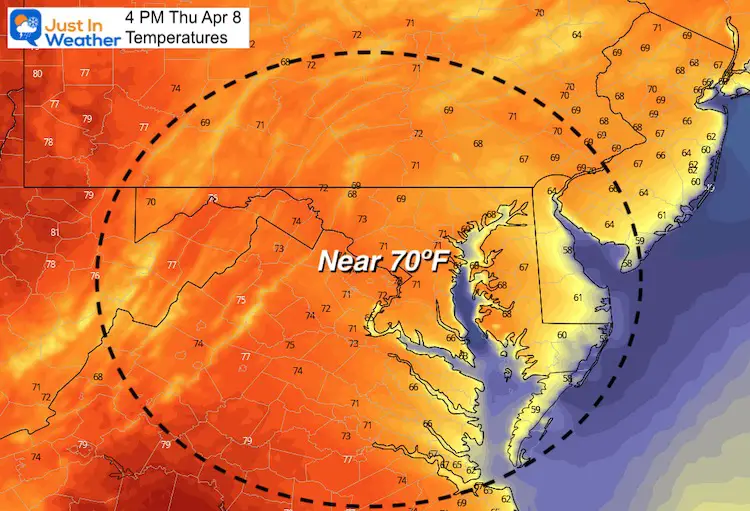 Forecast Snapshot: Central Maryland
The better chance of showers will build in Friday, along with cooler temps.  We break back into warmer air this weekend. This may bring some thundershowers by Sunday afternoon.

Rain Animation:
Impulses of rain showers tonight through tomorrow night. This is not region wide and well organized, but will keep the threat of rain around.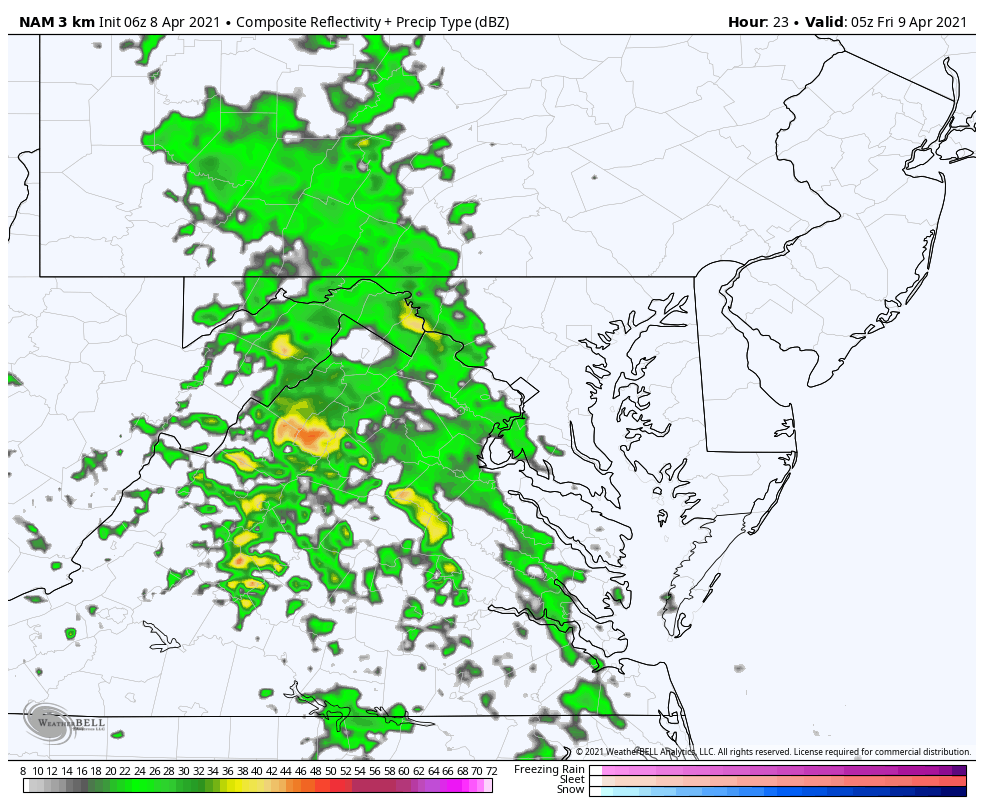 Temperatures Friday
With more clouds and showers, this should be our coolest day of the week.
Morning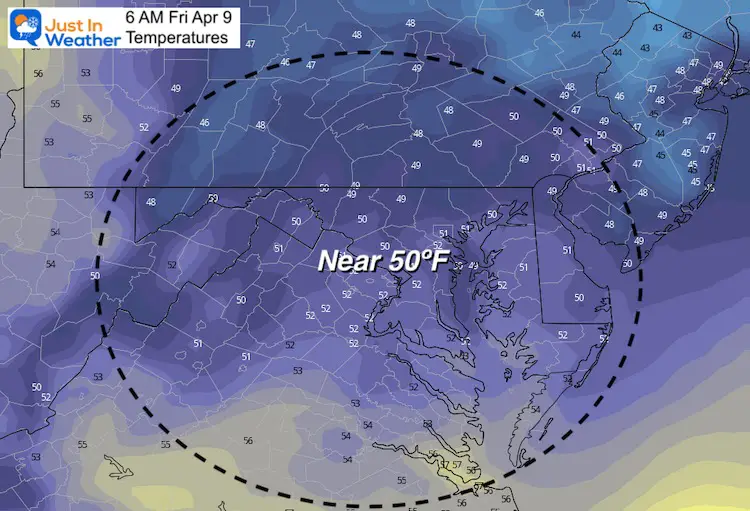 Afternoon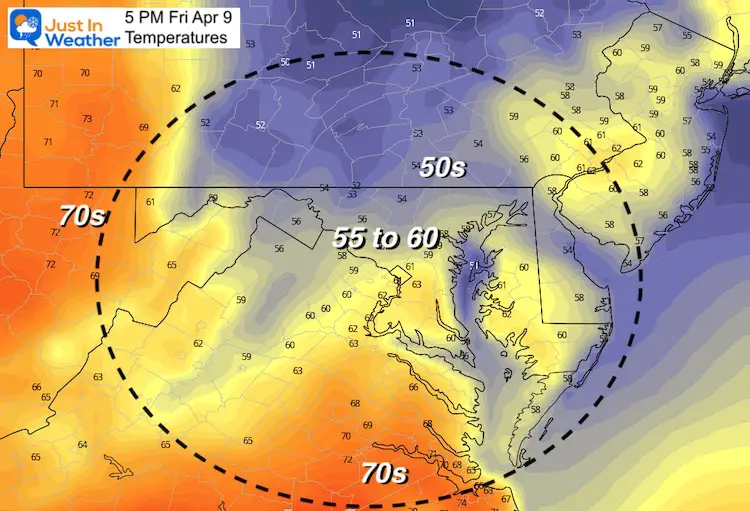 Temperature Outlook
YOUR INTERACTIVE WEATHER PAGES
14 Local Maryland Pages (and York PA)
We have made a page for Maryland Weather which gives you the current conditions for 14 present area locations.
Local Hourly Forecasts and Local Radar
Central Maryland
Delmarva
Pennsylvania

Please share your thoughts, best weather pics/video, or just keep in touch via social media
Maryland Smoothie King Is Now Supporting Our Nonprofit Just In Power Kids