April 8 2021
Researchers at Colorado State University have come out with their forecast for the Atlantic Hurricane Season, and it should be busy again.
Dr. William Gray pioneered long range forecasting and impacts of teleconnections from other parts of the world on tropical development. Since his death in 2016, Dr. Phil Klotzbach and his research team continue this work with remarkable accuracy. It is a primary factor with the NOAA and The National Hurricane Center.
Below you can find the CSU Forecast, 2021 Storm Names, and Second List Names.  Also a brief recap of 2020 season local highlights.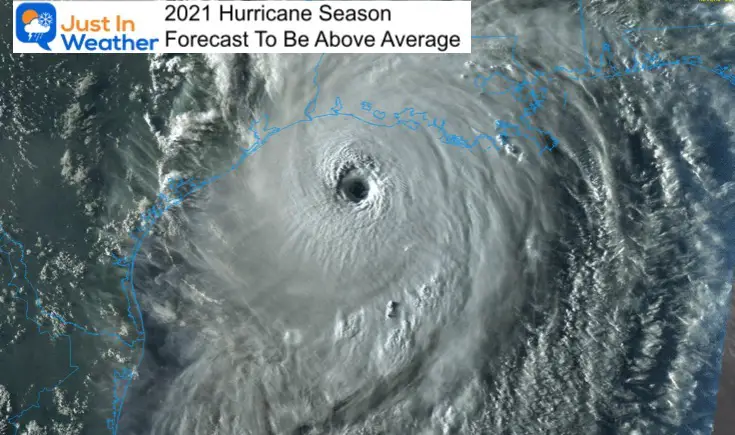 Hurricane Season Forecast
| | | | |
| --- | --- | --- | --- |
| | 2021 Prediction | Last Year | Average Year |
| Named Storms | 17 | 30 | 12.1 |
| Hurricanes | 8 | 13 | 6.4 |
| Major Hurricanes | 4 | 6 | 2.7 |
Dr. Klotzbach suggests the ocean waters will be warmer than normal and La Nina ( in the Pacific) may persist into the heart of hurricane season. In years with La Nina, the wind shear (in the Atlantic ) is typically lighter. When wind shear is lighter, there is generally an increase in hurricane activity.  
In contrast, El Nino years, the higher Pacific storm activity increases upper level winds and sheers off the tops of Atlantic storms, limiting development. 
NUMBER OF STORMS DOES NOT DETERMINE WHAT WILL REACH LAND
1992: Only 7 storms were named, but one of them was the devastating Category 5 Andrew that crushed south Florida.

 

1983: Only 4 storms were named, but one of them was Category 4 Alicia pummeled south Texas,
2010: There were 19 named storms with 12 becoming hurricanes. None reached the US shores.
Storm Names
Last year, 2020 brought us a record 30 named storms and a big change to the naming system. The Greek Alphabet was used (as was in 2005), when the name list was completed. The World Meteorological Organization decided it caused added confusion, so a secondary list is waiting indefinitely. If that is not used this year, it will be waiting for when it may be needed.
2021 Storm Names
The letters Q, U, X, Y, and Z are not used. That leaves us with a list of 21 names, before any addition list is needed. 
Ana

Bill

Claudette

Danny

Elsa

Fred

Grace

Henri

Ida

Julian
Kate
Larry
Mindy
Nicholas
Odette
Peter
Rose
Sam
Teresa
20.

Victor

Wanda
Second List
If we get into this it would surpass expectations. If we use up this list, we have a problem. 
Adria

Braylen

Caridad

Deshawn

Emery

Foster

Gemma

Heath

Isla

Jacobus
Kenzie
Lucio
Makayla
Nolan
Orlanda
Pax
Ronin
Sophie
Tayshaun
Viviana
Will
Related Posts
Atlantic Tropical History: Maps of Origin Regions Every 10 Days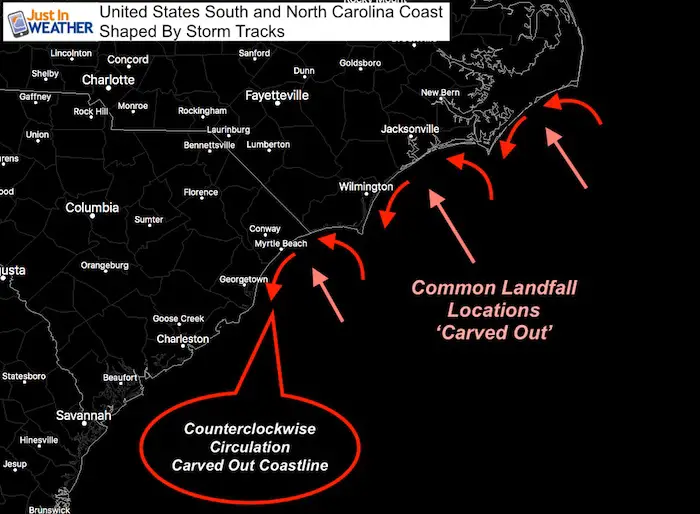 2020 Named Tropical Storm and Hurricane Tracks
If viewing on a phone, turn sideways or pinch to zoom for larger view
Often patterns will develop, and some region can be visited by multiple storms.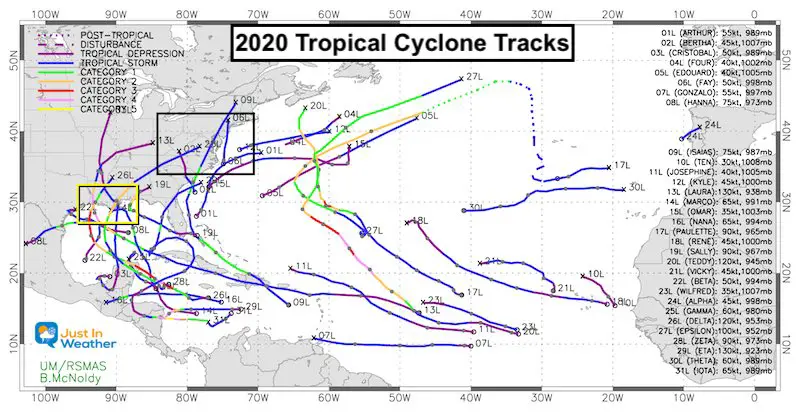 Sunshine Sate Of Mind
I am done with the cold and snow (for the season). I am embracing my wife's mantra of Sunshine State of Mind.
This was designed by Shannon Berk and we will be wearing it through spring and to the beach.
Double Benefit: Proceeds will be split between our nonprofit Just In Power Kids and the development of my new weather website. That has been scheduled to be ready to launch in May.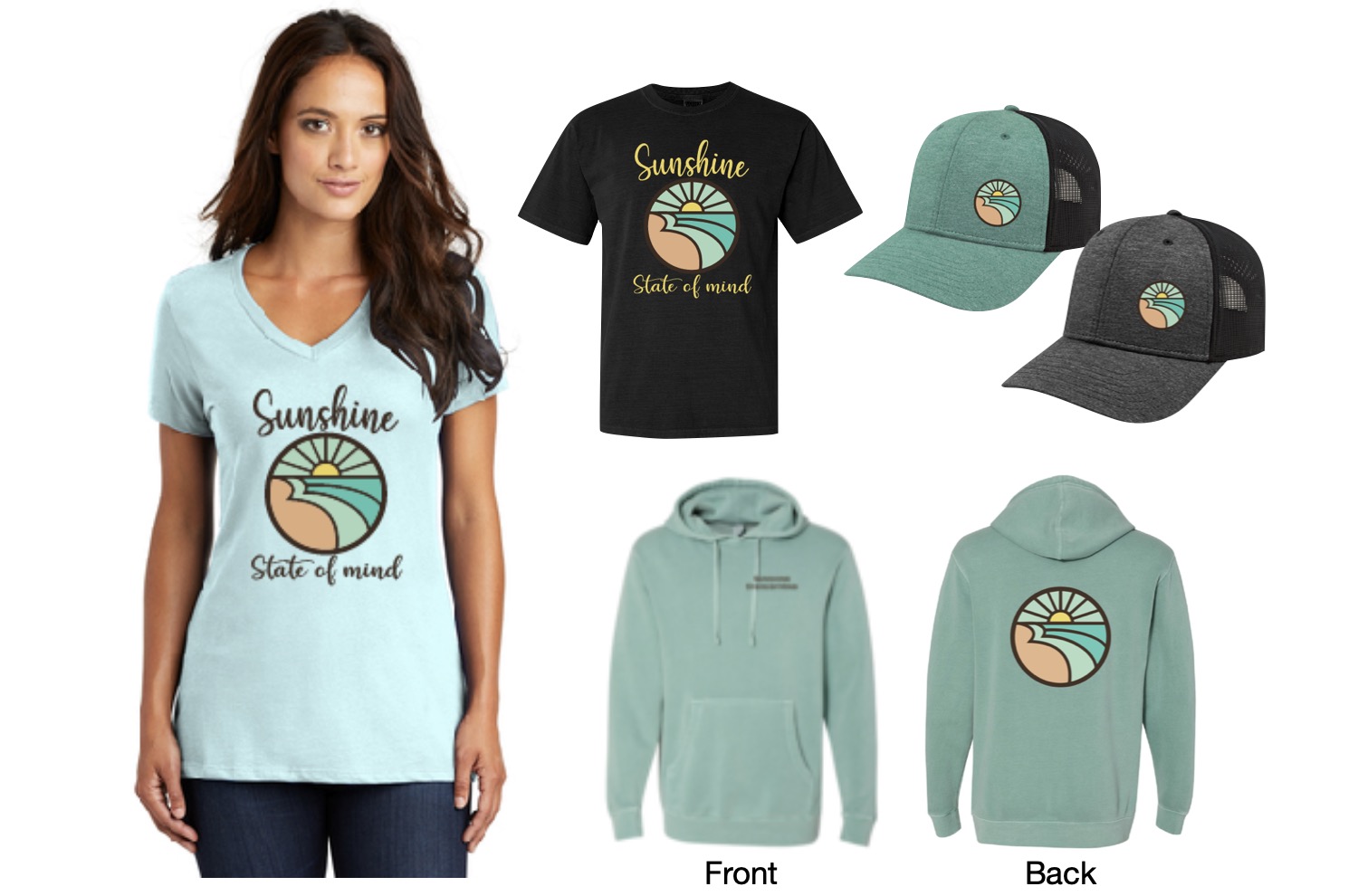 Local Impacts From 2020
4 Storms 'Hit' With 3 Actually Passing Through Maryland.
Tropical Storm Fay:
This was a Close Coastal that moved along the coast quickly and brought flooding to the region. If we have a storm like this in winter, it could be a snow producer near and west of the Bay.
Two Named Storms physically crossed Maryland (St. Mary's County), while one was downgraded and the remains reached:
Tropical Storm Isaias – This crossed St. Mary's County to Easton then north into the Philadelphia suburbs.
Laura– This was downgraded before reaching us, but the remains crossed southern Maryland.
Zeta – This was downgraded to a 'Post' Tropical Storm before reaching us, but remains crossed southern Maryland near where Isais passed in St. Mary's County.  *This is key!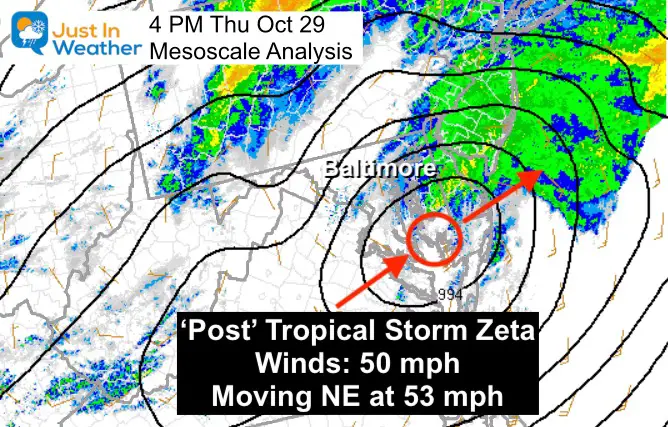 Gulf Storms: This Was The  Hot Zone!
Louisiana Landfalls (5) And Gulf Storms
Image from NOLA was generated on Oct. 27 a day before Zeta made landfall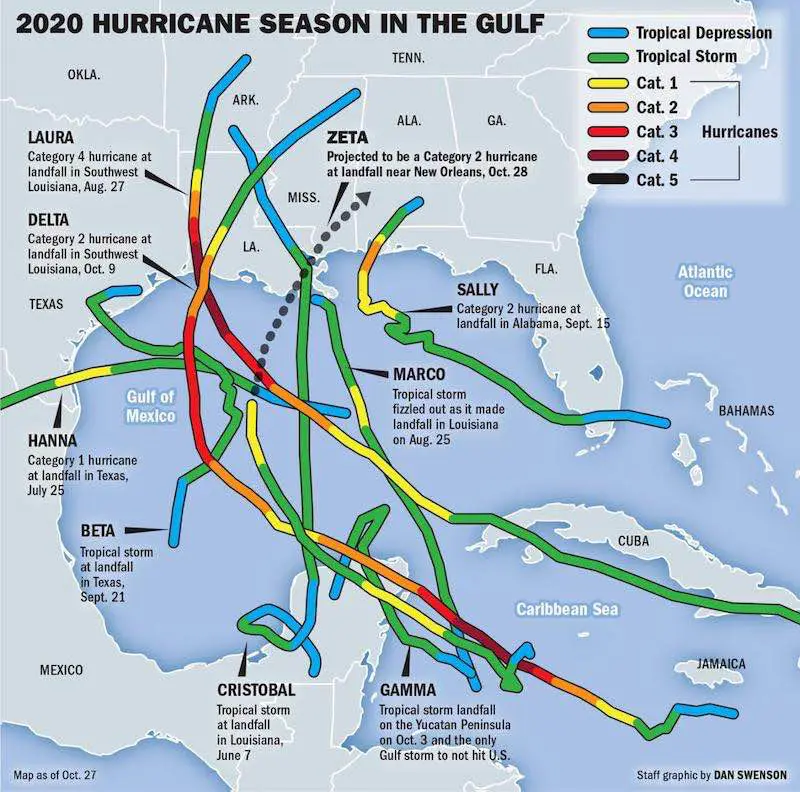 YOUR INTERACTIVE WEATHER PAGES
14 Local Maryland Pages (and York PA)
We have made a page for Maryland Weather which gives you the current conditions for 14 present area locations.
Local Hourly Forecasts and Local Radar
Central Maryland
Delmarva
Pennsylvania

Please share your thoughts, best weather pics/video, or just keep in touch via social media
Maryland Smoothie King Is Now Supporting Our Nonprofit Just In Power Kids