Sunday Night Update
With the Winter Weather Advisory in place Monday morning, we usually expect 1 to 3 inches of snow. There is one factor that is critical to both snow totals and impact on the roads: Timing!
In this post we will look at the arrival time, my call for snowfall, and compare to other model snow forecasts.
If this speeds up by as little as one or two hours, it can make a big difference with the results on Monday.  The problem is that time window has been what we have seen with early arrivals of many other systems this winter.
The good news is that we all thaw with temps in the mid 30s in the afternoon. This will end with rain in many areas before the ride home.. But heavy rain and thunder possible across Delmarva.
Morning Road Problems? My Suggestion:
Snow stickage by sunrise: From Hagerstown west to Garrett County.
Likely to be a problem 8 AM to Noon: Frederick, Westminster, York/Lancaster.
Roads might be a problem for the first two hours: Germantown, Mt. Airy, Hunt Valley/Hereford, Fallston.
Some Slush Maybe At The Start,  But Mostly Wet: Washington, Columbia, Baltimore, Annapolis, Bel Air, Elkton. This is more likely if the snow arrives earlier.
SEE THE MONDAY MORNING UPDATE
Snow Timeline And Expectations 
Winter Weather Advisory
Most models had been showing the snow reaching central Maryland between 9 to 10 AM.  Even after our cold weekend, that time of day will get an assist from daylight in metro areas to keep roads wet.
But, if this arrives closer to 8 AM, then it can may briefly overtake the pavement and allow more snow to accumulate.
This also complicates the work and school commute.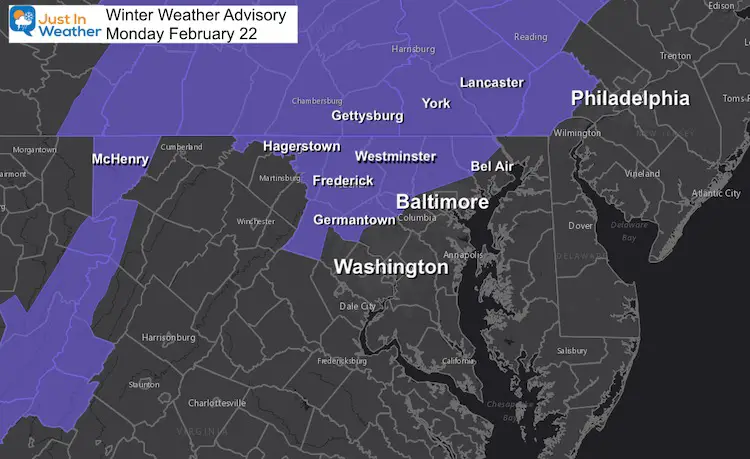 Temperatures: Morning
We start below freezing in the Advisory Area, but all thaw by the afternoon.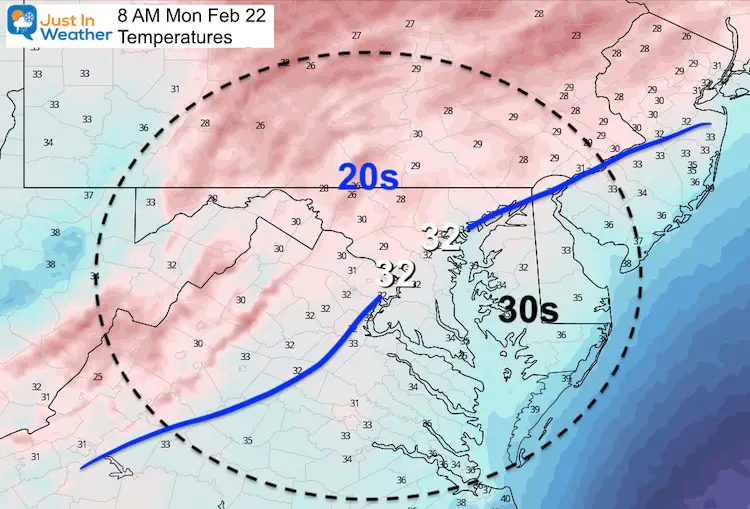 HRRR Model
This high resolution model keeps increasing the arrival time with each update.
Here we see the arrival between Frederick and Baltimore between 8 AM and 9 AM.
Heavy rain might produce some thunder on Delmarva in the afternoon.
Explore more: I showed the NAM 3 Km Model simulation in my last report.
—-> slider
Temperature Afternoon
Should end up in the mid 30s for all areas that got morning snow.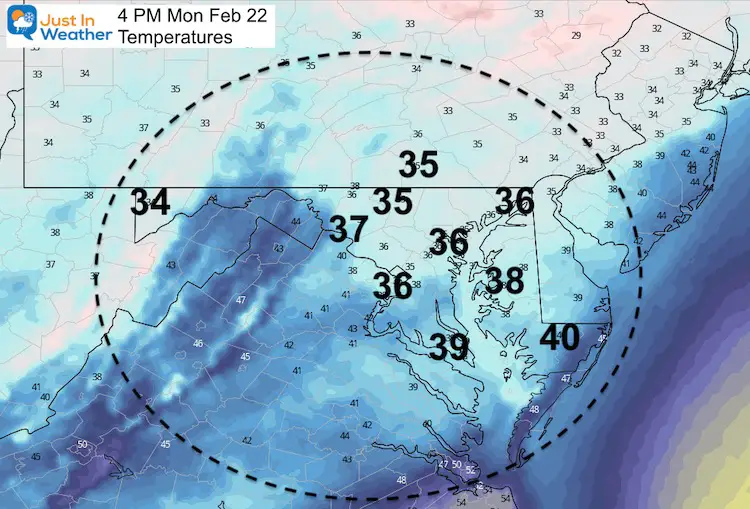 My Call For Snowfall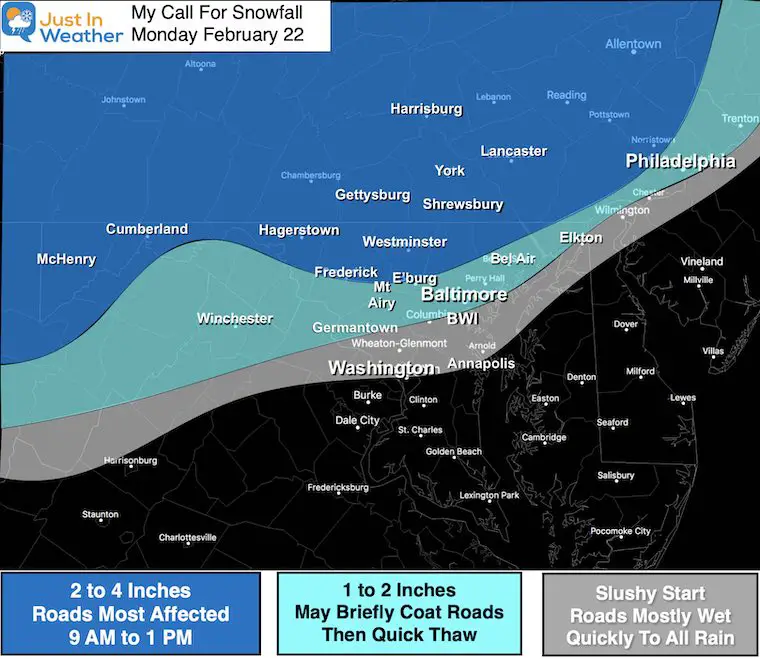 Other Computer Model Snow Forecasts
—> slider
Next Update:
I will be up early to track the arrival of the snow.  I will try to post any new info before 6 AM.
This timing really will be the make or break for impact on the fringe of the Advisory region.
Please share your thoughts, best weather pics/video, or just keep in touch via social media
YOUR INTERACTIVE WEATHER PAGES
14 Local Maryland Pages (and York PA)
We have made a page for Maryland Weather which gives you the current conditions for 14 present area locations.
Local Hourly Forecasts and Local Radar
Central Maryland
Delmarva
Pennsylvania