Monday February 22 2021
The most trying part of this forecast is tracking the arrival of snow, and possibly sleet. This will not be the same as the storm last Thursday, but it may behave similarly at the start with a quick surge of snow and a mix.
The atmosphere does give up hints, which is why we have the saying, "the trend is your friend".  This system will bring in warmer air, so the arrival as close to sunrise as possible will act on the cold air and ground in place to let snow reach the ground and stick.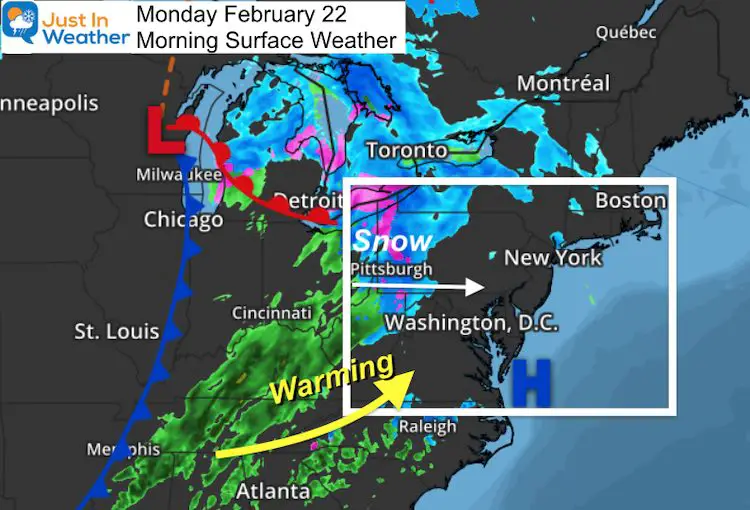 Temperatures
Let's check with temperatures, and see a large area at 5 AM are still below freezing. Baltimore at BWI just reached 32ºF with a South winds.  That is important to signal where the quick change over is more likely.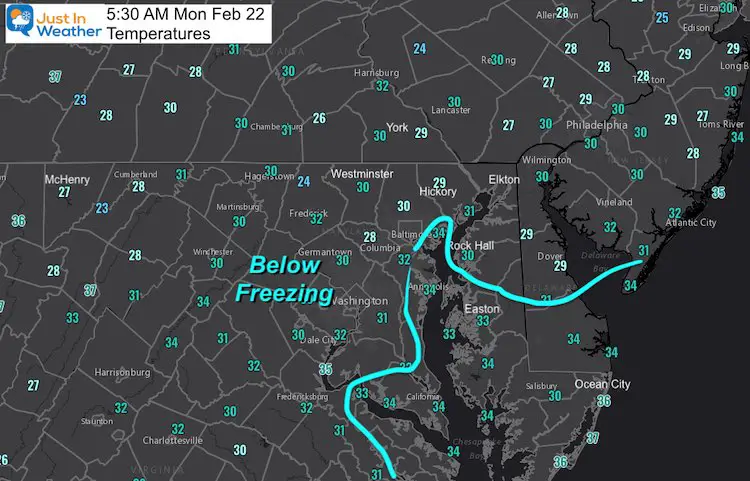 SEE THE UPDATE: Click to see
Snow Squall Warning and Expanded Winter Weather Advisory
Winter Weather Advisory
As is typical, the counties inland and away from the water are where it will be cold enough, long enough for impact at the start of this event.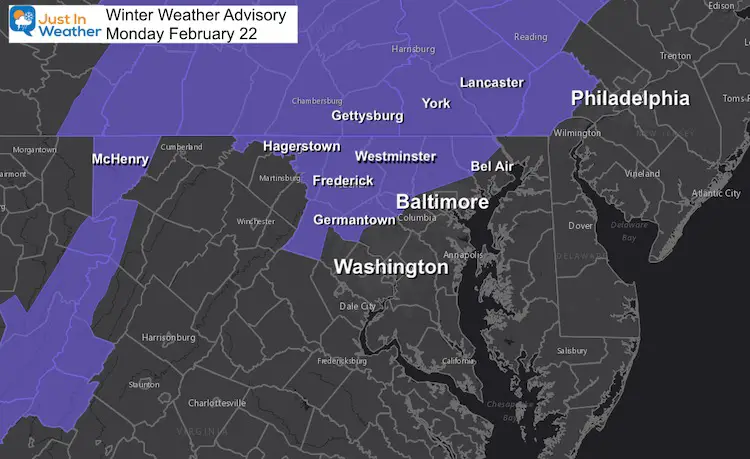 Radar Snapshot at 5:30 AM
This is the hard part… Doppler Radar is showing snow in the western Maryland mountains about 1 hour ahead of the timeline below. The initial flakes will not reach the ground, but timing when they will is that critical hour during the commute that can dramatically change the results.
The radar will snow snow in our area  between 8 AM and 9 AM.  Please just keep close attention to see if this is reaching the ground at that time, or we get an extra hour to assist.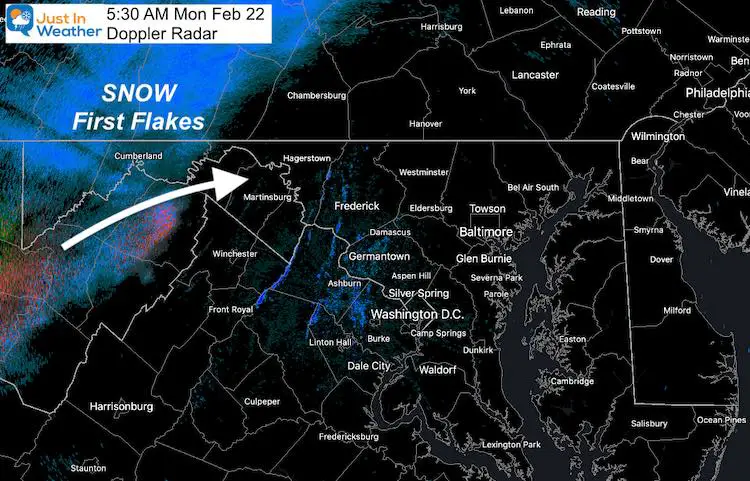 Snow/Rain Timeline —-> slider
There may be snow in areas at or above freezing as this starts. But a quick change over is expected.
Even the snow areas may only have snow for a few hours. However it will be falling fast at that time to accumulate.
Heavy rain and thunder this afternoon on Delmarva with the front.
Temperatures At The Start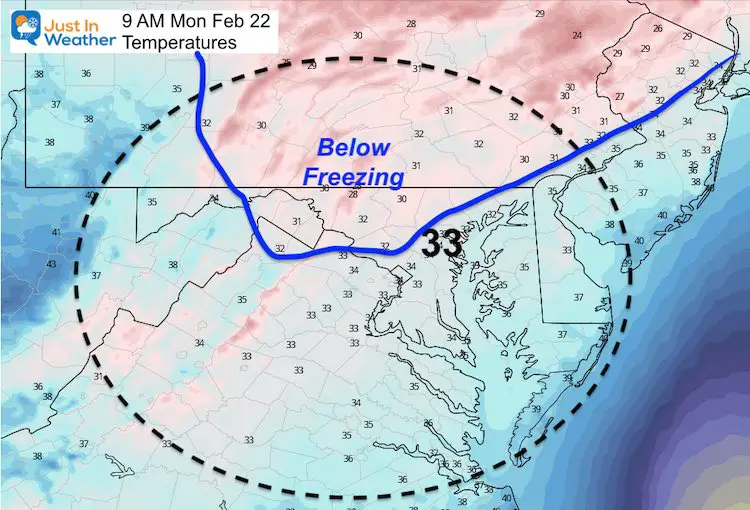 Quick Thaw This Afternoon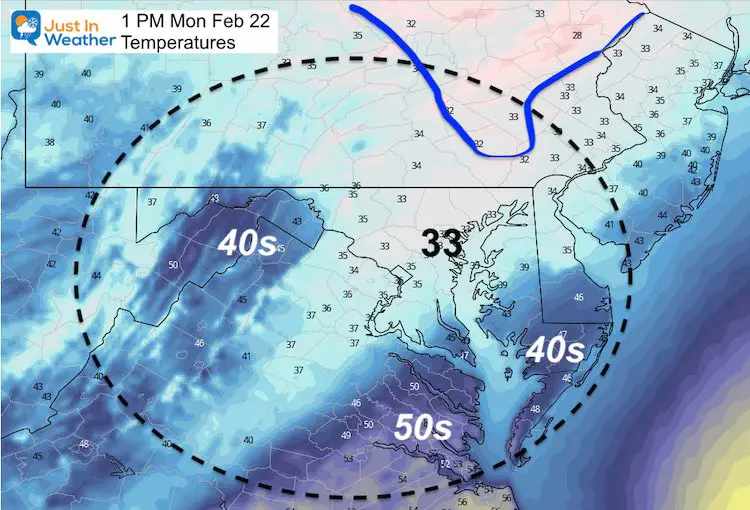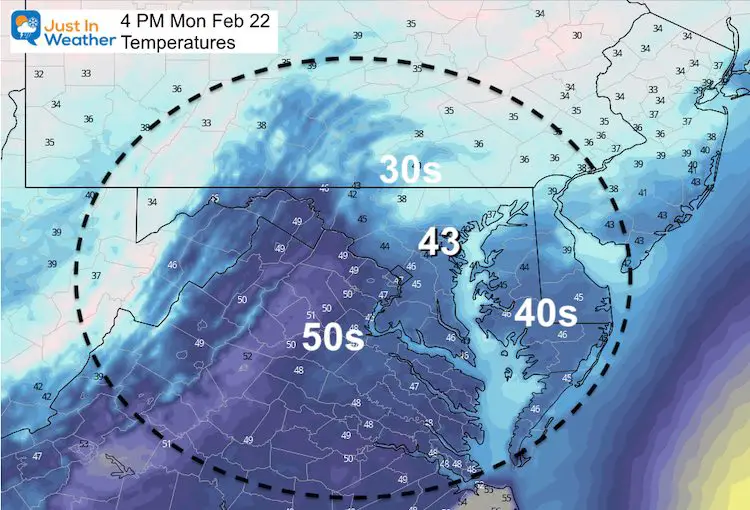 How Much Snow?
This was my call for snowfall.  This is a general 1 to 3 inch event for the snow areas, but some colder hilly spots could reach 4".  These areas may end with rain and will be part of the thaw during the afternoon.
Closer to I-95 and the cities may start with some snow and slush, but should change to rain quickly.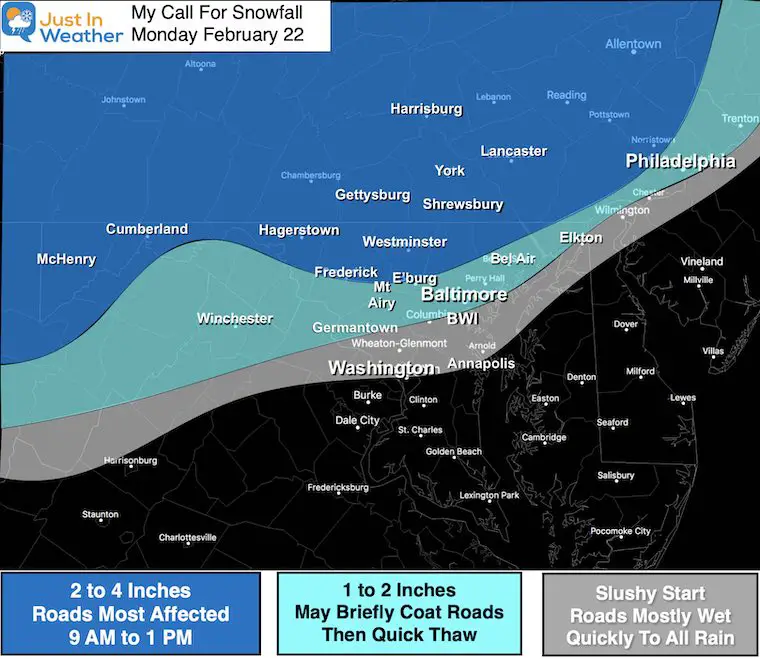 Compare To Model Snow Forecast Maps
—> slider
Temperature Outlook
We are changing the tone for this week with a focus on warming. Guidance is still suggesting temps getting close to 60ºF by Wednesday, and remaining mild into next weekend.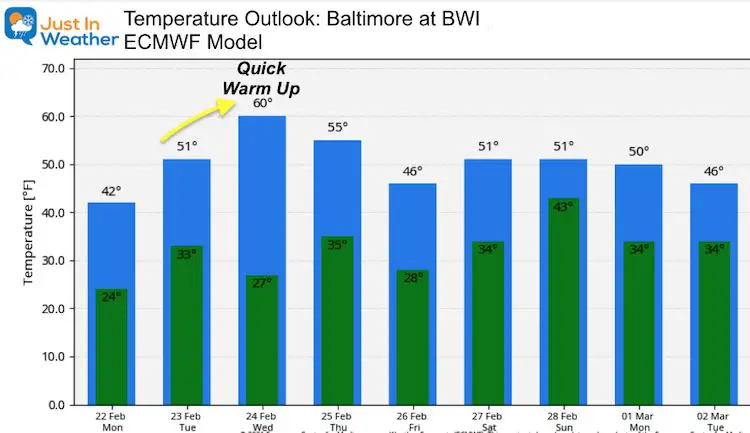 Please share your thoughts, best weather pics/video, or just keep in touch via social media
YOUR INTERACTIVE WEATHER PAGES
14 Local Maryland Pages (and York PA)
We have made a page for Maryland Weather which gives you the current conditions for 14 present area locations.
Local Hourly Forecasts and Local Radar
Central Maryland
Delmarva
Pennsylvania