Wednesday February 17 2021
Mid Day Update
Stop me if you heard this one before: It is Presidents Week and we have a winter storm!  As cliche as it might seem, this storm will match or surpass our biggest event of the season for many places in The Mid Atlantic.
The National Weather Service has upgraded our region to a Winter Storm Warning in Maryland (west of the Bay), Virginia, and West Virginia. This means the event will begin in less than 24 hours, and it will remain in place as it continues.
Pennsylvania: It's coming for you too! Your local NWS offices are just delayed in upgrading. They will upgrade by this afternoon.
Winter Storm Warning: Thursday To Friday Morning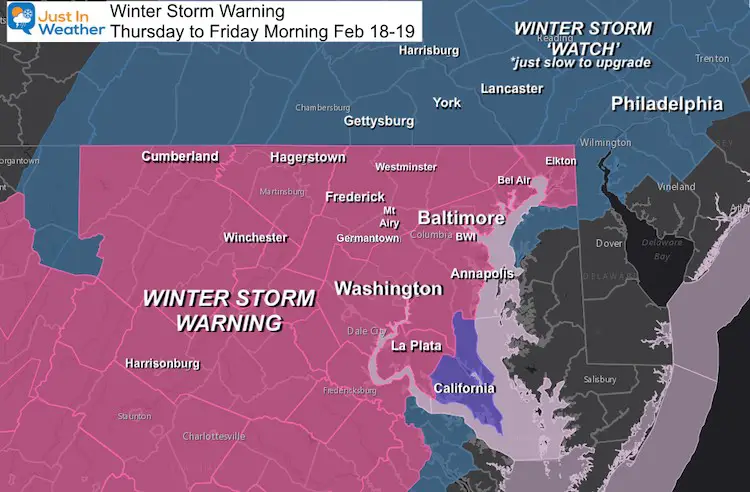 Storm Expectations 
I will post my final snow map in my next report. Plotting the snow/ice line will make or break the final measurements.
Most areas in the 'Warning' have temperatures remain below freezing for the event. That includes snow and freezing rain (when the clouds are warmer)
Quick Notes:
Purple Zone a good chance to get 4 inches of snow before turning to Freezing Rain.

Gray Zone: Most of this region should get over 6 inches. 

The Blue I highlighted has potential for a lot more if they remain all or mostly snow.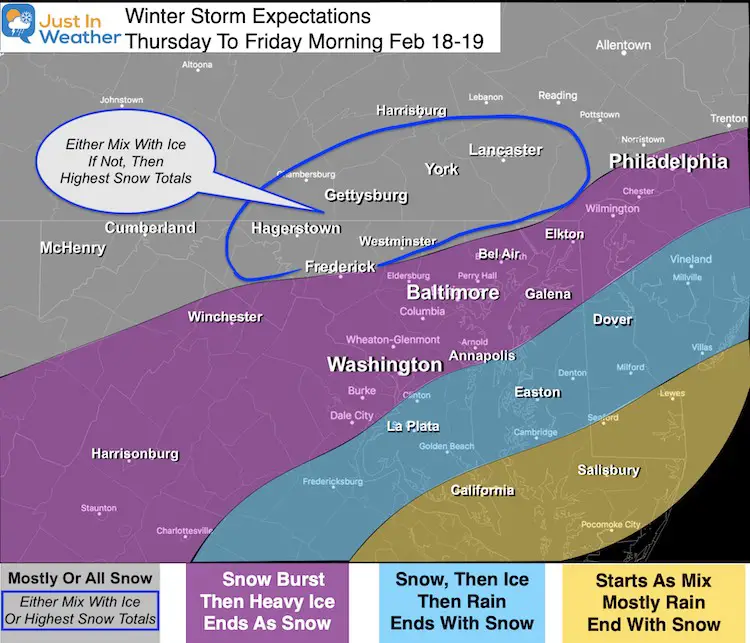 The important notes:
Today: Cold air is preparing the ground for tomorrow to receive snow and maximize stickage.
Thursday: Temperatures below freezing through the event.
Snow at the beginning will become heavy in a hurry.

There will be freezing rain advancing north.

 

BUT it might not fully move through metro areas.

If you do not get a turn to freezing rain: Snow totals will be MUCH HIGHER!

If you do get a turn to freezing rain: Ice may accumulate up to 1/2" adding to risk for power outages.
Thursday Night Into Friday: 
Return to snow showers for the end of the storm.
*This is reality, not embellishing. Please treat this like the hard winter storm it will be and have a Plan B for your appointments/travel.
Latest GFS Model Animation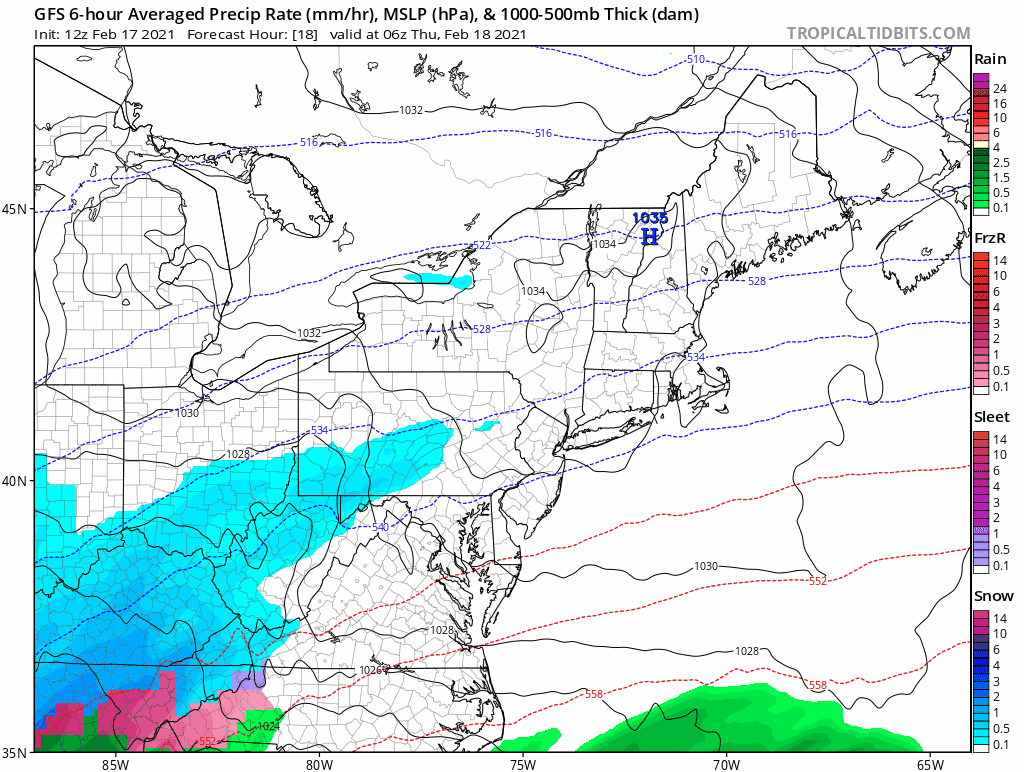 ICE Storm: NWS Maps
Explore More: Please click here or the image for all local National Weather Service snow and ice maps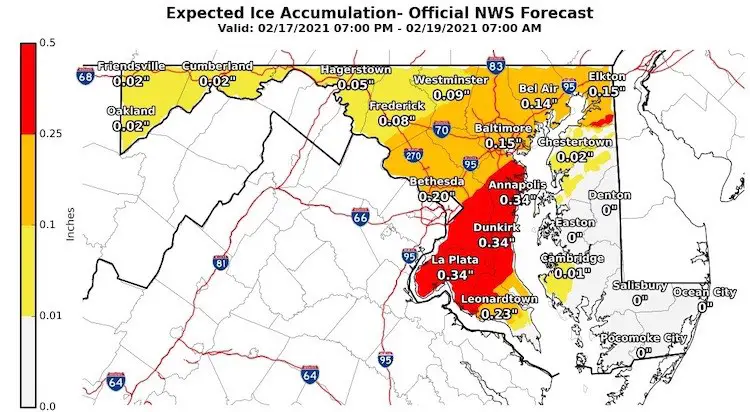 Personal note:  If you notice any typos and have not heard my many comments on them here it is again.  I have dyslexia ( I found at when I was at Cornell University). I miss typing errors and my program auto corrects on the fly, so I do not catch the mistakes.  The information as a whole is correct as intended.  The forecast as always will be subjected to your grading after the storm ends.
Please share your thoughts, best weather pics/video, or just keep in touch via social media
YOUR INTERACTIVE WEATHER PAGES
14 Local Maryland Pages (and York PA)
We have made a page for Maryland Weather which gives you the current conditions for 14 present area locations.
Local Hourly Forecasts and Local Radar
Central Maryland
Delmarva
Pennsylvania

FITF Shop Open
My 'bonus' daughter Jaiden and wife showing off our popular Maryland Hoodies. Unisex and women's items all produced in Maryland.
Click here to see this and many other new items.