Monday February 15 2021
This Presidents Week will be marked by the intrusion of Arctic Air in the US all the way down the the Texas/Mexico border. This is historic without exaggeration, while we remain 'right on the edge' thanks to an active storm track.
Another Winter Weather Advisory is in place for parts of our area to get more freezing rain tonight. Then we have another storm with colder air to impact more of our region on Thursday with snow and ice.
Morning Set Up
Temperatures
This has Polar Vortex written all over it!  These are actual temperatures readings on thermometers this morning, not wind chills.
-30s in Nebraska; -20s across the Northern US states including ND, SD, MN, to WI

Texas: -0s to SINGLE DIGITS in Dallas; Teens in Houston to the Mexico border!

Locally we remain on the edge of the freezing temps (closer look below)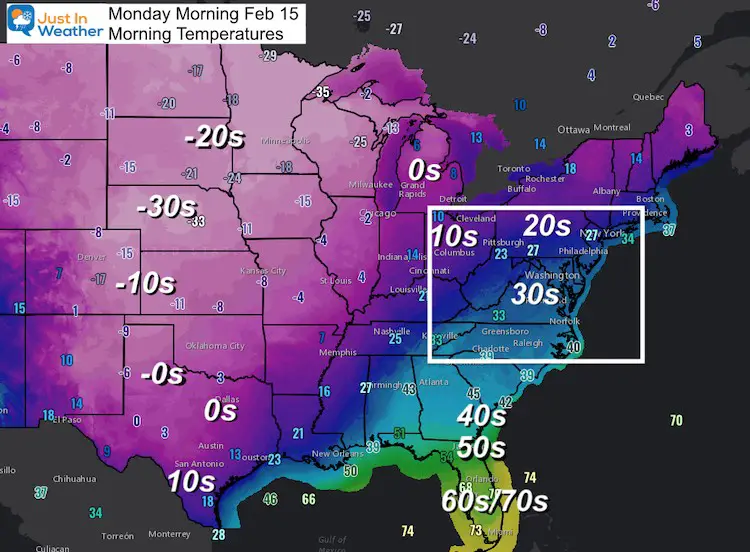 Snow at the Mexico boarder
Just so you know, Del Rio, TX, is right on the Texas/Mexico border…that's how far south the snowflakes are flying on this Sunday evening. Incredible to see! #txwx #snow pic.twitter.com/rKkm54Hix4

— Meredith Garofalo (@GarofaloWX) February 15, 2021
Surface Weather
Historic for sure! The snowfall on Sunday in Dallas was a record 4 inches.  Up to 2 inches of snow is expected in Houston, while lighting with snow and freezing rain has been passing through the Gulf coastal areas through Louisiana. This is the coldest and hardest impact in decades. In some cases in over a century! The buildings and infrastructure were not designed to handle this.  Bursting pipes and crop damage is expected to result in tremendous damge.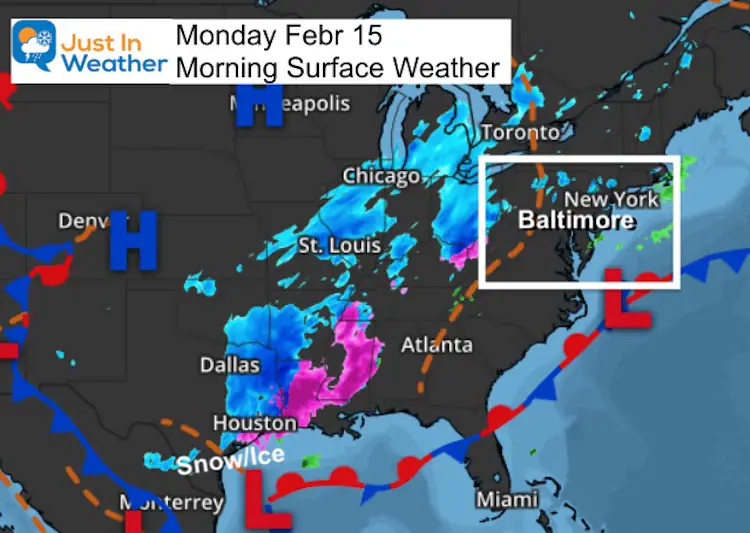 Northeast Impact
I wanted to share this tweet from the National Weather Service Eastern Region to show the full impact nearby, as we remain just on the edge.
Latest snowfall and ice accumulation forecasts for the first of two winter storms expected to bring significant impacts to much of the Eastern US during the upcoming week. Expect difficult travel conditions Mon-Tue, with possible power outages where large ice accumulations occur. pic.twitter.com/MsdfjykqTS

— NWS Eastern Region (@NWSEastern) February 14, 2021
Local Temperatures
The freezing line is located inland away from the bay and with elevation over 500 Ft.  This will be important for the icing event tonight.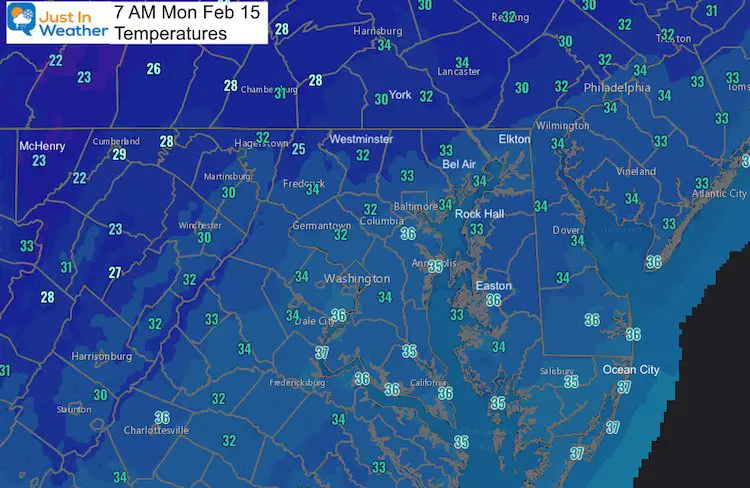 Winter Weather Advisory
The typical colder locations will remain near 2ºF with a chance of freezing rain (again)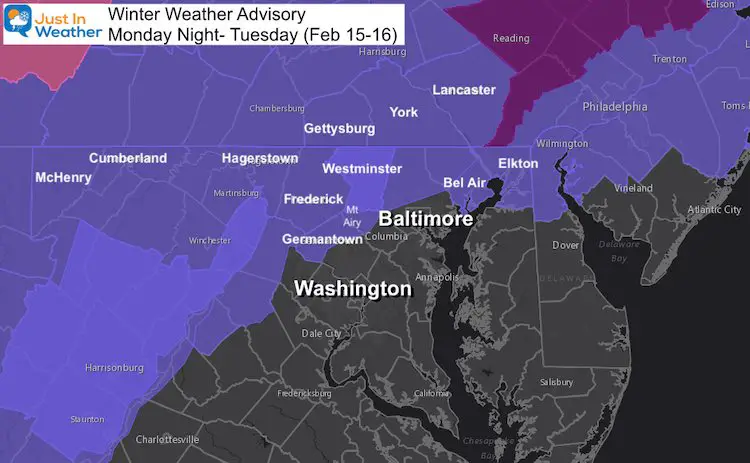 Freezing Rain Timeline
—-> slider
There could be some sleet or freezing rain showers during the afternoon. But the bulk returns this evening.
Freezing Rain Forecast Total
Temperatures —-> slider
Tuesday Afternoon
In Maryland the range will be from 20s in Garrett County to 60s in Salisbury.
This may be the best example of the dramatic contrast across this arctic boundary. A slight shift, as expected in a few days, will make all the difference with frozen precipitation.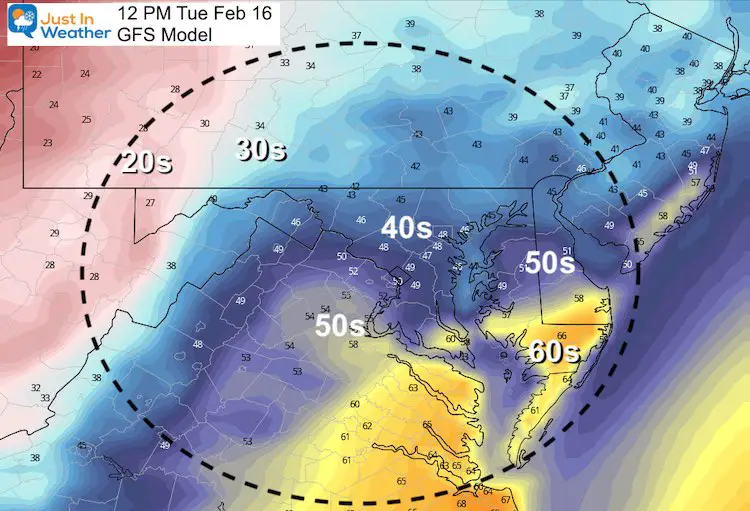 Next Event: Thursday into Friday
This should be a colder event as that arctic air shifts east.   We need to pay close attention because a slight adjustment will determine who can get snow, ice, or stay wet.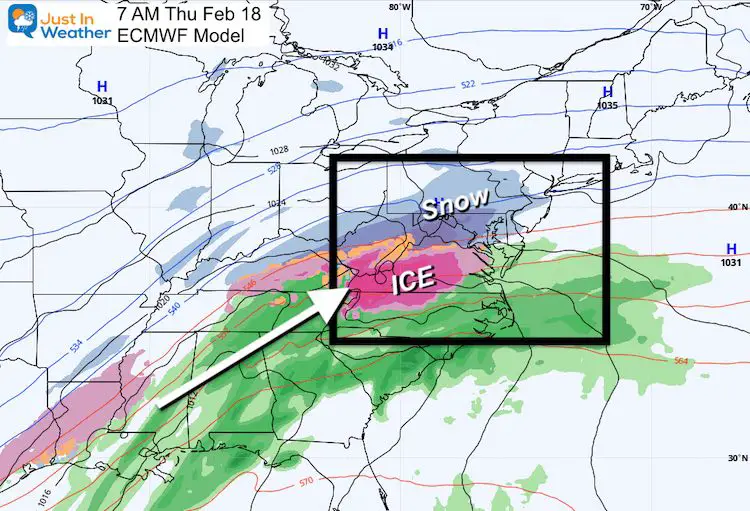 ECMWF Model Forecast Animation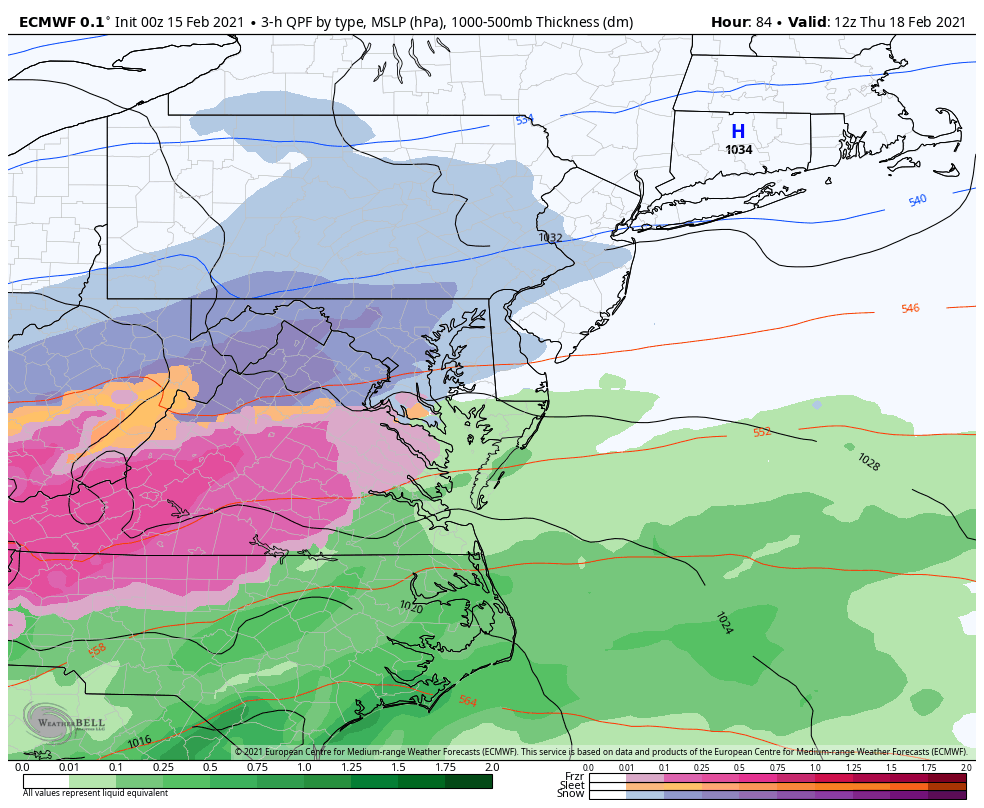 How Much Snow? How Much Ice?
It is way too early, especially without conference of where the arctic air will line up.
There should be a start as snow, then transition to freezing rain. Both can be equally dangerous.
Temperature Outlook
This product may not show the core of the arctic air, but has us on the edge. There can be big adjustments with a slight shift of the arctic air mass. What is more important is the relaxation of the pattern expected next week.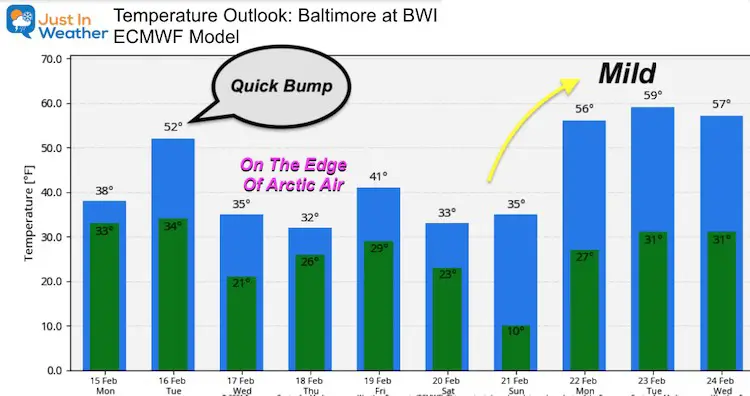 Please share your thoughts, best weather pics/video, or just keep in touch via social media
YOUR INTERACTIVE WEATHER PAGES
14 Local Maryland Pages (and York PA)
We have made a page for Maryland Weather which gives you the current conditions for 14 present area locations.
Local Hourly Forecasts and Local Radar
Central Maryland
Delmarva
Pennsylvania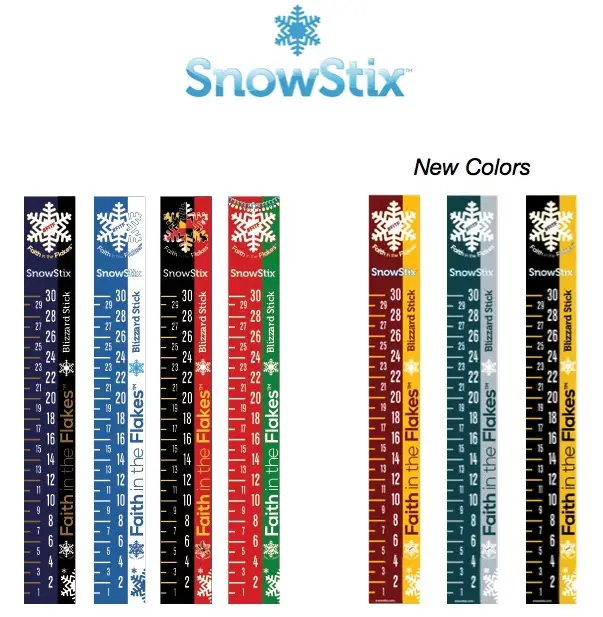 FITF Shop Open
My 'bonus' daughter Jaiden and wife showing off our popular Maryland Hoodies. Unisex and women's items all produced in Maryland.
Click here to see this and many other new items.